The Spaniards were dazzling, the French were shining, and the French Open was a celebration: summer has not yet arrived, but the sunglasses were already out in this beautiful month of May. A look back on the highlights of the last thirty days.
MVP of the month: Carlos Alcaraz (again and again)
The kid from El Palmar is still growing and will soon have to buy a new trophy cabinet. After his first Masters 1000 win in Miami at the end of March, Carlos Alcaraz won in Madrid at the beginning of May by defeating Novak Djokovic, Rafael Nadal and Alexander Zverev. Yes, just it. The Spaniard is now sixth in the ATP rankings and is a new member of the favourites for the next Grand Slam tournaments. The first of these is the French Open, where Juan Carlos Ferrero's diamond started off with a bang despite a big scare in the second round against Albert Ramos-Vinolas, where he had to save a match point. This is just the beginning... but how far will this story go?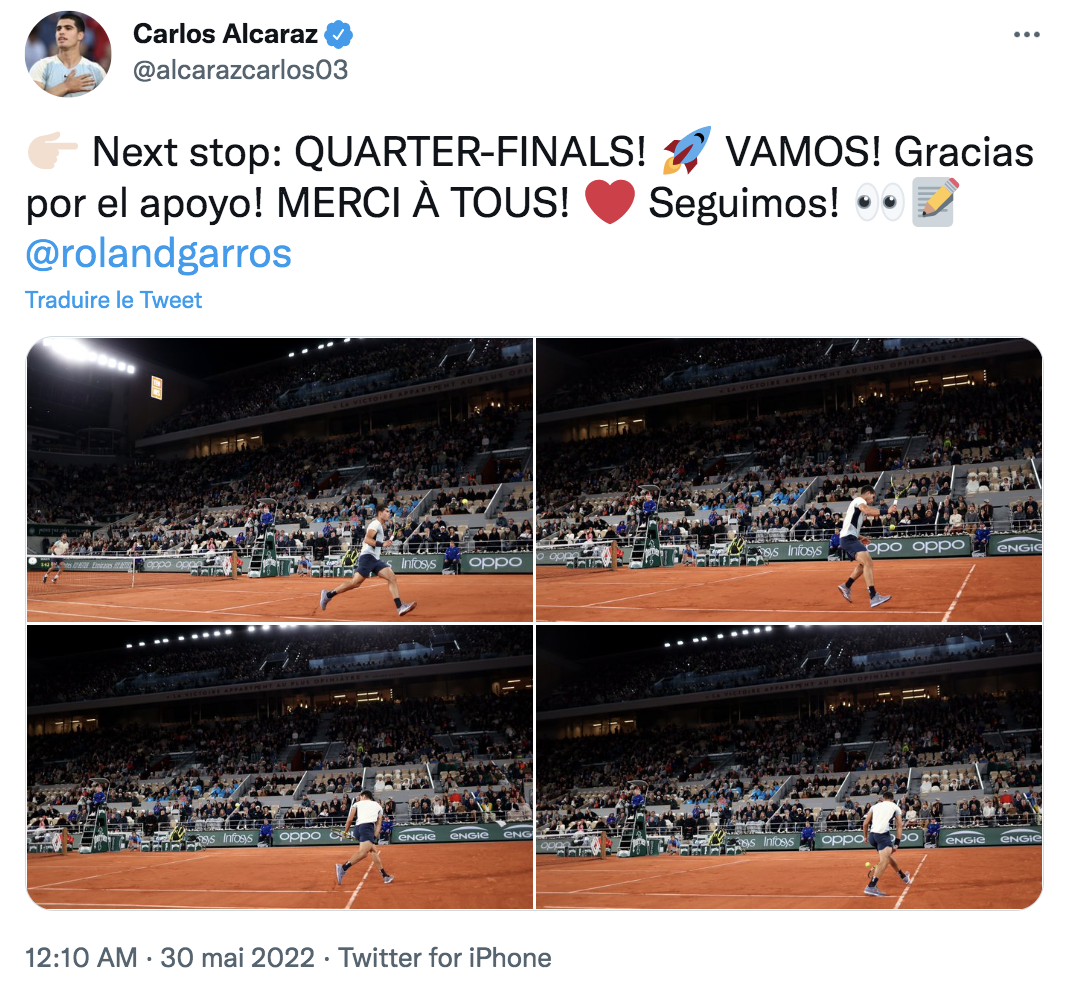 Anger of the month: Coco Gauff
"I'm shocked because after every game I tell him, 'Just clap, don't tell me anything.' I can't control what he does! Since I was eight years old, I've been telling him not to talk to me during the games and just clap." Coco Gauff, who was warned during the match for coaching, had to explain her father's behaviour during her opening match at Roland Garros against Rebecca Marino. A father who is too talkative, whom the American tries to channel every week, which she explained with a smile in a press conference: "In the end, the referee was just doing his job. I'm doing mine as a player, defending my integrity. So it was kind of funny to me, because I've had so many conversations with my dad where I tell him, even when coaching is allowed, not to say anything." Oops.
Tears of the month: Jo-Wilfried Tsonga
A final serve, emotion at every turn, water on the cheeks that doesn't fall from the sky... On the occasion of the first round of the French Open, 37-year-old Jo-Wilfried Tsonga retired and gave chills to all the tennis lovers who had watched him hit the ball for nearly 18 years. Before leaving, despite a body on the verge of breaking down, the Frenchman gave himself one last huge fight against Casper Ruud, which was well worth a huge tribute in the presence of his Musketeer buddies and his loved ones. Ciao hero.
Achievement of the month: Gilles Simon
He too will be retiring soon and he too played his last match at Roland Garros. However, against Pablo Carreno Busta, Gilles Simon took advantage of the energy from the stands and managed to defeat his opponent in the middle of the night to continue an adventure that finally ended in the third round against Marin Cilic. We will remember the images of this feat and the words of Simon: "It's incredible, it's a very unexpected victory. When you play a player like Pablo, there aren't many options: he's solid, he does everything well... It's not as if you have anything to hold on to tactically. You know he's going to be fitter and he's going to last longer, so when I go out there, I don't think I'm going to win in five sets at one o'clock in the morning... And yet, that's what happened! It was an incredible atmosphere from the start. When Pablo rolls over me in the third and fourth or the beginning of the fifth, the fans are there. The slightest point I win, they stand up. They shout, they sing... They don't stop! They have never stopped, from the first point to the last. As soon as you win a game, you can feel them going again and that gives you a bit of energy. They were very important, I thank them." The reverse is also true.
Frenchwoman of the month: Léolia Jeanjean
This is the story of a former nugget, compared to Martina Hingis when she was still a young teenager, left by the wayside by injuries, made anonymous on the big circuit, who has just spent several days sitting on a cloud. Léolia Jeanjean, 26 years old and 227th in the world, left this Roland Garros in the third round, beaten by Irina-Camelia Begu, but gained much more: "It was pure happiness to have been able to experience this kind of moment. It's a bit hard to deal with the defeat, but looking back, I had a great time, the best time of my life." The Frenchwoman, who was ranked 1180th fifteen months ago, will now change her life and enter the top 150 in the WTA rankings, which will allow her to get back on a road she no longer thought she could take. This is what we call a rebirth, a real one.
Family of the month: Djokovic, father and son
Did you know that? Novak Djokovic is no longer a household name, but his son Stefan intends to follow in his father's footsteps. And hopes are high, as the son won his first tournament while his father was triumphing in Rome. "We did the Sunshine Double! He's really, really in love with the sport. He shows me forehands and backhands or tells me how he's going to move, doing shadow tennis. I can see the joy in him, the pure emotion and love for the game. If he wants to embark on this journey, I guess I have to embark with him too." A conversion to coaching for the Djoker? Yes, but only after he becomes the GOAT.
Pump of the month: Ons Jabeur
A great run in Madrid, a great final in Rome... and a huge disappointment at Roland Garros. Considered one of the favourites for the event, Ons Jabeur got her feet stuck in the big ochre carpet as soon as she arrived in Paris and left without a single success. "It was difficult," said the Tunisian, unable to explain her performance against Magda Linette. I gave it my all, but she was in her stride on the court. She didn't give me too many options, I felt she had an answer to all my shots and she played very well in the important moments." Tough Jabeur.
Series of the month: Iga Swiatek
31. Her number of consecutive wins. Five. The number of tournaments she has won in a row. Eleven. Or the number of 6-0's he's inflicted on his poor victims in those five events. Not to mention that all of those streaks are still alive. But who can defeat the unbeatable Iga Swiatek, who has been phenomenal in recent months? "I know that at some point I will lose again. I have to be ready for that moment, because there are many players who can play excellent tennis and who can be very dangerous," replied the main player, unperturbed at Roland. "I want to focus on the same things as in the past. Even before this series of consecutive victories, I did a good job in this area. I have to stay calm and focus on my duties." Above all, I have to remain (se)queen.
More information about
Players
Tournament