While February saw the ATP circuit temporarily change kings, March was marked by an earthquake in the small world of the WTA: the retirement of Ashleigh Barty at the age of 25, which allows Iga Swiatek to assume the role of queen. Also worth noting: the confirmation of Alcaraz, Taylor Fritz's gusts of wind and a huge performance by Gaël Monfils. Let's get to the recap.
MVP of the month: Taylor Fritz
He's not the most famous player in the Next Gen, but 24-year-old Taylor Fritz also deserves a spotlight. In mid-March, the American seized his chance in his Californian backyard and won the Indian Wells Masters 1000, the first major trophy in a career that has so far only been filled with success at Eastbourne in June 2019. As a result, he is now ranked 13th in the world. "My expectations are much higher. I want to break into the top ten," he warned, coming off "the best six months of his career" and having pushed Stefanos Tsitsipas to a fifth set in the fourth round of the last Australian Open. Fritz is a tough nut to crack and his Indian Wells win over Rafael Nadal is the best proof of that: with a right ankle injury in his semi-final win over Andrey Rublev, the Californian didn't even know if he would be able to return to the court. Good idea: "In the end, I went on court and played without any pain. I didn't feel a thing! I still don't know how it's possible to go from one extreme to the other in a few hours..." Perhaps Nadal, who had suffered a rib injury, was even worse off.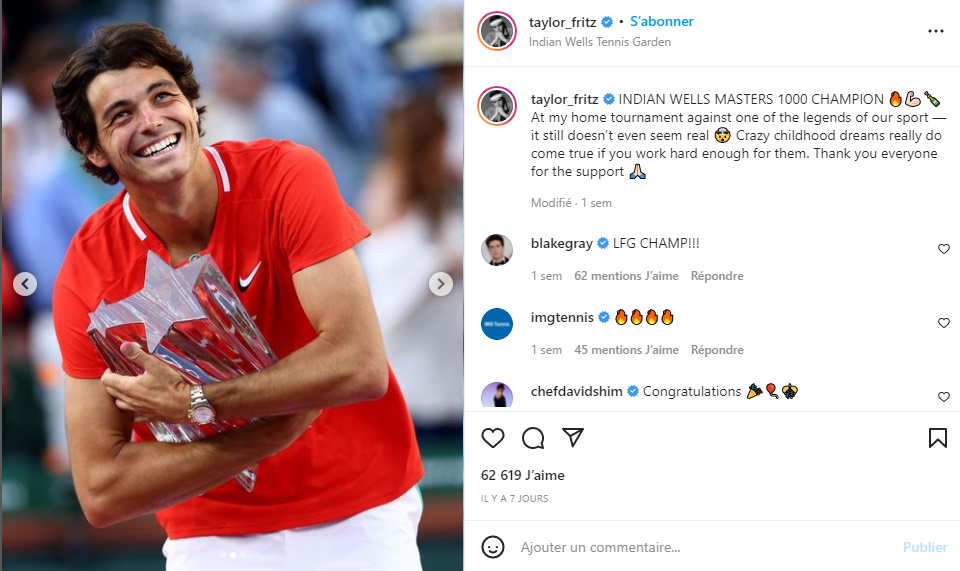 Sensation of the month: Ashleigh Barty
She finally said stop. Worn out and fed up, Ashleigh Barty, winner of the last Australian Open, decided this week to put away her rackets. With a voice full of emotion, the world number 1 made the shocking announcement on her Instagram account via a simple video, in the image of an anti-star, assuring that she was "so happy and so ready", convinced that "this is the right thing to do". Namely: to leave at the top, at the top of the WTA rankings, having played one last match in Melbourne, with three Grand Slam wins on her resume. But there were no signs of such an announcement, although on closer inspection Barty seemed to be limiting her travels away from her beloved Australia, where she is soon to marry her long-time love, Gary Kissick. Ciao artist, and thank you.
Series of the month: Iga Swiatek
The top of the WTA rankings has been unstable for many years and has now lost its head! Following the departure of Ashleigh Barty, it is Iga Swiatek, who has been unbeatable since the beginning of the year and won in Indian Wells, who takes the throne. "There is no better person than her to become number one," said Barty. "She is incredible and totally deserving." It was a nice tribute to the young Polish player and Rafael Nadal fan, who has just won her third Masters 1000 in three finals, her second in 2022. At 20 years of age, Swiatek has a huge future ahead of her and can take advantage of a competition that is struggling to be consistent. The queen is gone, long live the queen!
The pump of the month: Rafael Nadal
Yes, the ogre Nadal, the almost invincible Nadal, finally gave in, caught up in Indian Wells by a then unknown pain. "When I breathe, it's like a needle going in," he explained in a press conference after his defeat in the final against Taylor Fritz. "I feel a little dizzy because it's painful. It's a pain that limits me a lot." But he still wanted to conclude by saying: "I did my best, but it wasn't my day. It was Tayor's day, he deserves his victory." The next day, the medical verdict was in: the pain in his left pectoral was the consequence of a stress crack in a rib requiring at least a month's rest. The Spanish warrior, who appeared tired throughout the Californian tournament, will finally be able to take a breather. This may be a blessing in disguise before turning to the French Open, where it is hoped that the Spaniard, who had to pull out of the early part of the clay-court season, will be at 100%. It would be a shame not to enjoy his scary 2022 version for a while longer, though.
Rookie of the month: Carlos Alcaraz (yes, again)
How could it be otherwise? A semi-finalist in Indian Wells, Carlos Alcaraz continues to confirm his status as a "baby Nadal": relentless power, a great mind and strokes of genius that have already won him many fans, including Gaël Monfils, who was beaten in the round of 16 by the prodigy. "He has his whole life to do exceptional things, which I think he will do," said the Frenchman. "He is very nice. He has a very athletic side. His game is full of panache: he hits, he comes on the fly, he does everything very well. Much better than me. We hope he will have an exceptional career." Nadal himself gave him a thumbs up after dominating him on the doorstep of the final: "He has all the ingredients: passion, humility to work hard, talent and physicality. He reminds me a lot of when I was 17-18 years old." The competition can tremble.
Frenchman of the month: Gaël Monfils
Because he beat world number one Daniil Medvedev in Indian Wells - winning the first set with a spoon serve, please - Gaël Monfils deserves the honour of being the Frenchman of the month. This is only the second time that Monfils has achieved such a feat, having beaten Nadal in Doha in 2009. So much the worse for a valiant defeat to Carlos Alcaraz, and then again a defeat - a little less glorious this time - to Francisco Cerundolo in the third round in Miami. It was already great.
Tears of the month: Naomi Osaka
Naomi Osaka broke down again. Heckled by a spectator who shouted a very inelegant "Naomi, you suck!", the American-Japanese player left Indian Wells prematurely against a much less talented player, ending the match in tears before explaining herself on the microphone in front of a public that had previously taken a dislike to the Williams sisters. Viktoria Azarenka also cried in the middle of her match when she lost to Elena Rybakina. Add to this Barty's early retirement at only 25, "exhausted" in her words, or Kiki Bertens' retirement before her 30th birthday a few months ago, and the WTA Tour as a whole is sending out alarming signals. Are we not facing a kind of collective burn-out? In any case, Osaka has now decided to call on a therapist to help her get better and overcome her downturns.
Comeback of the month: Stan Wawrinka
"Since I injured my knee almost five years ago, my dream is to win an ATP tournament again before I stop. A 250, a 500, a Masters 1000, whatever." Stan Wawrinka has yet to achieve his goal, the last of his formidable career, but he has already won a battle as he prepares to return to competition at the Challenger tournament in Marbella. This gives hope that his compatriot and friend Roger Federer will soon follow suit, as he is considering a return to the courts in late summer or early autumn.
The (almost) Oscar winners of the month: the Williams sisters
Will Smith's slap in the face to Chris Rock at the Oscars ceremony on 27 March should not overshadow the 94th edition's prize list, with the Oscar for Best Actor going to Will Smith for his portrayal of Richard Williams in the biopic The Williams Method, which is devoted to the most famous sisters in tennis. Venus and Serena were also present at the event, dressed in their best. This Oscar is also for them.