The first week of Wimbledon 2021 was welcomed with open arms but it was also a week of frustrations especially with the weather. Still, there were a couple of strange things that were noticed.
Code Violation - Bad Rule Change
Sometimes rules need to be made but there are also plenty of times that rules need to be flexible and/or broken.
This year Wimbledon started with there being a 30-minute gap between the scheduled matches on Centre Court and Court No.1. This had nothing to do with a match being scheduled "not before" a certain time, which is standard practice. Why? What's the point of the time gap? 
It's Wimbledon and you know that the weather is not going to play ball. It was trying enough on day one as the rain played havoc with the schedule. However, on Centre and Court No.1 play continued under the retractable roofs with this ridiculous 30-minute time wasting gap between matches.
On the first day, Andy Murray was last on against Nikoloz Basilashvili, and the match had to be stopped so the roof could be closed; another interruption. If there had been no 30-minute gap between matches, the Murray match would likely have finished without the interruption for the closing roof.
The next day there was an announcement to say the gap between matches would be 20 minutes. Again, why a gap at all? It's ridiculous. And it didn't help the situation when the rain again messed things around. 
Nick Kyrgios and Ugo Humbert were playing a super match on Court No.1, but the match was suspended at 3-3 in the fifth set because of an 11pm curfew that's imposed. If there were no gaps between matches, the Kyrgios-Humbert clash would have likely finished. These gaps have been taking away 40 to 60 minutes of valuable time especially with the weather is not reliable.
The Strawberries Tradition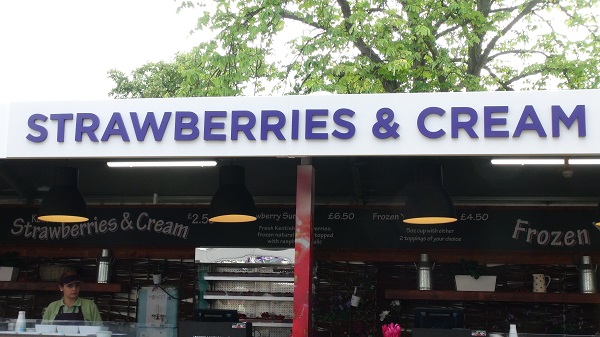 To have strawberries at Wimbledon with a glass of champagne or a Pimm's No1 is part of the fun of Wimbledon. To have cream poured over the plump red berries is all part of the tradition. The strawberries are delivered from the farms of Kent to Wimbledon fresh every morning.
A punnet is £2.50 and you probably get six or seven strawberries but, wait for it, there is the option of plant based "cream" instead of the real stuff. How can they call that cream then? That's like calling English sparkling wine, "champagne". Sacre bleu!

Masked Up
One of the most popular accessories these days are masks. In England they seem to like to call them "face coverings". They can also be seen as collectables. There are branded masks at the Australian Open, French Open and the US Open, but amazingly there are no branded masks at Wimbledon.
Even one of the shop attendants could not believe it. What a waste of a marketing opportunity. Masks are not expensive, but the exposure makes them even more cost effective. 
So, sadly, no Grand Slam of masks. It is surprising considering how focused Wimbledon is with its branding.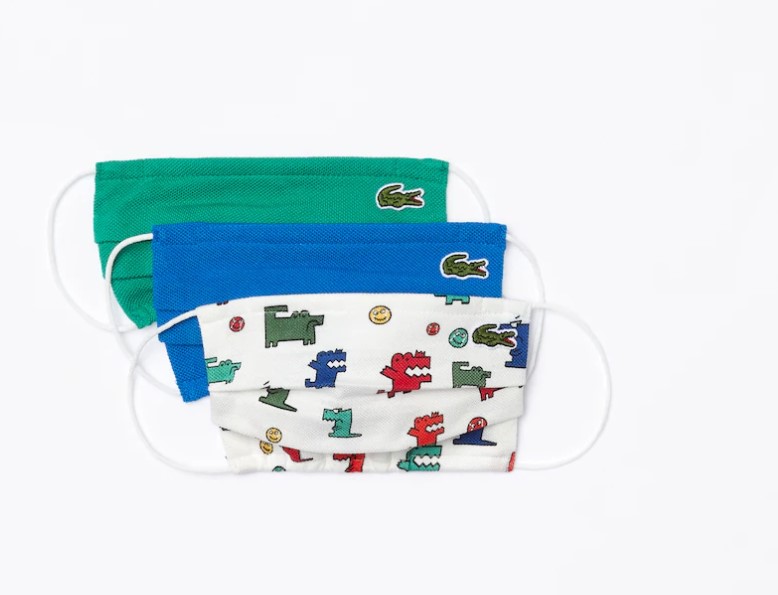 Slippery Dip
On one day there were two prominent injury situations in the same place on the Centre Court. Adrian Mannarino slipped midway through the fourth set of his first-round match with Roger Federer and badly hurt his right knee and after trying to continue playing, the French lefty retired at two sets all.
In the very next match Serena Williams lost her footing and injured her right leg. She knew it was not good as she began crying while serving. She was very distraught, and you never want to see a player that upset. At 3-3 in the first set she retired allowing Aliaksandra Sasnovich to advance.
Roger Federer was shocked when he was informed in his post-match media conference. 
There have been suggestions the courts are slippery especially when the roofs are closed because that allows some moisture build up on the grass compared to when things are open and the court can be drier. But, also, a fresh grass court is always going to be slick till it wears down after a couple of rounds.
"I think the court plays normally as we know it (but) I do feel it feels a tad more slippery maybe under the roof," Federer said. "I don't know if it's just a gut feeling. You do have to move very, very carefully out there. If you push too hard in the wrong moments, you do go down. 
"This is obviously terrible that it's back-to-back matches and it hits Serena as well. Oh, my God, I can't believe it."