30 January 2020. That was the date of Roger Federer's last official match, at the semi-final of the Australian Open against Novak Djokovic. But this Wednesday, 10 March – one year, one month and 11 days later – he's back. Set to face Daniel Evans for his Grand Slam return in Doha, the Swiss star is beginning the final chapter in his long and successful history on court, marked by his passion for tennis, hunger for prestigious titles and desire to bow out in his own way.
His return was reminiscent of a shy little animal. The closer you got, the further it retreated. Having undergone an operation on his right knee in February 2020, Federer initially wanted to be ready for the grass season – before the pandemic closed down the professional circuit. He was eventually forced to write off the entire year, as complications meant he had to undergo further arthroscopic surgery. "I would go for a walk with the kids, or go for a bike ride and come back, and I would have a swollen knee," he told a press conference ahead of the Doha tournament. "I wouldn't understand what was happening because training was actually going very well for the first four or five weeks and progress was quick. I was down. I couldn't believe I had to do a second one [operation]."
Despite this blow, Federer picked himself up to look to the future. The next target date on the horizon became the Australian Open, which he was again forced to miss due to not being fully fit. But now, finally, he is. This Wednesday will see Federer's long-awaited return to the court. His perseverance in dragging his injured leg the long road to Qatar is in part attributable to his passion for the game. "I love to play tennis," he affirmed. This undiminished enthusiasm has also impressed Pierre Paganini, his fitness coach for the past two decades. "He is clearly as passionate as he was 10 years ago," said the coach in an interview with Swiss newspaper Tages-Anzeiger at the end of February. "When a player at almost 40 has to do exercises again that a 70-year-old can manage without problems, and is happy that Tuesday was better than Monday – is that not a passion!"
"He is as passionate as he was 10 years ago"
"After all these years, I am constantly amazed," added the Frenchman. "I sometimes ask myself: Why is he still doing all this (after all he's accomplished)? It is a phenomenon." But the Basel-native has not suffered all these trials just to be able to hit a ball about again. He feels he "still has fuel in the tank", that "the story is not over yet". His goal is clear: to be able to play in the top tier again – and win. "I would like to get that high of playing against the best players," he told the press conference, "playing at the biggest tournaments, winning them, hopefully." An objective that he does not expect to achieve in the short term. Although he no longer feels any pain, Federer knows he needs more time. "It's still building up to being stronger, better, fitter, faster and all that stuff," he explains. "I hope then by Wimbledon, I'm going to be 100 percent and that's when the season starts for me. Everything until then it's just 'let's see how it goes."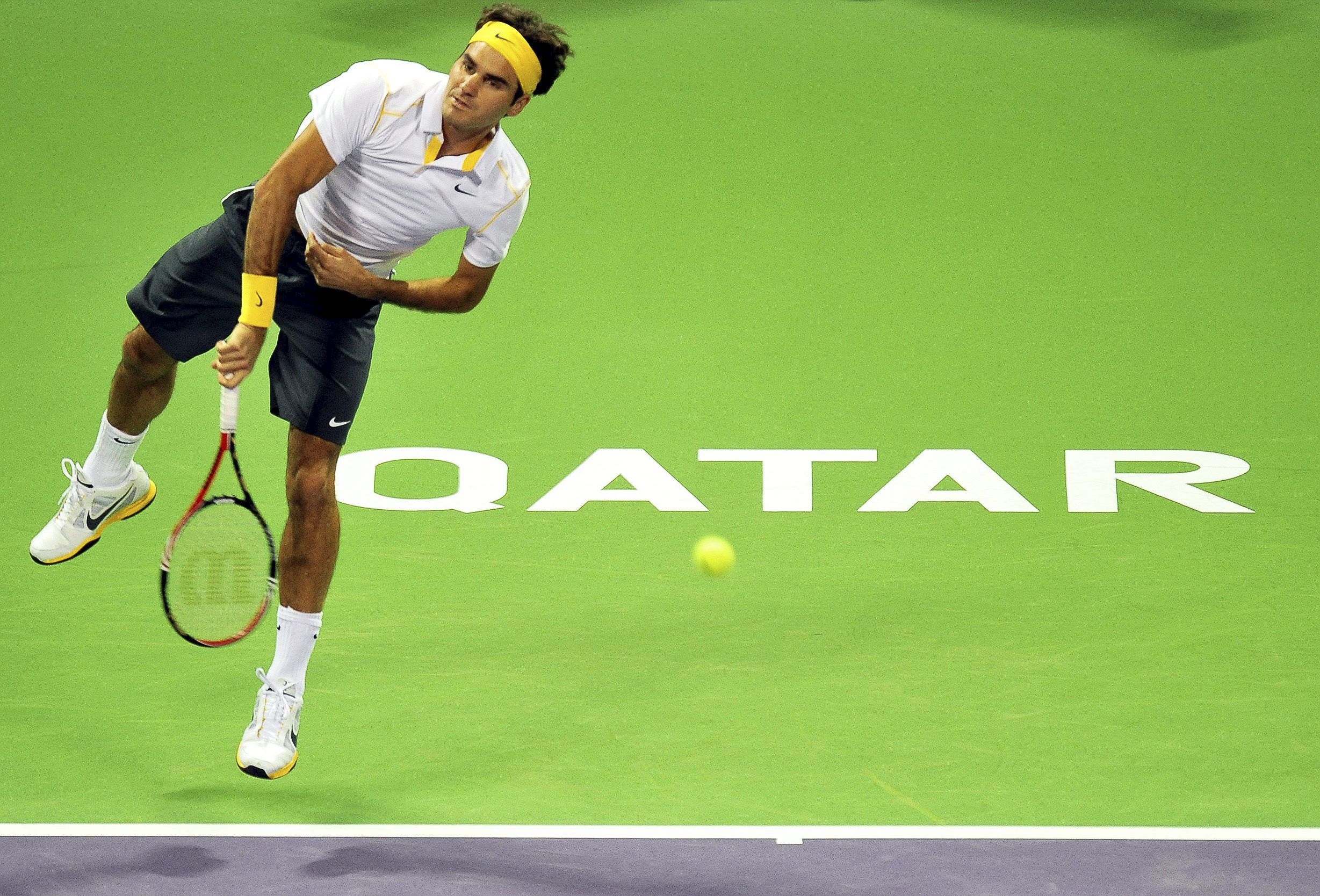 "By playing more, by travelling", the "next three to five months" will "tell him a lot more about his body" and his ability to deal with competition. "On average, I've been training about two to three hours a day for the past few weeks if you add up the gym and tennis," he says during a question-and-answer session with children ahead of the Qatari ATP 250. Enough to feel able to "to give it [his] all at [his] first match in Doha," he assures journalists a few days later. Despite his god-like status, he is not expecting any miracles straight away. At least not openly. "No way am I at my best," he admits. "If we are talking about results, expectations are really low, but I hope I can surprise myself and maybe others…" 
"For me, tennis is like riding a bicycle"
While he is still uncertain how his knee will respond to the intensity of high-level play, Federer has no doubts about his abilities. "For me, tennis is like riding a bicycle," he smiles. "I always knew that I could play very little and still play very good. My biggest concern is the knee. I'm not sure my knee will hold up, but I have done everything possible to make sure it does and I'm confident. Otherwise, I wouldn't be here." By getting back on track, he is taking back control of his destiny. He wants to be able to choose when and where he decides to bow out, without an injury leaving him permanently on the side-lines. "A strong desire to return has always been there," he says. "Retirement was never really on the cards. I want to decide for myself when my career ends."
Roger Federer repeats this regularly, for example in an interview with Schweizer Illustrierte last October: "As long as [he's having fun] and [his] lifestyle suits [his] family, [he will continue] to play." He probably doesn't know himself exactly when he will hang up his racket. Nevertheless, the question may arise at the end of the year. If the results are not as good as hoped, will the fun still be there? "You should ask him," replied Pierre Paganini. "There are parallels between passion for the game and desire for victory. You can also play enthusiastically without winning. But then the question is how long this passion will last." If his body allows, Federer could reach at least the semi-finals of the Grand Slam and Masters 1000. For the competition, the Big 3 monsters have always been difficult to tame. 
 
More information about
Players
Tournament