Doing anything in the current environment anywhere in the world is not easy. It goes without saying people are not happy, frustrations are boiling over and we all just hope this nightmare can end soon as we can all get back to some sort of normality.
All of us who travel on the tennis tour all year feel as if we have been in a prison not being able to get to tournaments internationally and as Freddie Mercury and Queen sang,
"I want to break free"
and get on with things.
Over the last few days as players have arrived in Australia on paid for charter flights for the Australian Open and the many other events being staged by Tennis Australia, tensions have been bubbling, but government authorities will not be changing any guidelines or protocols.
While the famed line from the iconic Australian movie comedy The Castle says, "tell him he's dreaming", it is now time to move on from the tensions.
Players have been holed up in their rooms across three quarantine hotels in Melbourne. Some can get out for five hours a day to practice and train but others who were on flights where there was someone who tested positive for coronavirus on arrival are in hard quarantine cannot leave their rooms.
And they have taken to being very creative in how they try to keep themselves in tune to the best of their abilities in the confined spaces they occupy.
Who knew Pablo Cuevas from Uruguay was so creative? Go on put your hand up if you did. No one. Signor Cuevas has to be the winner, if tennis awards were handed out for creativity. He would get the equivalent of the Oscar for Best Actor and he started the trend.
His first move was to turn the mattress from his bed upright and place it against a wall and started to use it as a backboard. Then he began to ride the mattress and bed as if he was riding a surfboard … hang ten dudes. Like amazing. That would be a very good exercise for balance and to maintain some sort of toning for leg muscles.
Getting stroke practice in certainly is not easy so what does Belinda Bencic do, well she adapts a variation of the Cuevas creativity and uses the floor to ceiling window to hit balls against. Let's hope the glass is extra triple thick, you don't want the ball going through. Now that would be quite a smash.
Okay so the food has been a topic of frustration, many find it is fine. One told me some of the pastries are soooo good, others are not so happy. Fabio Fognini was not happy that he got mango with his sweet risotto. Hey, Fabio, a mango can sell for $6. Things are not cheap in Australia.
No if you don't like the food, there is always a food delivery service but under the quarantine rules the latest anything could be delivered to the hotels is 10pm, well that's what the girlfriend of one player exclaimed. Anyway… you can do what flamboyant and sometimes eccentric Frenchman Benoit Paire did, order McDonalds.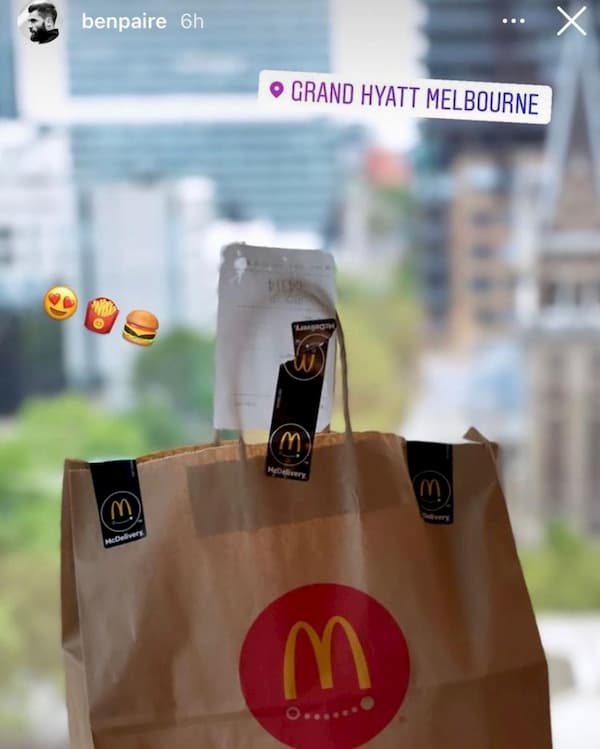 Some of the images and mini vids posted by players have been funny and if you didn't know players were, well, messy then you will be surprised. Can't you hear parents yelling to the kids "pick up your dirty clothes off the floor", "tidy your room", "those socks can walk out on their own, they've been worn so many times"???
One-time leading Australian male player Bernie Tomic who made the main draw from the qualifying rounds in Doha, would probably win the messed-up room award as shown by his girlfriend Vanessa Sierra's video. Nick Kyrgios said on social media that Bernie's "missus needs a reality check". OUCH! Well, she did say she has not washed her hair since being in quarantine because she doesn't wash her own hair. Ewwwww. Hey girl, that is TMI. Didn't need to know that. Wonder what the stylists at Jean-Claude Beguine think of that?
If there was one photograph that was a winner, then that crowning glory must go to Stan Wawrinka. He has a suite and in the dining room of the suite he is at one end of the table on his own and he is social distancing. It is very amusing.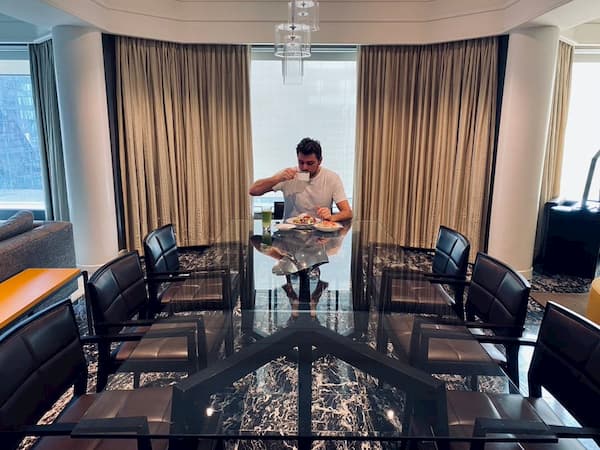 And you feel for poor Alex de Minaur who waited quietly with anticipation for his transport to go to practice. The recent Antalya Open winner would be missing the love of his life, his own car which is the cutest Mini Cooper in British Racing Green.
Well now we wait for the action to get going and the drama to begin on court and we will no longer be dreaming of seeing the players in action, they will all be on the courts.