There is nothing sinful about the way Jannik Sinner plays tennis. Craig Gabriel writes it's simply fantastic.
Jannik Sinner turned 22 this week and just days before he gave himself a very nice birthday present and that was winning his first Masters 1000 title with the Canadian Open in Toronto. Twice before he had been a finalist at one of the Masters 1000's, both in Miami. This time things went his way, and it was very special for the softly spoken down-to-earth Italian.
Sinner is one of the really nice guys in tennis. There is a humility about him. And what's so refreshing is that he is fascinated about when went before in tennis. The history of tennis interests him, and he asks about it, and one of those guys he asks is his Australian coach Darren Cahill who was an outstanding playing in his day and has coached so many iconic names, such as Andre Agassi.
"This is from every tennis player's dream, no? to win one of these tournaments," Sinner said. "Watching it in TV, obviously. But I started to believe, yeah, from -- a little bit more from last year. Because I felt like that I had the level to go a little bit further in every tournament. And I think I've shown this, especially this year, you know, making some semifinals and final in important moments -- in important tournaments.
"And, you know, then you really start to believe, and I believed that I can win one. It's, obviously, tough to say before the tournament that this is going to be the tournament. But, yeah, just happy, obviously.
"But the belief in your mindset is very important in this sport. So, obviously, thanks to Darren, you know, who is a very important character in our team. It was very important."
Cahill and Sinner mesh well and in one sense it is not unlike the relationship he had when he was working with Simona Halep. Cahill has a way about him. There are no airs and graces and he genuinely like Jannik, the feeling is obviously mutual.
Their practice sessions are hard, but they are also made into fun. There are targets which Sinner says he is not good at. If targets are missed, then it's time for push ups and recently Darren has been the one doing the push ups.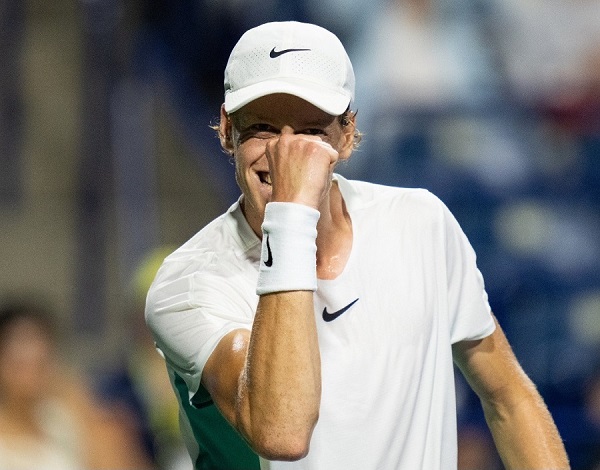 "It's important, you know, to make some fun games during the practice," added Sinner. "Also off court, trying to do sometimes something different or trying out maybe a different restaurant, for example, you know, just to change up a little bit. Because if not, if you do always the same thing, it's quite heavy, no?
"But in the other way, during the match, I'm very focused. When I practice, I'm very focused, you know, trying to get better. But, obviously, the fun moments are also important. And I feel like that I have improved in this kind of view that I can enjoy myself a little bit better but being also focused to practice good."
It's something that Cahill would have brought into the mis. Sinner says Darren knows what to say and when. There are no tantrums after a loss, and he says his mentor innate sense of knowing what to say just before Sinner goes on court for a match. The Italian says it always calms him down.
"This is what I love to do, passion," he said. "Stepping on the court, having fans which you can share this moment. It's always nice."
Sinner is definitely a US Open threat. Toronto allowed him to move up to a career high ranking of six and while that is very nice, he is not carried away with it. There are five other players ahead of him in the rankings and three of those have the experience of winning the US Open – Carlos Alcaraz the defending champion, Novak Djokovic and Daniil Medvedev.
"For sure, it's a good confidence boost, no? especially going into the US Open," Sinner said. "Let's see what positive things can give me this win. I feel like for sure the confidence is going to be a little bit higher, but also my expectations are going to be higher. 
"I knew that I can play very, very good. So, (Toronto) this is, as I said, a great result, and then we'll see how it goes in the future. I still feel like there is room to improve, for sure, how to handle a couple of situations better."