Novak Djokovic continues to break records and set new milestones in tennis. Asked what his ultimate goal is, Djokovic provided an involved response writes Craig Gabriel.
Barring any unforeseen circumstances Novak Djokovic will carve out another slice of tennis history for himself later this month. On 8 March 2021 he passed Roger Federer for most weeks as world No.1 in the men's game. Federer's record was 310 weeks.
The all-time record, across the board in tennis is 377 weeks which is held by the incredible Stefanie Graf. On 30 January 2023, the day after Djokovic won his record extending tenth Australian Open he commenced his 374th week at No.1. It is highly unlikely that anything will thwart him so the week starting 20 February will see him equal Graf and then the week after, 27 February, he will stand alone and start his 378th week as world No.1. 
No doubt his target is Margaret Court's all-time record of 24 majors; Novak is just two behind and it is conceivable that he could conquer that this year.
Incredible! 
These were records no one would believe could be broken but when you think of it, if the likes of Federer and Graf were able to set such milestones, then it should be conceivable that  someone else could go better. 
Djokovic is chasing every record there is and while he will not admit it, it is the only source to make him standout from every singles other person who has ever played the game. Even though it is very difficult to determine who is the greatest of all time, the real GOAT, because the sport has changed through the eras and generations, for example making it very tough to compare the likes of Rod Laver to Djokovic, or Graf to Maureen Connelly, if he did what no one else did, it would be difficult to then ignore the argument that he is the GOAT.
At the recent Australian Open he was asked what the end game was for him, the end goal. When the time came what would he be satisfied with in regard to his achievements because what he has now is clearly not enough? What keeps him going is his desire to reach greater heights and the fact he still enjoys the competition.
"I don't think there is a simple answer to that question, to be honest," Djokovic said. "I was mentioning before that I played professional tennis for several different reasons. Some personal reason is that I feel on the tennis court I always have an opportunity to learn something new about myself, I guess fight with my own demons that I guess we all have.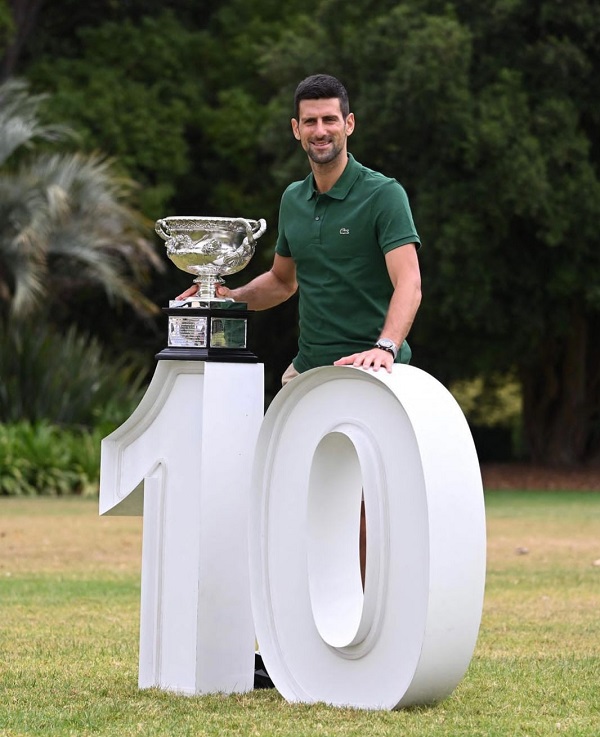 "When we're on the tennis court in the midst of a battle, some of the things surface, and I have to deal with it. So, it's a great school of life for me.
"Then at the same time, of course, I have professional goals and ambitions. Those are Grand Slams and being No.1 in the world. Those two probably pinnacles of the professional tennis world have always been there as goals for me. So, I do want to make more history of this sport, no doubt.
"I feel game-wise physically I still can sustain and maintain the top level. So as long as that's the case, why not keep going?
"I don't know when the end is going to happen in terms of professional career. Right now, I have the motivation, I have support of the close ones, which is also something that is probably underestimated and not maybe talked about a lot, but it's a key, especially as a father. I mean, being absent from the children is not something that makes me very happy.
"I think it's a balancing act between me and my wife and the close people in my life. So, her being there for our children and everything, it allows me to be able to do what I love and still make some strides, significant strides, in this sport."
He has made it clear that he wants to hold the trophy at every tournament he plays. The only thing he has not won is the Olympic singles gold medal and he missed on the actual Grand Slam by one win. He could definitely emulate Rod Laver and achieve the Grand Slam this year because he will be able to play the US Open. At the time of writing, he has 93 career titles and the only men ahead of him are Ivan Lendl 94, Roger Federer 103 and Jimmy Connors 109.
Connors in fact was full of praise for Djokovic. Jimmy and his son Brett do a podcast called Advantage Connors and, on that commentary, said: "I want to say this, the guy's one ****ing great tennis player, right?
"He is not afraid to go out there and play the game, his game. Win or lose. He's not afraid to put it on the line. He knows he's got a bullseye on his back. Even more now. And he's not afraid against all these young guys, who had some pretty good tournaments. But he's not afraid of that. 
"He plays the game, he's not afraid to mix it up. He is not afraid to take the ball early, he's not afraid to get 20 balls to a point. He's not afraid to figure out a way to win. And to me, I like seeing that."