For Alexander Zverev and Tamara Zidansek reaching the semi-final stage of Roland Garros is a whole new ball game.
For both it is the first time and more specifically for Zidansek it is the first time, period, that she has made the semis of a major and historically the first player under the Slovenia flag to do so. Mima Jausovec who did win the French Open in 1977, is Slovenian but at the time Slovenia was part of Yugoslavia and as such she played as a Yugoslav. Zverev is the first German man to reach the French semis since Michael Stich in 1996.
For Zidansek reaching the final four at one of the four biggest tournaments in the world "feels overwhelming". She explained it was hard to take in so fast and her focus had to be on her own game and on herself. For Zverev, there is much more experience behind him. He is in the top ten and this semi-final showing is the third of his career, plus he has been to the final of a major. The German is able to take it in his stride a bit more.
"Winning the first round was a big breakthrough for me," Zidansek said, having never ventured past the first round at Roland Garros and only three times to the second round at any major. 
"I got a lot of confidence from that. I mean, before the tournament I was feeling really good. I was playing good, especially on clay. Had some good matches. So, yeah, when it started to click? I don't know. I just kept going match by match. Every day is a chapter for itself, you know. I'm just gonna keep doing that and hope for the best."
This will guarantee her a place well inside the top 50 irrespective of what happens in the semis; if fact if she wins her semi, she will be knocking on the door of the top 30. It was her goal to make the top 50 and she is really happy with that but now it looks like there needs to be a re-evaluation of her targets.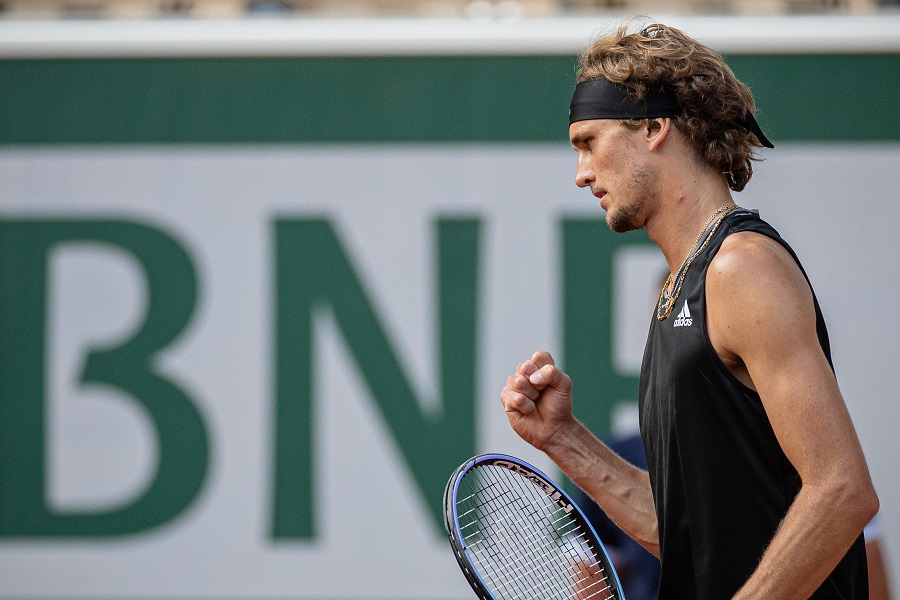 While Zidansek is seeing this side of tennis as an exciting whole new world, Zverev has dealt with questions as to whether he had the head to make the breakthrough at the majors. Players endorsed him, warning wait and see, there is time. Irrespective, the pressure was on and he felt it, but over the last couple of years there has been a shift and his results at the majors have turned. He is at the business end more often than not.
"I was putting pressure on myself; I was not very patient with myself, which I feel like now maybe I learned how to deal with the situation a little bit better, I'm maybe a little bit calmer at the tournaments," Zverev said "For a long period of time I was winning Masters Series, the World Tour Finals, but I couldn't get quite deep in Grand Slams. Yes, I was putting bricks on myself. In a way I was not performing to the level that I was in other tournaments. I was not playing the same level. I was very impatient with myself.
"The Grand Slams, they're still a different animal. Two-week-long tournament, you play every other day, you play five sets. It's very different. You got to learn how to play them, as well. Very rarely does anybody come in and all of a sudden perform his best at Grand Slams. Yes, we've seen Rafa do it, but Rafa is sometimes not human what he's achieved.
"I think for young guys it is a learning curve. I think, yeah, hopefully I can say that slowly but surely, I'm starting to get the hang of it."
While you can only play who is across the net, and everyone who has progressed to the business end of a major has to be playing well, it is still a better situation not to play the likes of Rafa Nadal or Novak Djokovic in the push to get to the final, or in Tamara's case someone like Ash Barty or Iga Swiatek. 
Zidansek and Zverev are about the same age, Sascha turned 24 in April while Tamara will be 24 the day after Christmas Day and both have enjoyed parental support. For Zverev it was probably more expected – his father was a player, and his brother Mischa is still a player on the tour. With Zidansek, her mother is a judge, and her father is a teacher, and both are musically inclined. When they would try to get Tamara to take up an instrument, she would instead gravitate to balls and sport.
"I was always looking for sports, something to do outside (and) they have always been supportive. They always said if this is what you want, whatever you want, basically," she said.
In the semis Zidansek will take on Anastasia Pavlyuchenkova for the first time and Zverev will take on Stefanos Tsitsipas for the eighth time with Tsitsipas leading their series 5-2 but Zverev won the last match, in the Acapulco final this year; this will be their first meeting at a major.