It was not that long ago Jannik Sinner was playing at the entry level of the tennis circuit, Futures. The tall, strawberry blonde, reserved Italian is now knocking on the door of a place in the top 20 and before long that will be a distant memory as he powers up the rankings, and could very well become the best men's player in Italian tennis history. He sees his career as a marathon and not a sprint.
In this first quarter of the tennis season, Jannik Sinner has been a highlight for men's tennis. At only 19 he is shown beyond doubt that he is a future world No.1. Two aspects standout out with the teenager – one said by him, the other said of him.
He won his second career title, the Great Ocean Road Open the week before the Australian Open but then scored a hard luck draw at the year's first major losing a wonderful five set first round to Denis Shapovalov. 
He was later asked what the biggest lesson was he would take away from his month long stay in Australia. Sinner smiled, rubbed his face with his hand, something that appears to be a trait of his, and said: "I think practice with Rafa (Nadal). It's a big, big lesson."
He added: "I have to understand why I lost and then it's going to be a big lesson, as well, I think. So, it's not only one but I think firstly to come here, the reason why we came here was to practice with Rafa for two weeks. I think he can give me many things about how to stay on court with the right mentality and I think that's the biggest lesson. It's for me, mentally tough losing in the fifth, but it's going to be a lesson, as well."
To hear such maturity from someone so young is refreshing. There's no on-court histrionics which can be quite the trademark of some of his compatriots. He is from northern Italy not far from the Austrian border and with that also speaks fluent German. He grew up in San Candido, also known as Innichen where skiing was a passion for him, and he could have been a champion skier. His father is a chef, and his mother is a server at the same restaurant, Talschlusshutte in Sesto-Val Fiscalina, hence the humility he shows.
Nadal stayed up till 1am watching the Sinner-Shapovalov match in bed and explained it was "emotional" for both players and an "unlucky" first round for both.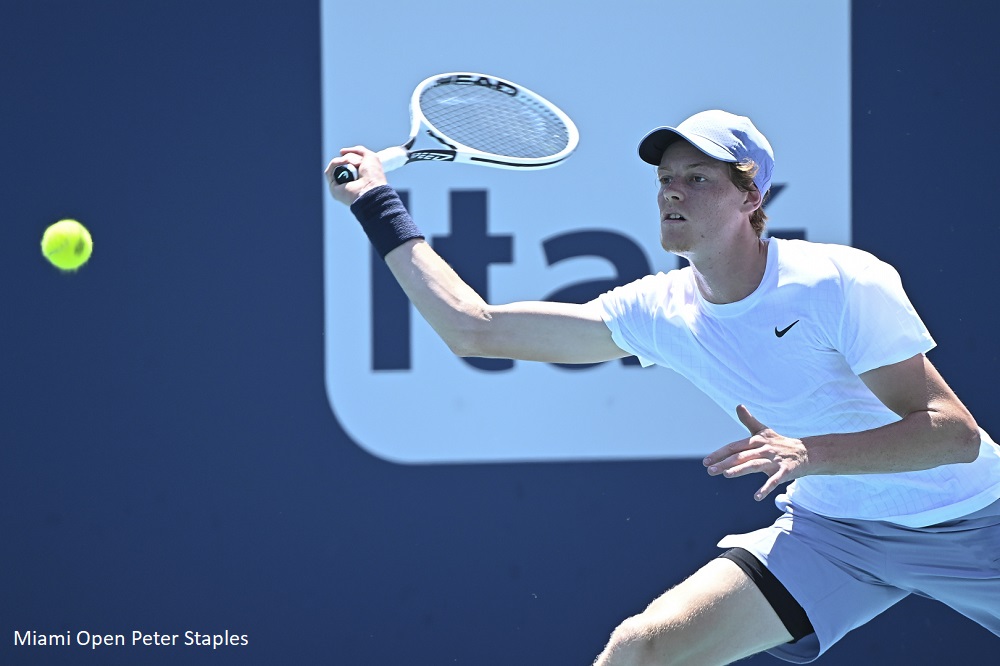 A few weeks later at the Miami Open, Sinner played one of tennis' crazy characters Alexander Bublik; it was another entertaining clash which Sinner won. At the end of the match the Kazakh jokingly questioned the Italian's background.
"I asked him if he's a human or not, because for me, it's very surprising that the guy at his age have this mental toughness that many, many other players don't have," Bublik said. "I called him a robot couple of times during the match, but I do it in a very sincere way because he's really, really a great player."
That mental toughness is so remarkable in someone so young and Sinner's calmness on court belies his age. 
"I think every player is different. Everyone has his own style on court and off court, and, you know, for me personally, I have it from my parents because they are working every day a simple job, but they know what it means to work hard. They gave me this kind of mindset, always trying your best day after day and trying to don't lose energy during your job," Sinner said.
"When I went to Riccardo Piatti (the academy of the highly regarded coach) I was 14. That was kind of a life-changer for me because I never played tennis. I only played two times a week tennis. When I came there, I practiced every day, morning and afternoon. For me, that was very tough in the beginning, so that what helped me is just working hard every day and to don't try to lose energy on court because it's already tough your day. If you lose extra energy without any sense, it's even tougher."
Novak Djokovic has been a keen witness of Sinner's development and the path he has had to now and is impressed. The world No1 remarked: "He's a very, very nice person. He's working really hard. He's devoted. He's got all the goods that he needs in order to become a champion. He's surrounded with very good people from tennis coach, fitness coach, physio. I know all these people from a long time ... He's in good hands."
By reaching the Miami Open final Sinner became only the fourth teenager to achieve that in the event's 36-year history joining Nadal, Djokovic and Andre Agassi, but for him that doesn't mean anything.
"I'm 19 and the road to have this big name is long. It's not done in one week of tournament, it's a long process to come there," he said. "I think it's nice to play finals, but it doesn't mean anything, that you are going to win other tournaments. I know it. My team knows that, and the work has to go on."
Now with the clay season he is poised to strike further and before long he will be top ten.