Whatever Ash Barty puts her hands, mind and heart to, she is successful. The Aussie sports hero has turned her attention away from tennis and into two other ventures as Craig Gabriel writes.
Six weeks after holding the Daphne Akhurst Cup and becoming the first Australian women in 44 years to win the Australian Open, Ash Barty took the sports world by surprise when she tearfully announced her retirement from tennis. Comments immediately started circulating that she must be pregnant. Far from it. There was also speculation about what the next chapter of her life would be, after all she is only 25.
At the time, in mid-March, she said with a smile that "you will have to wait and see" what is to come.
Ash has not wasted much time in inking new deals and arrangements. One is a deal with publisher Harper Collins for a series of children's books as well as a memoir/autobiography which is being written by one of my closest friends, former tennis writer Leo Schlink.

And then there is another sport.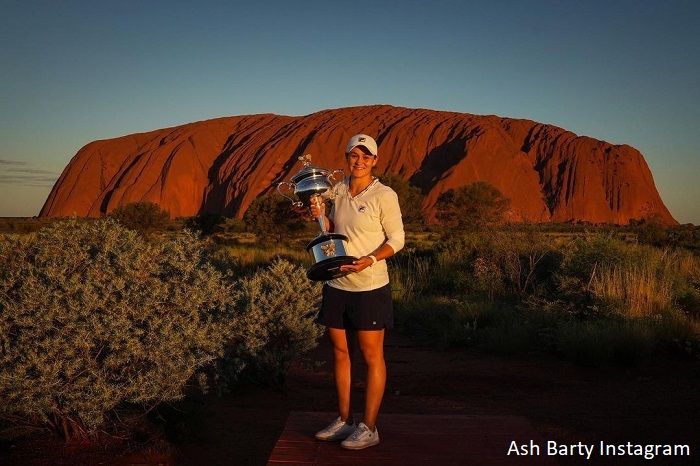 Barty has to be the most accomplished multi sport athlete in the world, if it could be put that way. Whatever sport she puts her mind to she excels. Everyone knows about her tennis prowess which started from her junior days that saw her win junior Wimbledon at 15 and then she went on to be world No1 in the open ranks winning three majors – French Open, Wimbledon and the Australian Open, claim an Olympic medal and the year-end championships.
There was the time when she took up semi-professional cricket and did very well. She can handle an Aussie Rules football with the best of them and has a passion for Richmond football club. Her golf skills have always been there but now they have come to the fore as one of her new ventures, much to the delight of her fiancé Garry Kissick who is a trainee golf pro.
On 30 June (till 1 July) she will be playing the Icon golf series which is an exhibition to be staged at Liberty National in New Jersey and she will be part of Team World to be captained by the man known as the "Big Easy" Ernie Els.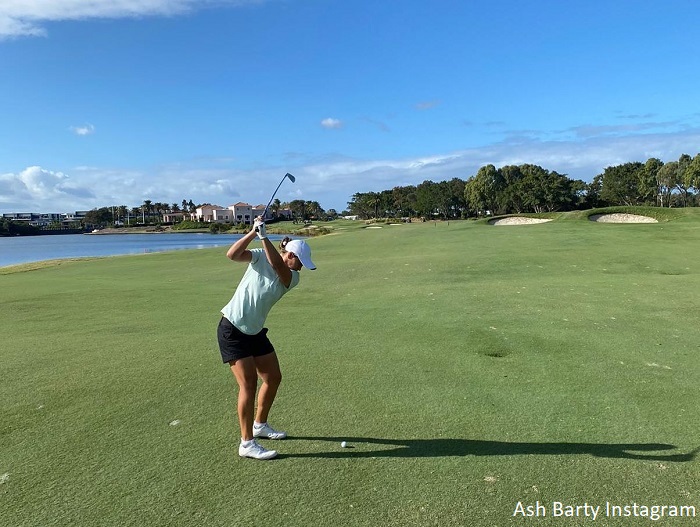 Ironically across the Atlantic it's the same time Wimbledon would have just started. Ash would have been returning as the defending champion to play the first match on Centre Court on 28 June and on the 30th would have potentially been her second-round match.
At this first event she plays, her team members will be boxer Carnelo Alvarez, Manchester City boss Pep Guardiola and Tottenham striker Harry Kane. The opposition, Team USA will be captained by Fred Couples and includes swimming legend Michael Phelps, NFL player Ben Roethlisberger and boxer Oscar de la Hoya.
A prime example of her golf skills came in 2019 at the launch for the President's Cup. She took a shot and reached her target in the middle of the Yarra River in Melbourne and in doing so well and truly impressed none other than Tiger Woods.
"I'm excited to be part of the Icon Series and I hope through my participation in the series that we can encourage more women and girls to participate in golf around the world," Barty said. "The series is also a great opportunity for athletes to have an impact on local community and charity projects in each of the host destinations."
It is understood that Barty has also taken out a stake in the Icon Series and hopes to take the event to Australia. The CEO of the Icon Series Thomas Brookes says, "she's absolutely terrific" and during last year's US Open she stunned veteran British golfer Ian Poulter with how good she is with the clubs.
And back to the books … the memoir is due for release in November this year while the children's series of six books is due in July and will be called "Little Ash" and centred around a character of the same name.
Barty is incredibly proud of her indigenous heritage and the books are based on the Ngarigo woman's life, both on and off the court. The series is a collaboration with Kulkalgal co-author Jasmin McGaughey and Gamilaraay artist Jade Goodwin. Ash revealed that her five-year-old niece Lucy was the inspiration for the project; she described her as her "north star" and said the series has been "so much fun".