We Are Tennis by BNP Paribas brings you a summary of the past week's tennis news, on court as well as elsewhere. A week during which Naomi Osaka lit the Olympic flame for the opening of the Games and a burger sold for 5,000 Euros.
Monday, July 19th
For the beauty of the gesture. Recently more used to throwing things away, Benoit Paire reminds us that talent still flows through his veins at Gstaad. How so? Producing a totally crazy backhand volley which proved impossible to return by his opponent, Jozef Kovalik. It would have been enough to be able to afford to buy the most expensive hamburger in the world which was produced in the Netherlands. What a reward! The recipe for this luxurious sandwich costing 5,000 Euros? Wagyu beef, royal crab, Belota ham, white truffle, Beluga caviar, tomato and cucumber pickle, whisky flavoured barbecue sauce, saffron infused mayonnaise. Impossible to replicate... like the action of the French tennisman.
Tuesday, July 20th.
« Congatulations madman. You were one of my role models and it was incredible to play against you. You truly deserve to be installed in the Hall of Fame, you are a legend and I am really delighted for you. » Signed Andy Roddick in homage to Goran Ivanisevic, who was entered into the celebrated Newport museum. Felix Auger-Aliassine has not yet achieved this honour. On the contrary: in an article appearing on the internet, the Canadian Olympic committee produced a photo which made him appear… left-handed. A small mistake by the graphic designer, less talented than he who produced the first steel bridge conceived by a 3D printer and opened in Amsterdam..
Wednesday, July 21st.
FAA left-handed? Dominic Thiem is also forced to become left-handed, with his acceptance on this occasion. For a long time carrying an injury to the right wrist, the Austrian took up his racket with his wrong hand. Hopefully he can match the speed of Japan which has just beaten its own record of internet transfer speed via optic fibre. 319 teraoctets per second, heard that?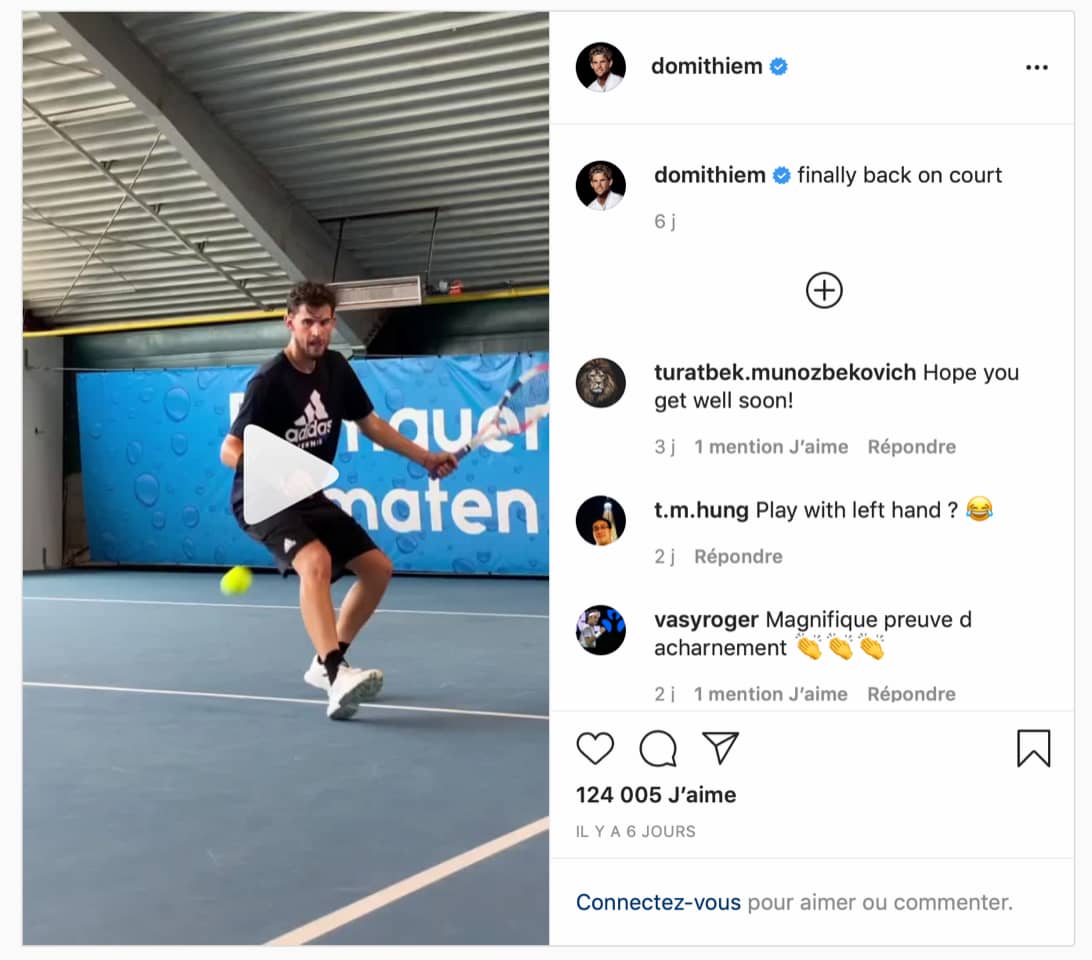 Thursday, July 22nd.

Did you know? You can now be refused a holiday accommodation rental because you have been… vaccinated. This is the unfortunate experience which happened to Steve Carey and his partner on arriving in the region of Victoria when presenting themselves to their host. Subsequently Airbnb suspended the host from their platform. The vaccine, Novak Djokovic is not 100 per cent in favour but prefers to avoid the debate by taking part in a session doing the splits with the Belgian gymnasts, Maellyse Brassart and Nina Derwael. The elastic man to the very end.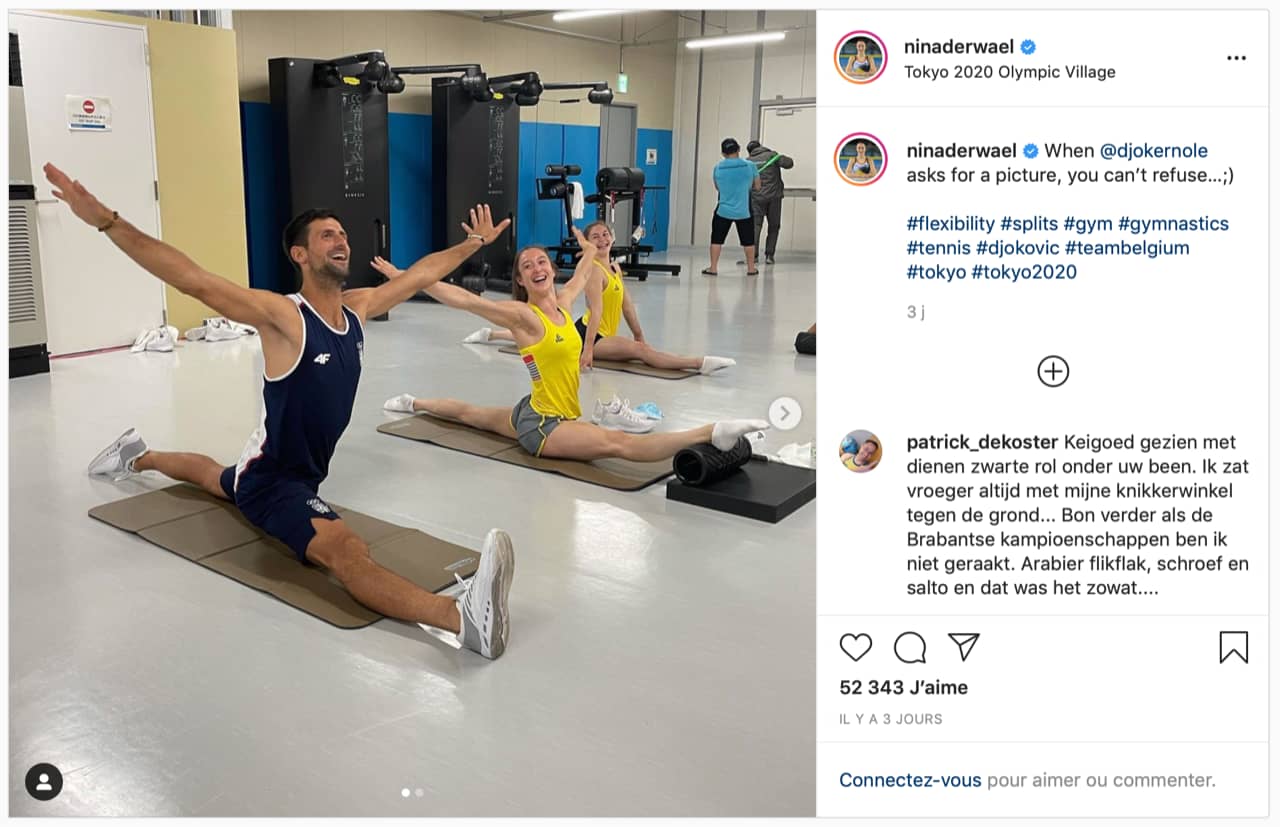 Friday, July 23rd.

It is fine, it is hot, it is intense. During the opening ceremony, Naomi Osaka lights the Tokyo Olympic flame. A little further to the West, just before experiencing the exploits of the athletes, a South Korean teacher invents an ecofriendly toilet, turning excrement into energy and creating money as bitcoins everytime students use the toilet. Those students can now eat their fill and return to the toilet 2.0 after digestion. A virtuous circle.
Saturday, July 24th.
His name is Leonid Stanislavskyi, he's 97 years old and he becomes the oldest tennis player in the World. Who can compete with this Ukranian whose dream is to beat Roger Federer? Not Galip Ozturk and his wife, Kristina, a Turkish couple, too busy with 20 babies born in the space… of a year. Thanks to surrogate mothers. Surely there must be a successor to Marsel Ilhan in that lot.
Sunday, July 25th.
There's more to life than the Olympics, there's other achievements too. Champions are crowned at Los Cabos, where Cameron Norrie produces his first ATP title against Brandon Nakashima (after three losing finals), or where Casper Ruud put an end to the fine tournament of Hugo Gaston at Gstaad, or, again, at Nantes, where a cycle thief resells the stolen bike to… its owner. As you can see, no need to follow the Games to witness exploits.