You would have been forgiven for thinking if this long and winding road would have ever led to an open door, but the Australian Open dates are now official;
It may have been the worst kept secret in tennis but until there was an official announcement, everything was speculation and here say. No more. The Australian Open is on!
The Australian Open will be played 8 to 21 February. That is three weeks after its original start date.
Irresponsible coverage continued to confuse the situation especially when one Australian media person declared the Open would be played in April, something that was never going to be the case, but in a ridiculous way that got out of hand. Others confirmed it was 8th February but at the time it was still just a discussion date. It was the front runner date, but it is only now that it is confirmed.
The CEO of Tennis Australia and the Australian Open Tournament Director, Craig Tiley along with his very competent team have worked tirelessly with the respective Tours, the ATP and WTA along with the state and federal governments to put the Australian Open on.
"It's brilliant to be officially announcing the event, but the feeling won't be like how I will feel at the end of the February when we have the event done," Craig Tiley told wearetennis.com. "We've done so much work behind the scenes to get to this point. We had moments where we had serious doubts this was going to happen.

"The biggest hurdle was convincing everyone it was going to happen. I had to take the high road and be unflappable that this is going to happen. Whatever we do, we we're going to make this happen."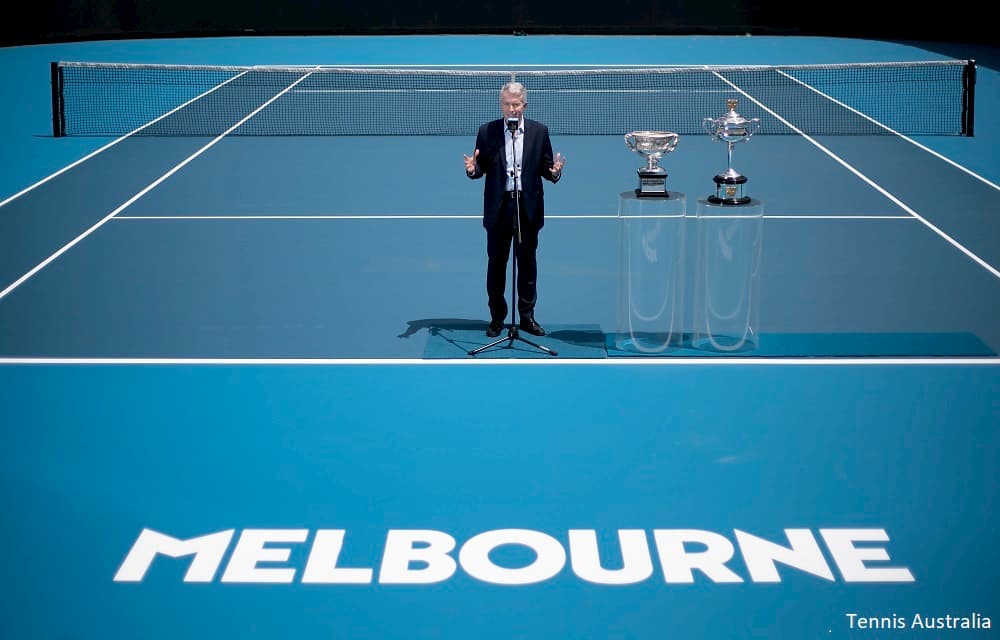 There had been so much discussion about player quarantine and about what players can do for match practice going into an event with best-of-five set matches. 
The information regarding quarantine also caused a stir in the state of Victoria where the Open is played. An irresponsible individual suggested players would be exempted from 14 days of quarantine and would only have to do ten days. That sort of remark was just ridiculous and was not the case at all as has been proven with official word. 
From 15-31 January all players and support staff travelling internationally to Melbourne will quarantine for 14 days in accordance with requirements of Australian public health and immigration authorities.
Tiley said the quarantine protocols will be very strict. When players arrive, they will go into a bubble, but they will be allowed to practice and train etc for five hours a day and they will be constantly tested. Breaking the rules will see players fined and sent packing.
The qualifying event for the Open will be played in Doha, 10-13 January while the women will play qualifying in Dubai. Playing the qualifying rounds offshore is smart because only players who advance to the Australian Open main draw would need to make the flight to Melbourne. That reduces the number of in-coming players. Also, the players who lose in the final round of qualifying will be permitted to make the flights as they could be "lucky losers".
The controlled environment quarantine period will allow players to prepare for lead-in events. There are three ATP lead-in tournaments to be staged, all will be in Melbourne. Between 31 January and 6 February there will be two 250 events – one is new, the other is the relocated Adelaide tournament and then 1 to 5 February will be the twelve team ATP Cup. With the WTA there will be two 500 events side by side 31 January to 7 February. There will also be a small WTA events the second week of the Australian Open.
Total prizemoney for the Australian summer of tennis is $A80million with $A71.5million specifically for the Australian Open.
The Rio event has been postponed.
More information about
Tournament