Elina Svitolina has returned to the tennis tour as a wife and new mother but also with a voice for justice write Craig Gabriel.
There is something more interesting about Elina Svitolina these days. The Ukrainian appears to be different and comes across with a different perspective. There is an ingredient of maturity and there is a changed outlook to her. Rightly or wrongly in the past there seemed to be an element of entitlement with her and while she had won a few titles, it was not as if she had been dominant at events which mattered.
There has always been a forthrightness to her but now Svitolina is almost stately in getting her message across and her attitude and presentation is definitely noteworthy.
Even though she maintained that she would return to the tennis tour after becoming a mother, there was scepticism about whether she would. She seemed so happy with her personal life, married to Gael Monfils since July 2021 and becoming a mother to daughter Skai in October, 2022.
But for Elina Svitolina there was unfinished business and with the war going on in Ukraine she also saw the opportunity to use her notoriety to add to the awareness of the situation and use her foundation to help relieve some of the suffering of her people.
"I changed. I think war changed me in so many ways," Svitolina said. "I think I treasure more my family, my time with my family, my time just on a daily basis. You know, I really try to understand that how lucky I am to be where I am and to have a voice, as well. 
"Also, to, you know, play in such a big events, to have opportunity to play such big events, to motivate young kids of Ukraine, to have this opportunity. So, in so many ways, I'm just grateful that my life turned like that, so that's why right now I just want to give this little part to the people who need it the most right now. So, yeah, just want to do something in return."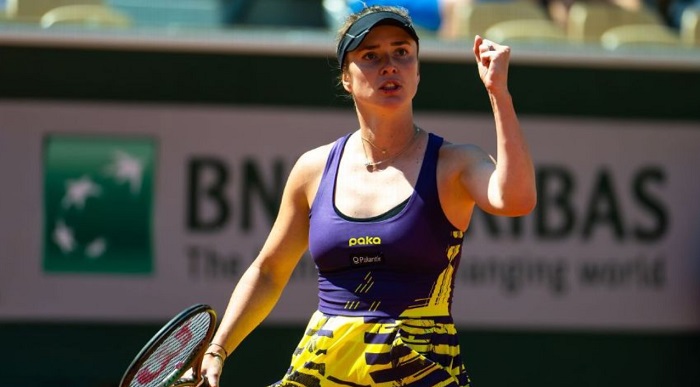 Her name has been opening doors and winning her 17th career title in Strasbourg just before Roland Garros, for the second time but this time as a mother, saw her pledge her entire prize money to the children of Ukraine. 
She and compatriot Lesia Tsurenko have joined together to donate funds to the school for children with disabilities that was destroyed in Kharkiv. And via her foundation she funds are being channelled into health programs, and mental health programs for children.
Being a wife and mother has, as would be expected, had a profound affect on Svitolina. 
She was not putting pressure on herself about when to return to the courts and she was just going to see how things went after three months post pregnancy. She soon realised the motivation was there. She remembers the specific date she began to get into training, 2nd January.
"Everything is pretty different. First, I have different team right now. I'm a mum right now. So, there's few things different, and it feels different as well," Svitolina said. "I'm not a top-10 or top-20 player now. I'm outside of 100, so I'm like top 200 now I think after Strasbourg.
"Also, less pressure, I would say, because right now I'm just gaining, gaining points, and coming back to the level, coming back to the tour. So, everything is kind of old and new for me right now. Mixture of different feelings, but right now, you know, just want to enjoy each opportunity at each tournament that I get. Just play good tennis. Try to enjoy out there, and then, you know, see how it goes."
She says she feels great physically and mentally. The work she has put in at the gym makes her feel maybe even stronger than the first time around with her career. Her first round upset of 26th seed Martina Trevisan at Roland Garros, a semi-finalist last year, showed that she has the confidence and drive which was added to when she reached the third round (at time of writing). 
Svitolina says that she is happy. Putting the comeback puzzle together has been cool and the many pieces of what she is trying to achieve, are falling into place.
"There is a few points that motivated me to come back. I already knew when I was pregnant that I would come back, because I want to do it for myself," she said. "I have some goals that I want to complete before I retired completely. Of course, you know, for my country, as well, to bring these little moments like, for example, winning Strasbourg, starting well here, as well. 
"These kind of moments, these little wins, you know, on the level which is very low, but, these moments bring joy to people of Ukraine, to the kids as well, the kids who loved to play tennis before the war and now maybe they don't have the opportunity. 
"These moments can motivate them to look on the bright side and see these good moments and enjoy themself as much as they can in this horrible situation."