Aryna Sabalenka has enjoyed a great start to the year, probably her best start. She has lost only three matches, the last being at the Miami Open but Craig Gabriel writes Sabalenka is still running hot and important for women's tennis.
It was always known that Aryna Sabalenka had the physical ability to progress far in women's tennis but often it was the mental side that let her down. 
She had made strides with her powerful game but there was also an element of frustration with her game. Especially last year, the year of the double fault for her. You wanted to sit her down and get in her face with lectures and make it clear she was making a mess of things and her tennis was taking steps backwards. She was too good to see that happen.
She reached the final of  the season-ending WTA Championships which was sort of a surprise  considering the frustrations of the season. The queen of the double fault.
Who would stake anything on her? The lack of consistency had one shaking their head. But something came over her and most definitely for the better. That title in Fort Worth seemed to flick a switch in her head. It seemed to shake her out of the stupor she was sort of in. Her off-season training that followed was strong and she arrived in Australia looking quietly confident and reserved.
Not that she revealed anything, but after winning the smaller title in Adelaide just before the Australian Open, there was something there. A seed was starting to germinate in her mind.
The Australian Open blossomed for her and the first major of her career put her up where she belonged, and her record since then has made her a definite contender for every tournament she played. She is no longer a player people say should win ABC or XYZ, now it is a case they expect to see her in the final and likely winning the title. 

It is exciting for women's tennis. Aryna Sabalenka is needed in women's tennis. She has a big personality and she is showing what a winner she really is.
"I think I'm more calm on court, and I'm able to control my emotions, which help me to stay in the game no matter what, and just fight for every point, without losing my mind and without giving like easy points to opponents," Sabalenka said.
Playing tennis came easily to her. Her father wanted her to play sport and he tried to find a good sport for her to play. They passed some tennis courts one day and that was it. The support of her family has been vital. Her father tried to make her tough from a very young age and she feels that's where her character comes from.
"There were a lot of up-and-downs and there were a lot of tough periods," she said, "but I'm really happy that it wasn't like really wasting time. I'm really happy that I was able to achieve so many goals in this sport.

"I just hope that my family is very proud of me."
How could they not be, irrespective of whether she won a major or not? Despite the frustrations of last year, she was still one of the prominent players in the world. But as a sense of appreciation with the support her parents provided her, the Australian Open trophy, the Daphne Akhurst Memorial Cup is with her mother at home.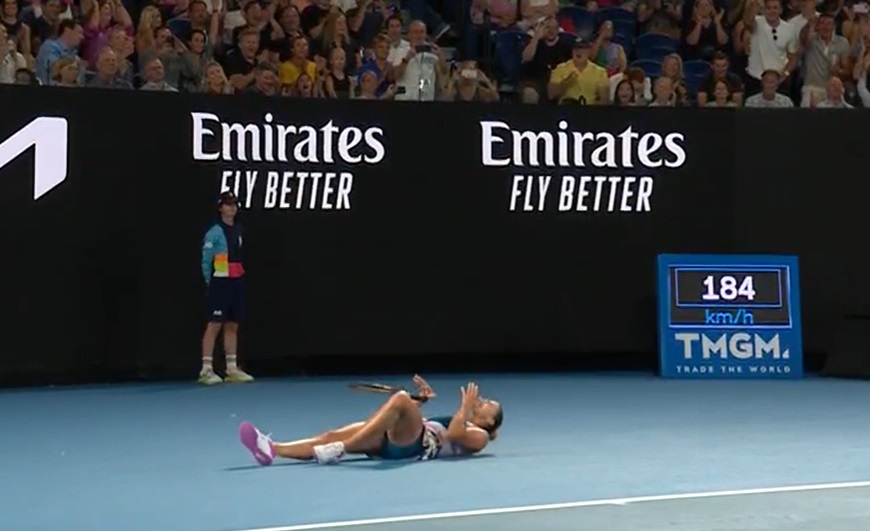 Sabalenka has a very hearty laugh and that was evident when she explained the celebrations the night she won the Australian Open. She said she didn't drink but her whole team was drunk in the hotel room. She didn't "know how many litres they drink that day" but she thought it was very funny, especially seeing them nursing hangovers the next day, after a deservedly wonderful night.
" I thought it was going to be quick to come down after winning the Australian open like after every title, but of course it was different," Sabalenka said. "I think I needed like maybe four days to kind of get back to normal. Because for four day, I would say I was, like, for the whole day, all day long, I was thinking about 'oh, my God, it's happen, is it real life?' I was afraid I'm going to wake up right now and it was a dream. That was my biggest fear.
"And then we get back on court, start practicing again, because the tournaments keep going. I couldn't lose myself for a long time. I was trying to stay still focused and tried to keep working."
 
Winning a major was not her only goal but you never know what will happen with the future so she keeps on working and fighting in the knowledge that it will be to her advantage at the next major or other big event. She knows very clearly that she still has to work hard for more majors and the world No.1 ranking which is within reach and which she will rise to in the next couple of months.
"It's good to know that you have won already, because before, I didn't have a slam, and every time I felt so much pressure from myself, because I really wanted to get it," Sabalenka said. "Every time something would happen; I would lose like really close match just because I really want it and I would miss so many easy shots.
"Right now, it's given me more belief and understanding what I have to do on the important matches. I'm more calm, different than relaxed."
More information about
Player
Tournaments