Aryna Sabalenka could not have highlighted her happiness on-court or off-court anymore than she did having turned things around with her game to win the Australian Open, as Craig Gabriel writes.
It was no secret that Aryna Sabalenka has always had the talent and power and there was a developing personality but she has also had the ability to be  frustrating to people watching her. You want to shout at her during matches and say what are you doing, you have the ability to be the best in the world, why are you so erratic, why are you wasting your talent with terrible tennis?
You would never want to bet a house on her because there was such a lot of unreliable tennis coming off her racquet. She became the queen of double faults; not a title anyone would want.
In 2022 she hit 428 doubles faults and just in the month of January 2022 she had 95. A year ago, she played six matches in January so that averaged at almost 16 double faults a match: that's the equivalent of losing four games every match. Just at the Australian Open in 2022 there were 56 double faults in four matches which is 14 per match.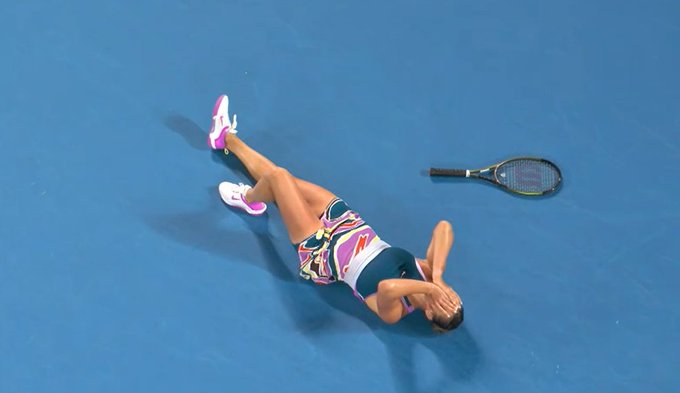 Fast forward to January 2023 and things have changed. Last month she hit a total of 51 double faults in eleven matches – that's an average of a little more than 4.5 per match and the equivalent of losing about one game a match. Of those 51 double faults, 29 were during the Australian Open but she played seven matches this year compared to four 12 months ago, which is also about four per match, and while you want to eradicate double faults, that is not excessive and is acceptable.
How good it is to see Sabalenka play the type of tennis that is expected of her and to see her win the Australian Open, biggest championship of her career. What Aryna Sabalenka did at the Australian Open was something to cheer about, plus she and Elena Rybakina played a final that was one for the ages and will be a contender for women's match of the year.
I put it to her in a straightforward way saying her serve was a "disaster". She took it well with a bit of a laugh and a soft "thanks for that" but she knew all to well that was the case.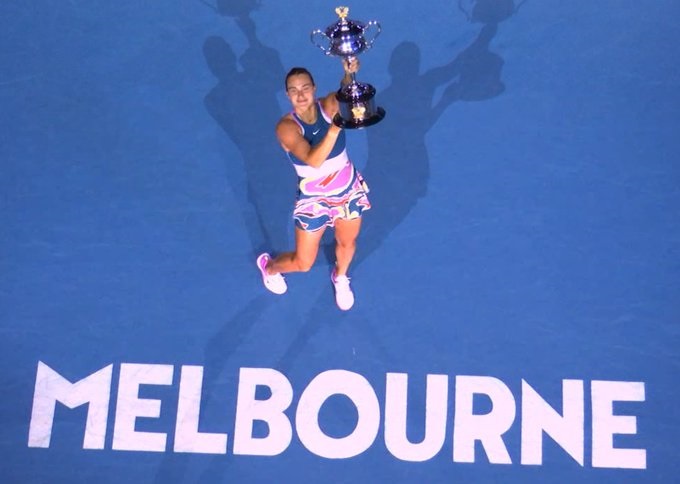 "I've done a lot. I worked so hard. Even when my serve was - how did you say - 'disaster'? I worked a lot on my serve. I was keep trying, keep believing, keep changing. Then I worked on my, like, biomechanic," Sabalenka explained.
"Basically, that's it. But I was doing everything. I thought it's mentally, but it wasn't. We changed a lot of things on how we work on my serve. We tried to work more, less. We tried to, I don't know, so many different things.
"In the end of the season when I start working with the biomechanic guy, he helped me a lot. I think from there, everything starts to kind of getting on that level."
On top of that she parted from the sports psychologist she had been working with and made up her mind that she was going to deal with any issues herself and that she was going to take responsibility.
"I always had this weird feeling that when people would come to me and ask for signature, I would be like, why are you asking for signature? I'm nobody. I'm a player. I don't have a Grand Slam and all this stuff," Sabalenka said. 

"I just changed how I feel. Like, I start respect myself more. I start to understand that actually I'm here because I work so hard and I'm actually good player. Just having this understanding that I'm a good player, I mean, I can handle a lot of emotions, a lot of things on court. Every time I had a tough moment on court, I was just reminding myself that I'm good enough to handle all this just everything."
In a strange way Sabalenka was of the view that she was "super happy" that the issues with her serve were there because it allowed her to take stock of her career. It pushed her into changing things and opening her eyes to what she needed to do to become better.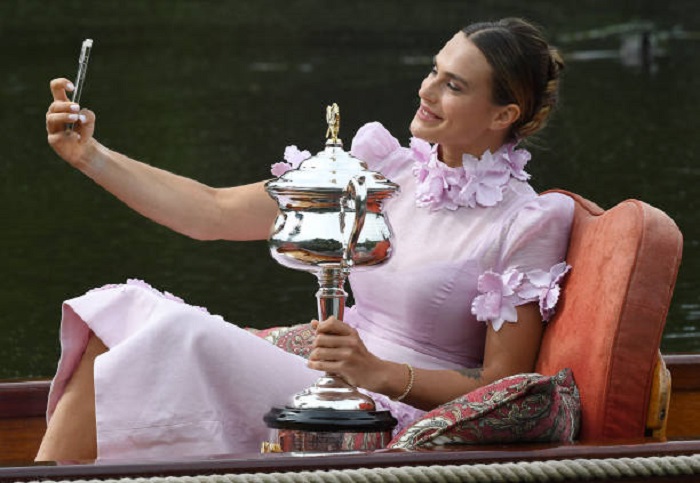 "I want to believe that the way I'm working right now, the way I'm on the court right now, this is the new beginning, and this is the next step. So, I really want to believe that it's going to really help me," she said.
"I remember first day we worked, I couldn't - how to say - like the time went so quick. We were on the court for an hour and a half serving, serving. Because of the biomechanic, I didn't spend so much energy. Everything was more smoother. It's more like a lot of talking, watching videos of yourself, trying to understand things right, a lot of trying. So, yeah, this is a little bit different."
This is all a new beginning and her aim is to be as professional as she can be and not make it easy for opponents and have belief every time she is on court, that she will get through no matter what happens on court.
She is right behind world No.1 Iga Swiatek in the rankings and that's the next step for Aryna but when asked what her goals are she explained "we all have kind of the same goals. Winning Grand Slam, of course, it's not the last one on my list".
Oh and by the way, the pink dress by Australian designer Zimmerman she wore the day after the final has sold out.
 
More information about
Players
Tournament