Serena Williams captured her eighth title in Miami taking her career tally of titles to 66.
Serena Williams has become only the fourth woman in the Open-era, joining Martina Navratilova, Chris Evert and Stephanie Graf, to win eight or more titles at the same tournament. Williams claimed her eighth Miami Open by beating, correction destroying Carla Suarez Navarro 6-2, 6-0 in 56 minutes.
The win maintains Serena's dominance of the Spainard to 5-0 and still Suarez Navarro has not won more than three games in any one set against Williams, and o further emphasise the dominance, this is the fifth time she has bagled Suarez Navarro.
"It feels really good to have eight under my belt," Williams said. "Can't say I thought I would win eight, especially in the beginning of the week. It just feels really weird. Definitely feels good, and I'm happy to be able to get through it. Each one is special. Some finals are long; some finals have been shorter. But it doesn't matter. At the end, each one is a lot of hard work. At the end of the day, it's just standing there and being successful."
For Williams this is her 66th career title. She now has a 73-7 win-loss record in Miami and during the match she hit 27 winners to three from Suarez Navarro who was totally out of her depth and did not know what to do.
When she called her coach to the court on a change of ends, it seemed like his job was to calm her down because she had no answers to the power and precision that was coming at her. More than likely he didn't have an answer either. At one stage Williams won 21 of 22 points, she faced just one break point and lost only seven points on serve.
"He (coach) said that I need to try, I need to believe I can do it, I can win points, and play point by point" Suarez Navarro said. "So the most important is that I need to fight. I need to try every point. When I play with Serena I know that she's the best. She has the game to make me play bad. But, well, this time I believe in me, in how I'm playing the other match. I try. I try until the last point, but was tough and was difficult for me."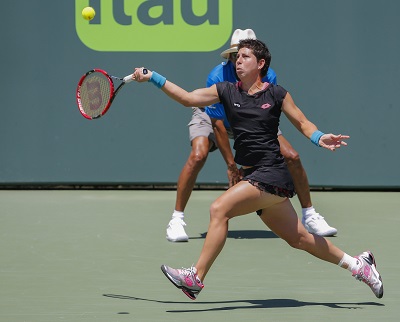 She went into the match believing that she could win. You have to be in appositive frame of mind because being defeatist would have meant an even more devastating result. The Spaniard said that Serena's style of game does not fit in well with her own and she was frank in saying for her, "it's really difficult to beat Serena". Well she is not unique in that situation.
"I always just tell myself just to stay in it and one point at time," Williams said. "If I'm really far ahead or really far down, just one point at time and just go for it. I don't think too far out of one or two points. I think that's what really helps me a lot."
Suarez Navarro's best shot is her beautiful single-handed backhand but even that was totally nullified. Interestingly, Serena hasn't lost a set to a player with a one-handed backhand in more than five years having won her last 23 sets against players with one-handed backhands - the last one she lost was to Justine Henin in the 2010 Australian Open final.
Serena is putting together one of the best winning streaks of her career. She is now at 21 which equals the third best winning streak of her career, tied with a pair of 21-match winning streaks from the 2002 and 2003 seasons. Her two longest were 34 (in the 2013 season) and 25 (across 2013 and 2014).
So, how long can she keep this up?
"I'm just doing the best that I can," she said. "Every day I wake up I go out to play and I feel like I can still play well, that's how long it'll be. No one can answer that."
The men's doubles title went to Bob and Mike Bryan who defeated Jack Sock and Vasek Pospisil 6-3, 1-6, 10-8. It was a win of relief for the Bryans because they had lost to Sock and Pospisil in the Wimbledon final and also at the BNP Paribas Open in Indian Wells.