We have heard of players every so often getting into enterprises outside of tennis with things that capture their interest and with a look to the future. Remember a tennis player's professional life, or for that most sportspeople, is not that long compared to those in regular commercial world.
A tennis player may play for maybe ten to twelve depending on when they actually started and for most by the age of 30 or so it is tough to keep up the pace; even though we have been seeing some cross that barrier. The likes of Roger Federer, Lleyton Hewitt, Serena and Venus Williams, Li Na fall into the category.
Many, when they leave tennis, don't know what to do next. Some may branch into commentary but it is definitely not easy. Jim Courier has built a successful company with Inside Out Live as an example, others have gone into finance but not many at all have actually created a company and business while still playing at the top of the game.
Serena and Venus Williams have let all know about their design businesses; Venus will "eleVen" her clothing company and "V-Star" with interior design, Serena had "Aneres" her clothing line, but it is not as if the businesses have gone out and become multi-national.
Really, just one player, has achieved outstanding notoriety with a business transaction and that is Maria Sharapova with "Sugarpova". The product has been an amazing success since its launch in August, 2012 and is available in so many places and is often seen in some of the best shops in the world, like Selfridges in London.
Sharapova was asked during Roland Garros, as a businesswoman why she decided to invest her money in something like sweets.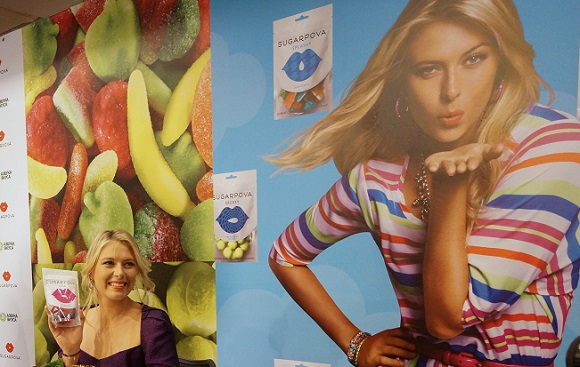 "Well, I thought it might be a stupid idea in the beginning, but it's turned out to be one of the smartest things I've done," she said. "It started off as a creative something that I thought I would eventually, down the line when I'm finished with my career, would be able to build and grow, but I wanted to start building during my career.
"You know, it started off as a little mom and pop shop, and now we actually have full time employees in the company. It's become a pretty big business in over 30 countries around the world. It's incredible to see the growth of something that started so small."
The project is outstanding marketing. The sweets are not that different to what you can get anywhere but having a global superstar owning the product, packaging it attractively and using quirky names like Flirty, Smitten Sour and Splashy for the packets and flavours really got things to click.
Hey Maria where is my supply?