We Are Tennis by BNP Paribas brings you the best of the past week, on but also off the courts. A week marked by Sam Querrey fleeing Russia, Zverev triumphing in Cologne, a Pokemon card sold for a huge sum of money and a cougar following a jogger.
Monday, October 5th
Always respect protective measures. The A330neo Airbus belonging to the airline Garuda Indonesia gave the right example, as it is wearing a blue mask, painted on the front of its fuselage. The same thing at Roland-Garros, where social distancing is respected, and where there are far less supporters than at the previous editions. Which can cause a few problems, when a journalist like Nelson Monfort speaks is a little too loud. What did John Isner, Eliot Benchetrit and their umpire think of that?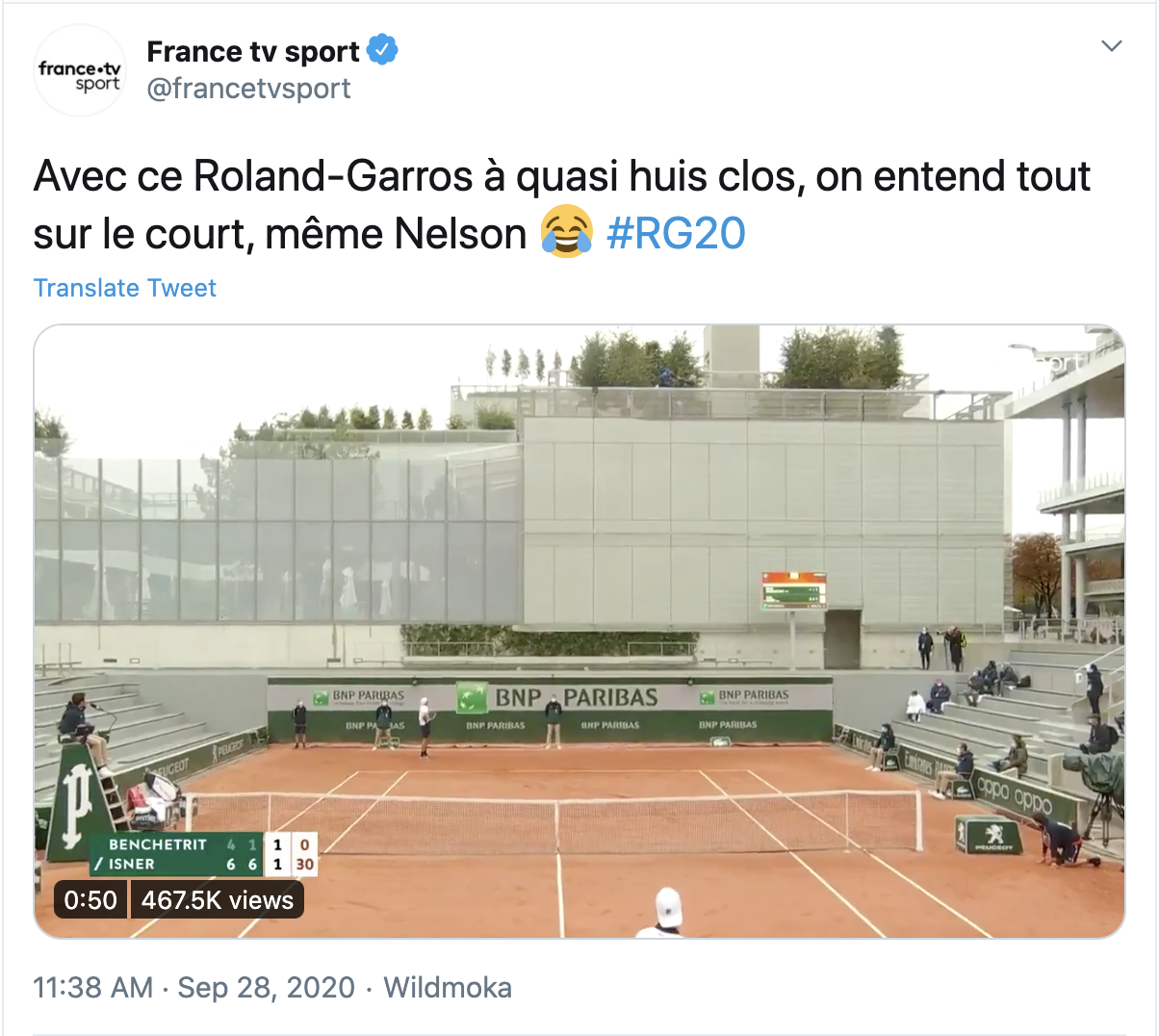 Tuesday, October 6th
« The problem is the weather. Of course, it's not ideal to finish the match at 1:30 in the morning, but it's mainly too cold to play. It's really, really cold. Tennis is a sport with a lot of time-outs, so I think it's a little dangerous for our bodies to play in these conditions. » Rafael Nadal had to play his quarter-final against Jannik Sinner in the middle of the night, and he wasn't happy about it. It's not worth suggesting him to go to Burger King, as the fast-food chain officially asked the Michelin guide to award it a star. The Spaniard is the type of people to spot scams, and avoid them.
Wednesday, October 7th
Three fresh news this Wednesday. First, the bad news: after testing positive for coronavirus, David Goffin will not be able to play at the Saint-Petersburg Open. Now, the good news: the Rolex Paris Masters has been confirmed and will be played at the Bercy Accor Arena at the start of November, and four homeless people won the jackpot in Brest, France, as they on 50 000 euros with a scratch card which was given to them by a passerby. Who only payed one euro for it…

Thursday, October 8th
What a point, ladies and gentlemen! If Sofia Kenin managed to win her semi-final against Petra Kvitova, the Czech can always boast about winning the point of the week in the women's draw. And even celebrating it before it was over, as she clinched her first before her rival hit the ball back! Enough to make you smile, just like Adam Deering. This British man who became a millionaire has just bought the headquarters of a bank who refused to loan him money more than twenty years ago. Revenge is a dish served very cold, but still not at Burger King.

Friday, October 9th
The day of cuddles, between heartbreakers and victims. First, Stéfanos Tsitsipas, speaking about Novak Djokovic, who prevented him from qualifying for the final: « Once again, he's shown what an incredible athlete he is and what he's able to produce on a court. He's one of the most lethal rivals I've had to face in my life, and I've got a huge respect for that. He has really posed a lot of problems for me, putting a lot of pressure on his returns. He has almost reached perfection, and knows how to do everything, in terms of tennis. It's quite incredible, to be honest. » Diego Schwartzman, speaking about Nadal, who defeated him in three straight sets: « We know Rafa, he always finds a solution. In the third set, when I was playing better than him, he was able to produce three winners to turn things around. He served better when he had to. He knows what to do to get out of difficult situations, at that's why he's in the final. » Djoko, speaking of the man who is about to destroy him in the final: « Here is his home. But in 2015, I managed to defeat him in the quarter-finals. I have to be at my best level, facing Nadal at Roland-Garros is the greatest challenge of our sport. » By the way, did you know that the picture of an onion could be suppressed by Facebook ? That's what happened to the account Gaze Seed Co., a Canadian company selling seeds and fertilizer. Enough to make you want to cry.

Saturday, October 10th
Two stories, with opposite conclusions. Here's the first one. It was worth more than 250 million euros, but he cut it in half to be able to transport it. He thought it was worth nothing as he only payed 50 pounds on the black market for it, but it turned out to be an authentic calligraphic poem roll produced by Mao Zedong. This poem, written by the ex-Chinese dictator, a priceless piece of art, was partly destroyed by its owner, who could have sold it for a fortune. Here's the second story. She made quite an impression, but was only 19. She hadn't lost a single set, but had to face Kenin. Iga Swiatek, only the second Pole to reach the final at the French Open, still managed to become the first polish tennis player to win a Grand Slam tournament. Two incredible, but true stories.
Sunday, October 11th
That's it: no one will objectively be able to say that Roger Federer is the best player in the history of tennis. Because a certain Nadal has statistically caught up with him, by winning a twentieth major title - his thirteenth at Roland-Garros! - after destroying Djokovic. On this historical Sunday, October 11th, the essential things to remember pretty much all happened in France: Anne Hervé found her wedding ring, which she had lost 40 years ago on a beach of the Côtes-d'Armor, and Daniel Cotrel picked up the heaviest apple in the world (1,868 kilo vs 1,849 kilo for the previous record set in Japan in 2005) in the region of Somme. Guaranteed without any doping products.
By Florian Cadu