We Are Tennis by BNP Paribas brings you the best of the past week, on but also off the courts. A week marked by Francesco Totti's nice offer to Federer, the start of Roland-Garros and an overdose of licorice.
Monday, September 21st
Roland-Garros' main draw will start in a few days, but the qualifying rounds have already started, with a few veterans amongst the candidates: Karlovic, Robredo, Lorenzi, Troicki and Rosol in the men's draw and Errani in the women's. A lot of tennis was being played this Monday, with the start of the Hamburg Open (ATP) and the Strasbourg Open (WTA), but also the ending of the Italian Open: with - once again - Djokovic clinching the title, but also with Halep's winning comeback. In other news, the presidential campaign has fully kicked off in the US, with Trump stating that he will sulk if he's not reelected, and Biden who played « Despacito » on his smartphone to seduce the hispanic demographic.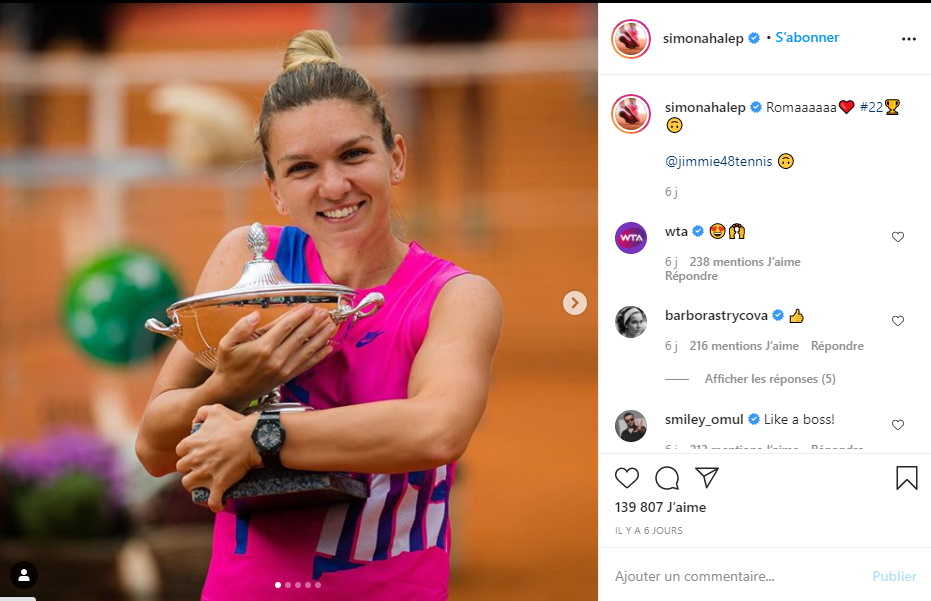 Tuesday, September 22nd
The post-Covid world is doing very well, thank you very much: airlines in Asia and Australia are selling flights to… nowhere (you depart and land at the same airport, just for the thrill of flying and boosting your carbon footprint), while a prestigious leather goods brand is offering face shields for 800 euros. On a less depressing note, Andy Murray is back on the Parisian clay, three and a half years after his lost semi-final against Wawrinka, and Ugo Humbert produced a huge performance in Hamburg as he knocked out the number 1 seed of the tournament, Daniil Medvedev.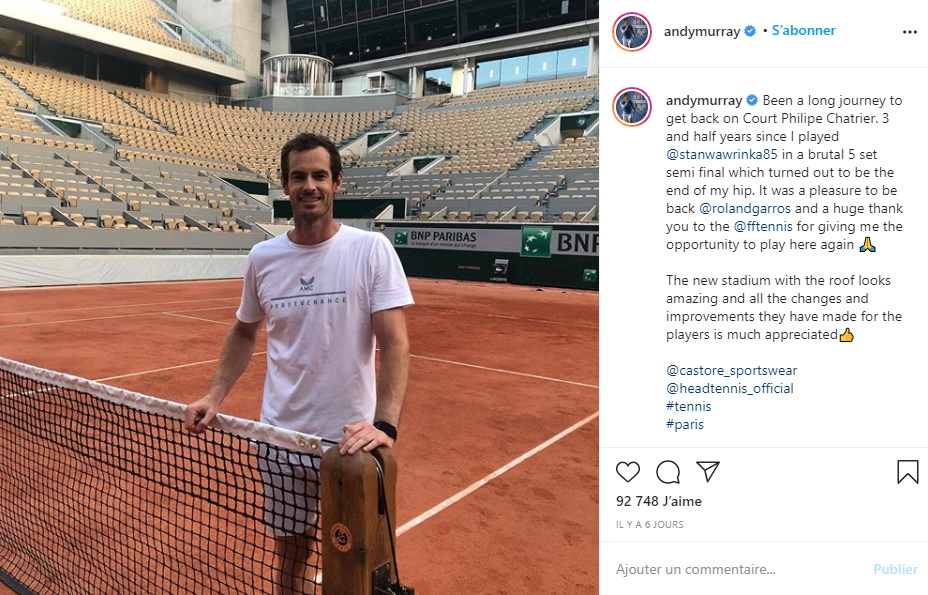 Wednesday, September 23rd
If you're currently going through a rough patch, you can tell yourself that there's always someone going through something worse: Benoît Paire, for instance, who tested positive for Covid again, but who was authorized to play in Hamburg, before withdrawing from the tournament, as he was physically and mentally exhausted. We understand and sympathize with him… Novak Djokovic is also going through a troubled time, but is still smiling, as he joked about the « bubble » in front of his son. But then again, the pandemic is still going on strong and has forced the organizers of the Rio carnival to cancel the upcoming edition… We're sad for Guga Kuerten's fellow countrymen.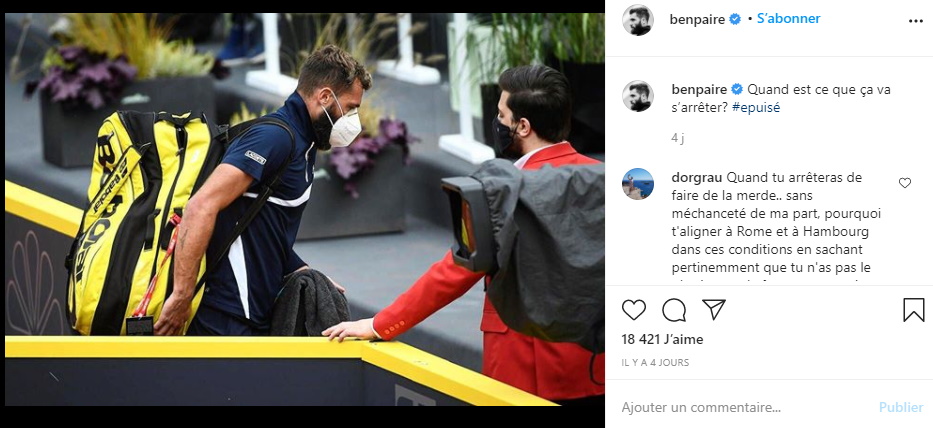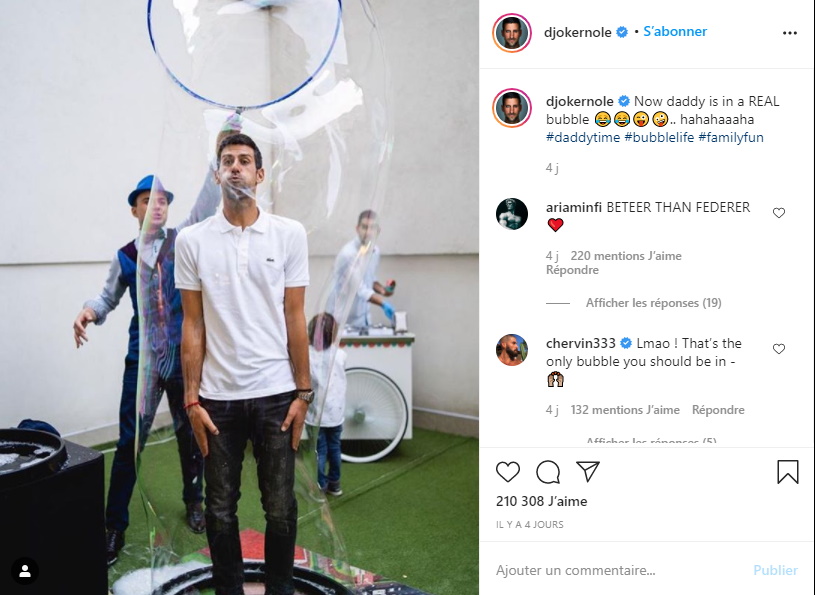 Thursday, September 24th
Roland-Garros is approaching, with this time the draw, which place Nadal and Thiem in the same part of the table for a potentially explosive semi-final. A tournament which will take place without Raonic, who decided to withdraw from the French Open, just like Bencic, but we will see Serena Williams, who's working on her physical condition. And a tournament which will only be played in front of 1000 spectators, instead of the 5000 initially authorized, after the French government reinforced its measures against Covid-19 this week. There will be no derogations. Meanwhile, there was a curiosity at the Strasbourg Open : the local Paul-Henri Mathieu was a ball boy there! One who's having much less fun is Boris Becker, currently on trial in London for financial issues, and who could get a 7-year jail sentence. Ouch…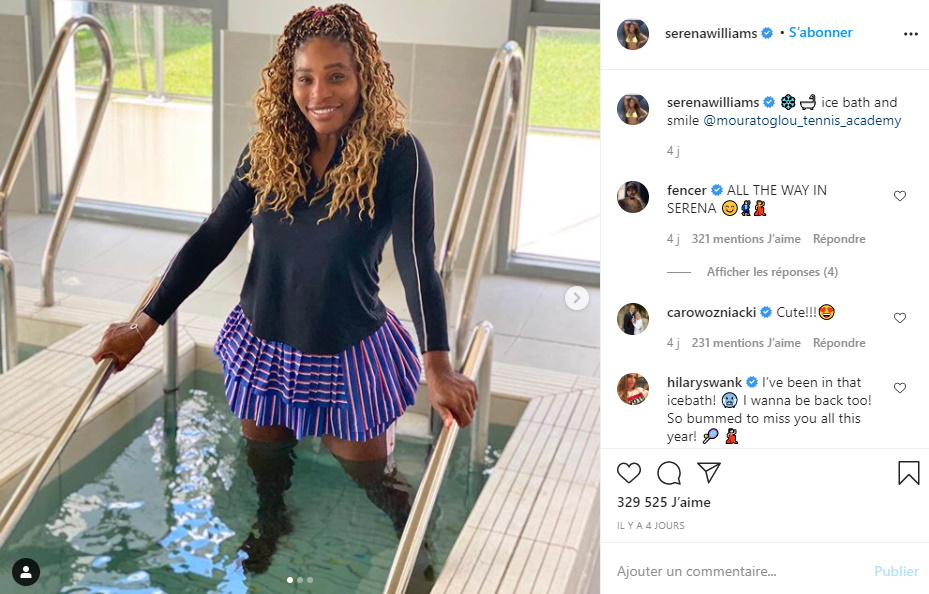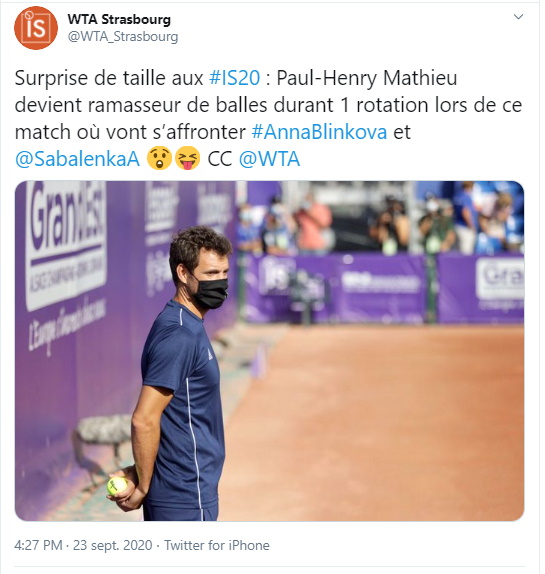 Friday, September 25th
Here's the potential winner of the Darwin Awards, which lists the most improbable deaths in the world: a 54-year old American man died after overdosing on licorice. He ate only that for two weeks… Tennis fans, on their side, will now feast on two weeks of Roland-Garros, despite the absolutely terrible weather forecast, and a new leaking roof on the Philippe-Chatrier court… At least, Benoît Paire will be able to play after testing negative for Covid-19. Nadal, on his side, seemed to worry a little, stating that he will need to be at his « best level » to win his 13th French Open. The Next Gen has never been closer to dethrone the legend of clay.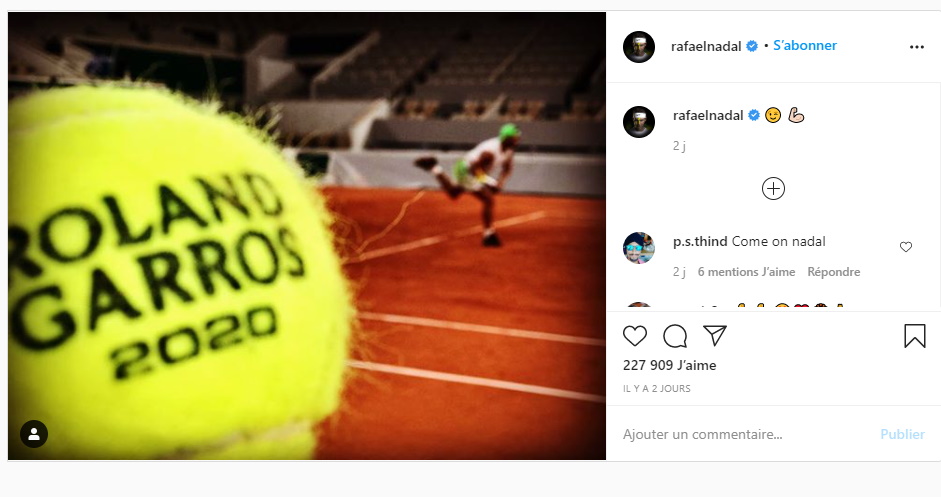 Saturday, September 26th
It was the final in Strasbourg and Svitolina won her 15th title, the second of the season after winning Monterrey in March just before lockdown. It was a bad day however for Fernando Verdasco who was expelled from Roland-Garros after testing positive for Covid… even though he had already been tested positive in August. The accuracy of tests is still being questioned. The ex-emblematic captain of AS Roma, Francesco Totti, stated that he would love to « challenge Roger Federer at Padel » one day. We'd pay a large sum to see both of them face each other on a football pitch as well!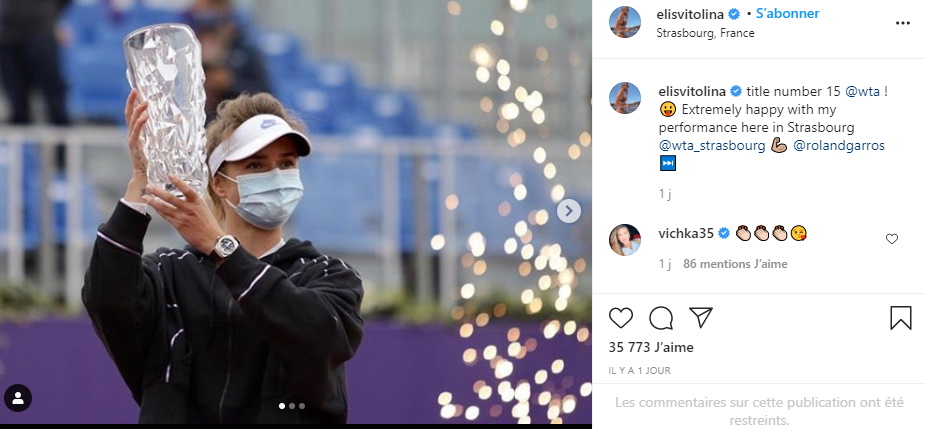 Sunday, September 27th
And Roland-Garros has started! It was a cruel first day for Andy Murray, who was easily defeated by Wawrinka, in a revenge match which, unfortunately, was shorter than expected. Here are the other striking results of the start of this first round: Goffin was knocked out by the Italian wonderkid Sinner (who had played with a prestigious sparring partner two days before) Cori Gauff managed to knock out Konta, Paire had a winning comeback, and a sulking Azarenka, despite the terrible Parisian weather, managed to win quite easily. She'll have to get used to it if she wants to go far in this tournament… Despite the sun not being here, let's not hide our pleasure: we're extremely happy to see some tennis being played at the Porte d'Auteuil. Will Rafael Nadal extend his domination on the Parisian clay? Will Serena Williams be able to win another Grand Slam tournament? We can't wait to get the answers to these questions! Meanwhile, the Hamburg Open ended with Rublev's win over Tsitsipas in the final.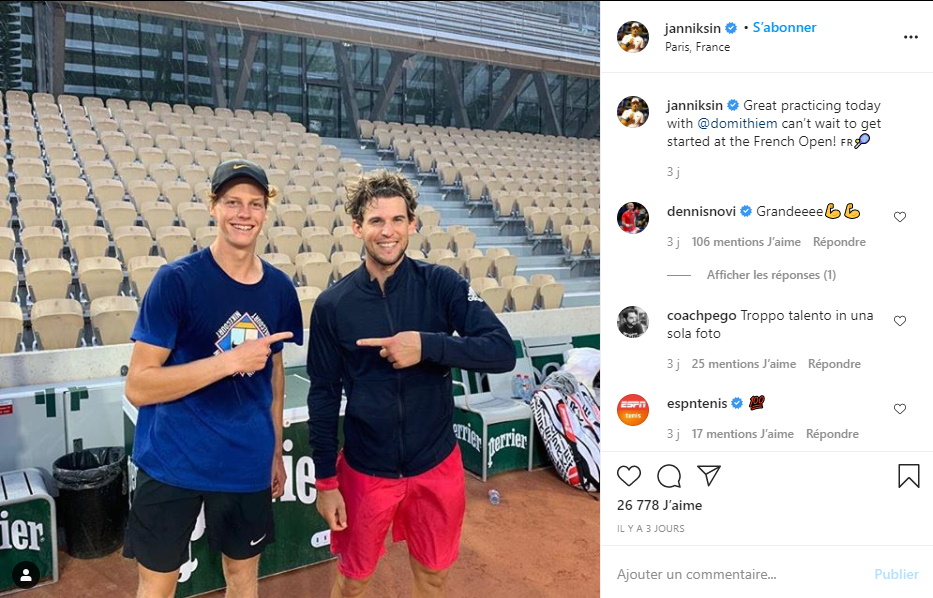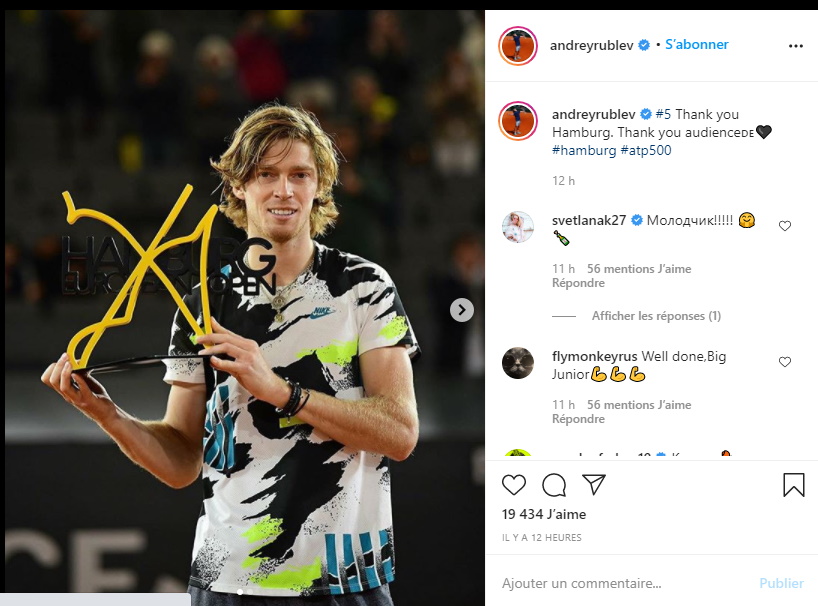 By Régis Delanoë