We Are Tennis by BNP Paribas brings you the best of the past week, on but also off the courts. With Nadal's comeback on clay, as he was defeated in Rome, Osaka's withdrawal from Roland-Garros and a man using crisps to avoid wearing a mask on a plane.
Monday, September 14th
It's not the US Open or a Grand Slam tournament but still. In Istanbul, Patricia Maria Tig won her first ever WTA title after she defeated Eugénie Bouchard. Thankfully, when things weren't going to well for her, she didn't have the same idea as this woman named Julija Adlesic. The 22-year old Slovenian chopped off her hand on purpose in order to receive a lifelong compensation. Instead of that working out, she got caught for her scam and received a two-year jail sentence. Added to the fact that she won't ever be able to play tennis again, if she was thinking of pursuing a career in the sport.
Tuesday, September 15th
« When I was working in his coaching staff, I was sitting in the box during the 2016 incident at Roland-Garros, where he threw his racket. Novak Djokovic almost hit a line judge accidentally that day. We talked about it afterwards, I know what pressure in a big match feels like. I told him that he could scream as much as he wanted or break his racket, but he could never throw objects or hit the ball. I was afraid that something like that could happen. He's playing in the same era as the gods of tennis, Rafael Nadal and Roger Federer, and I think that it annoys him to see that he's not as popular as them. » Thanks to Boris Becker for analyzing and explaining the world number 1's incredible disqualification, a few days after the incident. However, he didn't say a word about this British man who ate crisps during four hours while on his trip to the Canary Islands, so that he wouldn't have to wear a mask on the plane. « I looked at the number of crisps that a pack of Pringles contains, and I divided that number by the time spent on the plane to know at which pace I had to eat them, » the man boasted. And the answer is? One bite every two and a half minutes.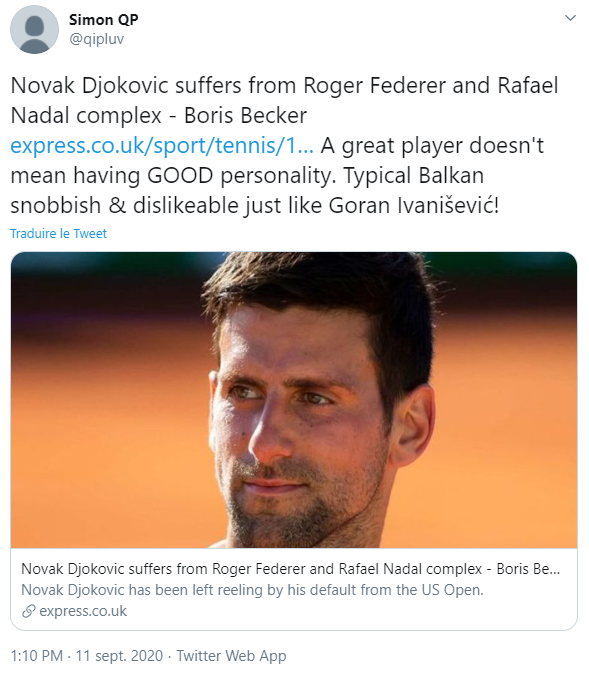 Wednesday, September 16th
We hadn't seen him on a court in the last six months. So obviously, for his return on clay, Nadal destroyed Pablo Carreño Busta. A reaction, maybe? « It was a strange feeling to play without the fans being there, but it's a very positive comeback. I obviously have a lot of things to improve until Roland-Garros, but honestly, I played a solid and serious match, said the Spaniard. I don't like speaking about percentages or numbers. Because tennis isn't maths. Actually, it was simply fantastic. » Less lucky, Chris Evans accidentally shared a picture of his erected penis on Instagram. « Now that I have your attention…Go vote on November 3rd! », said the actor in a pirouette. Adults only.
Thursday, September 18th
Not 11 500, but only 5000. That's the number of spectators which will be allowed at Roland-Garros, and only on the Philippe-Chatrier central court. It's still better than a cancellation of the tournament, like in Moscow, where both the ATP and WTA tournaments which were meant to be played at the end of October were cancelled. In other news, in the Netherlands, it is now possible to choose a coffin made out of mushrooms to rest in peace for ever. Ecology first!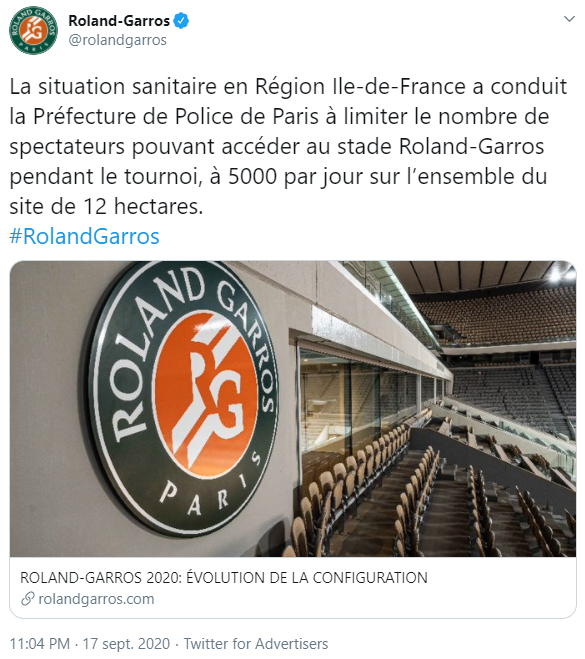 Friday, September 18th
It's sad, but it's life: Roger Carel, a legend of French dubbing, passed away at the age of 93. It's a shame, but it's fate: after winning the US Open, Naomi Osaka withdrew from the French Open to heal a painful left thigh. It's anecdotal, but important to remember: starting from 2021, the Fed Cup will be renamed the Billie Jean King Cup. It's regular, but still nice to hear: today is the weekend.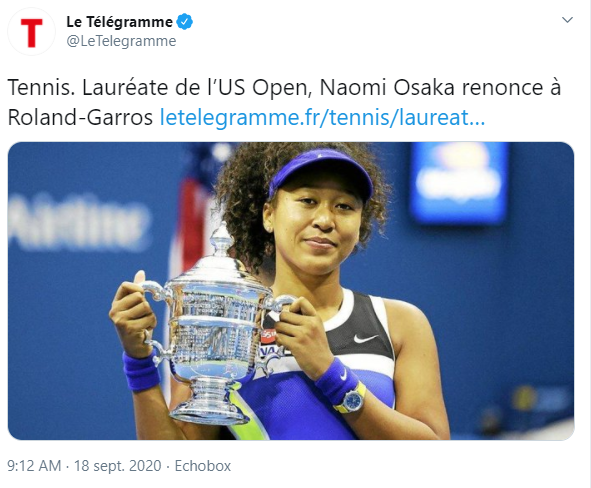 Saturday, September 19th
Some bad news for the Strasbourg Open: Victoria Azarenka won't be there, and neither will Kristina Mladenovic. Some bad news for the planet : humankind hasn't fully grasped the concept of pollution, as 130 flights to « nowhere » offered by Qantas (the flight consists in a seven-hour loop going over Queensland and the Gold Coast) were sold in 10 minutes to clients missing the feeling of flying. Some bad news for FC Barcelona: if things carry on this way, Nadal, a Real Madrid fan, will soon be scoring goals against them.
Sunday, September 20th
It's hard to chose the most surprising fact of this end of the week, which was marked by the French Heritage Day. Was it the opening of a swinger's club in Vendée, France, with an overdramatized visit ? Or was it Nadal's defeat in the quarter-finals in Rome, against an unstoppable Diego Schwartmann, who had never defeated him in nine previous confrontations? The Argentine made his point after saying it was the « best match » of his career. Ok, let's go with him.
By Florian Cadu