We Are Tennis by BNP Paribas brings you the best of the past week, on but mainly off the courts. Gaël Monfils was Elina Svitolina's guinea pig, while a Chilean woman saved the day by inventing a honey named « Miel Gibson ».
Monday, August 17th
It's getting hot in here. In the middle of this month of August, the planet is suffocating, and reached its heat record, with temperatures reaching 54,5° C in Death Valley (USA). Enough to make Simona Halep sweat even more, as she's the sixth player of the WTA Top 8 to withdraw from the US Open. Enough also, to make Gaël Monfils sweat as his girlfriend Elina Svitolina hit a few balls a few centimeters away from his face. Let us breathe, please!
Tuesday, August 18th
No, it hadn't completely disappeared. After years going unnoticed, the Somali elephant shrew has been seen by scientists in Africa. A little bit like tennis, in a way, as the US Open central court's stands are coming back to life again, ten days before the start of the tournament. With, notably, Felix Auger-Aliassime who was outraged by Alexander Zverev…
Wednesday, August 19th
With Andy Murray, boredom becomes something rare. Especially when the Brit choses to answer every single question in an interview. The Glasgow-born star admitted that he'd love to coach Roger Federer because he'd « learn a lot and because it would be interesting to speak about tennis with him », but he also said that he believes that he's got one of the smallest penises on the circuit, after Liam Broady. However, there were no questions about this « lucky » phone number which was sold at an auction in China and bought for… 300 000 dollars. Just because it ends with five 8's in a row.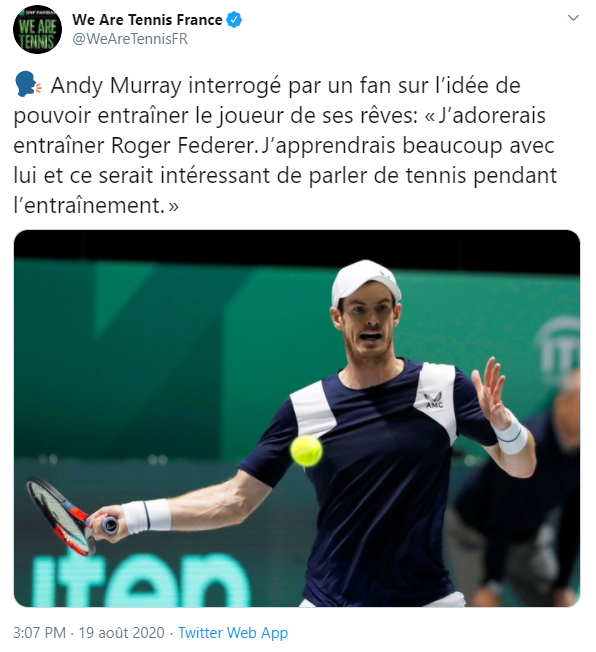 Thursday, August 20th
Being quarantined even if you don't have the coronavirus is the new bizarre rule imposed on the players. After having been in contact with members of their entourage who had contracted Covid-19, Guido Pella and Hugo Dellien had to quarantine and withdraw from the Cincinnati Masters, despite testing negative for the coronavirus. Logical, just like this 48-year old Japanese man who was fired by his company for having lied on his CV. The liar turned out to be… overqualified for the job. On his side, Novak Djokovic confessed that he « almost didn't come » to North America. « If I'm here, it's because it's truly important for our sport to continue. » And never mind the stupid decisions.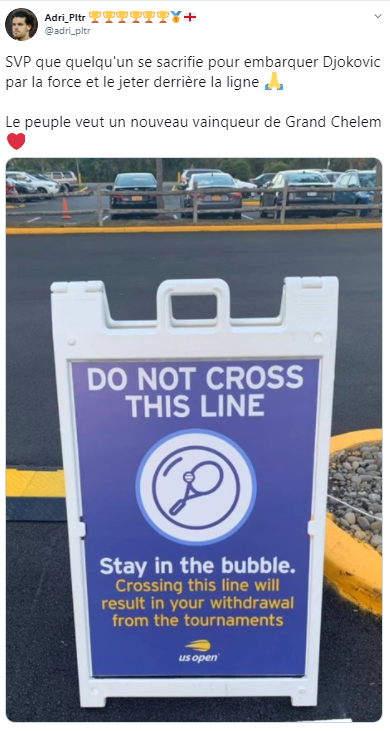 Friday, August 21st
Kei Nishikori tested positive for the coronavirus again, but is still hoping to take part in the US Open. Serena Williams doesn't seem to keen on bumping into the Japanese, as she wore the complete outfit - glasses, gloves, mask - to attend… a video conference. If she really is too scared to go out of her house, the American could try her luck at producing honey. Just like Yohana Agurto, a 40-year old chilean teacher who couldn't stand no longer working after the schools shut, and who created a buzz by producing a honey called Miel Gibson. The important thing while creating a start-up is finding the right name.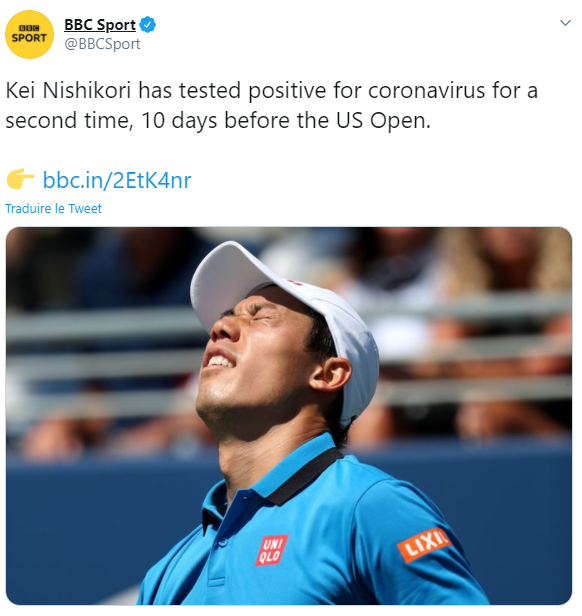 ?
Saturday, August 22nd
Imagine walking peacefully in the street, when all of a sudden, a cat lands on your head. That is exactly what happened to an elderly person in China, who was knocked out and even suffered a backbone injury. Even more painful than one of Stan Wawrinka's backhand, as the Swiss won the Prague Challenger after defeating Aslan Karatsev. Wawrinka playing in a Challenger, you read that correctly.
Sunday, August 23rd
« I really like Stefanos' game, he hits the ball very early and with a lot of power. This session has been precious, I learned a lot. He hits the ball a little flatter than other men, so that helped me a little. And the important thing is to face these sorts of challenges. It's also useful to work on the mental side of the game, because I had to really be focused and not miss any shot. » Williams sounded like she had a great time facing Tsitsipas in a practice session. Agathe Le Sommer also has great ideas. The 22-year old Parisian drew the word « Alternance » (Block release training, in English) while running with her GPS device to find a company who would hire her. Her main asset ? Creativity.