We Are Tennis by BNP Paribas brings you a summary of tennis news from the last week, on the courts but also beyond. Serena Williams refuses to give up on the US Open, Federer celebrates his 39th birthday and a wild boar steals the clothes of a German.
Monday, August 3rd
A week which starts as the previous one ended: with a US Open which each day loses more of its stars. If Alexander Zverev puts his presence in doubt, Jelena Ostapenko has shown no such hesitation: she will not be there. « America doesn't figure in my plans, it is too dangerous for the moment and I don't wish to risk my health or that of others », the Latvian stated. At least she did not pretend to be ill, unlike an employee of a Canadian restaurant who pretended to be contaminated with the coronavirus to get a day off. She was finally caught then sacked. Game, set and match.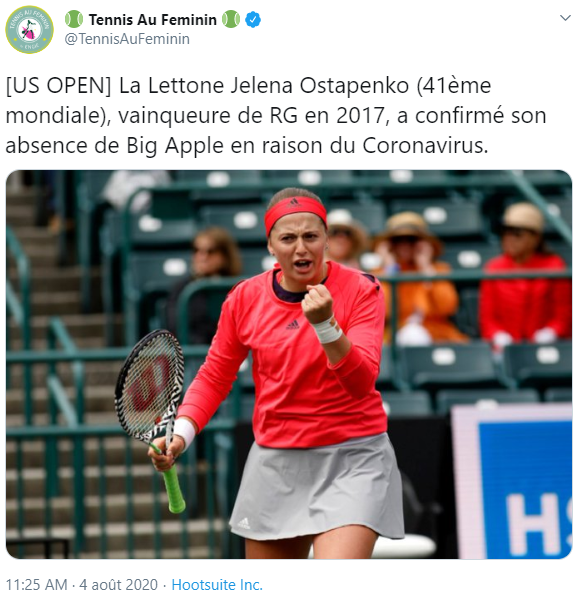 Tuesday, August 4th
The Masters 1000 in Madrid? Cancelled. The 2020 US Open? Rafa Nadal out. Not to be compared to the gravitity of the drama in Beirut (Lebanon), where an enormous explosion caused 160 deaths and around 6000 injured. Damn it! Are tennis and the planet to always receive bad news? No, replies Roger Federer. Taking advantage of free time due to an injury, the Swiss arrives, unannounced, at the home in Italy of two admirers who had made headlines during the confinement by playing tennis on their rooftops. Surprise all round, emotion of course and a party atmosphere.
Wednesday, August 5th
And what about Nadal, absent from Roland Garros, something not witnessed since 2005 when he chalked up his first victory. Hard to believe? Except that the Spaniard always had this eventuality in mind as a result of this cursed health crisis. « I am going to prepare for a season on clay in Europe and, when the time comes, I will make my decision. So when the moment arrives, we'll see what the situation in Europe is, whether everything is under control or not », stated the king of clay. In the meantime, his supporters can smile again by watching a tourist from Berlin running totally naked after a wild boar which had stolen his clothes from the beach at Lake Teufelssee. Watch out for the thistles…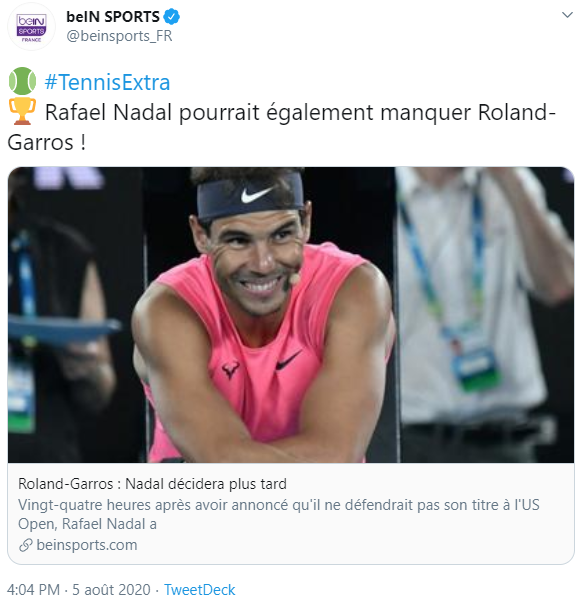 Thursday, August 6th
Yes, it is possible to make nearly 900 telephone calls in the space of 3 days. The proof lies with a young man of 19 originating from Seine-et-Marne (France), who hurled insults during 841 calls to the police. As mad as Nick Kyrgios, in fact. At least, the Austalian can always be counted on to attract attention. This time with intelligence tinged with pessimism because of the coronavirus which made him miss the French Open. « The chance of me playing in Europe is very slim, between slim and nil to be honest. I heard on the radio that there had been 700 new cases today, we have reached a new peak on death rates and I am not sure that the Australian Open will take place ». Same story heard from Julia Goerges, who announced officially her withdrawal from the US Open. More of the same and the tournement could take place with ten participants...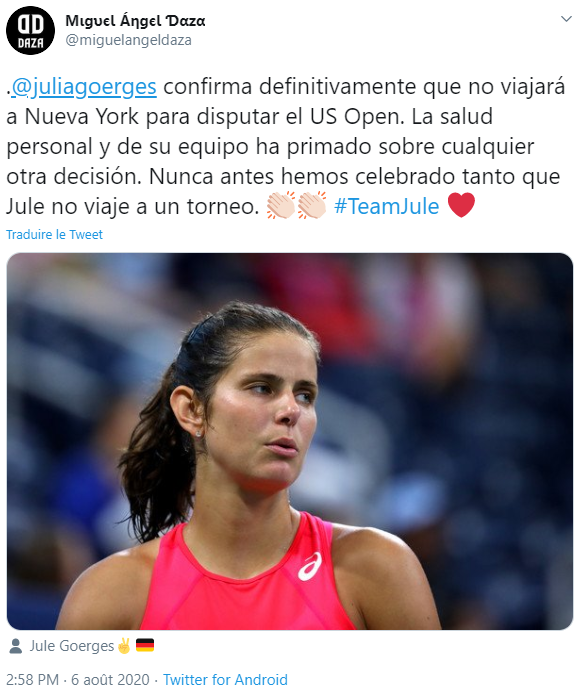 Friday, August 7th
... Or perhaps five given that Kiki Bertens and Elina Svitolina have joined the long band of absentees. Not to forget Stan Wawrinka who has taken the same decision. If this continues, the US Open organisers risk being choked. Especially if they find a surgical mask in their nuggets, as did a certain 6 year old disgusted by her Happy Meal ordered in a Mcdonald's in the South of England. .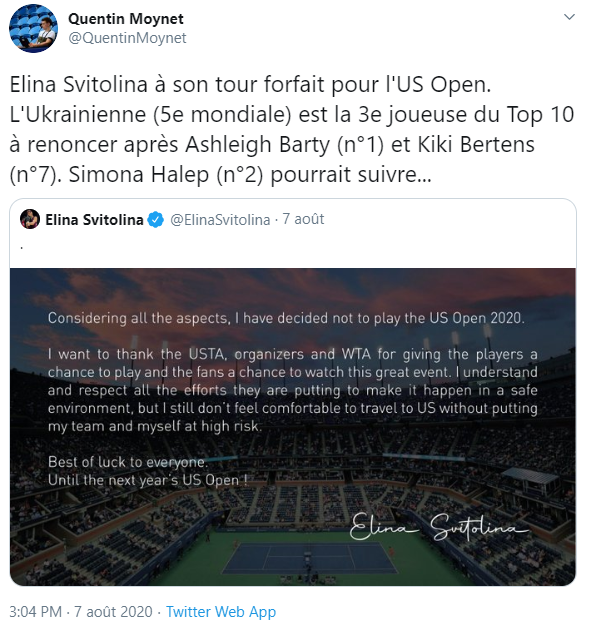 Saturday, August 8th
« This decision goes beyond tennis, I really want to compete in the US Open but I am worried about the possibility of quarantine. We are not 100 per cent sure that we will be able to play in Europe this Autumn so I'm still undecided ». And so there we are: that is the position of last year's semi-finalist, Matteo Berrettini, making his stance clear. At the same time in the region of Zaporijia (Eastern Ukraine) a 50 year old woman rents a house beside a prison where her son is incarcerated and starts to dig a tunnel so that he can escape. The hole measured 10 metres in length and 3 metres in depth when discovered. By the way, Federer celebrates his 39th year on the planet. So many happy returns.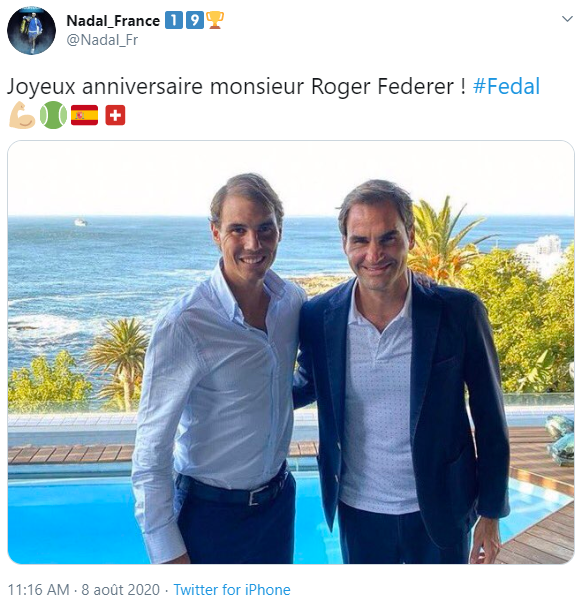 Sunday, August 9th
At last some good news for the US Open. The great star of women's sport, Serena Williams, confirms that she will be there. On the other hand it is not sure that she will be terribly confident in the light of her behaviour during the confinement. « I have lived like a recluse, it was the only way to respect social distancing », insisted the American. « I don't have 100 per cent lung capacity you know. I don't know what would have happened if I had contacted the Covid virus and I did not wish to find out ». Speaking of lung power, that of Madame Liang must be a touch less efficient than before. For quite some time this inhabitant of Guangdong (China) has been living in a house completely encircled by a motorway. The rebel has totally rejected all the purchase offers made by the state authorities in order to save her home. Any interest from fans of exhaust fumes and revving engines…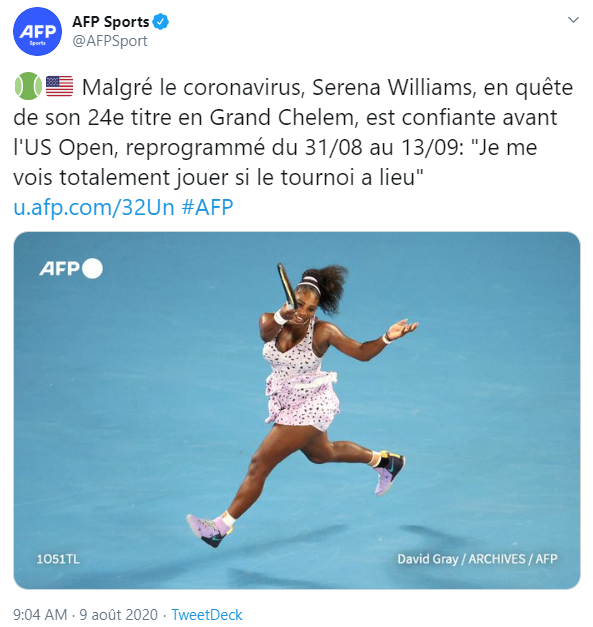 By Florian Cadu