We Are Tennis by BNP Paribas brings you the best of the past week, on but mainly off the courts. Featuring arguments involving Kyrgios, philosophy with Tsitsipas, a lonely camel in the desert and a bear in a garden.
Monday, July 27th
Coronavirus is making people go crazy, and its consequences on humans are still being felt. To start the week off, a thirty year-old Florida man named Douglas Marks was arrested for pulling a gun in front of clients of his hotel who weren't respecting social distancing, while an upset Grigor Dimitrov confessed that he had lost 3 kilos and a lot of energy because of Covid-19. On her side, Angelique Kerber went back to work with her ex-coach, Torben Beltz, to stay in shape.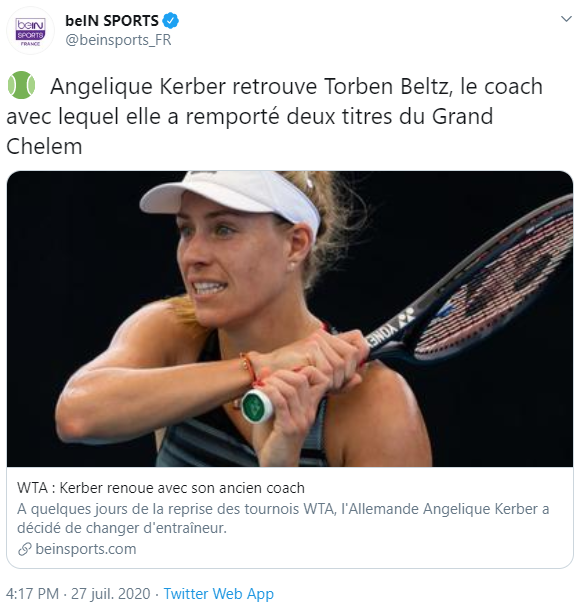 Tuesday, July 28th
Regina Keller, an American grandmother who lives close to Fort Valley forest (Virginia) was walking to her garden when she saw… a bear, lying down in her small pool. Not enough to scare Daniil Medvedev, who's got spheric steel weapons if he ever walks by an animal who's larger than him, as the Russian recently started playing boules. A sport which is a better fit than tennis in the summer, for example? In any case, the tennis tournaments could still get cancelled. Just like the Osaka Pan Pacific Open, who had been cancelled because of the current health crisis. Damn you, virus!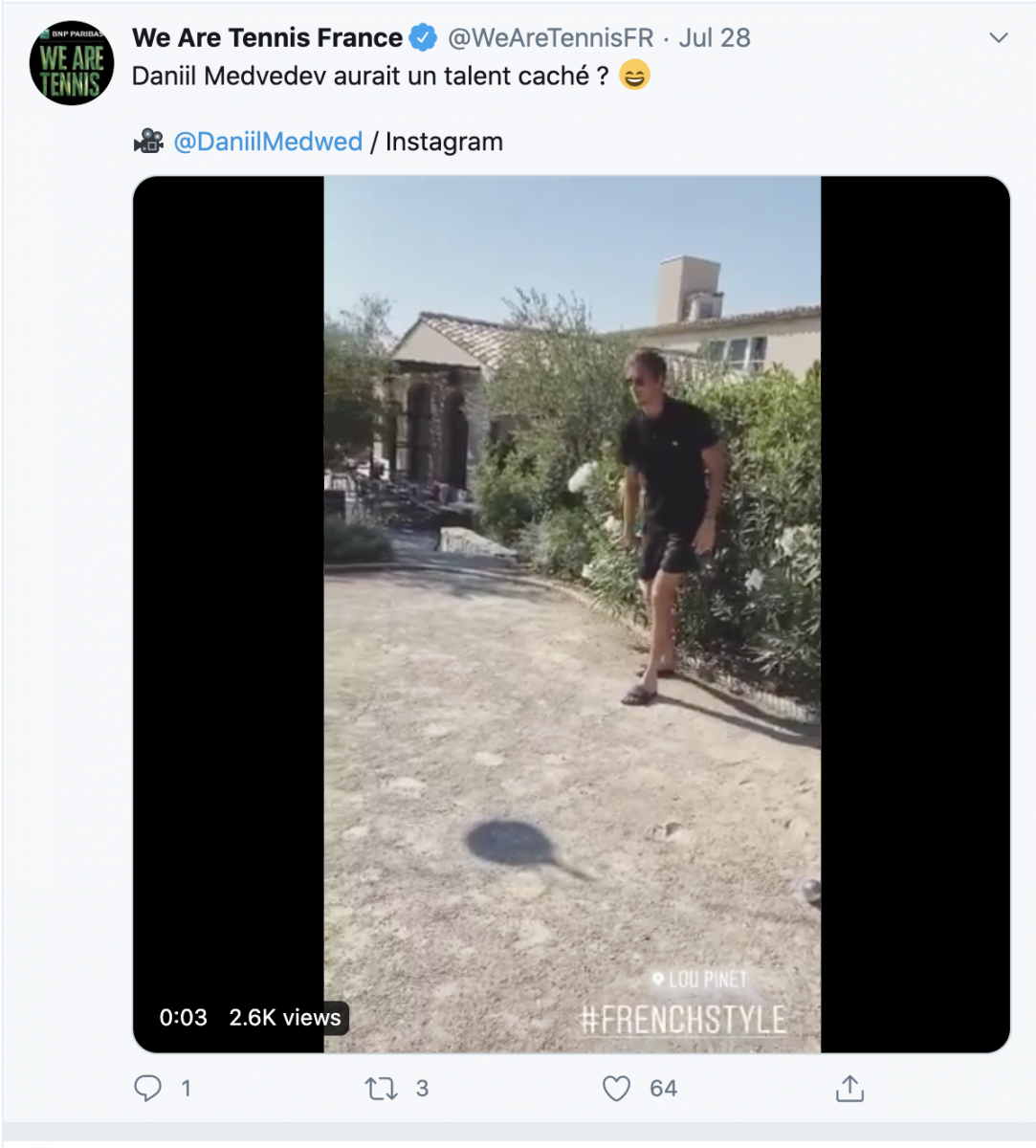 Wednesday, July 29th
Borna's backhand went straight into Kyrgios' face: « I absolutely don't care about what he writes, he likes to act like a general after the battle. If it had come from anyone else, I would have understand, but Kyrgios… It's not really realistic, it's his style. That's how he is, there is no problem. Zverev did something wrong, but I don't understand the need to criticize a colleague like this. I wouldn't have done it, but then again, it's Kyrgios. » The Australian's return was even more powerful: « When I said what I said, I didn't want to bother anyone. They're tennis players, they're not special, and I'm only trying to make them feel responsible. Do you have stones in your head? What I think of Coric's intellectual abilities = 0 ». Boom, the Croatian must be seeing stars. He probably doesn't need to look up to the sky, where loads of meteorites can be seen since Monday. Anyway, that sets the record straight.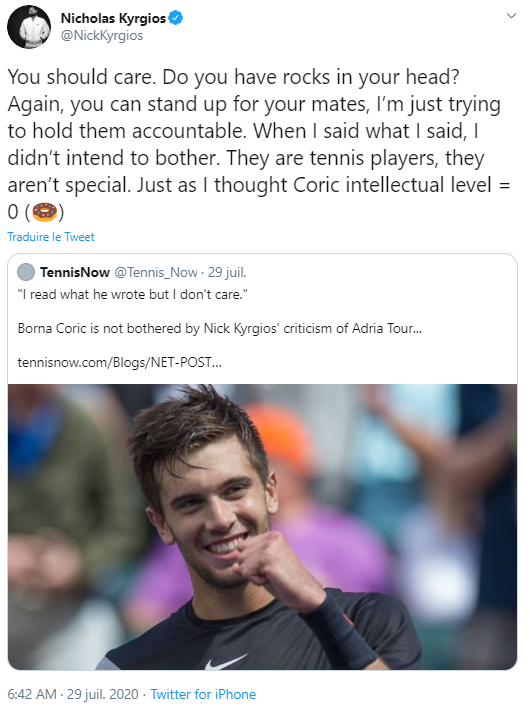 Thursday, July 30th
Ashleigh Barty is out for the US Open. Kiki Bertens is also almost out for the same Grand Slam tournament. Kyrgios won't be playing at the Cincinnati Masters 1000. In the end, Rod Laver's advice concerning how to wear a mask - even while execising - haven't changed anything: the world is still afraid of the disease, and players are withdrawing from tournaments because of any potential risk. But people don't only die because of the disease. For example, a 92-year old woman from Lyon, France, was considered dead by her bank which froze her account, suspending her retirement pension, even if a certificate from her doctor stated that she was alive. The limits of administration…
Friday, July 31st
«?I have interesting hobbies which are linked to different aspects of life. These activities enable me to be creative, and that shows in my tennis. Sometimes, I post stuff on my social networks that most people don't understand. These messages express my inner creativity, I'm a philosopher and come from a country that has a rich history with philosophy. I don't know I was Pythagoras or Socrates in a previous life, but I wouldn't mind being one or the other. » Quick, Stefanos Tsitsipas must send his application to the Nancy hospital, in France: the institution is looking for 40 volunteer cannabis smokers aged 18 to 55, for a scientific study…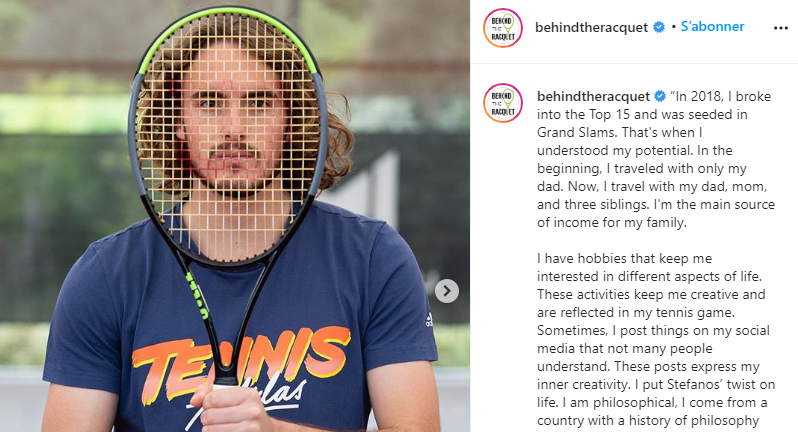 Saturday, August 1st
And another case, unfortunately. In Palermo, a player tested positive for Covid-19 but the WTA Open isn't cancelled. However, the Madrid Open is now uncertain. On her side, Qiang Wang also decided to withdraw from the US Open… and the Cincinnati Masters. Maybe to congratulate this camel, who crossed the Gobi desert by itself to find its owner. More than 100 kilometers alone, that's quite a performance.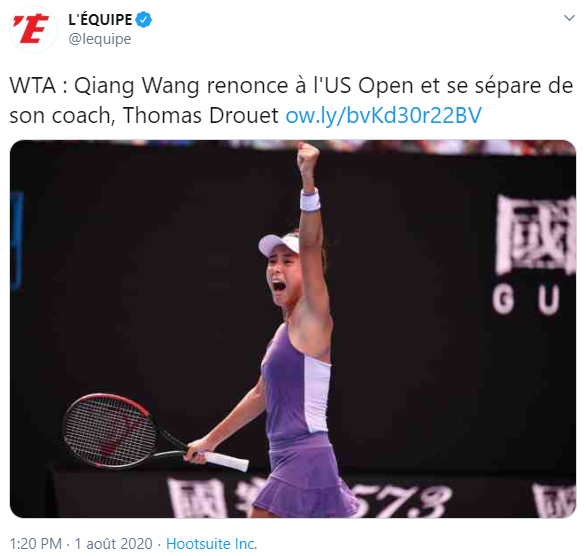 Sunday, August 2nd
The time for regrets. One decade later, an anonymous mother sent 50 euros to a restaurant owner in Mulhouse, France. A sum that she hadn't payed in 2010 after dining there, leaving the restaurant without paying. Kyrgios, on his side, wants to avoid having any regrets. So the Australian decided to boycott the US Open as well. While lecturing others, of course: « I'm doing this for the people, for my Australians. For the hundreds of thousands of Americans who lost their life, for you all. You must act in the interest of others and work together, you can't dance on tables a make money to travel around Europe or try to earn some money quickly by organizing an exhibition tournament. Act responsibly. » Understood?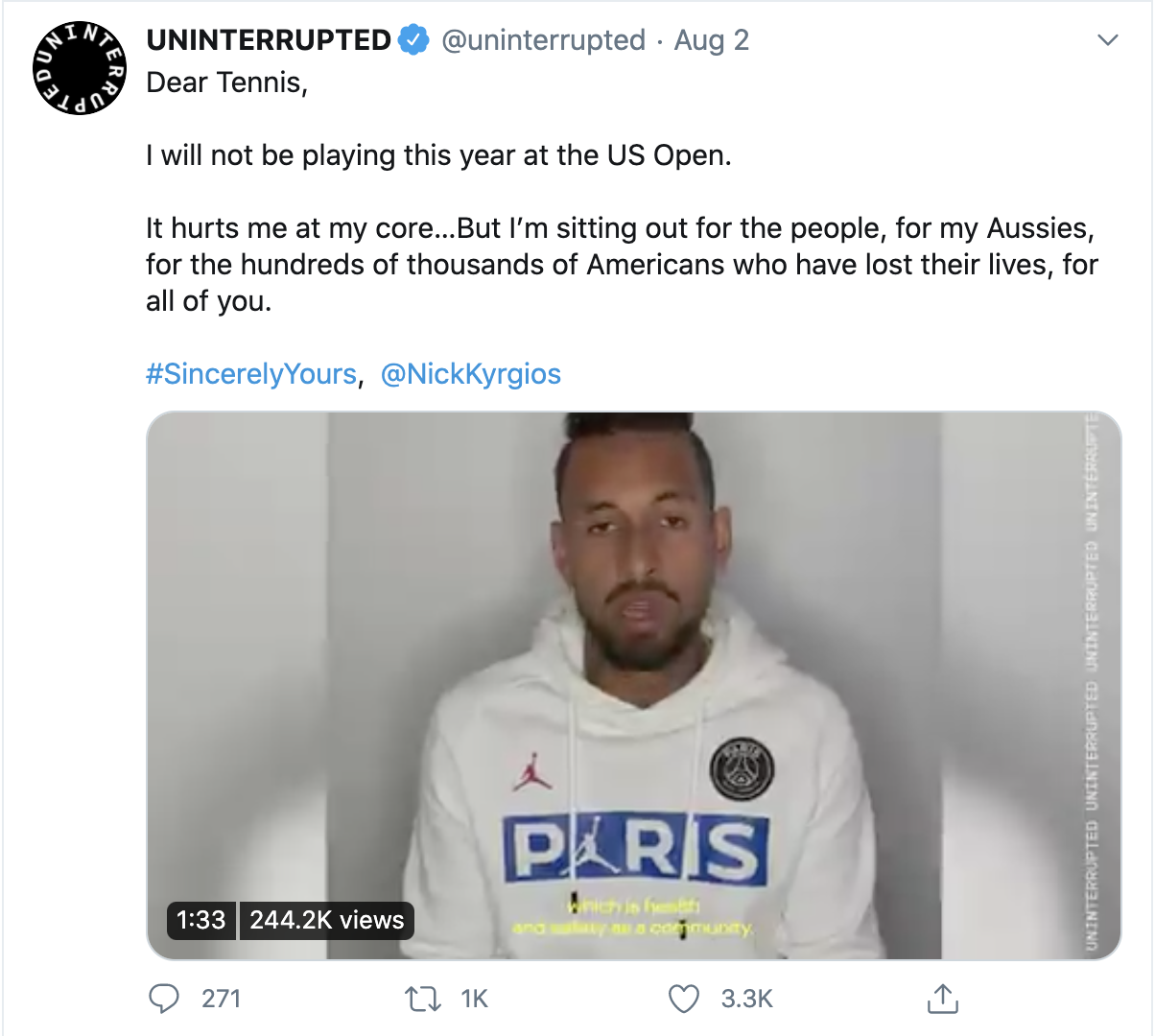 By Florian Cadu