This day after day by We Are Tennis by BNP Paribas looks back on a week marked by Simona Halep, Juan Martin Del Potro, a Rafael Nadal lookalike and even an inflatable flamingo. A great week, overall.
Monday, July 20th
The week truly kicked off: surveillance cameras in Fulham caught a man, dressed as a jogger and strangely looking like Rafael Nadal, defecating in front of a door of a beautiful residence in the famous London neighborhood. After a double-check, the Spanish champion is of course innocent, but has found a new lookalike which he probably didn't want to have. Juan Martin Del Potro, on his side, just felt the need to play tennis again and got back to training, in Buenos Aires, after spending months on the sidelines because of injuries. Let's hope that his wrist can hold on. And is knee. And his joints. And his tendons. And his muscles. Well, his whole body, basically.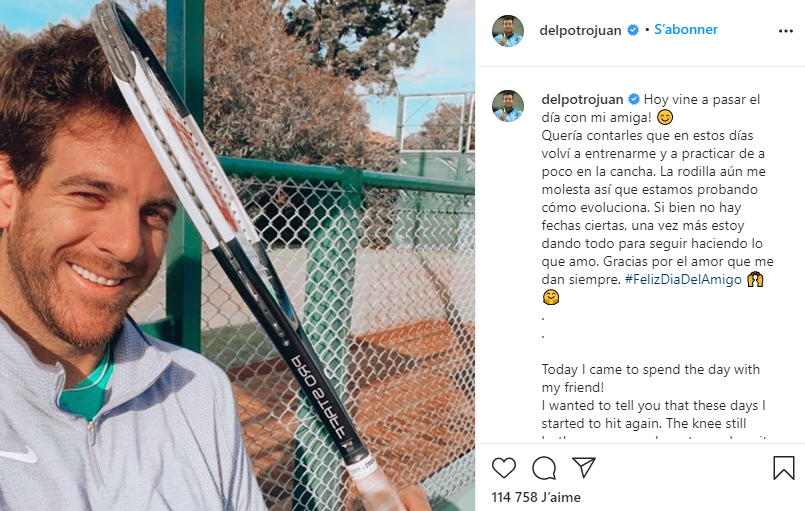 Tuesday, July 21st
After a lot of speculation, it is now official: the Washington Open, which was meant to take place in August with the restart of competition has been canceled because of the progression of coronavirus in the US. Which didn't change much for Sloane Stephens, who carried on campaigning on Twitter for causes which are important to her. It also didn't change much for Jack, a two-year old kangaroo which was arrested by the police in Florida for walking around without respecting security measures. He didn't risk a sentence. But his owner did: he received a 500 dollar-fine and could spend 60 days in jail.
`
Wednesday, July 22nd
There are those who enjoy life and like to dance on the court, like Diego Schwartzman, who looked incredibly happy while warming up. And those who like to enjoy the sun without thinking of others. Like the four teenagers who were arrested in Jura (France), after stealing a credit card from a British couple to buy… an inflatable flamingo. Unlucky for them, the object they stole had a chip and the police were able to trace it. To find the culprits, the police only had to get to the nearest beach and spot the plastic-made colored animal. A pretty easy case.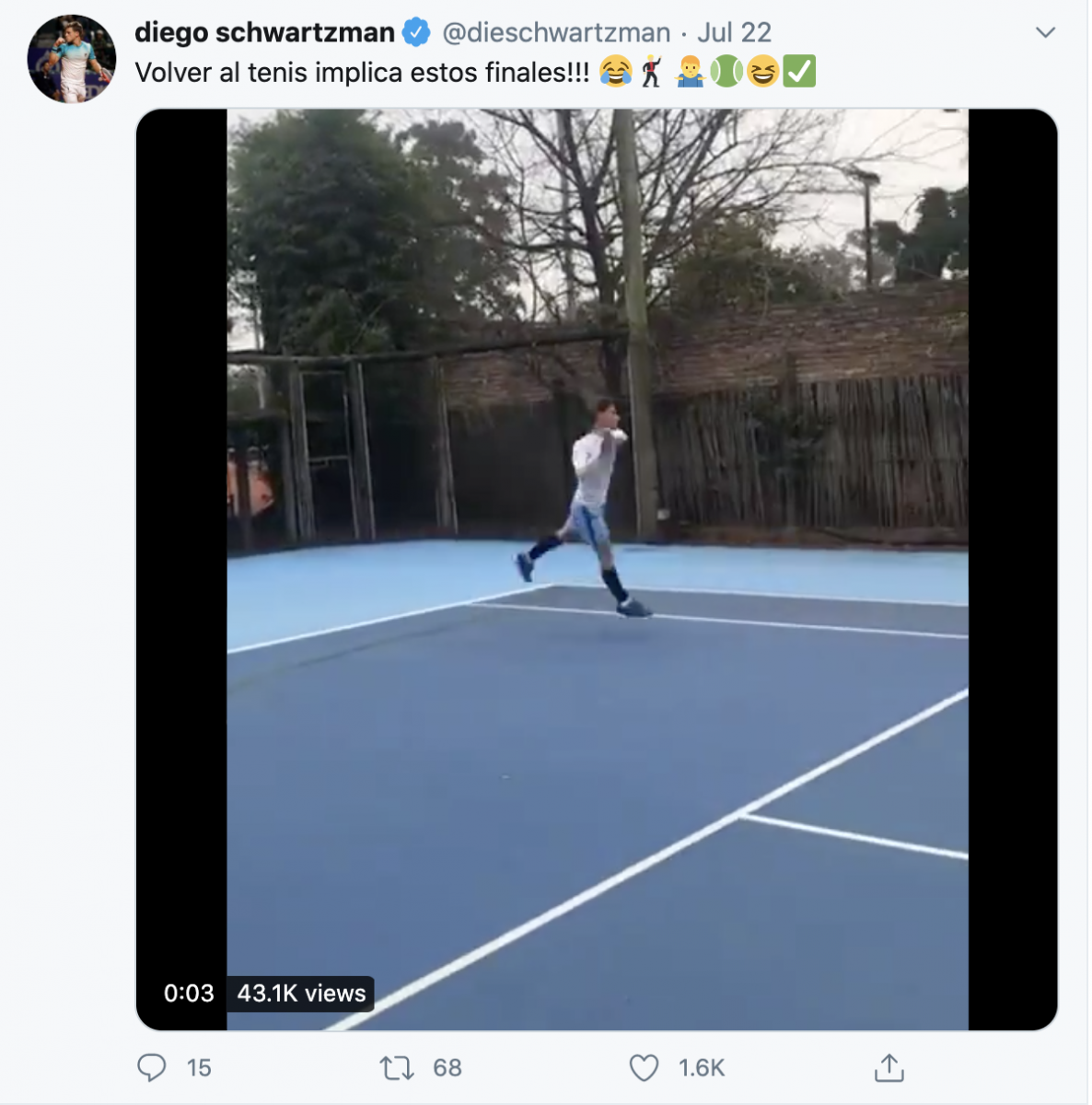 Thursday, July 23rd
After Washington, China. Still because of the current health crisis, the eleven tournaments (seven on the women's circuit, eleven on the men's) which were meant to take place in the Asian country until the end of 2020 have been cancelled. Another bad news came in, as a kenyan cargo plane crashed in Somalia. Because of… donkeys which were on the tarmac and prevented the plane from landing properly. Thankfully, there were no victims. Both the pilots and the animals are alive. Captain Soma-sully!
Friday, July 24th
Here are some news from Roger Federer, as his absence from the court is worrying for his faithful admirers. But let's reassure them, their idol is working out, and will be hitting the ball again in two weeks. And if the Swiss wants to have another child, he should adopt a cat. A French couple was tricked by their pet, as their cat discretely pierced the condoms that were placed in a drawer. « An evil genius », said the future dad, speaking of his clever cat.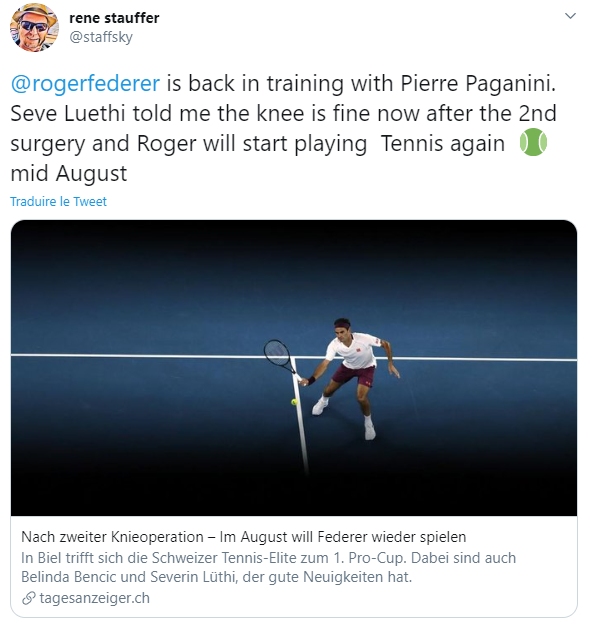 Saturday, July 25th
50 hours, 50 minutes and 50 seconds. That is the time during which Kjell Henning Bjornestad sang some Elvis Presley songs, in Oslo. A world record, obviously, which was streamed live on the Internet. In front of her screen, Simona Halep probably pressed pause on I Believe, the King's song, as she is still hoping to take part in the Palermo Open. Even if the Italian government stated that all people who have been in Romania or Bulgaria must observe a 14-day quarantine as they arrive in Italy, the Constanta-born athlete might be able to avoid it. « If we interpret the texts literally, said the organizers, it seems that workers, which include professional athletes, could be exempted from observing the mandatory quarantine. » Did someone say special favor?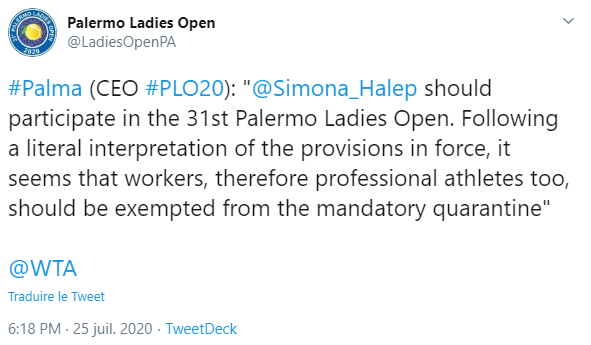 Sunday, July 26th
It seems that the extra-kilograms put on by the population during lockdown have surprising consequences. As a matter of fact, the Venice gondolas are now limiting their capacities to five people maximum (instead of six, before lockdown). That's because of the extra-weight put on by tourists, which are pushing the boats into the water when they are full. On her side, Garbine Muguruza can't wait to sweat. As shown with her terrifying picture posted on Instagram, axe in hand, and ready « for war. » Scary, indeed. And finally, Simona Halep ended up refusing her privilege to play in Palermo and has cancelled her arrival in Sicily.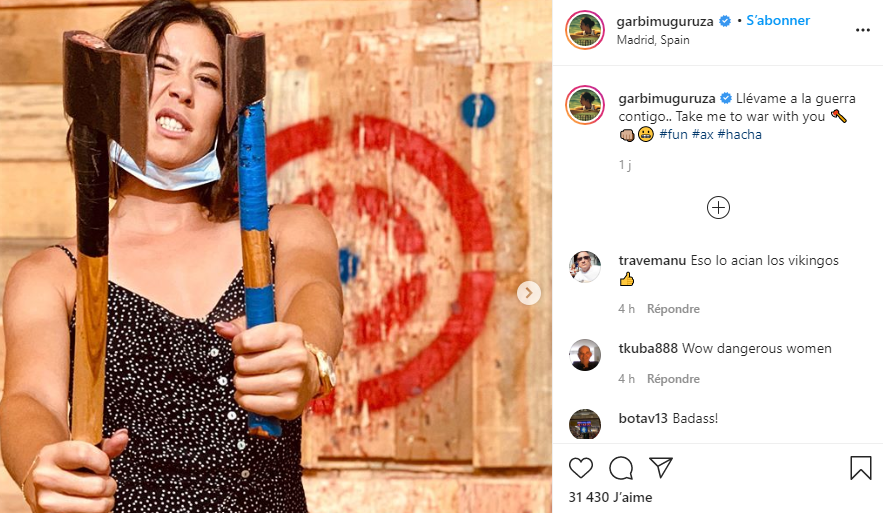 By Florian Cadu