We Are Tennis by BNP Paribas brings you the best of the past week, on but mainly off the courts. With Djokovic who was still omnipresent, the latest version of the calendar, but also a bear attack which was blocked with a laptop.
Monday, June 15th
A new week of debate regarding the end of the season, and the same questions are yet to be answered. When will the competition resume, and how? At 38, Feliciano Lopez has got the experience needed to ask himself the right questions. And according to him, his sport will have to reinvent itself if it wants to survive: « We must understand than tennis will not be the same for at least one, two or three years. The companies, which are also the sponsors, will probably carry out some layoffs. This is happening everywhere in the world and sponsorships are the first thing which is sacrificed. Tennis will be massively affected, we'll have to show solidarity in order to survive. Tournaments will have to reduce their prize money, players have to accept that. Not only this year, but also in 2021. » The only thing left to do is to find inspiration in Glenn Valentin, a brave Belgian man who climbed up the 1404 m of elevation of the col du Tourmalet on… a space hopper. He bounced during eleven hours, in total.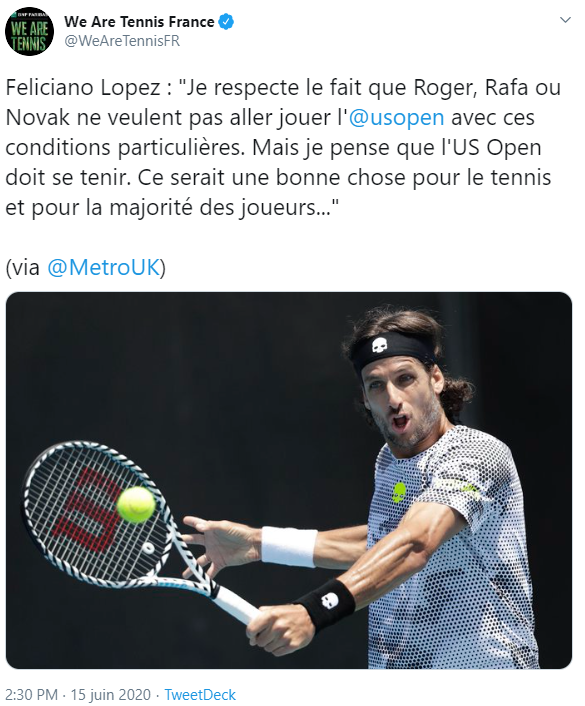 Tuesday, June 16th
Zero titles won, Noah Rubin isn't happy. What do you mean, stars don't want to take part in the US Open? « Saying that the idea of playing a Grand Slam tournament while bringing less people in your team isn't good is extremely indelicate, said the American, targeting Novak Djokovic and the other members of the Top 10. If you're part of the council and you tell the rest of the players that you want to help in order the change things, it implies a certain responsibility. » In Peru, the people of the village named Chopcca (in the Acobamba, Huancavelica province) are also in a bad mood but for a completely different reason: frightened by the possible set up of the 5G, the locals took eight technicians hostage during a few days, even though they were just here to fix an antenna. You never know.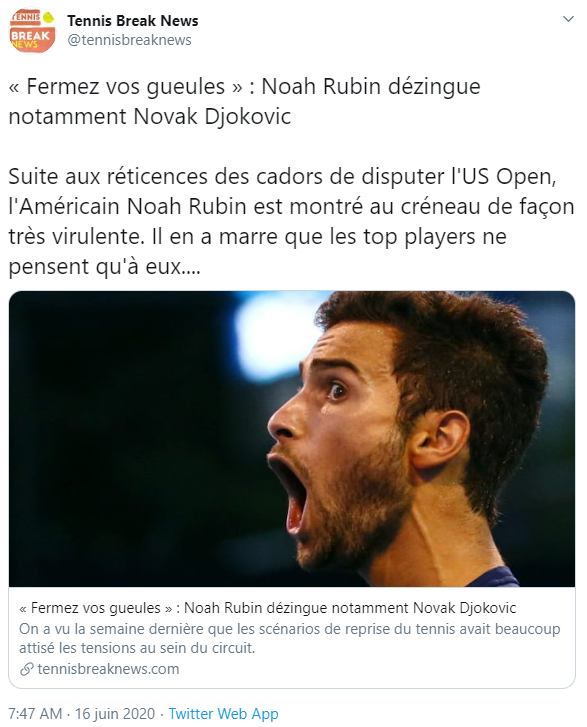 Wednesday, June 17th
Ready, steady… Go! The season will resume on August 14th in Washington, the Cincinnati Masters 1000 will start in New York on the 22nd, the US Open on the 31st (without qualifying rounds, and with strict rules), the Kitzbühel ATP 250 on September 8th, the Madrid Masters 1000 on the 13th, the Rome Masters 1000 on the 20th and Roland-Garros on the 27th. It's official, players will be knackered after playing in this insane calendar. As a consequence, Djokovic anticipated and sped up his physical preparation on the beaches of Zadar (Croatia) where the Adria Tour is taking place. On the women's circuit, the competition should resume on August 3rd in Palemo, and Simona Halep is not sure that she will take part in the American Grand Slam. Enough to give tummy aches to this man from Vienna who was arrested by the Austrian police and who received a 500 euros-fine for producing a… « massive flatulence » in an « intentional way ». Translation: a fart which was as odorant as intentional, in order to disturb the authorities.

Thursday, June 18th
« I think that a lot of people were skeptical, including me, on the fact that tournaments could be played. In the end, we're not the one who get to decide and we have to adapt to what we're given. I'm delighted to hear that in the end, we'll be able to come with more than one member of our staff, but we have to adapt. If it's only one, it's one. If it's two, it's two. If it's three, it's three. » Just like Bianca Andreescu, who announced her presence at the US Open, Djokovic should also be there. However, the Serb will not be able to defend his title in Tokyo as the competition which was planned for October has been cancelled. That's not important, the ambition is still there. Sometimes, you don't have to look very far to find it. The proof with these three kilograms of gold (which are worth 170 000 euros) found in a train in Switzerland between St Gallen and Lucerne, or with this group of French walkers who found a german bomb from the second world war close to Orléans, after a paddle session on the river Loire. The Djoker, on his side, only hopes to stumble on a trophy.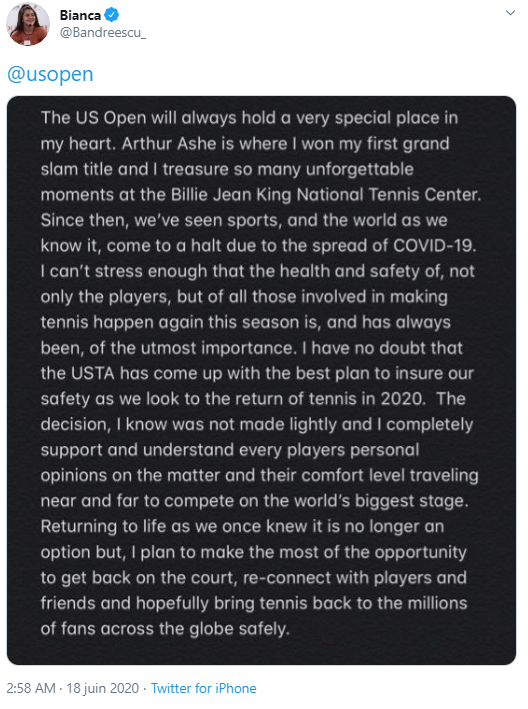 Friday, June 19th
Still with Djokovic, this time, it was his father who made the headlines. While the son played basketball with the guys who are usually his opponents (Borna ?ori?, Alexander Zverev, Marin ?ili? and Grigor Dimitrov) against the professionals of the KK Zadar, his father took a dig at one of his main opponents: « In your opinion, why do you think Roger Federer is still playing at 40? It's because he can't accept that Djokovic and Nadal are better than him. Go home, raise your children, go skiing… Do something! Tennis is not everything in life, it's simply a hobby for my son. Federer is a great rival, but he's not good enough to be compared to Novak. » Unfortunately, Ian Holm won't be able to give his answer to this question: the British actor, who is famous for his role in The Hobbit, has passed away at 88. A great number, but a great sadness also.
Saturday, June 20th
Did you know? The bus of the film Into The Wild which remained in Alaska, was too popular and fans were taking too many risks to see it (they would go there, through thick and thin, to see it) and stay there. As a consequence, the vehicle was winched up in a helicopter and will soon be exposed in a safe location. The results? Djokovic won against Pedja Krstin, Coric won against Dimitrov and Danilo Petrovic surprisingly defeated Zverev. It's nice to watch some tennis again.

Sunday, June 21st
It's not a moment lived by Leonardo DiCaprio in The Revenant, but a true story: in Southern California, a 19-year old American girl was attacked by a bear while she was napping in a chair, and got out of it by hitting the animal with… a laptop! You'd need to do more to knock out Andrey Rublev, who defeated both Cilic and Petrovic. Or to stun Djokovic, who defeated Coric. Or too push back Zverev, who also defeated Cilic. We can't wait for the official competitions to start again…