We Are Tennis by BNP Paribas brings you the best of the past week, on but mainly off the courts. A week marked by Ashley Cooper's passing, Djokovic's initiatives, gold bars and a tarantula in a basket of grapes.
Monday, May 18th
A new challenge, to kick off this week in great fashion. With Novak Djokovic in the role of the instigator, this time. The Serb challenged his fans to do 100 skips with double unders with a jump rope. No less ! Enough to make Lei Jun dizzy, as the CEO of Xiami tweeted from… his iPhone, his product's main rival. Daria Kasatkina, on her side, didn't lose her cool as she simulated an entrance on the US Open's central court by making a short video edit which she posted on her social networks. Less tiring.

Tuesday, May 19th
Bad news can occur at any time, even in the midst of a long break in the tennis season. Huertas Del Pino, for instance, found out that he's suspended for two years from taking part in all competitions by the International Tennis Federation after testing positive for marijuana. A bad trip, for the Peruvian… There were some good news, however, for this Parisian family, as their two children found two fold bars during lockdown after starting to build a treehouse in the garden of their house located in Loir-et-Cher. The objects, which are valued at 100 000 euros, were hidden in their grandmother's sheets which were folded in an unused room. When furlough becomes profitable.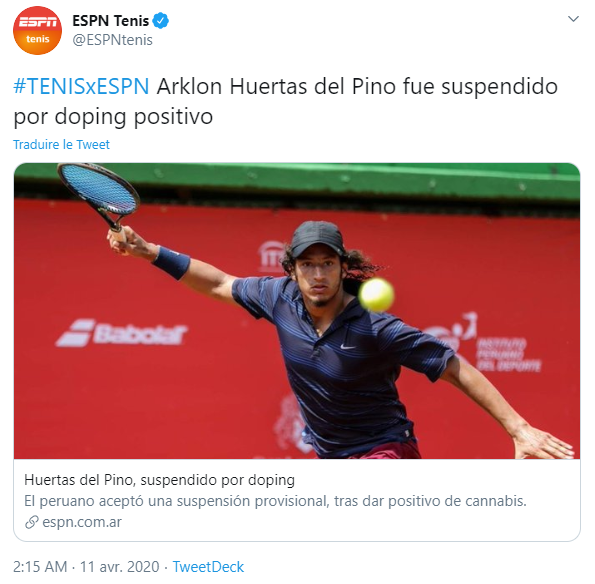 Wednesday, May 20th
« It will more or less look like practice matches. When we'll speak about the winner of this edition, it will always be : 'You know, the guy who won the 2020 US Open with no fans.' It won't be the same value. If we start again in December or January, things won't be too different. I don't think that there will be tournaments being played behind closed doors, as the circuit works with ticket sales and sponsors. If sponsors are investing, it's because people come to watch. » Marin Cilic made his point pretty clear, he doesn't want tournaments with no fans. An understandable wish, like the clients of supermarkets who ask for a certain hygiene regarding the food that they buy. Well, in Arnhem (Netherlands), Bart van den Akker found… a huge tarantula, in a basket of grapes. Alive, of course.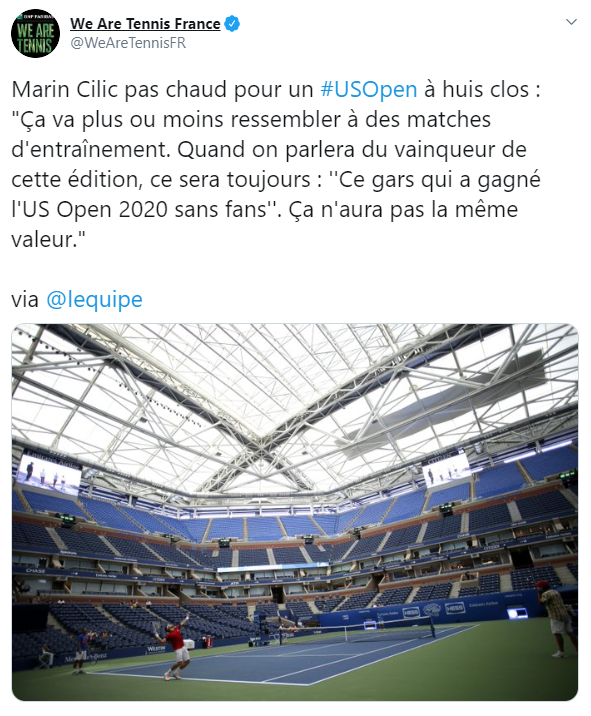 Thursday, May 21st
24 hours of silence to pay an hommage to Ashley Cooper, who sadly passed away at the age of 83. And never mind if there is a second edition of « a Picasso for 100 euros », where a lucky Italian woman won the tombola which enabled her to get a painting worth one million euros. Between money and life, the choice is easily made.
Friday, May 22nd
Happy birthday, Pac-Man! In this day of May, the mythical video-game character celebrated his 40th birthday. A lot of people must have played the game again during lockdown. Which, for Stefanos Tsitsipas, represents a real gift for the planet. « Actually, I think we should get into lockdown once a year. It's good for the planet, and for nature, the Greek philosophized. It's beneficial for the environment. Life is lived at such a fast pace, you never have the time to stay with your family, and connect with your entourage. This is the opportunity to do so. » Would we be able to choose the dates, or would it always be before Summer when the first rays of sunshine appear?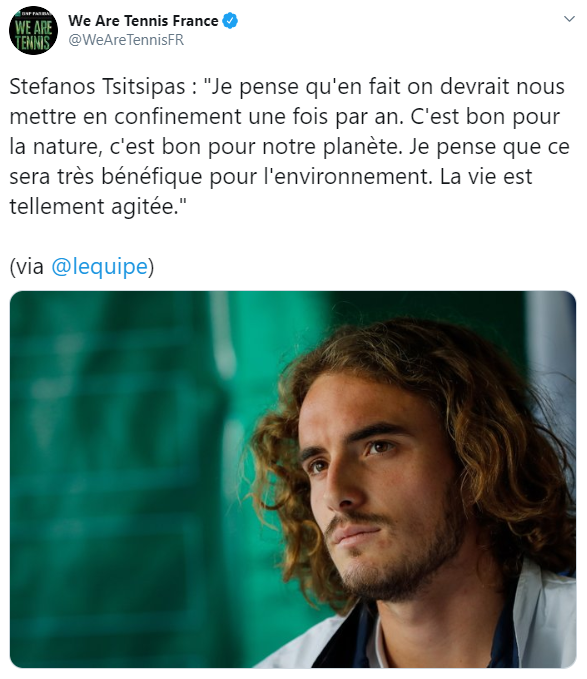 Saturday, May 23rd
When Djokovic starts something, the others follow. As the organiser of the Adria Tour, an itinerant competition in the Balkans which should take place between June and July, and will stop in four cities (Montenegro, Zadar, Zagreb and Belgrade), the Djoker saw many players accept his invitation. Viktor Troicki, Dominic Thiem, Grigor Dimitrov or Damir Džumhur will be present. That is, if the coronavirus leaves the world alone, and doesn't interfere with the organisation of the matches, which could even host spectators. If that's not the case, however, the world number 1 will have to fight his tears. Tears which were also covering this Chinese man's cheeks, as he left his girlfriend. Who had a ton of onions delivered to his doorstep to make him cry, as a revenge. Natural and innovative.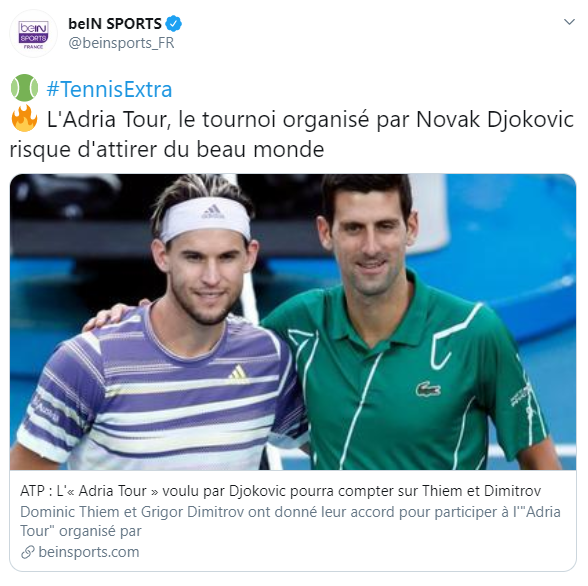 Sunday, May 24th
?ili? and Roger Federer think alike. The Swiss isn't especially impatient to grab his racquets, as he considers that his sport isn't really worth it if it's played in empty stadiums: « Even if we have to wait longer for it to get back to normal, I hope that the circuit will be the same when we get back. Or at least that there will be a third or half of the spectators usually present on the big courts. Of course, it's possible to play without fans. When we practice, there is often no one around. But I can't think of an empty stadium, I don't want it to happen. » A first world problem, in comparison with Jyoti Kumari's story. This fifteen year-old Indian teenager cycled for 1200 kilometers… with her injured father on her pannier rack, and with their personal belongings as well, to reach the village where they are originally from. On a second-hand bike, if you please!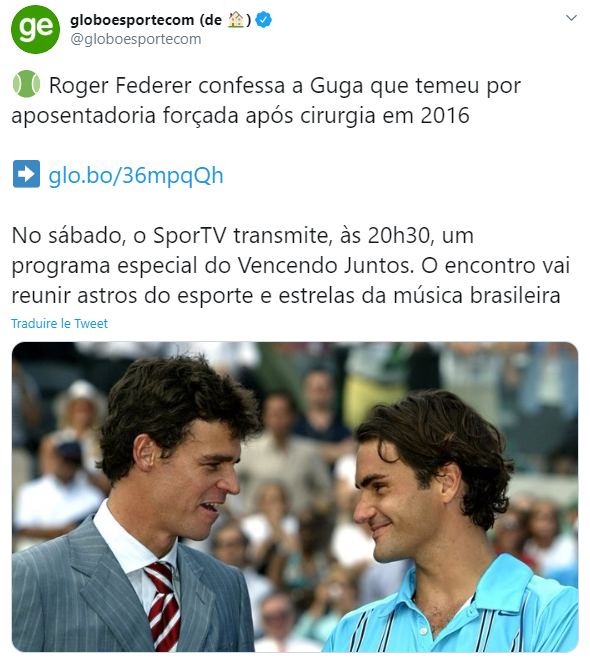 By Florian Cadu