This day after day by We Are Tennis by BNP Paribas looks back on a week marked by romantic revelations between players, players getting back on the court individually, but also by an inflatable doll.
Monday, May 4th
What a prestigious win for Taylor Fritz and Addison Rae! The improbable duo won the first « Stay at Home Slam » in history, an online tennis tournament which the American duo set up. This triumph, achieved despite the fierce competition (Naomi Osaka, Kei Nishikori, but also Serena and Venus Williams were all involved…), was all the more spectacular as it enabled them to raise one million dollars to help a charity working to end child hunger in the United States. A country which mourned the death of Dave Greenfield, the British musician who was part of the band The Stranglers. RIP, DG.

Tuesday, May 5th
« I hope that we'll all return to competition this year, but I don't believe that it'll be the case. I'm more preoccupied by the 2021 Australian Open than by what will happen until December, as I consider the 2020 season almost lost. » Rafael Nadal seems to be less positive than when he's on clay. In the south of France, a policeman was ready to fine a woman sunbathing on a beach (which have been shut during lockdown), before having to change his mind. The « woman » actually turned out to be… an inflatable doll! While waiting for decisions to be made official, Ashleigh Barty and Patrick Rafter showed their support to the healthcare professionals by showing up at the Royal Brisbane and Women's Hospital, in Queensland.

Wednesday, May 6th
Nicknamed « Professor Lockdown », one of the most important epidemiologists of the country, and scientific adviser to the British government, Neil Ferguson, resigned after he was caught welcoming his mistress at numerous times during lockdown. Novak Djokovic also had a bit of trouble remembering the rules, as he was seen racquet in hand on a court with Carlos Gomez-Herrera despite not being allowed to. A bad interpretation of the new rules regarding training, answered the directors of the Puente Romano Tennis Club, where the mistake was made. As a consequence, the Serb was able to return to his Instagram lives. In which we learned, from Maria Sharapova's mouth, that the world number 1 took the Russian out for dinner the first time they met. « I was young, you were young. It was before you won a Grand Slam title, I don't even know if you had won a title yet. You told me: 'If I win, we're going out for dinner'. I told myself : 'Who is that kid ?' You won and you told me: 'We're going for dinner together tonight, at a Japanese restaurant!' That's what we did, and it was funny because you took out an old camera and asked the waiter to take a picture of us! » Watch the birdie!
Thursday, May 7th
The bad idea of the week: taking part in « Covid parties » to build an immunity against the virus. It's however what a few reckless people decided to do, in the US. The competition is far from restarting in North America. It's quite the opposite in Austria, where the small yellow ball will start bouncing again on May 25th. A national singles tournament will be played with local players, with Dominic Thiem as the guest-star. With no spectators, no ball boys, or linesmen. But with an umpire, at least.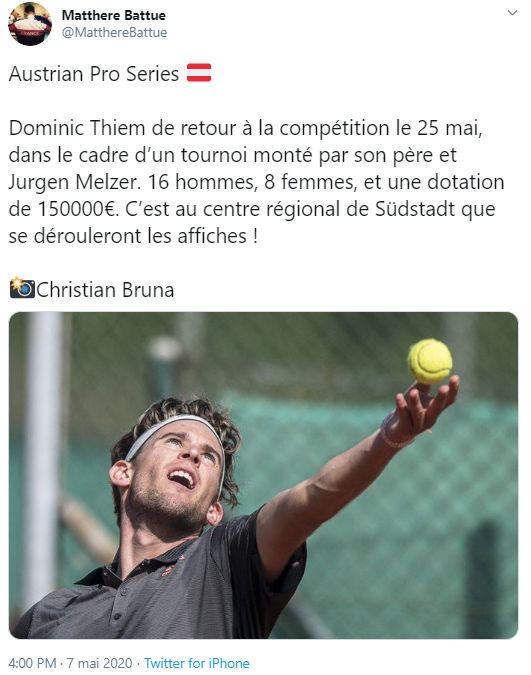 Friday, May 8th
Kid's day. With Diego Schwartzman, who showed he's still a child at heart, by showing off his skills with his feet and his racquet. With Zenon, a famous nine year-old Fortnite player who was banned by the editor Epic Games for 1400 days for taking part in a competition reserved to twelve year-olds and older. and with Kirsten Flipkens, who remembered her early flirt with Nadal: « When we were both fourteen, something happened between us. He didn't speak English at the time, so it didn't go further than us walking hand in hand and exchanging a few kisses. » The beauty of platonic love.

Saturday, May 9th
Three bad news, and only one good. So let's kick off this weekend with the latter. As surprising as ever, Lucas Pouille launched Hygy, a brand producing contactless distributers of hydroalcoholic gel. Please note that he has already sold more than one thousand units, and that part of the profits will go to the foundation Hôpitaux de France. Now with the bad news. First, ten million litters of beer will be destroyed as the consequence of bars shutting down. Then, Andrea Gaudenzi wasn't able to hand out positive informations regarding the current season. « We have fixed a deadline on May 15th for the tournaments played in July after Wimbledon, and on June 1st for the tournaments played in August », said the president of the ATP. And finally, the pioneer of rock' n' roll Little Richard sadly passed away at the age of 87. RIP, LR.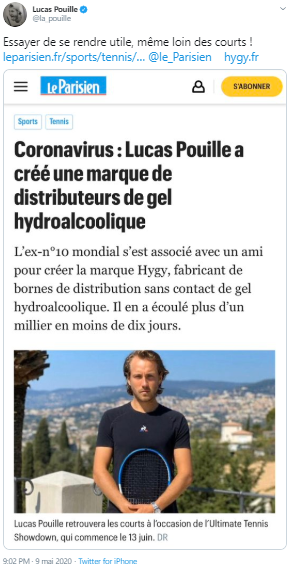 Sunday, May 10th
Is that tomorrow's tennis? In Florida, Reilly Opelka won the « UTR Pro Match Series », played behind closed doors on a private court of West Palm Beach, with four candidates (Hubert Hurkacz, Tommy Paul and Miomir Kecmanovi? being the others). A masked umpire, a racquet bump instead of a handshake at the end of the match, thermometers to control everyone's temperature, no scoreboards (hence Paul regularly asking for the score), no spectators, each player keeping the same balls, sets played in four games, no advantage… Welcome to a world where you can now be named X Æ A-12, like Elon Musk's son, as the child of the founder of Tesla was just born. Don't be scared, people. And if you can afford them, you can buy Juan Martin Del Potro's shoes, which he wore during his 2013 Wimbledon semi-final, and which he put up for auction, to help a hospital in Argentina.

By Florian Cadu