We Are Tennis by BNP Paribas brings you the best of the past week, on but mainly off the courts. Another week spent in lockdown with a very chatty Andy Murray, sporting feats and a haunted house.
Monday, April 20th
Climbing Mont Blanc from the inside of your home… or almost. That's the challenge of the start of this week, which was achieved by a man from Ille-et-Vilaine (France), named Sébastien Vétier, who managed to walk 4810 meters without setting foot on the ground. In order to do it, this slightly mad athlete went back in forth 120 times in his garage, as he stepped on every single object he could find. He started his challenge at 9:00 a.m and finished twelve hours later. Having been suspended from all official tennis competitions until November 15th, 2020 because of a positive doping test, Nicolas Jarry now knows what he had to do to stay in shape.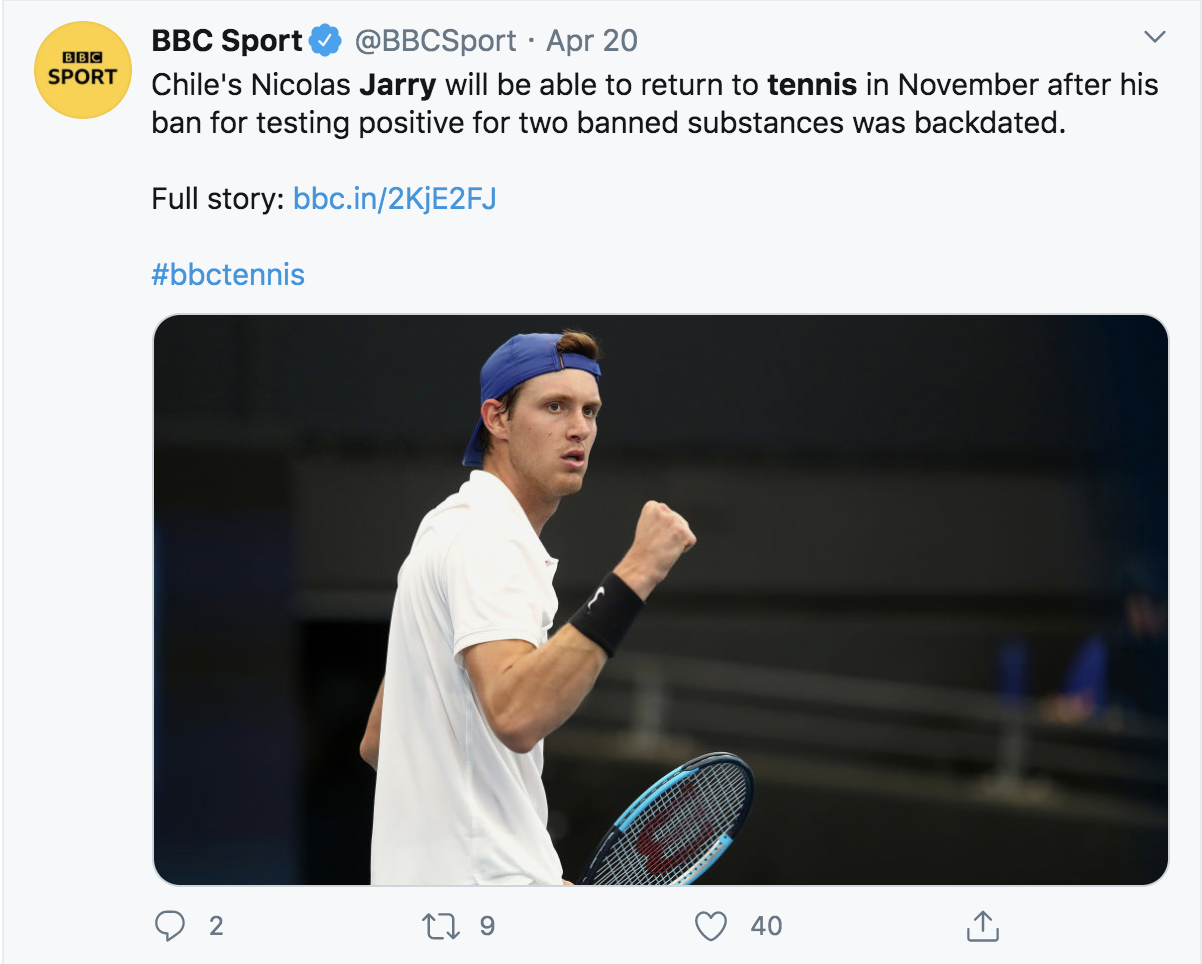 Tuesday, April 21st
Six million euros. That's the amount which should be raised by the relief fund created by the ATP and the WTA to give a financial help to the players with lower rankings who are struggling because of the pandemic and these strange times. An innovative initiative came from Dubai, where the speed cameras are punishing all the unauthorized trips by fining all the moving cars, whatever their speed is. A good idea? Unfortunately, Roger Federer and Rafael Nadal didn't have this debate on their Instagram live. No, they preferred to speak about the Spaniard's natural hand (is he right-handed or left-handed ?)… as he barely managed to get his computer working. Enough to make Andy Murray laugh, as he's never the last to exchange a bit of banter.

Wednesday, April 22nd
Some are luckier than others, or can at least enjoy a little more freedom. In Austria, for instance, Dominic Thiem was allowed to get back on a tennis court and enjoy the softness of clay once again. For the less fortunate and less faithful, we know a way for them to kill time: according to Gleeden, the leading extramarital dating site in Europe, on which the number of connections rose by 310% in April, 88% of the adulterous culprits go to the loo or in the bathroom to browse their website. And what about the remaining 12%?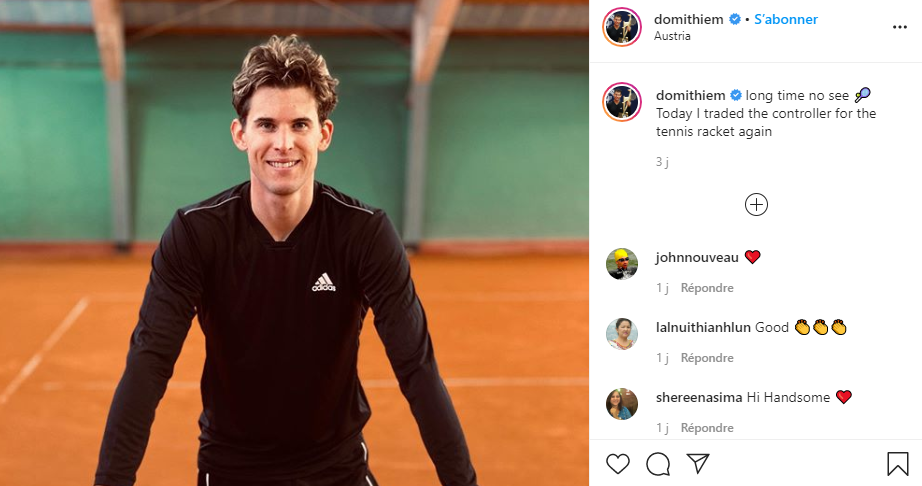 Thursday, April 23rd
It is 45 meters long, and was seen by scientists in the Ningaloo coral reef (off the Australian coast) and it is the biggest animal ever seen on the planet. Its name? The giant siphonophore. Living at 600 meters under sea level, this distant cousin of the jellyfish would even frighten the Big Three Djokovic/Federer/Nadal. The three best players in history, which even Murray can't separate, during a public conversation with the Serb on the social networks: « It's so hard to chose one, we don't know what will happen in the future… We don't know how many Grand Slam titles each one of them is going to win, how many matches they'll have played against each other… Our sport is different than others, because we have different surfaces. Nadal holds the record on clay, Federer has won the most editions of Wimbledon, and you're the best on hard courts. I'd say it depends on the surface. » Whatever the surface, as long as there is the smell of tennis balls. Right, Kristie Ahn?

Friday, April 24th
This lockdown is a great excuse to pull out a few archives. The proof with this Swiss Instagram account named Tennis Sportwalkin, which published a wonderful picture of a barely legal Federer wearing a dressing gown. A nice initiative, and always more intelligent than breaking the law by going outside without a serious purpose. For the naughty ones who do, Indonesia might have found the best solution: those who break the law are sentenced to spend their quarantine in… a haunted house. Not for the faint-hearted.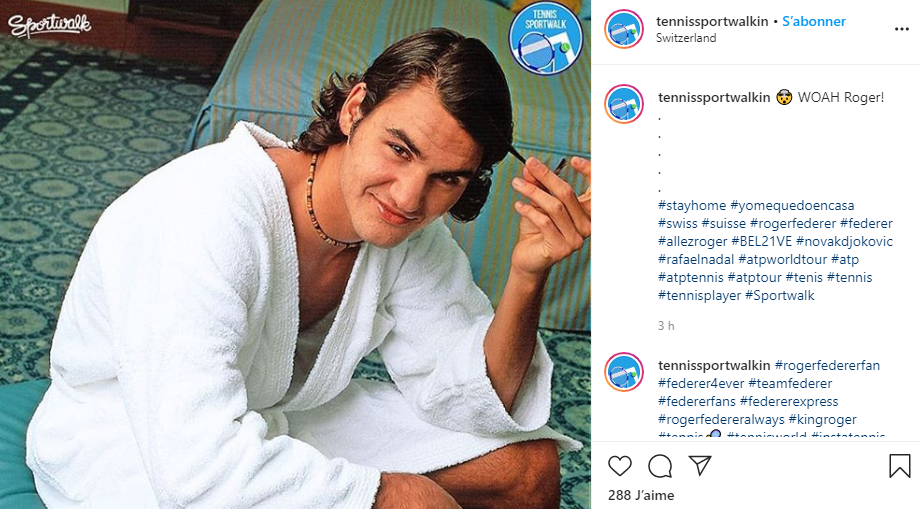 Saturday, April 25th
« We all wish to be able to compete in the big tournaments, but playing in four out of five weeks in September… I think that it could pose problems for the players, especially with as the transition between different surfaces will be very quick. I really hope that it will not raise the number of injuries. » Milos Raonic wants to pick up his racket again, but is legitimately afraid of the potential physical consequences it could have on the players' bodies which will be challenged by the new organization of the calendars. Here's a piece of advice for the Canadian: wait for the sunset, watch the sky and the new Starlink satellite train launched by SpaceX which looks like a swarm of shooting starts, and enjoy the moment. Quite simply… and by forgetting that it's in fact visual pollution.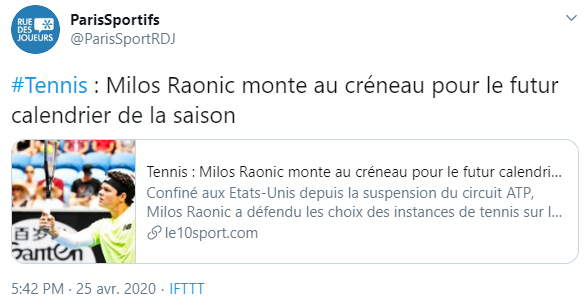 Sunday, April 26th
Well, it looks like Murray really wanted to speak this week. This time, he evoked the distribution of wealth in tennis. « Sometimes, the prize money for the winner of a Grand Slam is four million dollars, said the Brit. Couldn't this money be used better elsewhere, and notably for the small tournaments, or for the losers of the first rounds and qualifying rounds? » Something to think about, just like the creating skills which this lockdown seems to be giving to the peple who are afraid of boredom: at only nine years-old, and Italian child named Lupo Daturi invented an online video game where the goal is to virtually destroy Covid-19 while shooting lasers from a spaceship named Cerba-20, while five French cyclists face each other in a 24-hour virtual race, while riding on home-trainers. These unsuspected resources are truly incredible.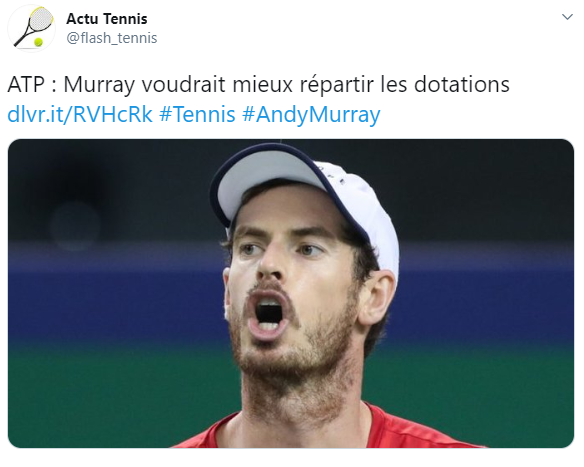 By Florian Cadu