We Are Tennis by BNP Paribas brings you the best of the past week, on but mainly off the courts. Another week spent in lockdown, with Nadal being a chef, two Italian women's impressive rally on the roof of a building, and a forbidden barbecue.
Monday, April 13th
Nick Kyrgios showed the world his new left arm, which is now completely covered by a tattoo paying an homage to Kobe and LeBron James, Eugenie Bouchard agreed to go on a date with a fan in exchange of a 2400 $ donation to a relief fund for the hospital staff and Rafael Nadal was at home, cooking what looked like mayonnaise: the latest week spent in lockdown started of pretty well. And with a measured optimism as we've seen declines in the number of contaminated people in several countries, including Austria, the first member of the European Union to announce the end of the complete lockdown. Dominic Thiem must be happy…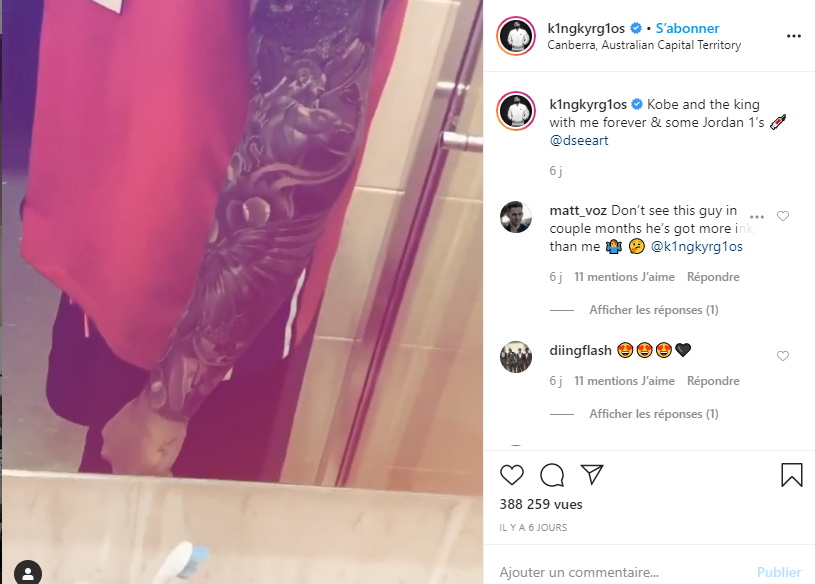 Tuesday, April 14th
The ideal player according to Matteo Berrettini? Nadal's mental strength, Djokovic's backhand and mobility, Federer's volley and tactical knowledge and… his own forehand! He could have chose Karen Khachanov's physical fitness, as the Russian managed to do better than Cristiano Ronaldo at his abs challenge. Or John Millman's cleverness, as he suggested a new format to organize a tournament at home, in Australia, while waiting for the season to restart. However, he was right to avoid mentioning Simona Halep's emotional state, as she is « starting to believe that this season will be cancelled. » In Italy, even if the signals have been positive, the country is still on lockdown and the transgressors are being fined, like this Roman who went out to walk her turtle, or these Sicilians who were caught by a police helicopter barbecuing on the roof of their building.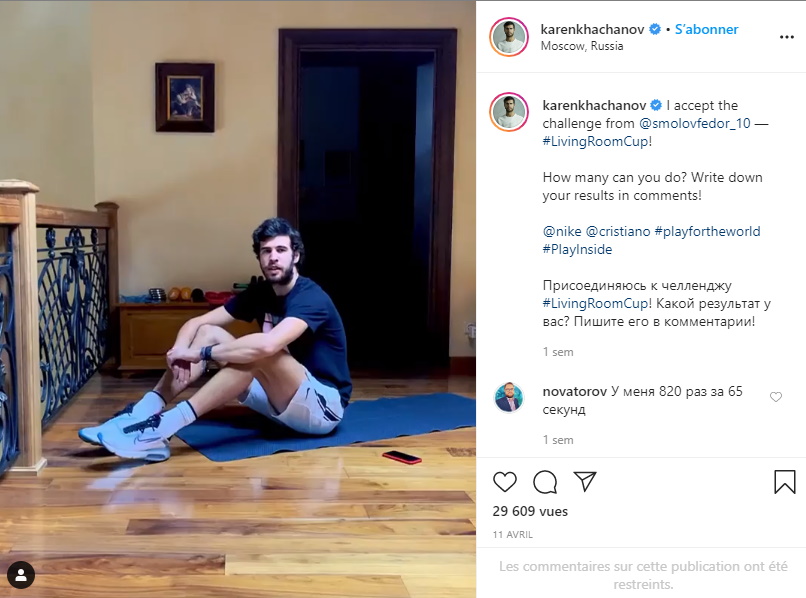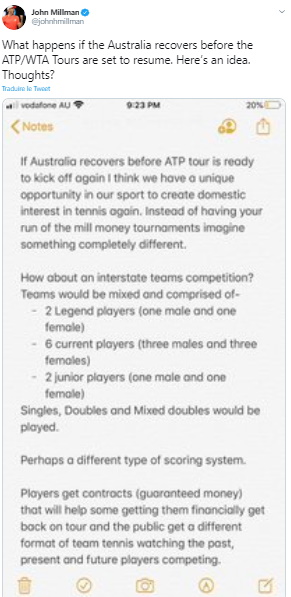 Wednesday, April 15th
« It's a year for tennis to help each other and survive », according to Jim Courier. Some nice words which found an echo in Federer, Nadal and Djokovic's actions, as they are all in favor of creating a relief fund to help the players who have lower rankings, and who are in a difficult financial situation because of the current crisis. Here's another initiative: the organization of a virtual Madrid Open, played on gaming consoles, with 200 000 euros being handed out to the players who are suffering the most financially. Among the players who will take part, there are some big names: Nadal, Murray, Monfils, Khachanov, Mladenovic, Kerber or Kiki Bertens who's been training hard, at home. Speaking of competitors, Félix Auger-Aliassime combined his two passions, tennis and hockey, with an impressive challenge. But the sporting feat of the day was achieved by Georgina Rowe who broke the indoor semi-marathon world record in 1h19'28.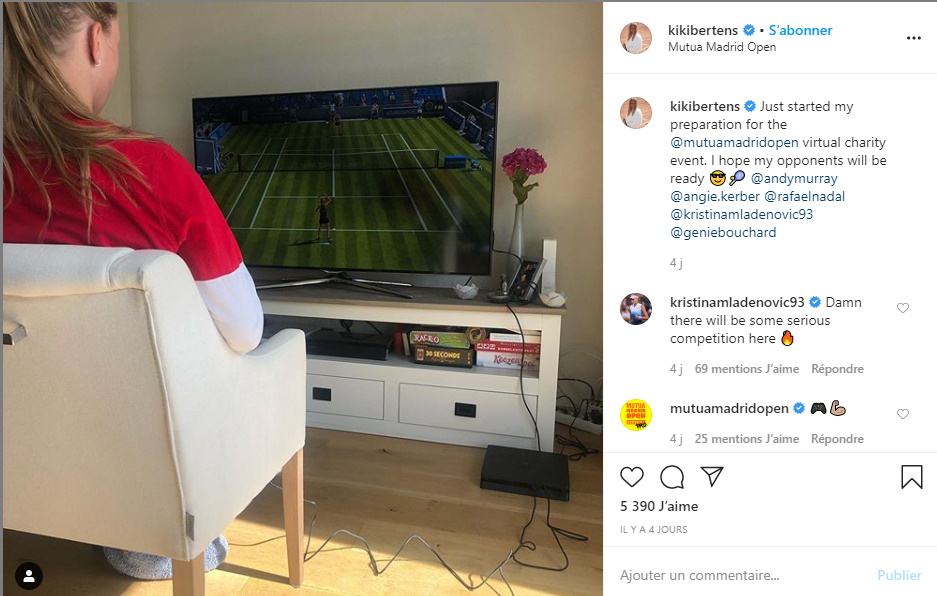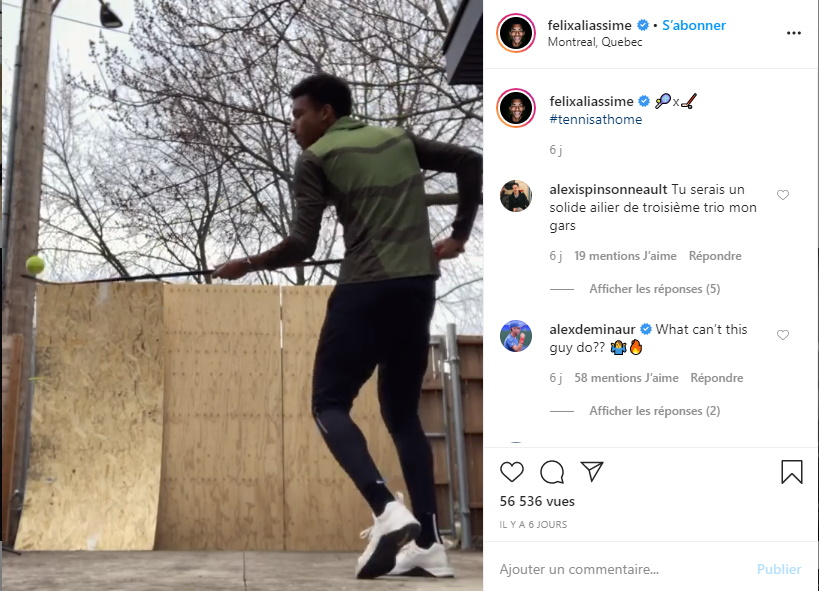 Thursday, April 16th
Since the tennis season has been put on hold, tennis players have three main occupations: having a few drinks like Benoît Paire and Stan Wawrinka, cooking like Serena Williams (the costume is optional), or improvising some quick games, like the couple Svitolina-Monfils playing table tennis. Enough to kill time, while waiting to see if the season can start again, even if Rafael Nadal doesn't sound too optimistic as « tennis is a world sport (…), it seems difficult to imagine a big tournament being played in the short-term or in the midterm. » The organizers of the US Open, on their side, announced that they'll wait until June to decide if the 2020 edition, which is due to be played at the end of the summer, will take place or not.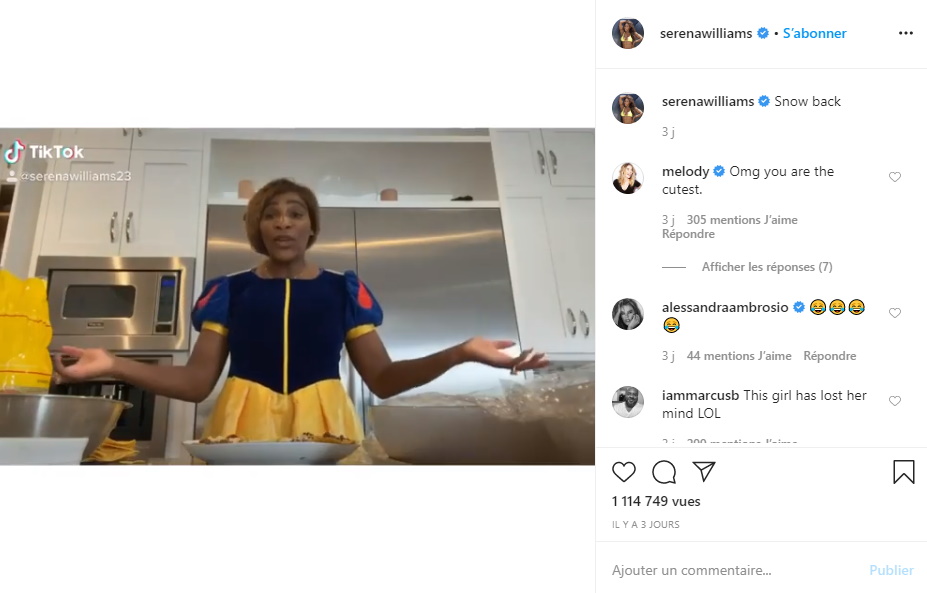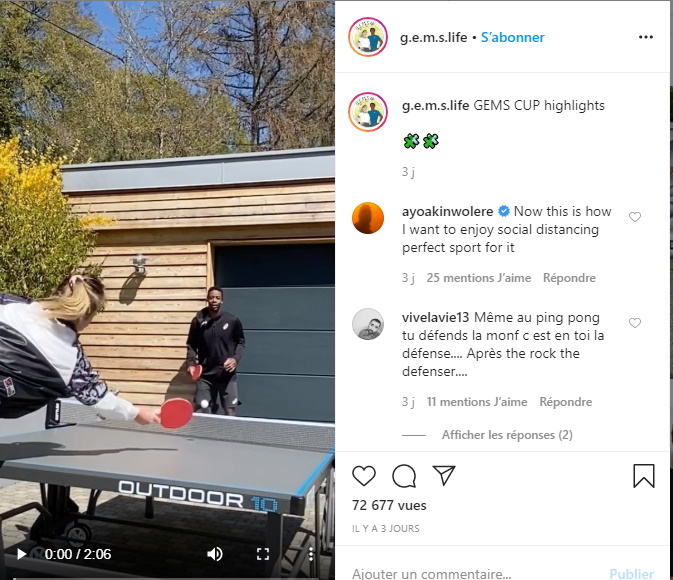 Friday, April 17th
In Indonesia, there is an original way of convincing people to stay a home: soldiers dressed as ghosts to frighten the people who risk going outside… Meanwhile, this lockdown has drastically reduced pollution, and one its effects is that we can now see the Himalayan summits from the plains, thanks to a cloudless sky. Enough, maybe, to give the young Coco Gauff a boost as she confessed having gone through a mild depression last season as « during her whole life, she has been the youngest to do things », which can be difficult to handle. While speaking of things which are difficult to come to terms with, Stan Wawrinka's multicolored pair of shorts that he wore when he won Roland-Garros is the worst thing to remember from the 2015 tennis season according to Andy Murray and Novak Djokovic.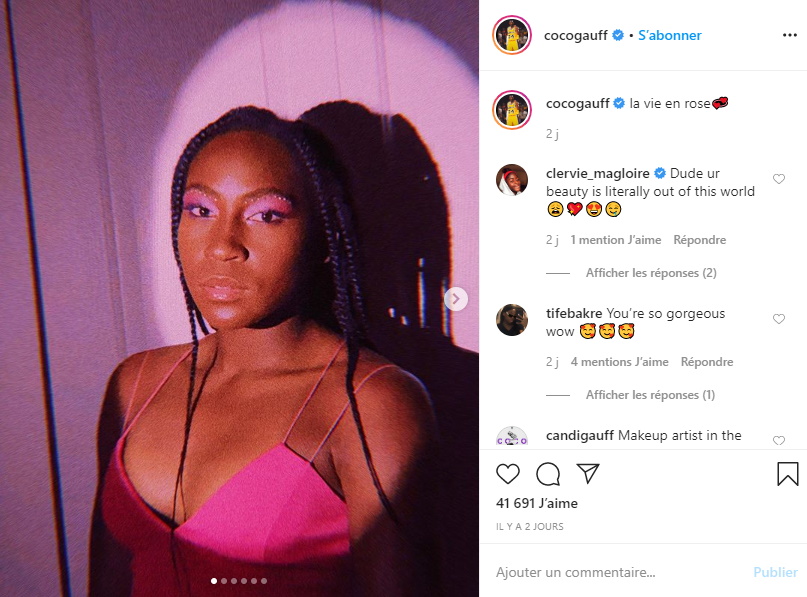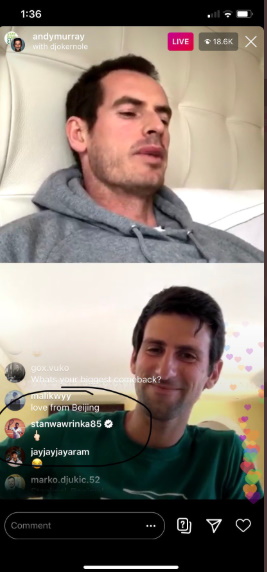 Saturday, April 18th
After Indonesian ghosts, here come Indian school punishments. Tourists who were arrested for transgressing the current lockdown had to write 500 times « I haven't respected lockdown, I am sorry. » Here's another turbulent pupil, according to Juan Carlos Ferrero: Alexander Zverev, as his ex-coach believes he isn't working enough. The German is currently exercising at Bayern Munich's training ground… There won't be any fierce battle between organizers as the Laver Cup, which was meant to take place at the same time as Rolland-Garros, has been cancelled. While waiting for the competition to resume, Serena Williams' coach, Patrick Mouratoglou, has announced his desire to create a competition played behind close doors for the players to get in shape again, in his academy in the south of France. Two players have agreed to take part so far: David Goffin and Alexei Popyrin.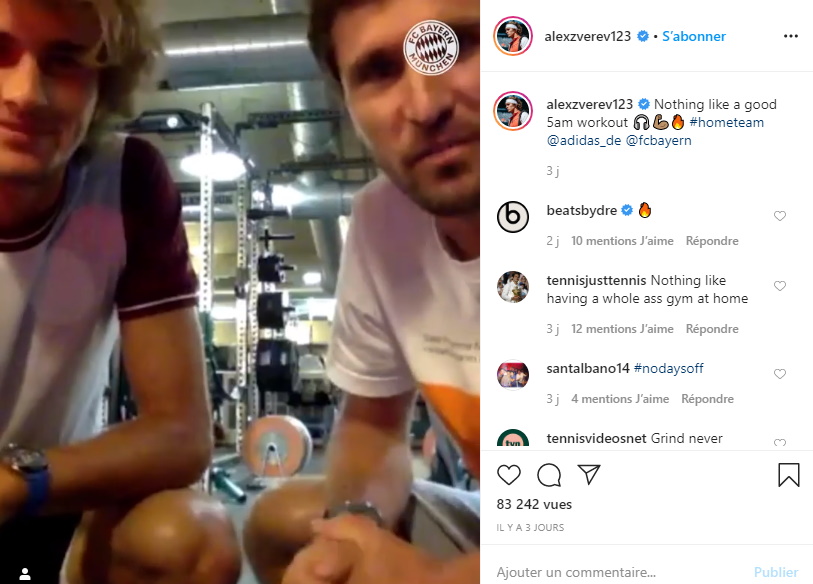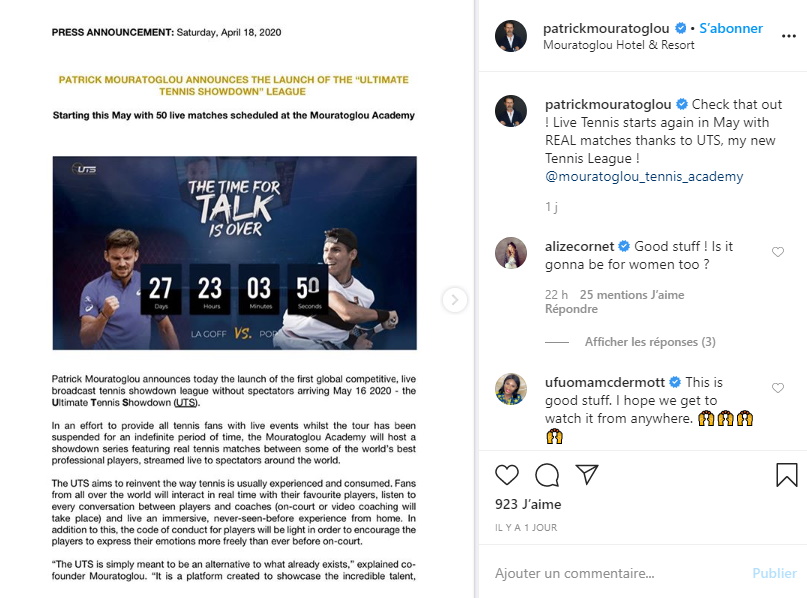 Sunday, April 19th
After Mouratoglou, it was Nadal's turn to express his idea of helping players get back in shape before the season starts again. The Spaniard also announced that he wanted to create a relief fund to help the players who are ranked below the 200th spot at the ATP ranking. A great initiative, while the pandemic seems to be slowing down in numerous countries. Here's another great initiative: these two Italians, who are completely respecting social distancing, while playing a tennis match on the roofs of their respective buildings. Long-range shots are compulsory, and you can't run up to the net!
By Régis Delanoë