We Are Tennis by BNP Paribas brings you the best of the past week, on but mainly off the courts. Another week spent in lockdown, with challenges, a kind Kyrgios, a bum shown to policemen and excuses to have early pre-drinks.
Monday, April 6th
Two celebrities sadly passed away, while we also saw two strange births. If the British actress Honor Blackman (an ex James Bond girl) and the South African HIV-specialist Gita Ramjee left our world (at 94 years old for the first, 63 for the second), two Indian twins said hello to it. Their first names? Covid and Corona. While speaking about this damned virus, Nick Kyrgios offered to help those in need. « Don't go to bed on an empty stomach, the generous Australian posted on Instagram. Don't be ashamed to leave me a message. I'll be happy to share what I have. A box of pasta, a piece of bread, milk… I'll drop it at your door. » We hope to see him controller in hand at the end of April, for the virtual charity tennis tournament which will replace the Madrid Masters 1000.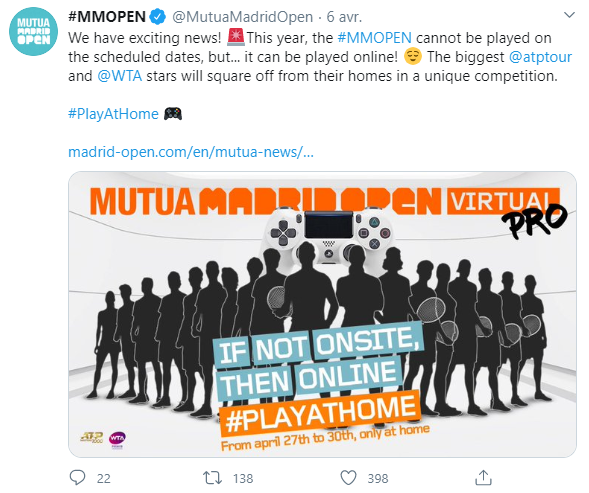 Tuesday, April 7th
While Simona Halep is - finally - running again and Petra Kvitova is - finally - back on a tennis court in Czech Republic, Roger Federer decided to launch a new challenge, in which you have to hit a tennis ball very quickly, and very close to a wall. Not amazingly fun, and not very funky either. In any case, Grandma Audrey, 88 years old, was right to prefer spending her time playing Animal Crossing. The developers payed an homage to the grandmother, by naming a new character « Audie » after learning that she had played for… 4300 hours! While listening, maybe, to the music of the American folk legend John Prine, who sadly passed away at the age of 73. Hello in there, goodbye here…

Wednesday, April 8th
Everyone has their own way of occupying their free time. Alex De Minaur tried to learn how to perform a backflip, without getting convincing results, Pablo Andujar worked on his serve by aiming at a bed sheet, Rafael Nadal put one of his t-shirts - the one he wore during his victorious 2019 Roland-Garros final - up for auction, and the founder of Twitter donated… one billion dollars, to help fight the coronavirus. Or 28% of his total fortune.

Thursday, April 9th
900. That's the impressive number of tournaments which have been postponed or cancelled this season because of the pandemic, according to the International Tennis Federation. The Rome Masters 1000 hasn't been officially canceled yet, as it could be postponed and even played indoors. Meanwhile, a French walker who didn't have his permission form on him, showed a police helicopter his bum before hiding in a bush. He ended up receiving two 135-euros fine.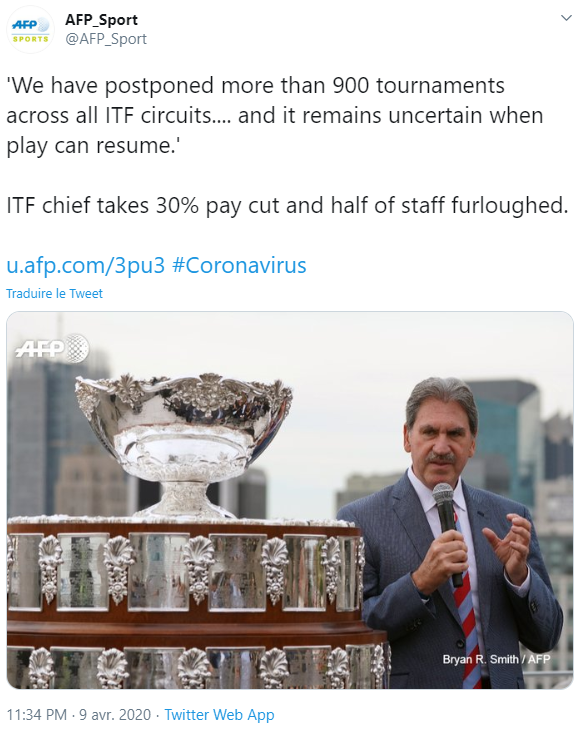 Friday, April 10th
Here's an innovative challenge! It's not easy, but nice to watch! More inspired than Federer, Andy Murray played a hundred volleys with his wife, before asking everyone to imitate them. In a much more tiring and less doable way, the professional triathlete Jan Frodeno announced that he will take part in an Ironman from his home. And here are the results: eight kilometers swam against the current in his pool in 47 minutes and thirty seconds, 180 kilometers on his exercice bike in four hours and thirteen minutes and more than 42 kilometers ran on a treadmill, which had a technical issue mid-race, in two hours and 58 minutes. Please don't try this at home.

Saturday, April 11th
Two men, two forms of intelligence. Ivan Ljubi?i?, first: known for his power racquet in hand in his playing days, the retired Croatian surprised everyone by showing his abilities at playing chess. He narrowly avoided a defeat against the French Grandmaster, and world number five, Maxime Vachier-Lagrave. Then, here's this anonymous man: probably thinking that he was being funny, this man from Manche, France, was fined for drinking alcohol in the streets along with his friends, and for creating a « pre-drinks » box on his permission form, as an excuse to be outside of his home. Cheers…

Sunday, April 12th
«?Why shouldn't you're feeling worthy no matter being on this checklist or not? You do a nice job. You might be a nice tennis participant. Cease reading this shit. » From Kygios, speaking about the newspaper L'Équipe and answering a Noah Rubin who was delighted to have been picked amongst the twenty most influential people in world tennis. Do you need to relax, Nick? For that, you just need to listen to the Beatles' song « Hey Jude », as their handwritten lyrics just went for 910 000 dollars at an auction. Don't be afraid.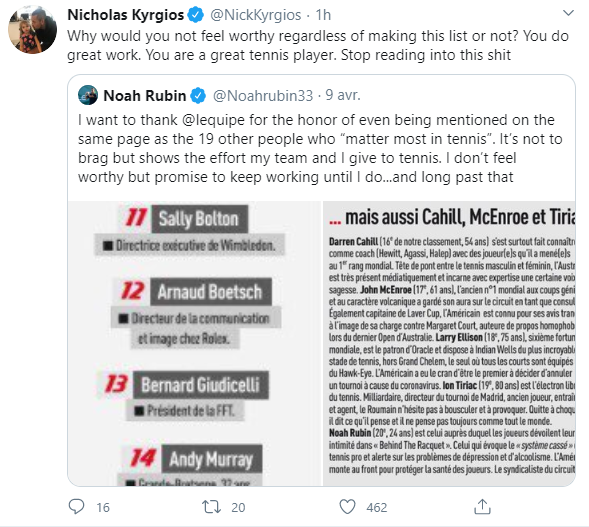 By Florian Cadu