We Are Tennis by BNP Paribas brings you the best of the past week, on and off the courts. A week spent in lockdown, with Sharapova handing out her phone number publicly, Wimbledon being cancelled, united fetishists in the UK, and animals on the loose.
Monday, March 30th
« Tennis is a microscopic thing in the world at the moment. » Grigor Dimitrov is right to put the debates surrounding the return of sporting events into perspective while, as of now, half of the world population is in lockdown at home. Let's be patient and cautious. In these conditions, Amélie Mauresmo stated that it we'll probably have to « forget about the season », an opinion shared by Craig Tiley, the boss of the Australian Open, who believes that « playing again this year will be difficult. » Meanwhile, champions are practicing however they can: Roger Federer with the old school method, playing against a wall, and Fabio Fognini and Flavia Pennetta improvising with a clothesline.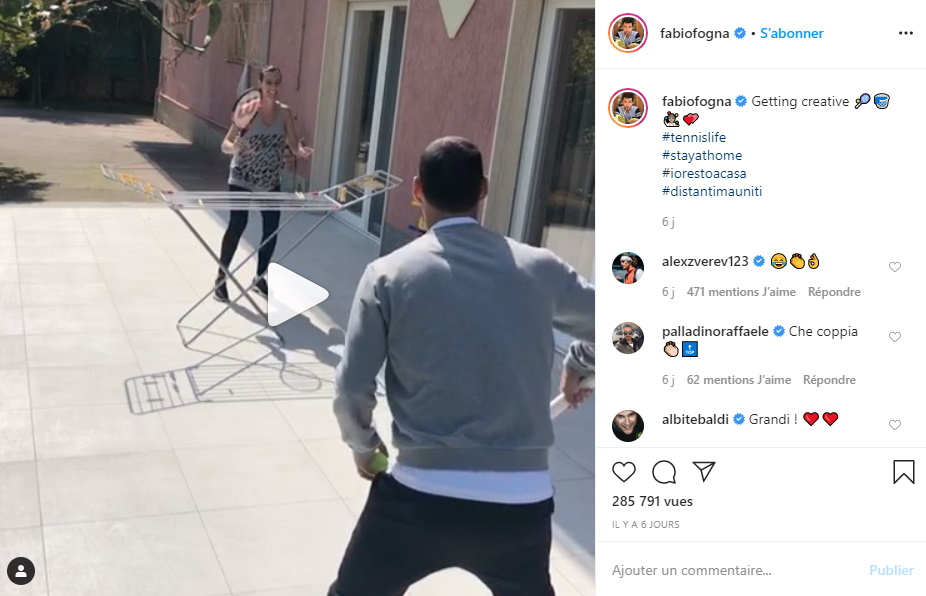 Tuesday, March 31st
Charts informed us that one of the most streamed song of the moment is Don't stand so close to me, by The Police. An appropriate choice indeed, in a time when social distancing is key… While Boris Becker tweeted about an Armaggedon-like atmosphere, Novak Djokovic made the most of his situation by improvising a small match, at home, with a pan instead of a racquet. Lockdown has also made the legend Billie Jean King miss her playing days, while Petra Martic decided to take some cooking classes instead.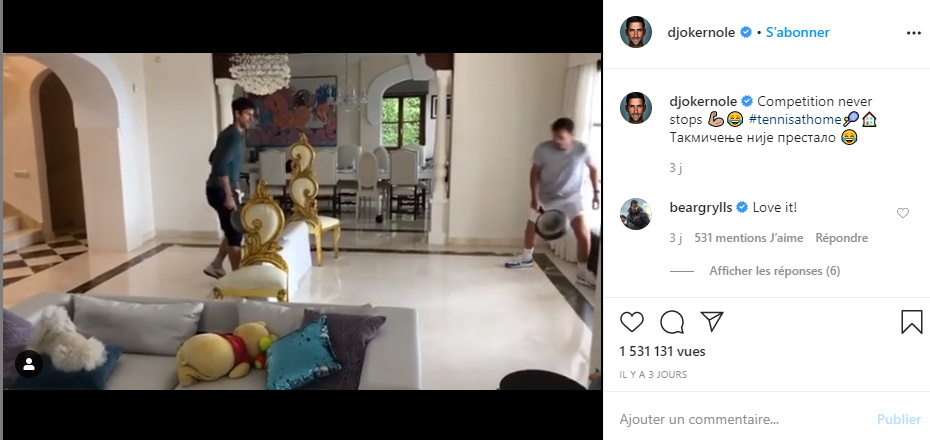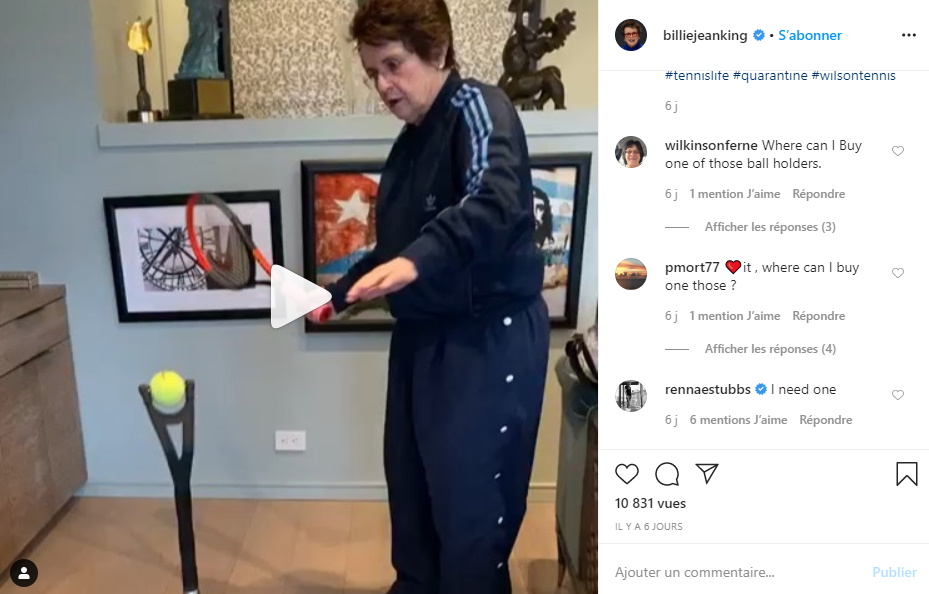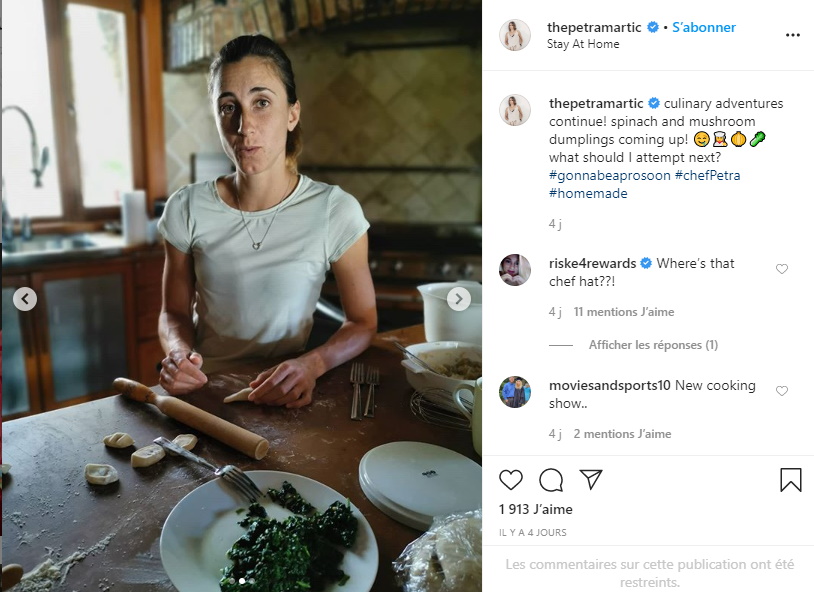 Wednesday, April 1st
It's official: the 2020 edition of Wimbledon has been cancelled. It hadn't happened since the end of the Second World War. The reactions expressing sadness quickly followed, with a « devastated » Roger Federer, a « shocked » Serena Williams, or Felix Auger-Aliassime who is already looking forward to 2021. Madison Keys is still smiling, as she participated in a relief fund by putting a signed cap up for auction. And Tomas Berdych the joker didn't forget about April Fool's Day, as he announced a fake return to competition on his Instagram account… Even funnier, a man from Mayenne, France, filmed himself kayaking in the pond of his garden. What do you mean lockdown makes everyone go crazy?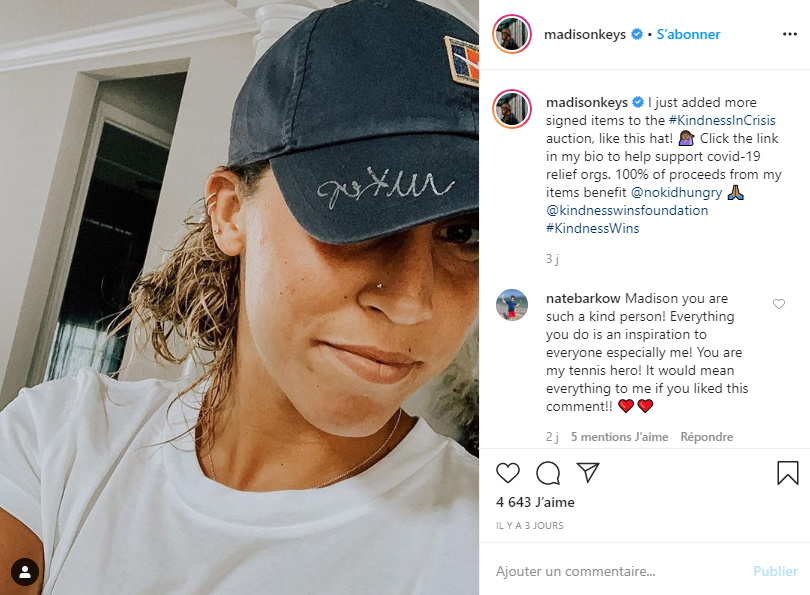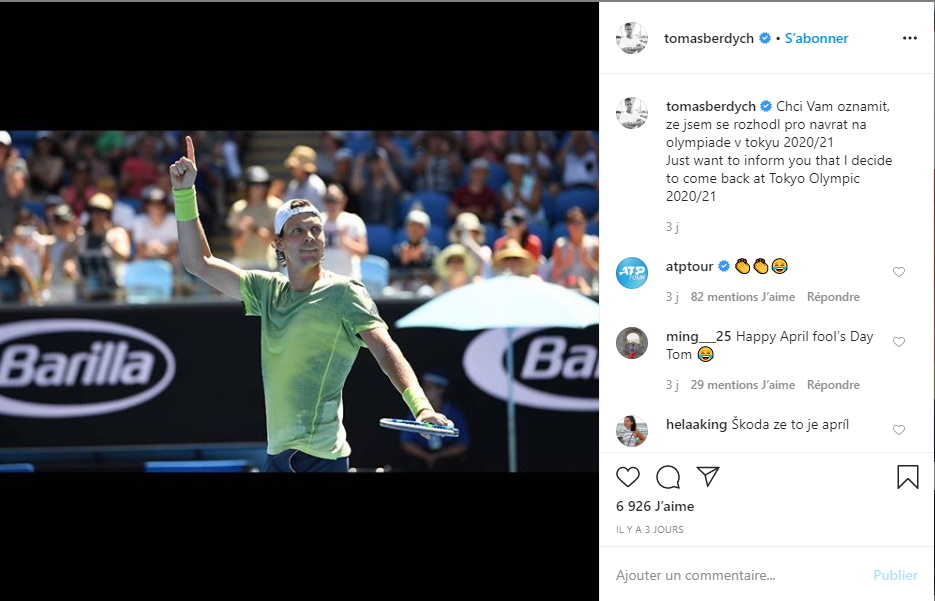 Thursday, April 2nd
The solidarity chain is growing: after scuba diving masks produced by Decathlon started being used in the hospitals of France and Italy, an English fetish shop has offered its entire stock of medical scrubs, usually worn for esthetic purposes, to hospitals! Still with the United Kingdom: more and more reactions were published after the announcement of the cancellation of Wimbledon, including the one of the local hero, Andy Murray. « I hope to come back on grass next year, the Scot promised. Meanwhile, everyone stay safe and healthy at home. » A precautionary advice heard loud and clear by Kristina Mladenovic and Alex De Minaur, who used their free time to try « lockdown golf », and by Daniil Medvedev, the quiet child who prefers drawing.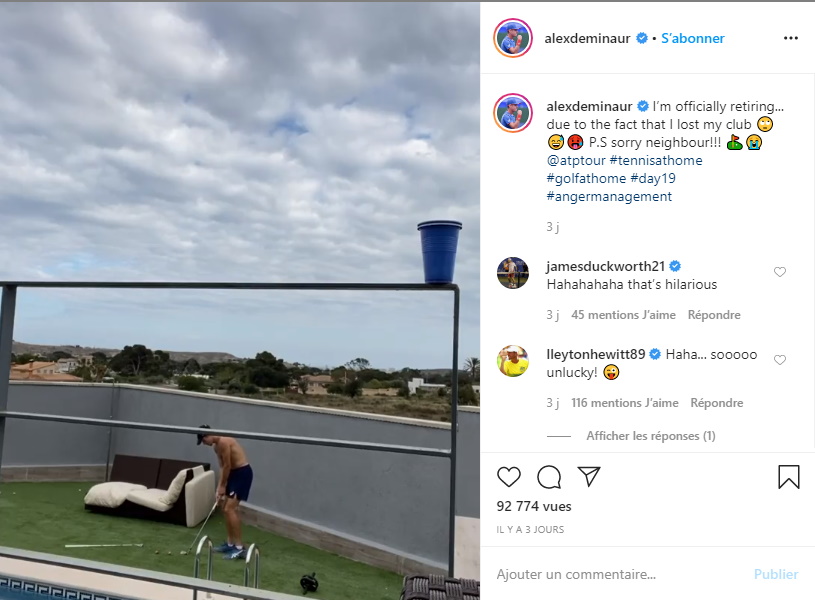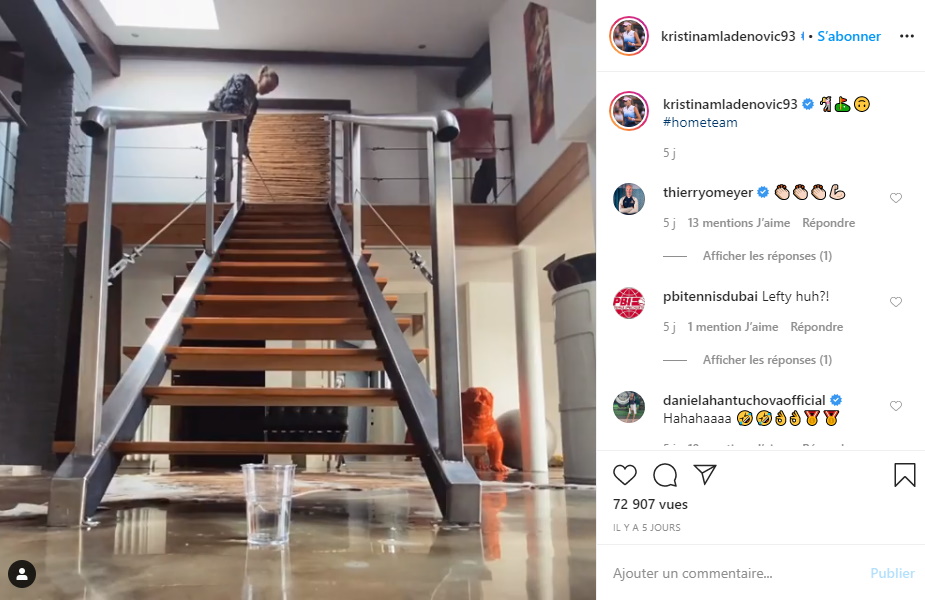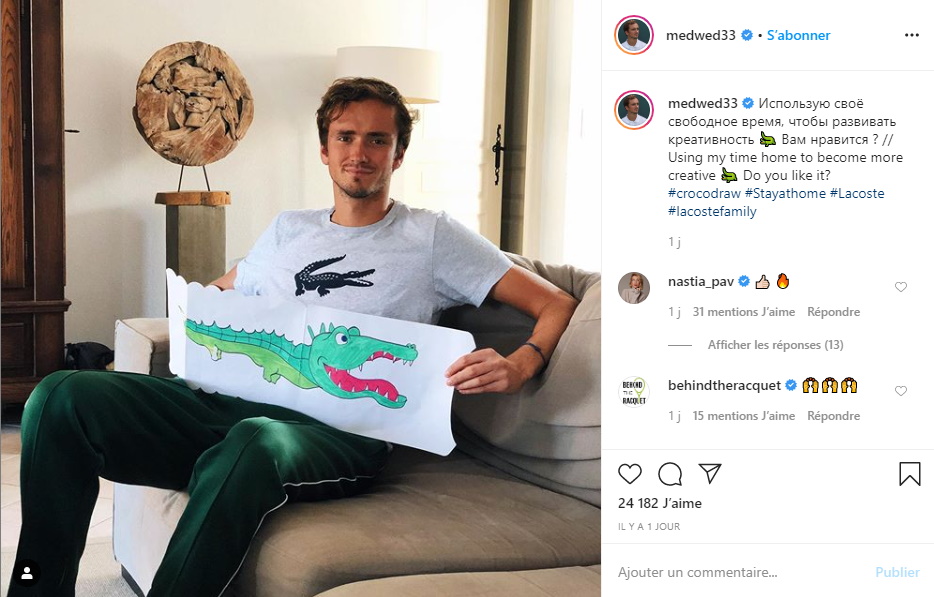 Friday, April 3rd
There has certainly never been so many people working from home in the world, and videoconferences taking place. And too bad if not everyone masters the new technologies, like this American boss, who made all her employees laugh by showing up in an online meeting with a « potato » filter, which she didn't manage to take off! Without tournaments, players, on their side, have to find new ways of killing time: Nick Kyrgios by getting a tattoo, and Stefanos Tsitsipas and Cori Gauff by taking up French lessons. To be able to give a speech to the French crowd after winning the next edition of Roland-Garros?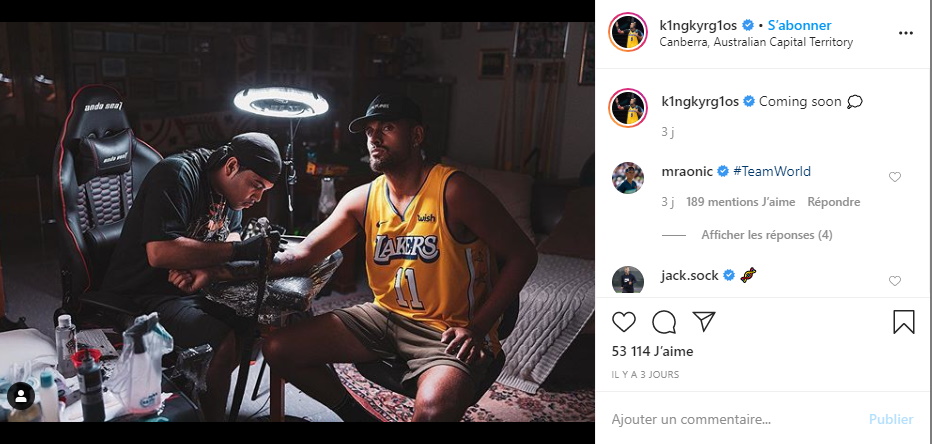 Saturday, April 4th
Animals, at least, are having a great time during lockdown: the recent news have shown goats roaming free in a Welsh village, otters fighting each other in a gang war in the waters of Singapore, an orangutan having fun with otters in a deserted Belgian zoo. Grigor Dimitrov and Borna Coric don't look unhappy either, as they improvised muscle building exercises at home, while Naomi Osaka pulled out the old school pics for the sister's birthday. And finally, Maria Sharapova gave one of her phone numbers on her social networks, to speak with her fans, answer questions, and also receive some good cooking recipes.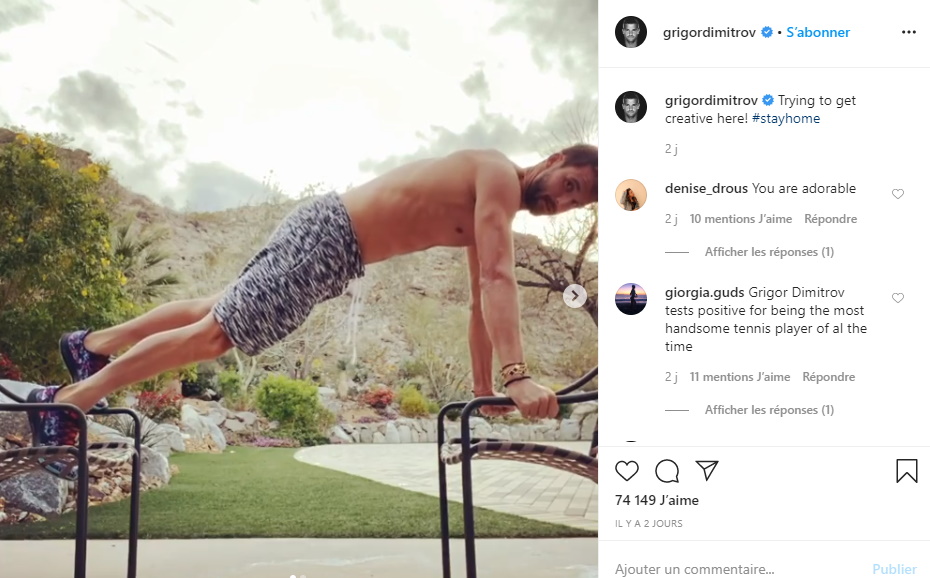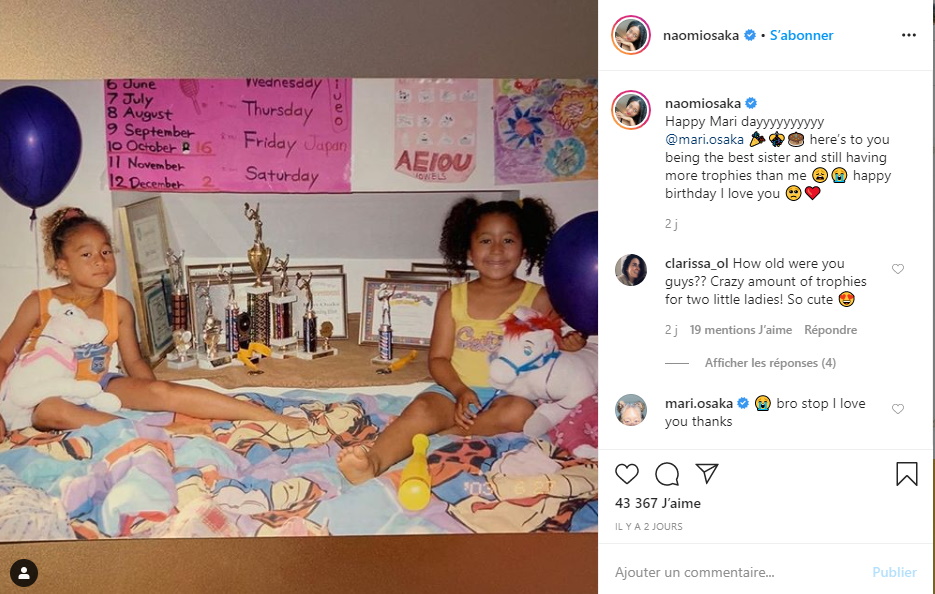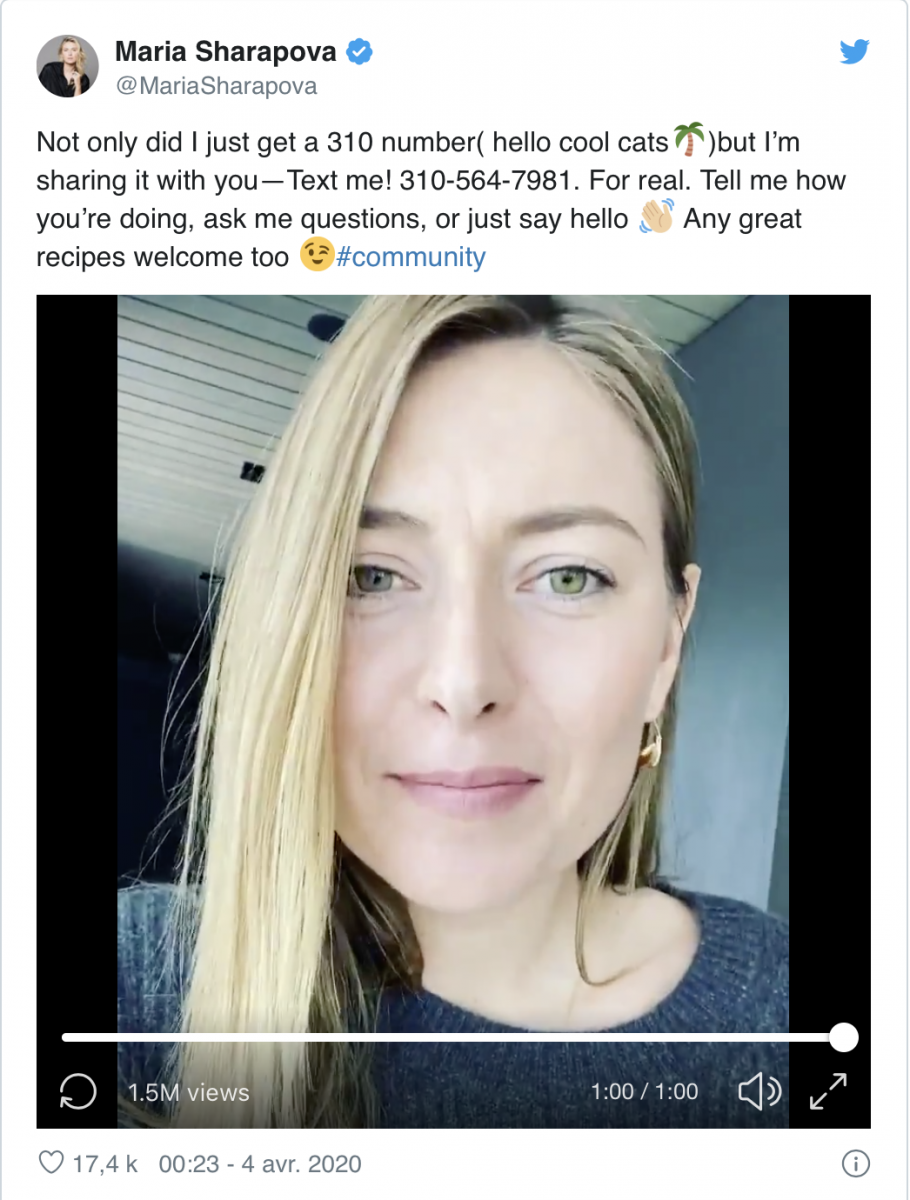 Sunday, April 5th
We're living an extraordinary period of time, quite literally. Another proof of that? Queen Elizabeth II expressed her support in the fight against Covid-19 in a speech given to the citizens of the United Kingdom and Commonwealth countries. An event which hadn't occurred since Lady Diana's death and the Gulf War before that… Let's recall the elementary rule: please, strictly stay home. With your family, like John Isner, with your other half like Rafael Nadal, or alone, like Stan Wawrinka, the important thing is to stay home, safe, and give positive vibes to those who, in hospitals, and elsewhere, are fighting to put an end to this unprecedented public health crisis.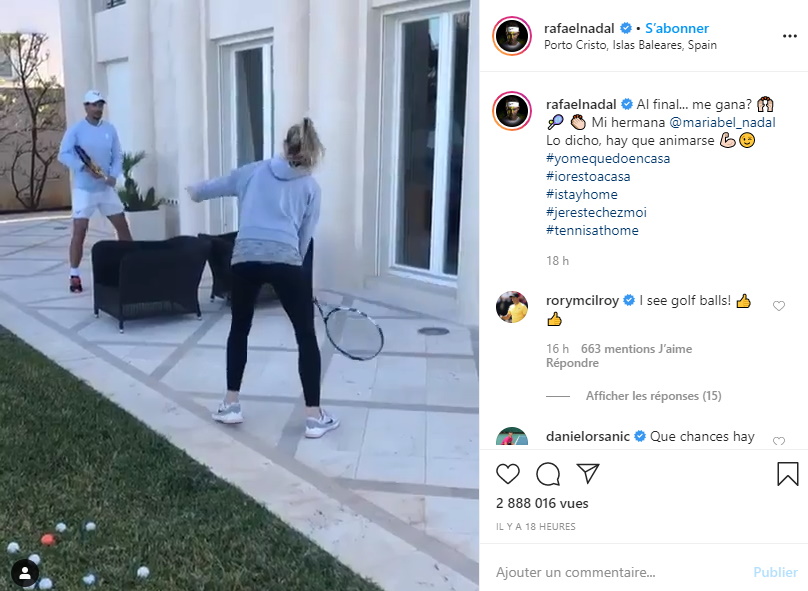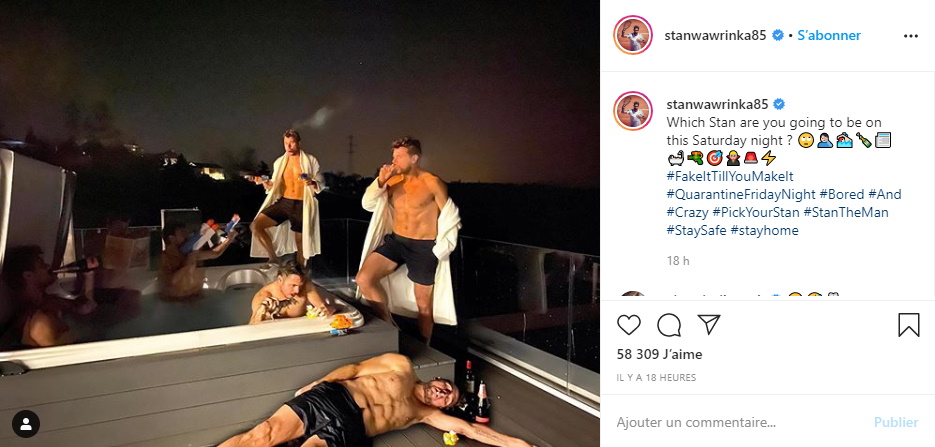 By Régis Delanoë