We Are Tennis by BNP Paribas brings you the best of the past week, on and off the courts. A week in lockdown with inventive players, online drinking sessions and an arsonist pig.
Monday, March 23rd
Some nice videos to kick off the week. First, the one of a work meeting done online, where a woman forgot to turn off her webcam as she went to the loo. Then, Benoît Paire and Stan Wawrinka, who regularly meet during public lives to speak about their favorite drinks. And here's the result: the Frenchman, logically, prefers wine, while the Swiss enjoys spritz. And finally, Juan Martin del Potro, on his side, chose Instagram to have a chat with Manu Ginobili. But the topics were less light-hearted and more serious. « I want to come back and carry on playing, but it's very demanding. The doctors are optimistic, and are saying that I will soon be able to walk properly. But when things don't happen as they planned them, it's difficult », said the tennis player. Who's not entirely sure of carrying on with his career, as he then admitted: « I've been through ups and downs, there are moments when I thought that this injury was a signal to start looking for another journey. And then, there are days when I tell myself that I deserve to finish my career in good shape. Despite the pain, I want to try. » Despite itself, the current context gives him a little more time to treat his injuries.
Tuesday, March 24th
At a time when the pandemic is growing on the planet, the coronavirus defeated the famous Cameroonian saxophonist Manu Dibango (86 years old.) Life goes on, and we should always be optimistic. The proof with the US Open, which has already announced that the surface which was used until now will change during the next edition and become slower (even if we don't know when it will be played yet, as it could still be postponed). Good news for Rafael Nadal and all the clay specialists.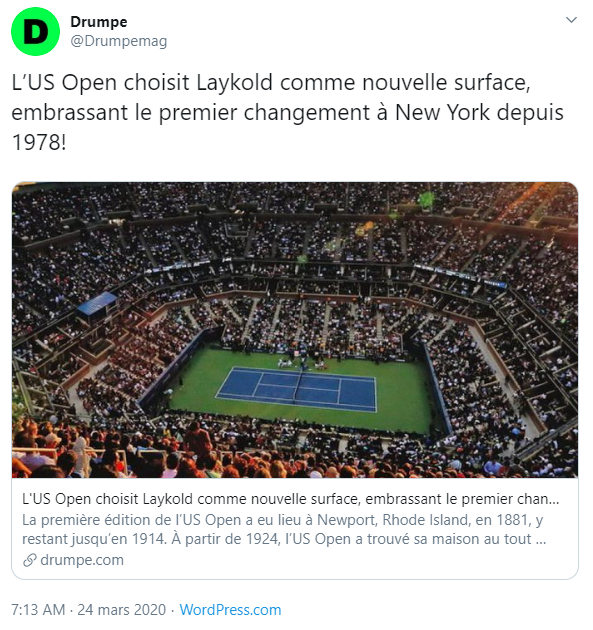 Wednesday, March 25th

There had to be one, and it was him. On Twitter, Thiago Seyboth Wild told the world that he was the first tennis player from the ATP Circuit to have been tested positive for Covid-19. He was quickly followed by the Paralympic champion Michaël Jeremiasz, who also contracted the virus. It was too much for Roger Federer, as well as Nicolas Mahut. The first donated almost one million euros to the most vulnerable Swiss families, while the second donated the money he received from people joining his virtual football tournament (where Paire got knocked out in the first round) to the hospitals of Paris. And by the way, please stay home. Even if you're addicted to Pokemon GO, like this 31-year old Italian man who went out in the streets, in the north of the country, to chase Pokemons. Moreover, the game gives you presents if you stay home!
Thursday, March 26th
« If the virus won't stop you from going out, spoilers will! » Two students from the Miami Ad School, an advertising school in Germany, have come up with a genius idea, and will now collaborate with Netflix: writing essential information regarding the end of famous TV series on billboards, so that people who watch Money Heist or other famous series aren't tempted to leave their homes. Ladies and gentlemen, the undisciplined, careful! This could become reality! And for those who can't stand fictions any longer, and who are missing sports, Wimbledon will be replaying the entire match Mahut-Isner, which was played in 2010. Let's go, and watch… eleven hours of tennis!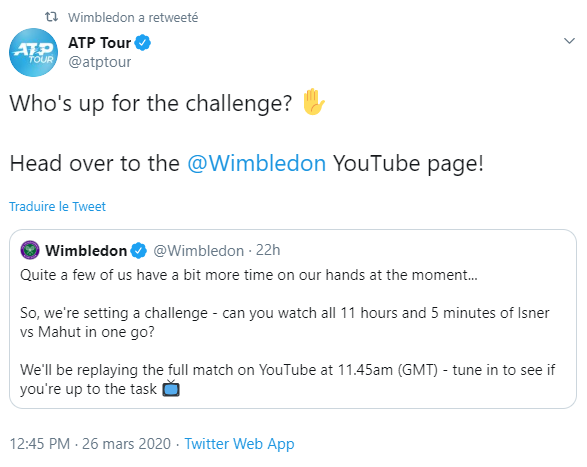 Friday, March 27th
How do you carry on working out, practicing your touch, and being useful at the same time? An anonymous woman has found the solution, by shooting at her old dusty mattress, which is her new sparring-partner. Meanwhile, Andy Roddick refused to choose between Nadal, Federer and Novak Djokovic - who also donated one million to his country - for the title of best player in the history of tennis: « I think this debate is a little stupid. It's like handing out Oscars before seeing the end of the movie. » And in this case, we can't have spoilers!