This day after day by We Are Tennis by BNP Paribas looks back on the coronavirus which is sadly taking over the world, which has to deal with it. Benoît Paire took the opportunity to enjoy a drink, while some elephants were found drunk in a Chinese field
Monday, March 16th
Seeing tennis disappear for an indefinite period is just a question of time now. Meanwhile, the coronavirus forced the cancelations of the women's tournaments in Stuttgart, Istanbul and Prague. To cheer everyone up, Bianca Andreescu has decided to set up a contest and give away gifs to the people who stay at home. With the number 1 prize being a racquet, and some money donated to fight the COVID-19. In Basel, a Swiss man chose to have loud sex with a car parked in the street. Whatever floats his boat.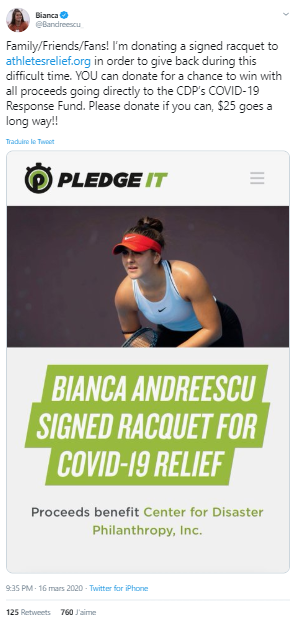 Tuesday, March 17th
Johanna Konta is delighted to spend time with her dog during the quarantine. Rafael Nadal decided to stay positive despite Roland-Garros being postponed to the end of next September. « Hello everyone. I'm at home, exercising and respecting the recommendations of the authorities. I hope you are all well, and that you're staying home, » the Spaniard encouraged. Bernard Tomic, on his side, wasn't in the same physical shape: « I started feeling unwell. I was out of breath, my whole immune system was weak and exhausted. I'm currently in Miami, and isolated from everyone, as recommended. I haven't been tested for Covid-19 yet, but I have all the symptoms, explained the one who is quarantined. I don't know how long I'll be isolated for, or when I'll be able to get tested. » Stay strong ! In the same « stay strong » mood, finally: men with small penises (fourteen centimeters while erected maximum) have finally got their own dating website !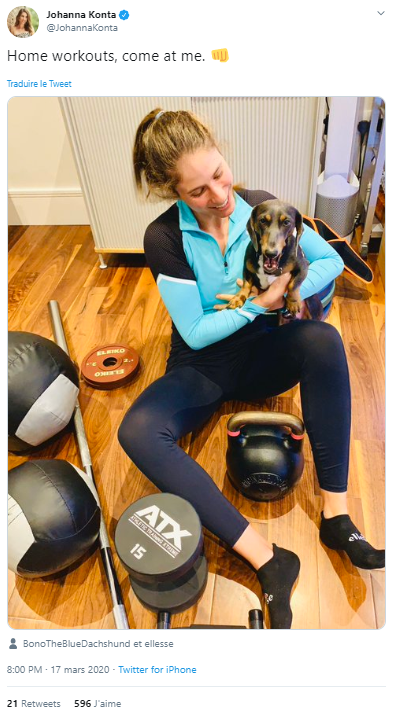 Wednesday, March 18th
Juan Martín del Potro is also in quarantine, as the precautionary principle is applied in Argentina. In any case, and while an Israeli man has handed back an antique stolen fifteen years ago from an archeological site in Jerusalem, after interpreting the epidemic as a sign of the end of the world, the ATP and the WTA have announced that all competitions are suspended until June 7th minimum. Therefore, Diego Schwartzman, Elina Svitolina and Gaël Monfils set a good example as they took part in the « Stay at Home Challenge ». A challenge imagined by football players on the social networks, for which you have to do keepie uppies with loo roll. Will they accept this young, inspired man's challenge too?

Thursday, March 19th
« I'm not complaining, but I feel like quarantine would be much nicer with a boyfriend. » Eugénie Bouchard was behind this indirect offer. « Creasing », answered Nick Kyrgios. Before meeting up again, the two lovebirds only have one thing to do apart from washing their hands and applying social distancing: running a marathon on their balcony, like this woman from Toulouse, France, named Elisha Nochomovitz! The result? More than 6000 round trips on her balcony, in six hours and 48 minutes, and a GPS which had trouble keeping up with the rhythm.


Friday, March 20th
The story of the day. Possibly of the week. While he was walking around his plantations in the Yunnan province (China), a tea grower stumbled upon… fourteen elephants, asleep, as the cause of their sleepiness resided in their state of inebriation, after they drank corn wine. An anecdote which put a smile on Ashleigh Barty's face, as she stated that she would be ready to defend her title at the French Open, even if it took place during the winter: « I haven't spoken to Guy Forget, but I'd be happy to play anytime, whatever the chosen dates for the tournament are. I will pick the opportunity to play with both hands, but I know that more important things are happening in the world right now. » A problem which we need to pick up with both (clean) hands, by demonstrating our patience everyday.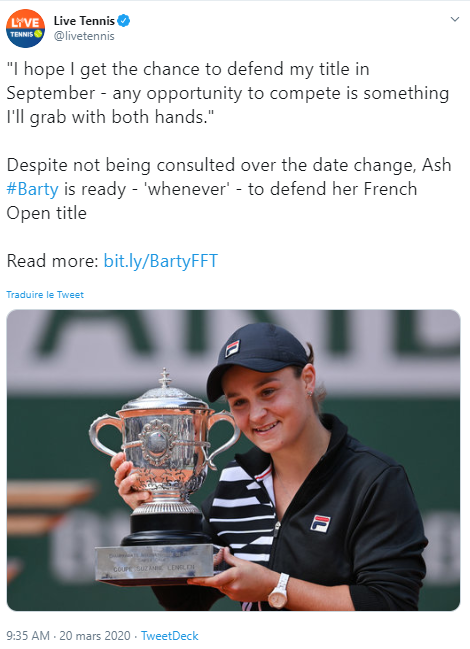 Saturday, March 21st
Four men are stuck at home until further notice, with four different tactics to appreciate this new life. The number one method was shown by Benoît Paire. « Currently doing crunches… No I'm joking, laughed the Frenchman on Twitter, as he was lying in his couch, a beer in hand. Cheers, and stay home. » Method number 2, by an anonymous Israeli man: testing your drone, by using it to walk your dog. Method number 3, by Roger Federer: stay calm, and spread messages of awareness. « We have to take this threat very seriously, fight this virus, and it's important that we all help, said the Swiss, who looks more at ease on the court. I wash my hands several times a day, and I stay home. Let's keep a two-meters distance between ourselves. » Method number 4, by Karen Khachanov: taking the « Stay At Home Challenge » from football players and adapting it to tennis. And don't worry about breaking things!

Sunday, March 22nd
What a superb idea! As real tennis has to wait before opening its doors again, Nicolas Mahut decided to play… virtual football, on his console! With his two sons and a few of his colleagues (Paire, Paul-Henri Mathieu, Lucas Pouille…) whose presences still need confirmation, the Frenchman has decided to organize four tournaments. With the first final streamed live, next Monday. A big chunk of his free time is actually spent studying philosophy as these few lines published on his Instagram account demonstrate: « It's all a question of perspective. We live in a world where everything goes faster. We rarely stop to contemplate our lives. We can't be healthy if our world isn't. It's time for us all to reunite and to unite. Let's try to spend some quality time with our family at home, and enjoy the small things in life, laughing, loving, and spending time working on ourselves. Pray, meditate, eat well, play music, sing, dance, read, write, exercise, sleep, train your brain to have positive thoughts… By staying home, we not only contribute, let's hope, to stop the spreading of the virus. We also give ourselves the opportunity to focus on certain emotions, and certain subconscious programs which we have suppressed and ignored. We are one. We all live in the same world. Treat people and nature like you would treat yourself. » A message which this Spanish man didn't quite get, as he was walking in the streets of Palencia with a… dog-shaped cuddly toy in a leash, as his excuse to get out. Come on, everybody stay home!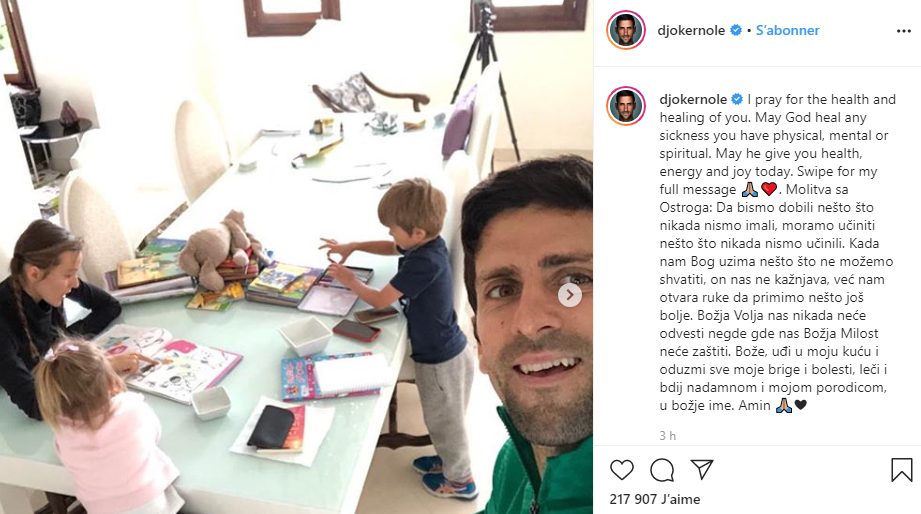 By Florian Cadu