We Are Tennis by BNP Paribas brings you the best of the past week, on and off the courts. Maria Sharapova definitely put her racquets away, Nadal and Djokovic won, 257 different varieties of cheese on a pizza and a snake swallowed a beach towel.
Monday, February 24th
Say goodbye to the Afro-American, pioneer mathematician at NASA, Katherine Johnson, as she passed away at the age of 101. That's eleven months younger than the ex-oldest man in the world, Chitetsu Watanabe, who also passed away in this end of February. Deaths which didn't seem to affect Reilly Opelka too much, as he won his second ATP title in Delray Beach. Reilly Opelkalm.
Tuesday, February 25th
Still with goodbyes, the 64-year old American Michael Hughes (« Mad Mike » to his friends), passed away after wanting to reach the stars to prove that Earth is flat, and after crashing in his homemade steam-powered rocket that he built in his garden. It's possible that Rafael Nadal, Novak Djokovic and Roger Federer payed him an homage in their private WhatsApp group, as they are officially exchanging messages in their private group. But « it's not only the three of us, it's all of us who are on the players council to be informed of all the things that are happening and important things going on on the circuit, the Spaniard explained. We don't communicate often, in any case not daily. » In other news, what's everyone's favorite emoji?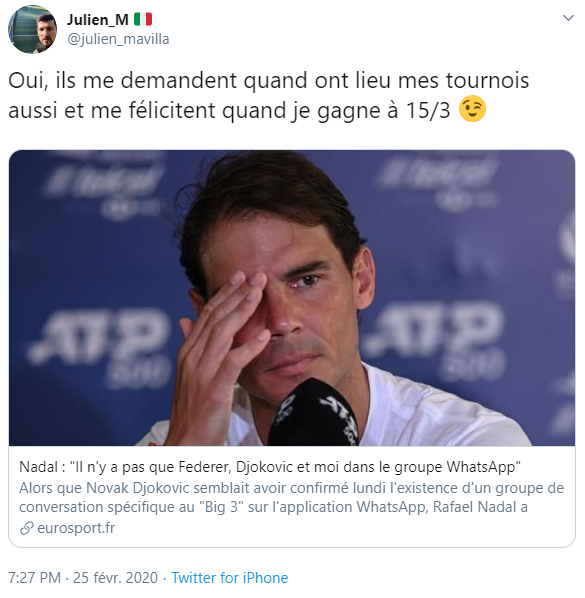 Wednesday, February 26th
Bye bye, Maria! At the age of 32, Maria Sharapova announced her definitive retirement in the pages of Vanity Fair. In any case, Félix Auger-Aliassime's idol wasn't Russian who had won five Grand Slams, but Roger Federer: « He was one of the first players that I started to watch during my childhood, he's helped tennis evolve to reach another level. He has advised me to be patient, to give myself time and to do things well. I took it like a privilege, I will never forget his advice. » Another one who clearly needs advice is this French reckless driver who was caught by the police driving at 142 km/h and who blamed his behavior on… OCD. According to the culprit, he can't stand driving in a vehicle if the needle doesn't face upwards. Completely mad indeed…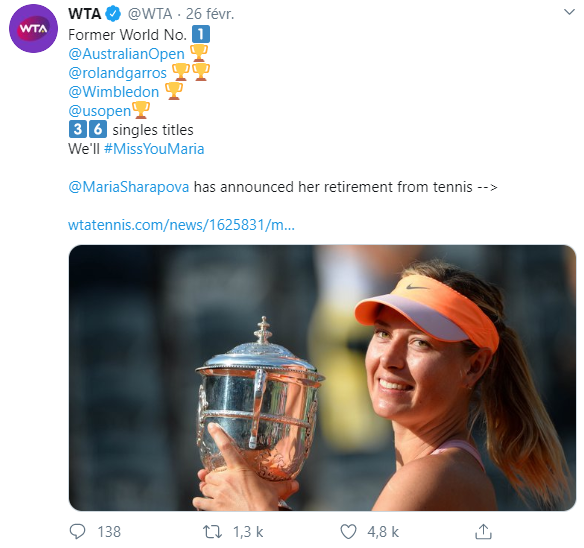 Thursday, February 27th
Power: Strength, force, or ability. Also used to describe the authority of a person or organization to control or influence something, or the intensity of a phenomenon. Example? Nadal's forehand against Miomir Kecmanovic in Acapulco. What can you do, against such a strong defense? The footage is terrible for the Serb. In funnier news, the American journalist Justin Hinton accidentally switched on Facebook filters while going live, as he was reporting on snowfalls in Asheville (North Carolina). Magician's hat and beard, dog ears, purple moustache, oversized weights, bulging eyes… It had everything. Especially a good laugh.



Friday, February 28th
In-cred-ible. In Lyon, France, the chef Benoît Bruel broke a record by making a pizza with… 257 different varieties of cheese. Just like the number of trophies that Djokovic will have at the end of his life? In any case, the world number 1 managed to avoid a defeat in the semi-finals n Dubai by saving three consecutive match points against a Gael Monfils who lost his 17th match in 17 confrontations against the Serb. Normal, according to the Frenchman's coach Liam Smith, as the Djoker is simply invincible: « Gaël played some fabulous tennis, to be at 6-3 in the tie-break of the second set. There if he could have bought an ace or a big serve on Amazon, it would have been great. But Novak is so good at returning… He doesn't give you anything, he's phenomenal. He never surrenders, and always makes you surpass yourself. » Which is, however, often not enough.

Saturday, February 29th
Djokovic, still him, defeated Stefanos Tsitsipas in the final and ended his tournament, once again, with a smile on his face. Just like Aryna Sabalenka, who triumphed in Doha. Smiles which we didn't see on the faces of the elected representatives of the small French town of La Remaudière, as the bank Crédit Mutuel, is asking them for 110 000 euros for the… rental of a photocopier, which the town doesn't need anymore. It's not the intern's fault, for once. And by the way, we wish all the unlucky people born on a February 29th a happy birthday.
Sunday, March 1st
After the forehand, here's the hat-trick. In Acapulco, Nadal triumphed for the third time, without losing a single set during the whole tournament, while Heather Watson lifted the trophy in the women's tournament. In other news, a crazy car-chase took place in Isère, France, and ended after 220 kilometers after the policemen shot the reckless driver's tires. The man was driving without a licence and had refused to stop. A snake was also rescued in Australia after eating a…beach towel. Have a great breakfast!
By Florian Cadu