We Are Tennis by BNP Paribas brings you the best of the past week, on and off the courts, day after day. Kenin and Djokovic triumphed in Australia, tires tricked animals and the world mourned the deaths of Mary Higgins Clark and Kobe Bryant.
Monday, January 27th
The day was dedicated to the late Kobe Bryant, the day after the sudden death of the basketball player, who died in a helicopter accident. Many personalities of the world of tennis - some of which were close to the American - payed him a vibrant homage. Novak Djokovic, Naomi Osaka, Cori Gauff, Elina Svitolina… All managed to find, despite the circumstances, a few comforting words. Support was also seen during the much expected fourth-round match, as Nick Kyrgios wore a Bryant jersey as he shed a few tears while Rafael Nadal wore a Lakers cap. A very small comfort came when a three months-old puppy was saved by the Los Angeles firemen as his head got stuck in a spare tyre. We'll take it.
Tuesday, January 28th
Seven match points. Yes, Tennys Sandgren wasted seven match points against Roger Federer, as he let his qualification for the semi-finals slip away. Was it because of this unintentional shock he suffered on his knee-calf as he bumped into a ball girl, in the tie-break of the fourth set? Possible, as at that level, every detail counts… Still, the world number 100 did his best, and can now relax despite having suffered a defeat. But not with German Reich Brewery, a new german beer, which has many nazi symbols printed on its label and which is sold… 18,88 euros a case. A bad reference.
Wednesday, January 29th
Friends of dairy products, hello! A great news came for you, on this Wednesday: the « Roboclette », a cheese-scraping robot, has just been unveiled in Switzerland. We'll still have to wait a little before seeing the product being commercialized. But after all, tennis fans had to wait a long while before finding out that video refereeing will be tried out on clay in February 2020. And to understand that Federer could also get angry, or curse in the middle of a match. Which earned him a 3000 dollars fine. Two words, one rule.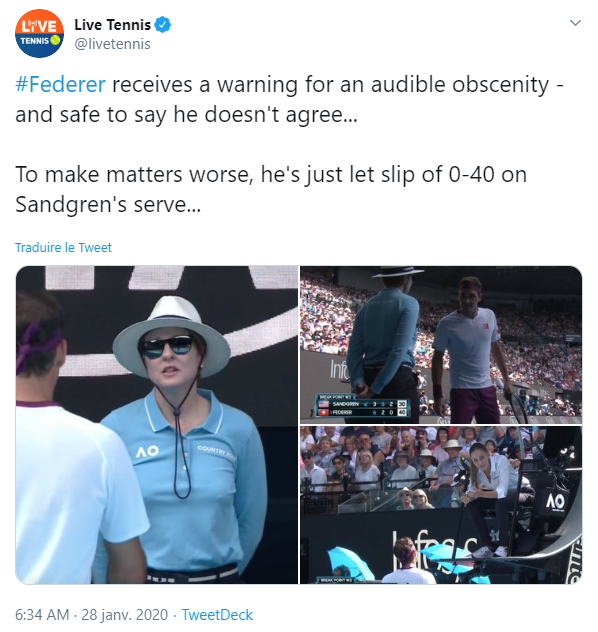 Thursday, January 30th
Garbiñe Muguruza-Sofia Kenin. This will be the program for the spectators of the 2020 Australian Open final. The world number 1 Ashleigh Barty, who was knocked out by the 21 year-old American, won't be there. But there are worst things in life, like risking a six-year jail sentence for trying to avoid your own wedding. That's what happened to this Colombian man, who organized his own kidnapping to escape the celebrations, and is now sued, along with his friends, for this false alarm. Is it yes or no?
Friday, January 31st
A moment of silence for Mary Higgins Clark, who passed away at the age of 92 after writing lines and lines of suspense in her numerous novel. Even the Rod Laver Arena, which had all its lights out for a few minutes after some projectors broke down, respected the tradition during the semi final between Dominic Thiem and Alexander Zverev. For the anecdote, it was the first who managed to qualify for the final.
Saturday, February 1st
Careful, here is a tough puzzle to solve. Between winning a Grand Slam tournament at the age of 21, or getting a motorcycle tire off the neck of a crocodile, which is the hardest thing to do? Kenin answered by lifting the Australian trophy, but the courageous Indonesian animal specialists who were looking to earn a financial reward certainly won't agree. In any case, a call has been launched to try to save the reptile, which is choking as time goes by.
Sunday, February 2nd
As we celebrate Candlemas, Sunday crepes are required. Except in Belgium, where a shop-owner decided to offer fries topped with… chocolate spread. Still with talent, Djokovic won his 17th major tournament and earned global praise. Except in Austria, where the population was, of course, disappointed for Thiem. Next time, surely.
By Florian Cadu