We Are Tennis by BNP Paribas brings you the best of the past week, on and off the courts, day after day. With a healthy Schiavone, penis-shaped fish, a very expensive banana and cowboy birds.
Monday, December 9th
And the 2019 athlete of the year in Canada is… Bianca Andreescu! No tennis player had ever received this award, wether male or female. « I am so grateful to receive this honor, said the world number 5, who hasn't even turned 20 yet. I didn't expect it, and to be the first tennis player to ever win this award is even more surreal. » Speaking of surreal things, a banana which was simply duct-taped to a wal by the Italian Maurizio Cattelan was sold to a Frenchman for 120 000 dollars… before being eaten by another artist, David Datuna. Can he at least get the peel back?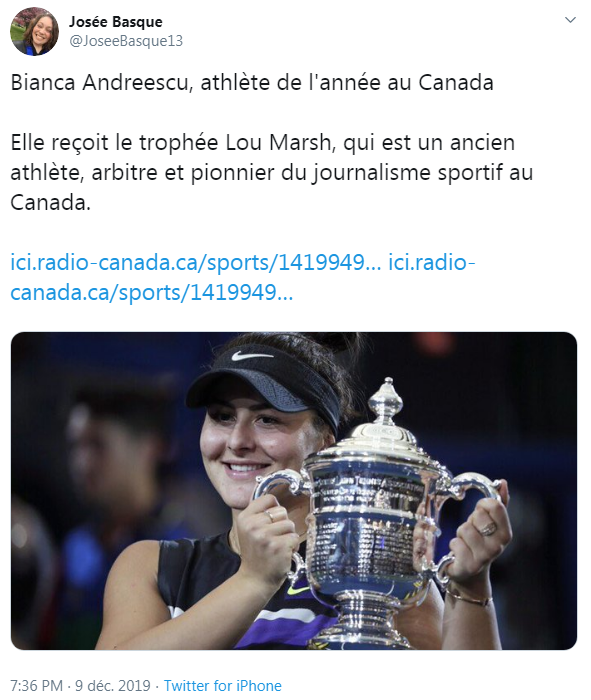 Tuesday, December 10th
Qatar Futures in Doha, first qualifying round. A strange Ukrainian player named Artem Bahmet created an internet buzz, and here's why: his dramatic performance, with rubbish serves and missed shots attracted all the attention. In 22 minutes, Krittin Koaykul won two sets 6-0, 6-0 against this amateur who came from god knows where. Meanwhile, Diane Parry comforted her junior world number 1 spot at least until January and an ATM handed out twice the amount that a customer withdrew in Marseille, France. Don't even think about it, as the malfunction has already been fixed.
Wednesday, December 11th
And the 2019 WTA player of the year is… Ashleigh Barty! Quite logical, as no Australian player had been top of the women's ranking since 1976, with Evonne Goolagong-Cawley. On his side, Marcos Baghdatís has decided to become a coach, only months after retiring, as he joined Elina Svitolina's team. Still with the news, a 25-year old driver crashed a brand new A7 Sportback during a test-drive in the streets of Saint-Petersburg. Can her insurance cover that?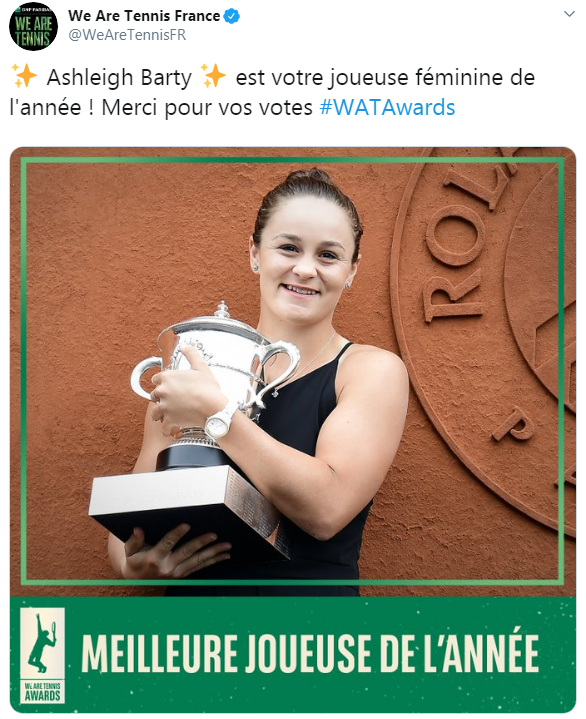 Thursday, December 12th
Star Wars fans, beware! Disney studios issued an official warning: because of the amount of scenes involving flashing lights in the latest movie, the eleventh episode is not recommended for epileptic viewers. Andy Murray will have the time to verify the information, as he canceled his two weeks of preparation in Miami because of a groin injury. No joke, or extended absence, hey, Andy?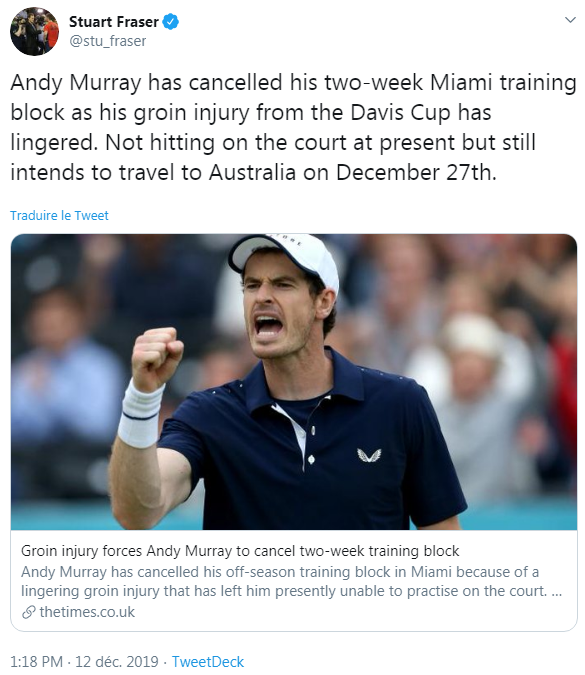 Friday, December 13th
« Upon 7-8 of silence from social media and from the world, I wish to share with you what happened to me. A cancer had been diagnosed to me. I did chemotherapy, I fought a though battle and now I am still breathing. I have won this fight. And now I am back in action » Boom. In six sentences posted on the social networks, Francesca Schiavone evoked the worst and the better, by speaking about her cancer and her recovery. Congratulations, champion. However, the mysterious person who is putting cowboy hats on the head of birds in Las Vegas is invited to stop doing so. Immediately.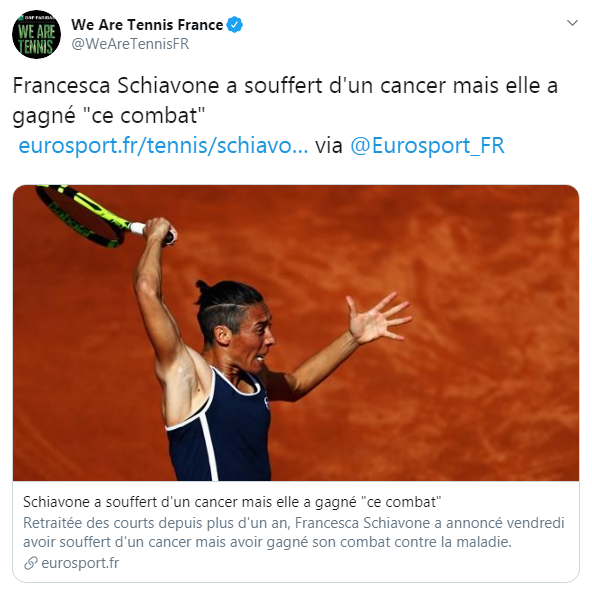 Saturday, December 14th
Are smart watches useful? Yes, especially when you're looking for proof that you're partner is cheating on you. That's how, at 4:00 a.m, the American journalist Jane Slater thought she had discovered her partner's infidelity thanks to their smartwatches which had been synchronized. « His level of physical activity was unusually high, she wrote. Spoiler alert : he wasn't taking a fitness lesson at that moment. » And why not? Physical training in the middle of the night is something Wim Fissette, Naomi Osaka's new coach, could certainly plan. So…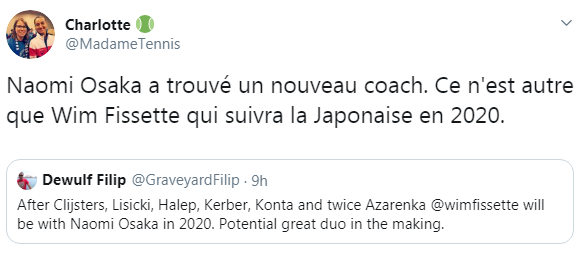 Sunday, December 15th
After Baghdatís, Janko Tipsarevi?. A few weeks after playing his last ever match, the Serb decided to become Filip Krajinovi?'s coach and took the opportunity to state that Novak Djokovic is the best tennis player in history. Surprising? Not as much as these thousands of penis-shaped fish which were found on a beach in California, or the exceptional bonuses handed out by Edward St John to his employees. The founder of this Baltimore-based real estate company has handed out 10 million dollars to share between his employees, or 50 000 dollars each. Happy holidays, everyone.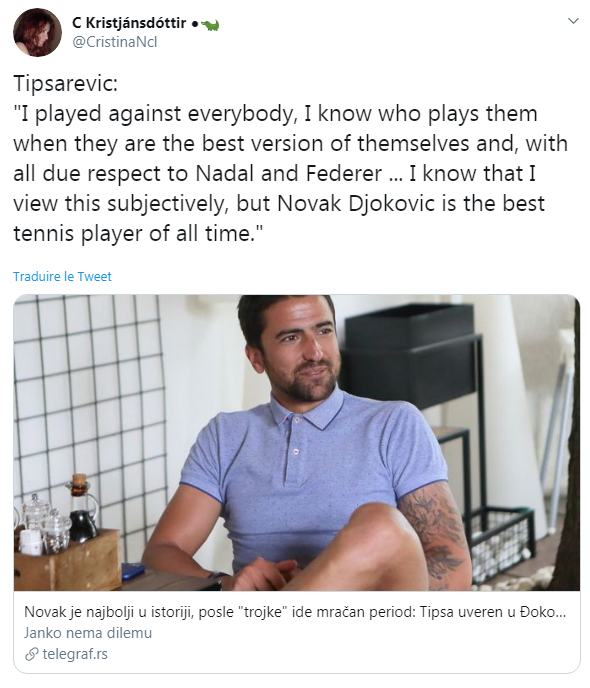 By Florian Cadu