In this day after day by We Are Tennis by BNP Paribas, we look back on Spain's win at the Davis Cup, Federer's triumphal Latin-American tour, and the price of one of Serena Williams' broken racquets, and a real-life Breaking Bad.
Monday, November 18th
« I feel like I'm close to winning a Grand Slam. » Soon after his win at the ATP Finals, Stefanos Tsitsipas announced his future goals: he wants the 2020 season to be his. Meanwhile, 2019 ended in men's tennis with this new version of the Davis Cup, in Madrid: 6 groups of 3 nations, with Nadal and Djokovic as the headliners. The first day of this new chapter was marked by the wins of Russia, Canada and Belgium. Meanwhile, Roger Federer kicked off his triumphant one-week tour of South America, with Zverev and Del Potro as guest-stars. As for Dominic Thiem and Kristina Mladenovic, it was time to go on holidays, but separately. According to the rumors, they are no longer a couple.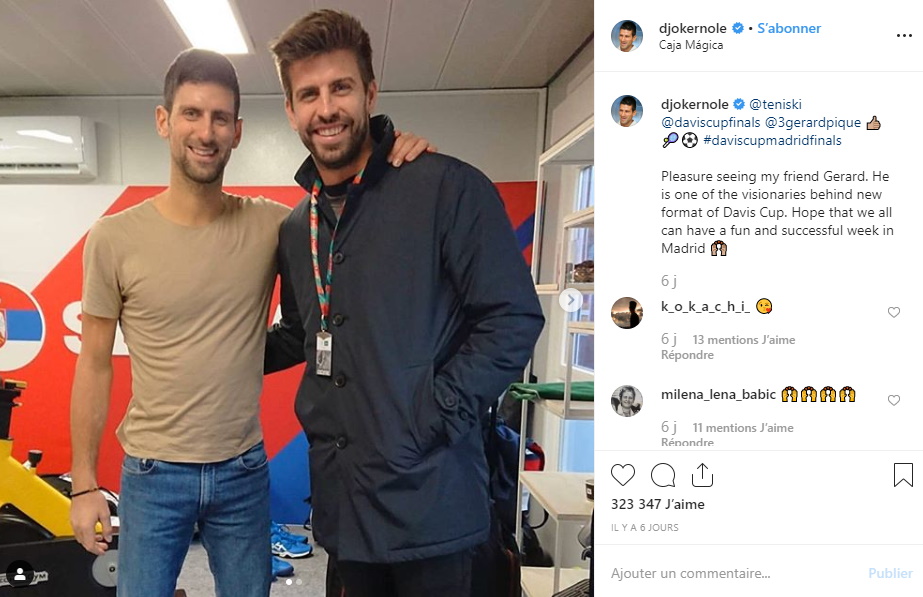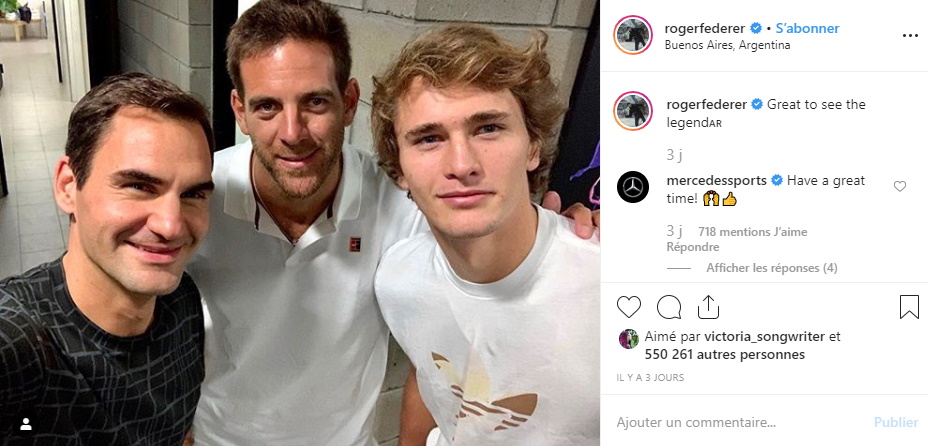 Tuesday, November 19th
In the US, two chemistry teachers were arrested for creating a meth lab in a school. If this story reminds you of the scenario of a famous TV show, that's perfectly normal. Here's another adventure, and a (bad) scenario: after a software bug, a Belgian man had the surprise of having -100 billion dollars on his bank account! To replenish his account, why not speculate on Serena Williams' broken racquet which was put up for auction? The starting price: 2100 dollars. Meanwhile, Ashleigh Barty had fun with her dog, and Simona Halep visited Versailles.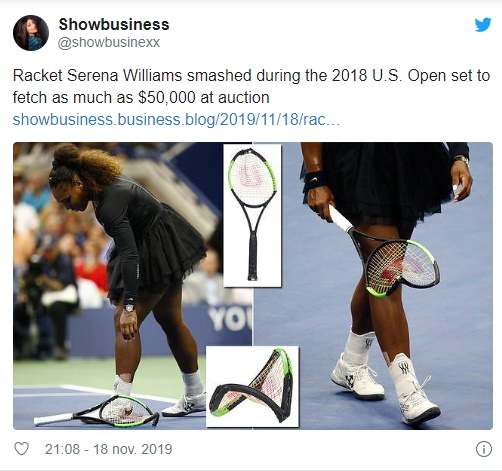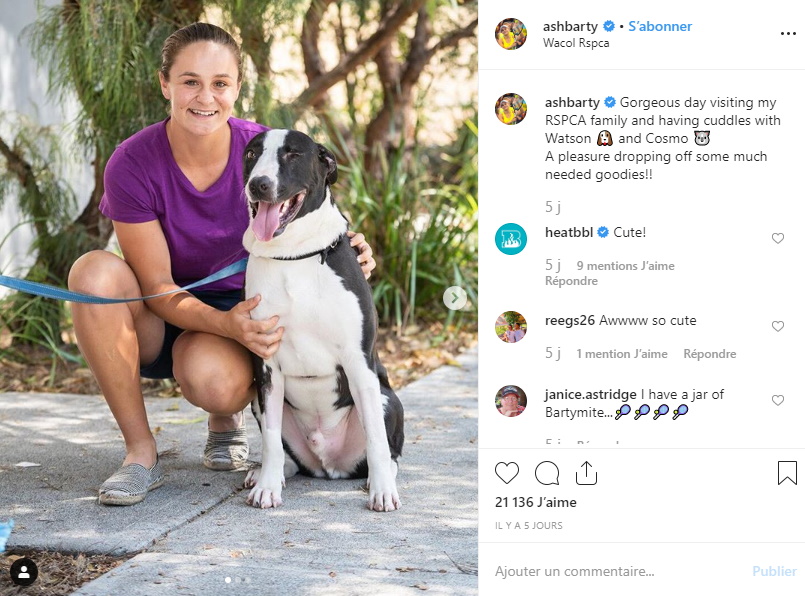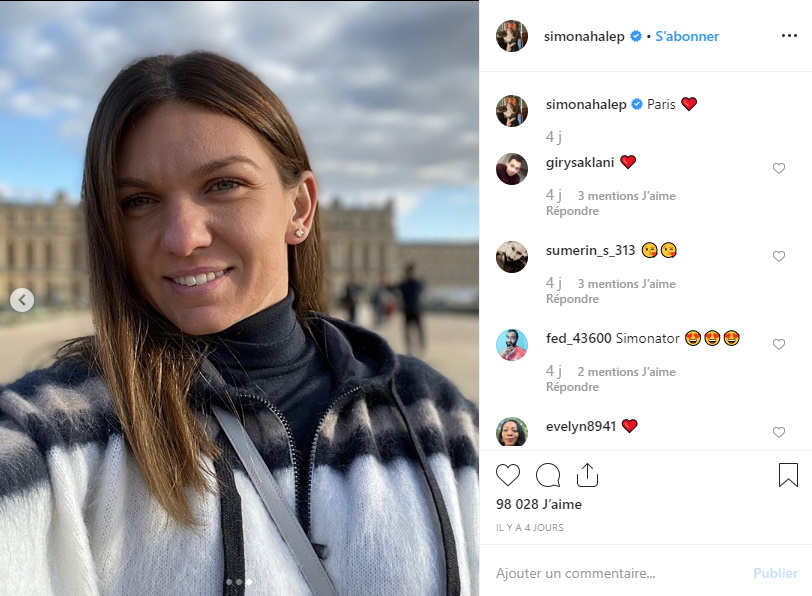 Wednesday, November 20th
What if Greta Thunberg was immortal? A picture which was taken more than 120 years ago, showing a young lady with the same serious look, and the same pigtails created a buzz online. Another fun thing to see was Serena Williams being a cheerleader at half-time during the Los Angeles Lakers' game, and Roger Federer striking a pose during his exhibition match in Buenos Aires. In a slightly calmer atmosphere (but with the football players Neymar and Jordi Alba who came to support their friend and promoter of the tournament Gerard Piqué), the Davis Cup saw the wins of Spain, Serbia, Germany, Australia, Great-Britain and the USA.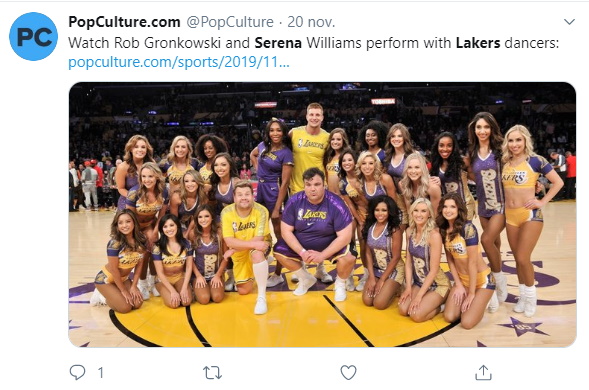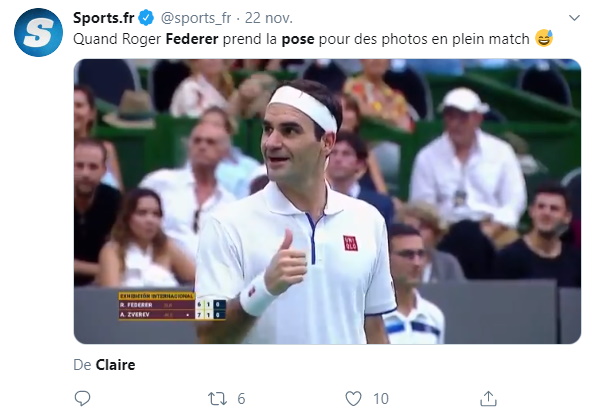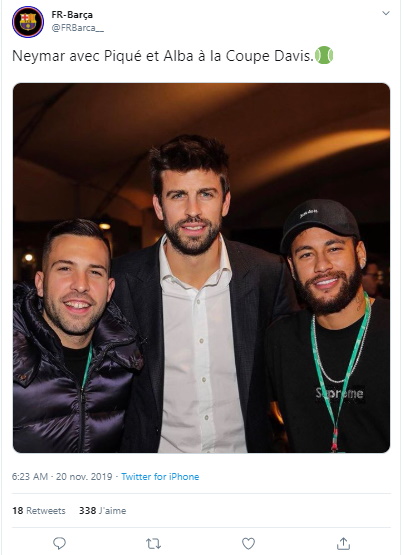 Thursday, November 21st
The group stage is not over yet, but there was already a quarter-final being played during this 4th day at the Davis Cup: Canada qualified for the semi-finals after defeating Australia, who had to do without Nick Kyrgios, who suffered a collar bone injury. In order to heal from that injury, the bad boy of the circuit could try out the « suspended animation » state: an American team has managed to heal a patient who was frozen and almost brain dead. A first ever ! Science-fiction starts now! In more down-to-earth news, Tsitsipas took some refreshing holidays in Iceland, and Elina Svitolina recharged her batteries at home, in Kiev.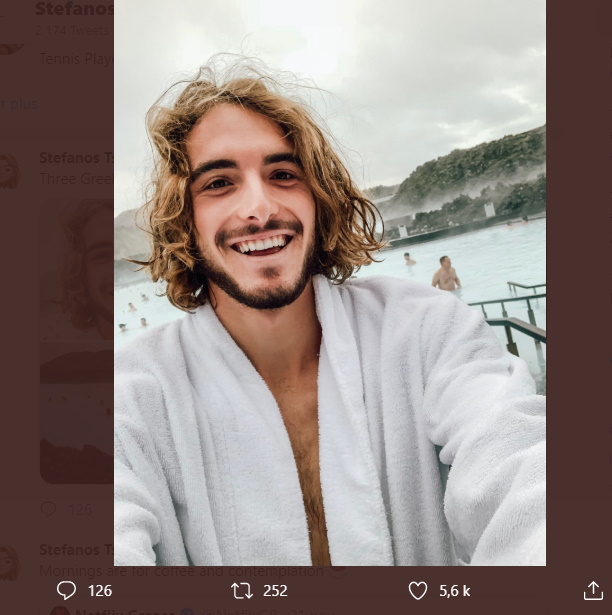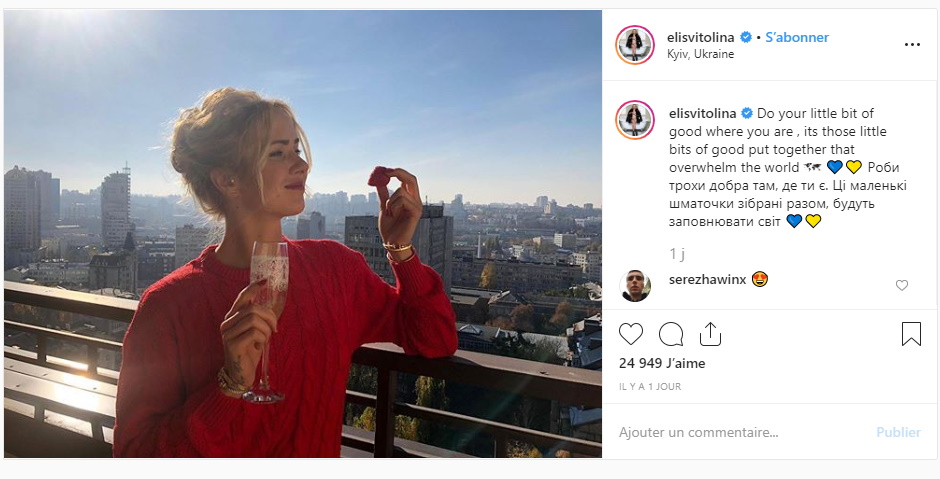 Friday, November 22nd
After playing in Chile and Argentina, Roger Federer and his opponent Alexander Zverev had to call off their match in Colombia at the last minute, because of recent high tensions in the streets of the capital, Bogota. Here's another cancelation: Coldplay canceled their next world tour, as the members of the band want to adopt a more responsible carbon footprint. A wise decision, just like the one found by Boris Becker and his creditors to not leave the ex-German champion bankrupt. In Madrid, Spain knocked out Argentina (despite the absence of Bautista Agut, who was grieving after the passing of his father), the British dominated Germany (with Murray watching from the stands) and Russia knocked out an inconsolable Djokovic's Serbia.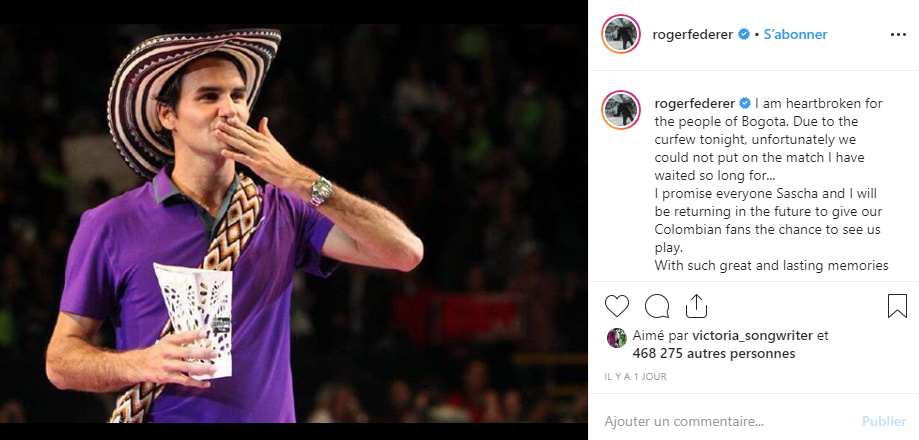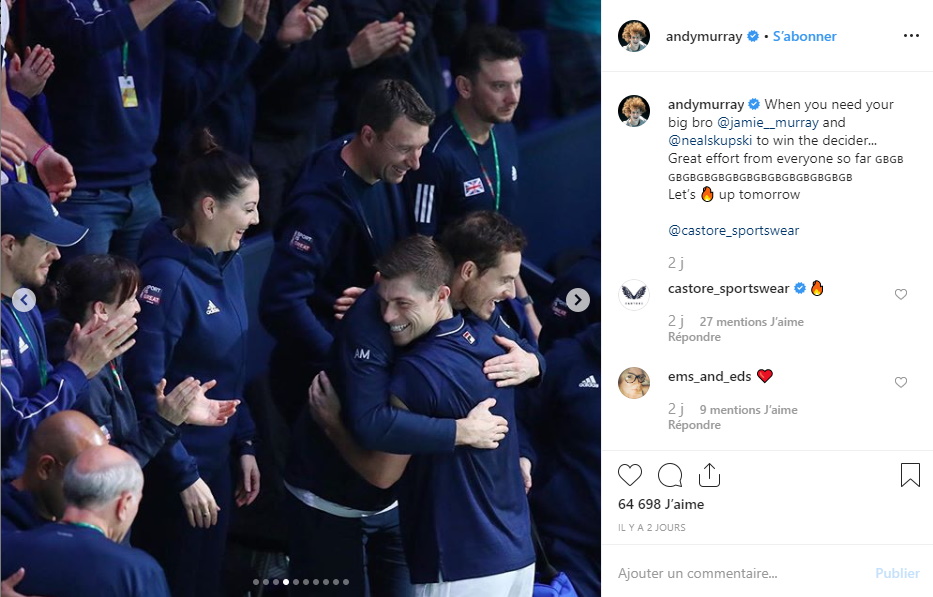 Saturday, November 23rd
Two records were broken on this November 23rd. The first one? Federer and Zverev faced each other in Mexico in front of 42 000 spectators, a unique number for a tennis match! The second record? The number of defeats suffered on the ATP circuit is for Feliciano Lopez, who was defeated by Kyle Edmund in the semi-finals of the Davis Cup (the record was previously held by Fabrice Santoro). But thanks to an undefeated Rafael Nadal, the Spaniards managed to qualify for the final where they will face Canada, who won a hard-fought battle against the Russians thanks to the pair Shapovalov/Pospisil.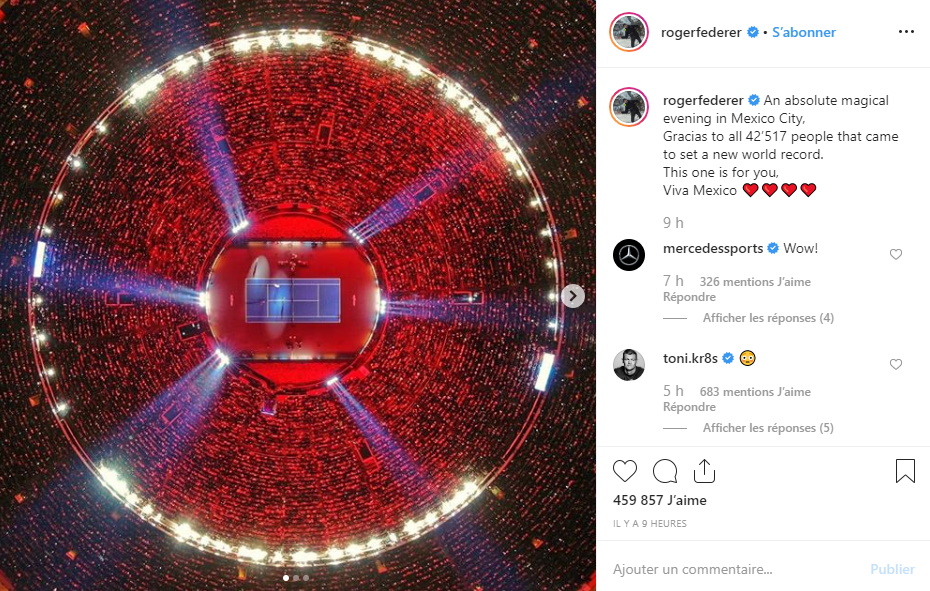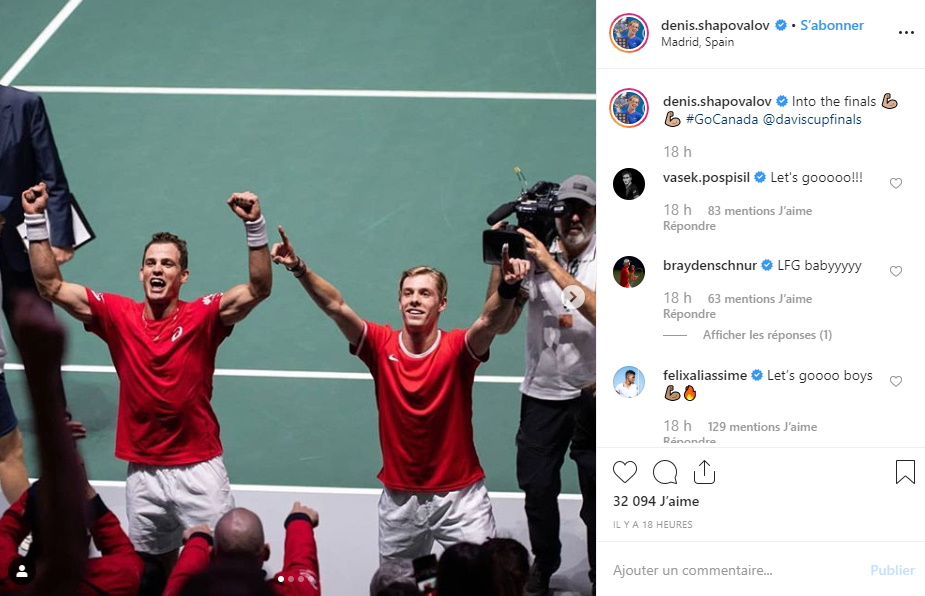 Sunday, November 24th
It was written, it was meant to be: Spain won the first edition of this 2.0 Davis Cup, thanks to the second point scored by the national hero Rafael Nadal against the brave Shapovalov. The crowd in Madrid could finally erupt, after this final which was a success at every level: a filled arena, an electric atmosphere and a lot of emotions in the first match with the in of the grieving Bautista Agut against Auger-Aliassime. The 2019 tennis season is officially over but we already can't wait to see what the next one will bring to us, with te talented Shapovalov, but also Tsitsipas, Sinner, Zverev, Thiem and all the ambitious youngsters of the ATP circuit. The queen Barty will also have to hold her rank on the WTA circuit. We can't wait for it start!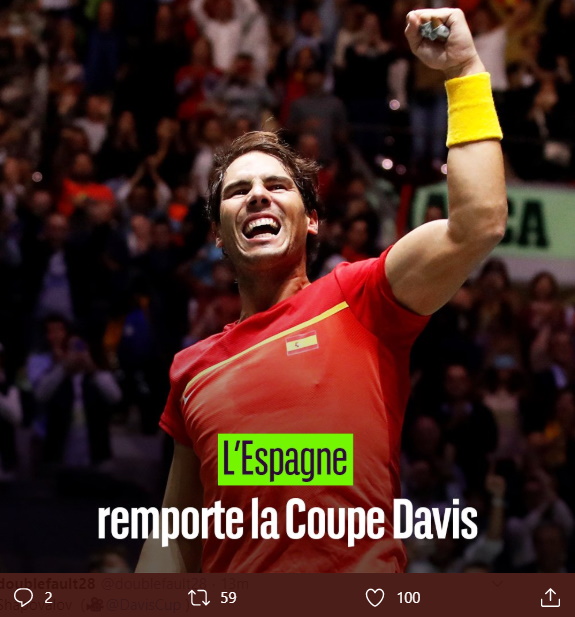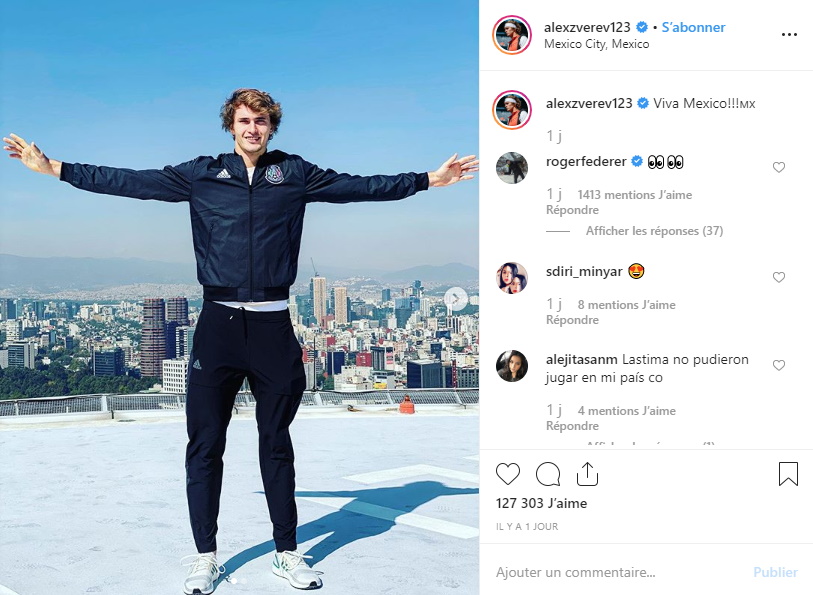 By Régis Delanoë