We Are Tennis by BNP Paribas brings you the best of the past week, on and off the courts, day after day. With wild boars who could be DEA agents, a fish with a human face, and Tsitsipas' triumph at the ATP Finals in London.
Monday, November 11th
It was the start of the day of excessive consumption, in China. The result? 1 billion dollars spent in 68 seconds, on Alibaba. Another great performance was Julien Benneteau's, the captain of France Fed Cup by BNP Paribas team, who celebrated the win so hard that he flew home with a broken leg. If only the Siamese cat, who saved at Bogota (Colombia) at baby from a certain fall in stairs, had been there...

Tuesday, November 12th
« Seriously, you are asking me this question? It's not a joke? » During a press conference, Rafael Nadal had trouble hiding how annoyed he was when a journalist asked him if there was a link between his focus on tennis and… his wedding. Still, the question was less audacious than this idea of a Christmas' present, imagined by this british father who wants to offer his wife a vasectomy ring. That means a piece of jewellery which contains his last spermatozoons before his infertility surgery. Dominika Cibulkova, on her side, will no longer have to answer the media's questions as she announced her retirement. At 30.
Wednesday, November 13th
After Cibulková, here comes Tomáš Berdych. After suffering from a few injuries lately, the Czech copied his female colleague as he announced his retirement, at 34. Nadal will be the same age next June. But unlike Berdych, he'll probably still be running around on the courts. The proof with this hard-fought win against Daniil Medvedev at the ATP Finals, despite the Russian leading 5-1 in the last set and missing a match point. And while we're speaking about Russians, please note that a man named Mikhaïl Galin lied about the weight of his cat to be able to take it in the cabin of an airplane. The only problem? The airline Aeroflot found out about his trick. No more frequent-flyer points for the cheat.

Thursday, November 14th
Suspended for eating a clementine? The employment tribunal of Roubaix, France, who had to settle on the case of a man employed by La Redoute who got a 70-euro fine for eating a fruit during his working hours, answered yes. Probably scandalized by the decision, Novak Djokovic gave up and let Roger Federer knock him out, while handing the world number 1 spot at the end of the season to Nadal. The revenge for Wimbledon, made in Switzerland.

Friday, November 15th
One win, two opponents knocked out: that's the feat produced by Alexander Zverev, the title-holder of the ATP Finals, who defeated Medvedev and indirectly knocked out Nadal who had managed to defeat Dominic Thiem. The German smelled a good opportunity, just like these Italian wild boars who stole 20 000 euros worth of cocaine to Tuscany-based dealers. Before destroying the packages. How professional.

Saturday, November 16th
David Ferrer, Nicolás Almagro, Márcos Baghdatís, Radek Št?pánek, Mikhail Youzhny, Víctor Estrella Burgos, Max Mirnyi, Marcin Matkowski, Berdych… Only stars, in such a confined space! But while the central court of the O2 Arena is paying a deserved hommage to the ex-stars of the game, two discoveries changed the face of the earth: a fish with a human-like face was seen in a lake close to Kunming (South of China) and created a buzz on the social networks, and a gold ring which belonged to Oscar Wilde was found 20 years after being stolen. Too much emotion… It was exactly the same for Tsitsipas and Thiem, who qualified for the final of the ATP Finals, after respectively defeating Federer and Zverev.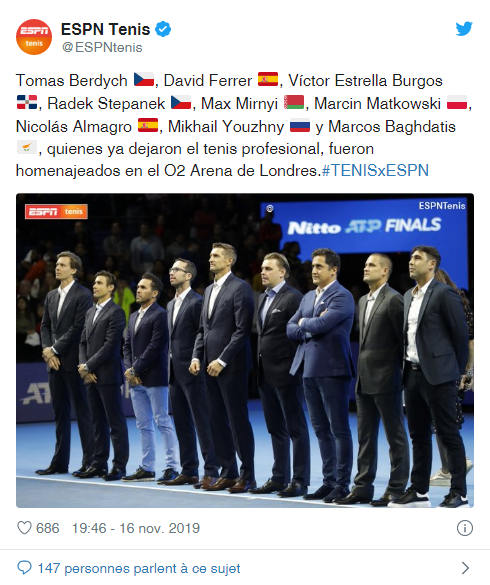 Sunday, November 17th
The American National Institute of health is looking for a few guinea pigs: for a 3000 euros cheque, it is looking for people who are willing to receive the H5N1 - seasonal bird flu - to help scientific research. At first glance, Vitalia Diatchenko, the winner of the Taipei Challenger, wont be needing the money ! Tsitsipas as well, as he triumphed at the London ATP Finals, after defeating Thiem. A nice double for the Greek, after winning the NextGen last season. And the start of a transition, according to Toni Nadal, Rafa's uncle: « There's a generation like we haven't seen in a long time. It was time beacause Federer is 38 years old, and Rafa is 33. There must be a renewal. These great players don't run like they used to, so it's the right time. »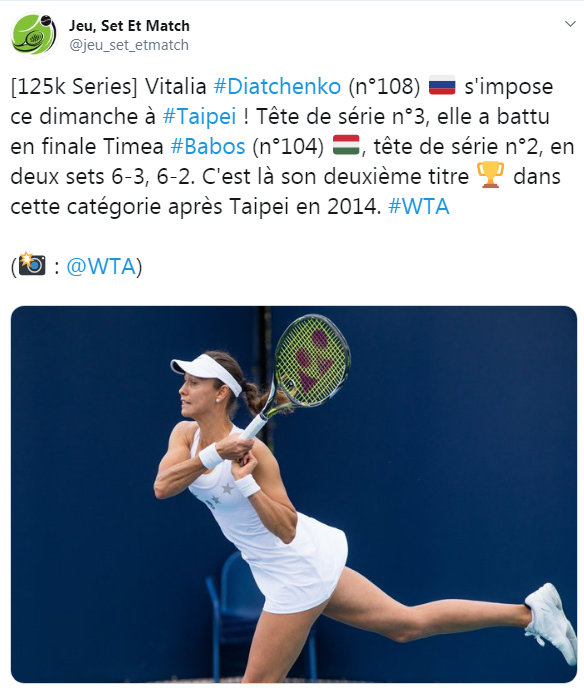 By Florian Cadu