We Are Tennis by BNP Paribas brings you the best of the past week, on and off the courts, day after day. A week marked by Djokovic's winning comeback and some crazy scientific studies.
Monday, September 30th
What better way to get in shape for a tennis tournament than attending a sumo fight? Novak Djokovic made everyone laugh by trying a sport for which he doesn't have the optimal profile. Enough to make the Italian umpire Gianluca Moscarella lose his mind, as he is currently at the heart of an enquiry launched by the ATP for having overstepping his functions by giving multiple advice to Pedro Sousa who was playing against Enrico Dalla Valle at the Firenze Challenger. He's also accused of having told a ballgirl that she was « very sexy. » Enough to be suspended for a while, surely.

Tuesday, October 1st
Steve Whitehurst, a 46-year old glazier, was forced to undress at the checkout of a clothing store. The director of the store suspected him of having stolen clothes by hiding them in his pants. A bad intuition: mother nature had just been very kind with Steve's anatomy. It was a difficult moment as well for Benoit Paire, who suffered a disappointing defeat against Yasutaka Uchiyama, the world number 136, at the Tokyo ATP 500. The score? 6-2, 6-2.

Wednesday, October 2nd
We apologize in advance to all vegetarian activists, but some independent researchers have advised « adults to carry on with their current consumption of red meat », which is, supposedly, not as bad for your health as previously described. We'll see… just like we'll see what happens to the new duo formed by Stéphane Robert and Vera Zvonareva, who chose the current number 653 at the ATP Ranking to be her coach and sparring-partner. Enough to get back to the Wimbledon and US Open finals?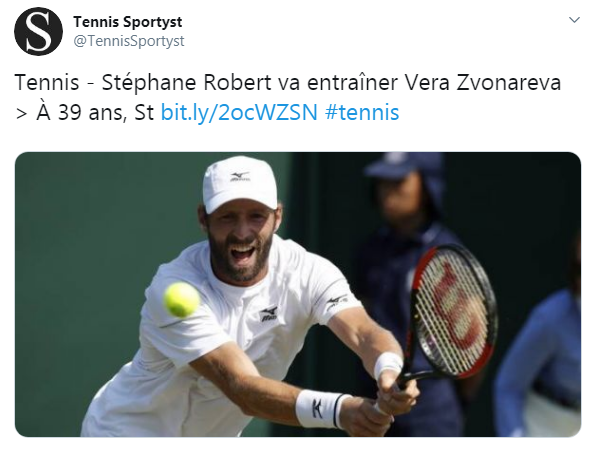 Thursday, October 3rd
Texas, United States. Amber Guyger was quietly going home after a day at work, while sexting her partner. Being in her own little world, Amber walked into the wrong apartment, and into her neighbor's flat, who had left the door open. A big mistake. Amber got scared as she saw an unknown man, in what she thought was her flat. As she was a police officer, Amber pulled out her gun and killed the unlucky man straight away. And this is probably the only truth in the version told by Amber. On her side, Maria Sharapova currently has problems hitting the ball, because of a shoulder injury. She won't be playing at the Linz Open (Austria). Let's also note that Amanda Anisimova has chosen Carlos Rodriguez to be her coach. Yes, the same Rodriguez who has previously worked with Justine Henin and Li Na.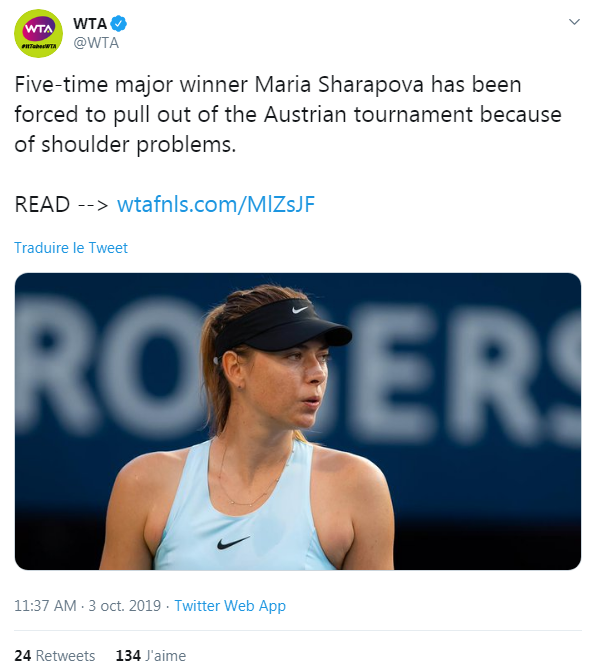 Friday, October 4th
« I am very sad to announce that I, unfortunately, won't be able to play in Shanghai, because of a wrist injury which I suffered during the Laver Cup. I didn't have enough time to recover, train and be ready to play. I hope to be back in Shanghai in 2020. » Well, we won't see Rafael Nadal in China this year. Is it because the Spaniard prefers to take his time to admire the most expensive Banksy painting ever sold (11,1 millions euros), which depicts the British parliament occupied by monkeys? Or is because he has a wedding, which will take place on October 19th, to plan?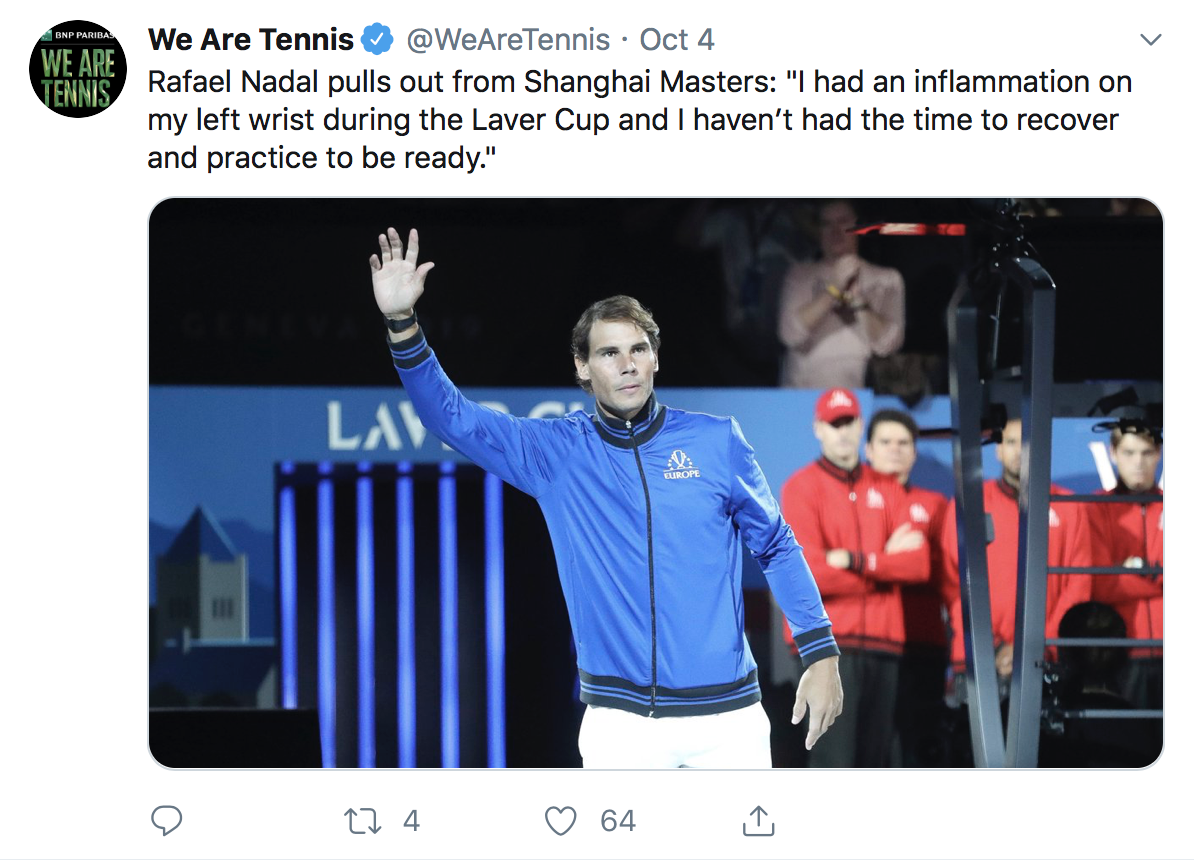 Saturday, October 5th
After red meat, here comes water. According to a very recent publication, the liquid which is an essential part of our body would be less hydrating than milk or tea. Meanwhile, Djokovic and his vegan diet qualified for the… 110th final of his career, and the fifth of the year in Tokyo. Good luck to his last opponent of the week.

Sunday, October 6th
A medical opinion which makes sense, at last! According to experts contacted by the Sun Online, using your mobile phone while in the toilets raises the risk of developing hemorrhoids. And it's even worse if you're playing Fortnite, seeing the addictive potential of the video game. Speaking of which, a law firm in Quebec is suing the studio Epic Games, as it blames them for creating a highly addictive game without warning anyone about the risks. Please don't let Djokovic (Tokyo), Naomi Osaka (Beijing) et Dominic Thiem (Beijing too) fall into that trap. It would be such a shame, as they have so much more to offer on the courts.
By Florian Cadu