We Are Tennis by BNP Paribas brings you the best of the past week, on and off the courts, day after day. A week marked by retirements and firsts, but also by an Albanian knife and the return of the Matrix.
Monday, August 19th
At last! After suffering many injuries and after losing so many matches in the last six months, Tomas Berdych won his first match since February, against Andreas Seppi in Winston-Salem. He'll still need to win many more to catch up with the new world number 5, Daniil Medvedev, or with David Goffin, who is back in the Top 15. Unless he does it like Svetlana Kuznetsova, who climbed up 91 spots (!) as she is now the world number 62. She remains very far from Madison Keys (who's back in the Top 10) and from Elina Svitolina (the new world number 5). Careful if they ever feel abdominal pain: as Dannette Glitz thought she was suffering from kidney stones, it turned out she actually gave birth to three small babies. Long live the triplets!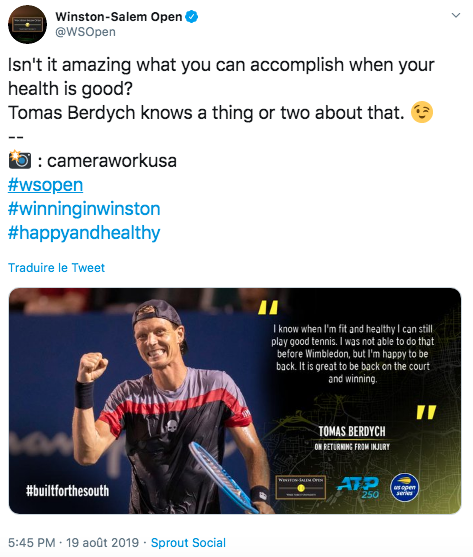 Tuesday, August 20th
A famous face of tennis will soon put down his racquet. Janko Tipsarevic announced that he will retire at the end of this season. It was also the end of the road for this message in a bottle, thrown at sea by a Russian sailor fifty years ago, and found by an American man who was chopping wood in Alaska, and for this whale, whose body was found in the middle of the Amazon rainforest. How did it end up there, without alerting anyone? Lee Duck-hee probably doesn't know, but he also surprised everyone after becoming the first deaf player to play and win a match on the ATP circuit, against Henri Laaskonen. Here's one who won't be disturbed by the booing of the crowd.


Wednesday, August 21st
There are some strange human behaviors, on this planet. Take Benoît Paire, for instance, who smashed his racket on the floor after a double-fault, even if he ended up comfortably defeating Prajnesh Gunneswaran in two straight sets. Or this Albanian restaurant owner, who chases his clients with a knife after they tried to leave his place because of the time it took for them to be served. Please, don't let these two ever meet.
Thursday, August 22nd
Hooray, it's official: there will be a fourth Matrix movie! But as geopolitical questions are more important than the movie industry, here's the most important information of the day: The Davis Cup game which was due to be played between Pakistan and India has been postponed to November because of recent tensions between the two countries. Apolitical sports advocated by Pierre de Coubertin seem very far these days…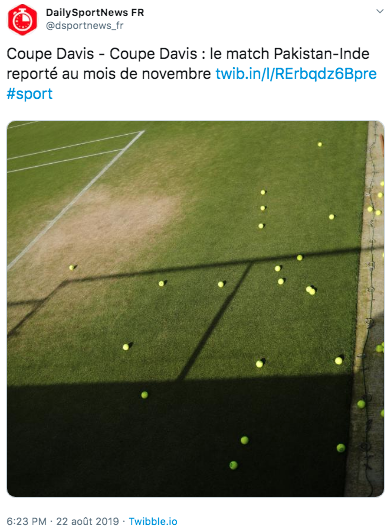 Friday, August 23rd
While Gary Van Van Ryswyk (74 years old) castrated a man he met on a fetishist website in Florida, a 14-year old Tunisian teenager had a 9-cm needle removed from his penis. He had put it in for his own pleasure, but he could no longer urinate. Physical injuries is something which Juan Martin Del Potro is familiar with. Thankfully, he announced that he will be returning soon. « I still don't have a precise date, but you will get great news in the next few days », said the one who thought about retiring, according to rumors. Which had forgotten the Argentine's main talent: incredible returns.

Saturday, August 24th
This is the story of Leon Haughton, A Jamaican man living in the US, who was incarcerated for 82 days for entering the country with honey… which authorities mixed up with liquid methamphetamine. Will the French men who brought back forty kilos of sand from Sardinia face the same consequences, as they currently risk six years in jail? In any case, Kevin Anderson got his sanction: the finalist of the 2017 edition won't be able to play at the US Open, as a painful knee has kept him off the courts since July. Insolents, all of them!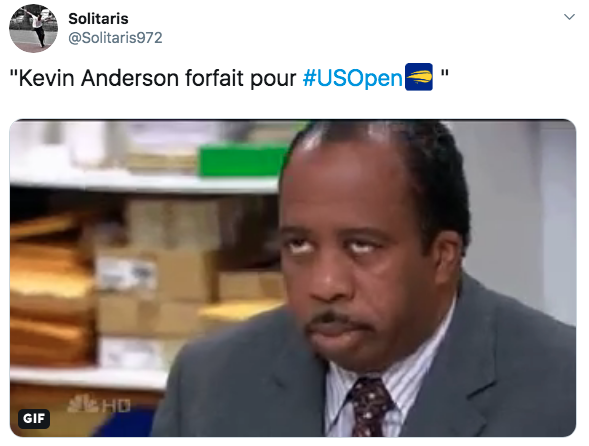 Sunday, August 25th
The only trophy of the week was lifted by Hubert Hurkacz, winner of the small Winston Salem ATP 250, after defeating Paire. Not a reason to go crazy while celebrating his win. In fact, he should be careful : some public toilets in the Netherlands can now detect sexual intercourse happening close. And if they exist in the Netherlands, we can't see why they couldn't be anywhere else…

By Florian Cadu