We Are Tennis by BNP Paribas brings you the best of the past week, on and off the courts, day after day. A week marked by Andy Murray's return in the singles, glory for Daniil Medvedev but also amphibious cars.
Monday, August 12th
As expected, Naomi Osaka became the new number one at the WTA ranking. A spot she had left in June 2019, and which Ashleigh Barty had seized until now. As for the men's ranking, congratulations to Daniil Medvedev, who is now the world number eight, his best-ever ranking. Has the « golden better », who lives in Paris, and is famous for betting as much as 100 000 euros a day on horses, recently put his money on the Russian? Still, the man in question has sparked a legal battle between his local ex-bookie, who made 95% of his total income thanks to the better, and the French OTB company, who's accused of « stealing his client ». The two parties will meet in court, to put an end to this extraordinary story.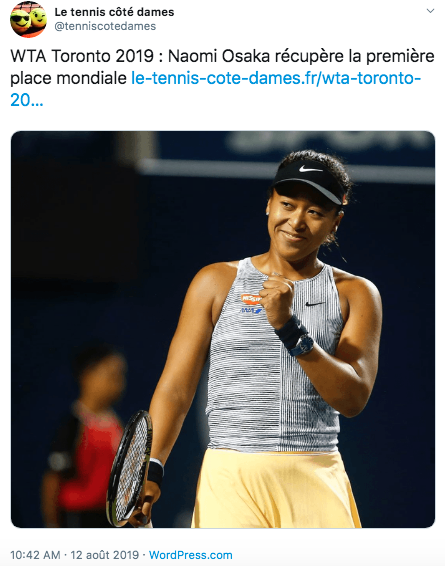 Tuesday, August 13th
« I think that twelve months after the operation is the time when you're hoping to get closer to your optimal physical form. » Andy Murray came back in the singles in Cincinnati, but started with a defeat against Richard Gasquet. The Brit's next goal? Playing at the 2020 Australian Open, as he announced that he won't be requesting a wild-card to play at the next US Open. Make sure you don't mention his injuries to Renee Bach, a 30-year old humanitarian aid worker, who is sued for illegal practice of medicine resulting in the death of 105 malnourished babies in Uganda. She is expected to face court, to put an end to this story which is sadly beyond belief.

Wednesday, August 14th
Murray won't play at the US Open, and neither will Juan Martin Del Potro. After his right-knee operation, the Argentine won't be back in time to play in the Grand Slam tournament. His power could have helped this pleasure sailor in Var, France, who saw his Renault Clio fall into the water as he was trying to tow his boat. In other news, Czech Republic has received an invitation to play the Fed Cup by BNP Paribas. We can't wait for April 2020 to begin.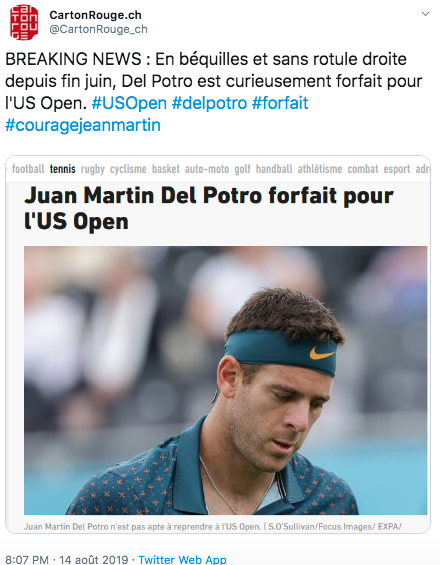 Thursday, August 15th
« And one coffee for the number 1 court! One! ». As she was in a bad position in Cincinnati after losing the first set against Donna Vekic, Venus Williams ordered a coffee during a change of sides. And she ended up easily winning the two remaining sets, and the match! Comfortable, just like Vincent Peone, who saw his commercial flight between Aspen (Colorado) and Salt Lake City (Utah) turn into a private jet ride as he was the only registered passenger on board. On his side, Nick Kyrgios had a less relaxed Thursday. During his match against Karen Khachanov, which he lost, the Australian went crazy again and received a 113 000 dollar-fine. His targets? The umpire aka « a potato on a chair », who told him that he took too much time to serve. But also two of his rackets, which were smashed in the corridor leading to the court, as the rebel went there with no form of authorization whatsoever. And finally, Rafael Nadal. « Rafa has to play as quickly? If that's the case, I'm going to quit tennis, said the showman. If you look at Rafa's routine, it easily takes up twenty seconds. It's a joke, I'm one of the quickest players to serve. »

Friday, August 16th
Can you be the Minister of Agriculture, « responsible for animals' well-being », and still watch a bullfight? Yes, answered the French minister Didier Guillaume while watching a few bulls die. Roger Federer also saw red, as he lost against the surprising outsider Andrey Rublev. « It's my biggest win, and the most powerful one emotionally. But I don't know… I can't imagine how big a champion and a legend he is, because I can barely imagine the pressure he has to deal with every day », said the winner of the day, who couldn't believe what he had achieved. Another favorite disappointed the crowds, as Osaka withdrew from her quarter-final and let Barty get an opportunity of reclaiming her world number one spot. What a fight!

Saturday, August 17th
In order to defeat Novak Djokovic, the ideal strategy according to Medvedev is easy in theory, but difficult to put in place in reality: you only need to hit aces… on your second serve. « I had to have a strong second serve, and I was telling myself that I was going to lose the point. I had only won very few points on my second serve before that, and I told myself that if I got a double fault, it wouldn't change my life. If I hit it hard enough, I might hit and ace, said the one who qualified for the final after defeating the Serb. If Djokovic hadn't been this good on my second serves, I would have never tried that. He was putting pressure on me, especially in the crucial moments of the match. » But taking risks only pays off if it's done smartly. A good example? An angry young Indian man couldn't do much to save his BMW which he received as a gift before throwing it in the river, and realizing what a bad idea this was. Understandable, however: he had ordered a Jaguar…

Sunday, August 18th
There were three major news to deal with this Sunday. First, a couple of gay male penguins (who were, until then, brooding on… a stone), adopted a real egg at the Berlin zoo. Then, Madison Keys won the Cincinnati Open after defeating Svetlana Kuznetsova. And finally, Medvedev also lifted the trophy after defeating David Goffin, to win the first Masters 1000 of his career. Which brings him to 44 wins in 2019, and 31 on hard surfaces. Nobody did better than him this year, obviously.

By Florian Cadu