We Are Tennis by BNP Paribas brings you the best of the past week, on and off the courts, day after day. A week marked by Andy Murray and his brother, a gold nugget, a sheep in the air and a lost pigeon.
Monday, July 22nd
A Monday in numbers. First, we found out that the Swiss Gino Caspari had been crowned world champion of sheep lifting after managing to squat no less than 104 times with a 50 kilo-ovine on his shoulders at the Naadym festival (a festival with different challenges taking place in Tuva, Russia). Then, Elena Rybakina won 41 spots at the WTA ranking to reach the 65th place. And finally, Dušan Lajović went up ten spots at the ATP ranking and is now the world number 26th.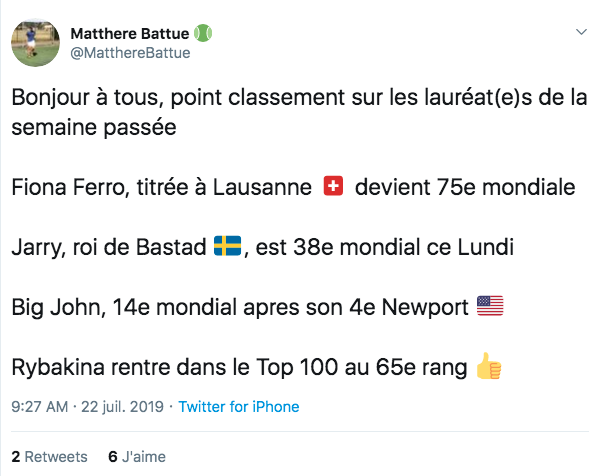 Tuesday, July 23rd
Flying is surely the quickest way to travel, but certainly not the most accurate to reach your final destination. Just ask Barnabé, the homing pigeon who left Barcelona to reach the Netherlands but finally ended up in Dinard (France) in Ghislaine and Jean's garden. Or ask Alizée Cornet, who almost couldn't play her match against Martina Trevisan in Palermo after her bag containing all her rackets was lost, before eventually being found by the airline. Think about taking trains, a simpler and greener option.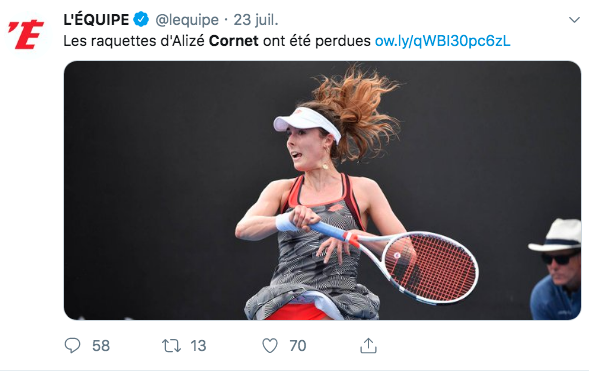 Wednesday, July 24th
437 500 dollars. That's the incredible sum spent by the 61-year old Canadian entrepreneur Miles Nada to buy one of the first ever pair of trainers produced by Nike, at an auction. Quite simply a record for a pair of sneakers. Quick question: are these trainers as aesthetic as Fabio Fognini's game, as the Italian managed to defeat Julian Lenz in Hamburg by showing an absolutely astonishing defensive performance, to which he added a breathtaking passing shot? Andy Murray preferred to focus on himself rather than answer this question, as he announced that he would be taking part in the doubles at the Washington Open alongside his brother Jamie. We're now obviously expecting a final Murray-Murray/Bryan-Bryan.
Thursday, July 25th
Let's be honest, the events of this week were quite frankly almost supernatural. In Devon (South-West of England), a seagull kidnapped a chihuahua which was playing in a garden by grabbing it by its neck with its beak. Meanwhile, Svetlana Kuznetsova had to officially announce that she was withdrawing from the Washington Open because of…visa issues. « I had never had this sort of problem before in my life », said the Russian, surprised, before the American embassy in Russia assured to sort out the matter. On his side, Novak Djokovic has no problem visiting the whole world, but decided to withdraw from the Canada Open to get a little more rest. Can't he just swap passports with his colleague?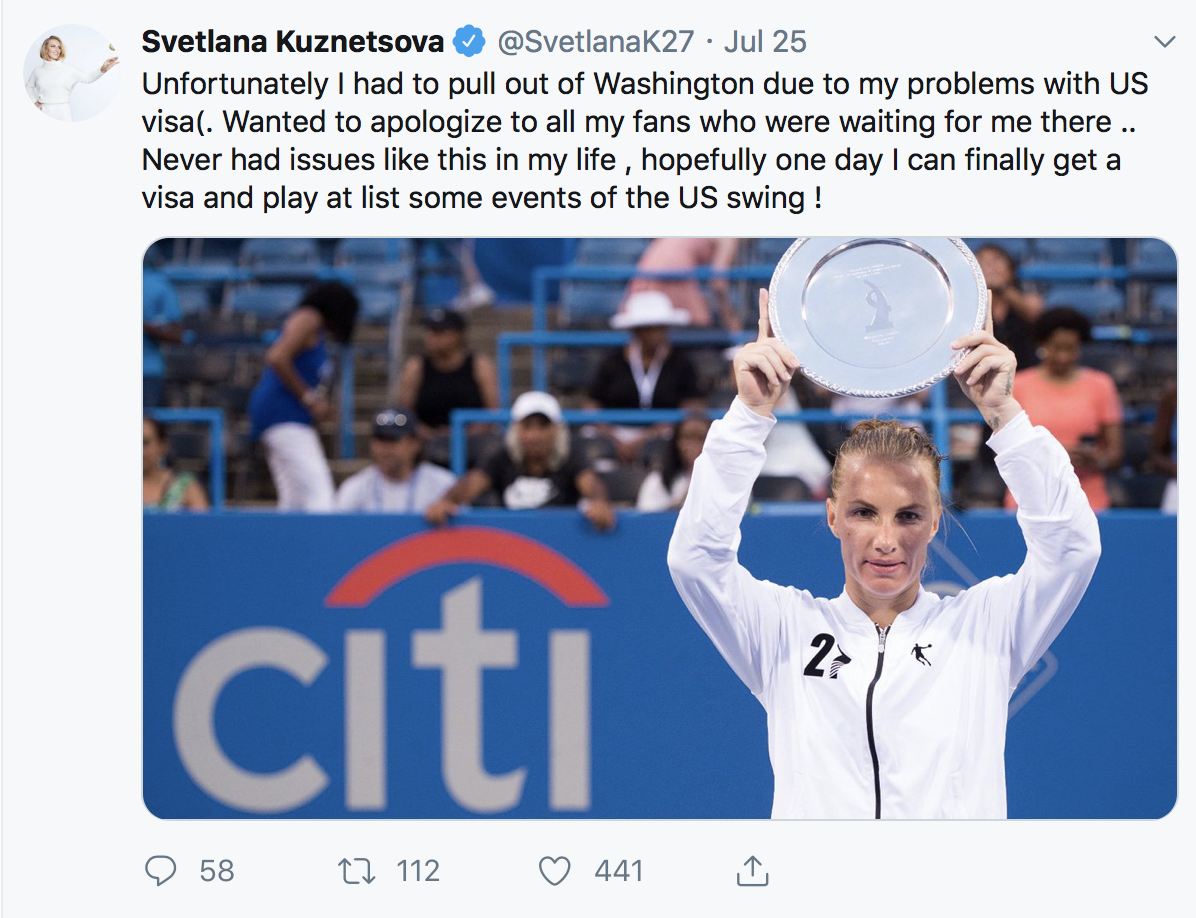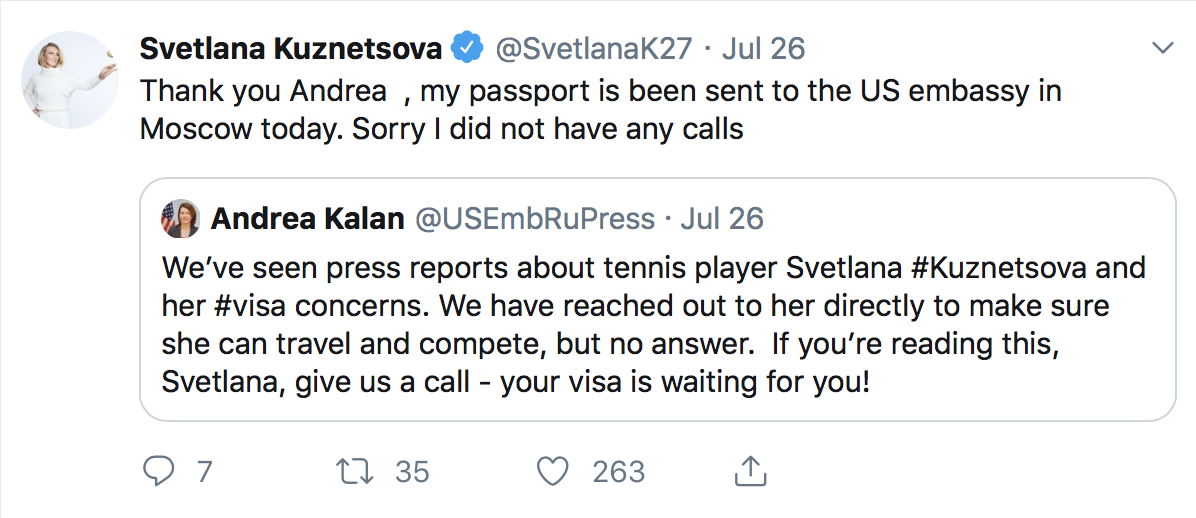 Friday, July 26th
« I believe in Sacha, who is still very young. I think he'll become an incredible player. But the personal problems which he is facing right now are stopping me from working with him in the way I'd like to. I wish him the best for the future. When it comes to work ethic I am quite comfortable that my record speaks for itself. » If Alexander Zverev had criticized the commitment of his coach Ivan Lendl last week, the latter has just answered. With a pretty logical decision in the end: he is no longer the German's coach. In other news, a car dealer created quite a buzz in the Netherlands, by driving his tractor in a canal. Not very common, once again.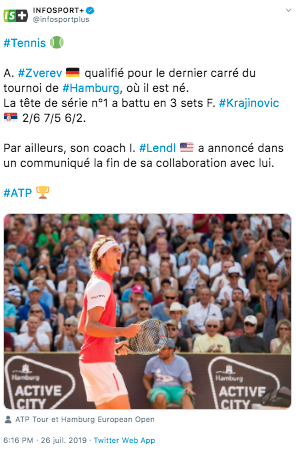 Saturday, July 27th
Andrey Rublev, who is often presented as one of world tennis' great hopes, has been through a grueling year 2018. « Last year, I suffered a stress fracture in my back and that kept me off the courts for three months. This very difficult period led to a depression, one of the most difficult moments in my career, he explained, as he now seems to be better. I tried to ignore the results on all tournaments, because I was annoyed at seeing other players doing what I was incapable of doing at that time. » This Australian retired man is however nowhere near depression: he has just found a two-kilogram gold nugget in the suburbs of Ballarat. On his side, Rublev could smile again if he win the final of the Hamburg Open on Sunday…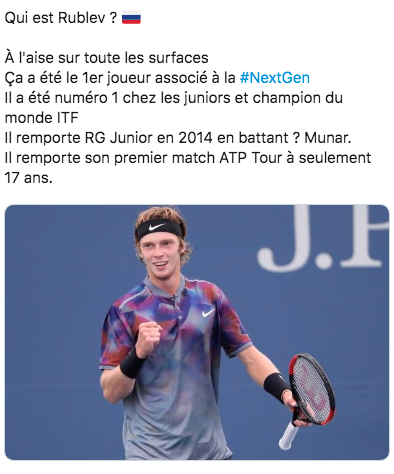 Sunday, July 28th
… But Rublev lost the final against Nikoloz Basilashvili, the title-holder. As for the rest, Albert Ramos-Viñolas triumphed in Gstaad, Anastasija Sevastova won in Jurmala, Jil Teichman lifted the trophy in Palermo and Alex De Minaur won in Atlanta. In front of so many different informations, American diplomats in Cuba suffered strange concussion-like symptoms: the brains of 40 of them have sustained an unexplained form of brain injury. Unless they smoked too many cigars?
By Florian Cadu