We Are Tennis by BNP Paribas brings you the best of the past week, on and off the courts, day after day. A week marked by Simona Halep's triumphant welcome in Romania, Zverev's truths on Lendl and snakes revolting against Amazon.
Monday, July 15th
9,6 million. That's the number of viewers who have followed, in front of their television screens showing the BBC, the fifth set of the Wimbledon final between Novak Djokovic and Roger Federer. A match won by the Serb, which enabled him to retain a comfortable lead at the ATP ranking in front of his two great rivals Nadal and…Federer. In women's tennis, Ashleigh Barty is still leading the WTA ranking but Simona Halep - fourth, after going up three spots - is coming back strongly. In other news, France is mobilized to follow Coco's trial - a chicken accused of making too much noise in the morning, and which will be separated from its owner following the court's decision.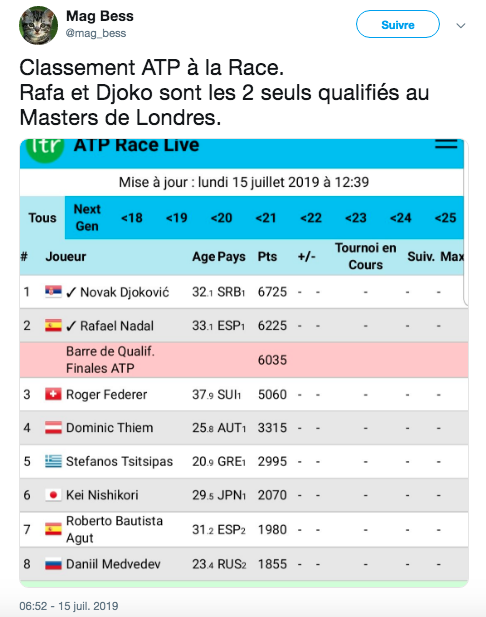 Tuesday, July 16th
According to a poll published today, no less than 1 out of 8 British citizen believes they could win at least one point against… Serena Williams. Which largely underestimates the power of the female sex, as women are capable of much more impressive feats than the American's career. The latest example came on Tuesday morning from Fatoumata Kourouma Condé, who was taking a physics exam before being rushed to hospital to give birth, and coming back to finish her exam. Between the moment when the Guinean left the exam room and the moment when she came back, less than an hour had passed. Can 12% of British citizens do that too?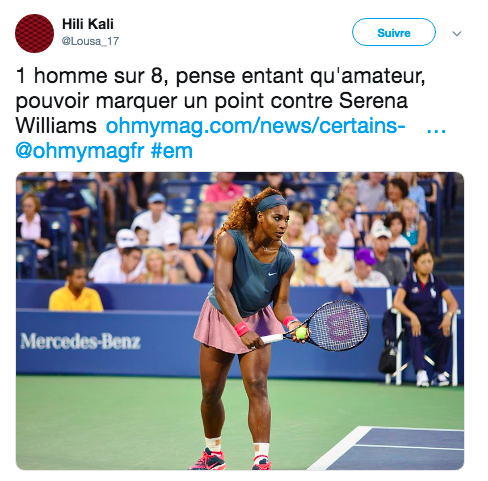 Wednesday, July 17th
Attention please, we have a new world record for the most time spent sat on a toilet seat. It was broken by Jimmy De Frenne, a 48-year old Belgian man who sat on the loo for 120 long hours. Will he be given the same triumphant welcome than Simona Halep in her home country? The winner of Wimbledon was received like a rockstar in a packed stadium, in Romania. Everyone has his own talent.

Thursday, July 18th
18 years. The legendary Wimbledon final between Goran Ivanišević and Patrick Rafter celebrated its 18th birthday already. To celebrate, the two retired men played a little exhibition match on the clay of Umag, Croatia. With, in the end, another win for the Croatian, of course. Apart from that, the real competition occurred in Umag, with an ATP 250 being played. Filip Krajinović showed his skills with a beautiful tweener against Taro Daniel, despite being in an uncomfortable position, just like this Amazon deliveryman who came across two snakes in Florida as he was about to deliver his packages. Of course, he chose to throw his packages. Does he deserve a fine, for this act which is as understandable as it is desperate ? In any case, the future contenders at the next US Open won't have to fear for their money: the tournament's prize money, the highest in all Grand Slam tournaments' history, has been raised by 8% to reach 57 million dollars.

Friday, July 19th
« A review of your historical record of misconduct at Grand Slams, never mind elsewhere, provides little justification for an adjustment. In your case, Bernard, I am sure you would agree there is no historical evidence to give comfort to the theory that you can reform your behavior. Admittedly, I am sceptical that you can achieve this reform of Grand Slam on-court behavior. Many others, no doubt, would be even more than just sceptical. Good luck and I hope to be pleasantly surprised in the future by your successful reform. » Bill Babcock, the board director of Wimbledon, was formal: the decision over the fine received by Bernard Tomic during the tournament will not be overturned, and he will only get 25 % of his money back if he displays an appropriate behavior in the next eight Grand Slam tournaments. Disappointed, the Australian should aim for another mission: finding a bar hidden in one of the United States' 155 forests, with, for the lucky winner, the possibility to get free beer for life. That shouldn't be Angelique Kerber, who has decided to opt for a fresh start, after firing her now ex-coach, Rainer Schüttler. One small piece of advice: don't replace him with Tomic's coach.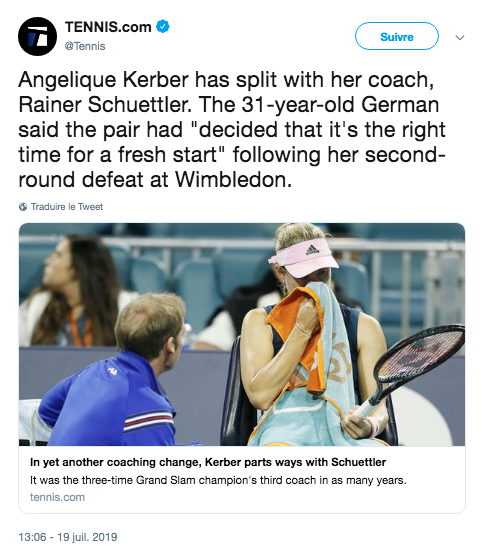 Saturday, July 20th
Be careful, if you love coffee and are visiting the city of Venice: two people were forced to leave the city and pay a 950-euro fine for having made their drink in the streets with a camping stove. Rebels. Just like Nick Kyrgios, who fired shots at Mikhail Kukushkin, who's not a fan of his underarm serve: « Don't worry dude, I didn't need it to destroy you in Dubai. » On his side, Alexander Zverev sparked a small controversy after criticizing his coach Ivan Lendl for his disappointing results: « Sometimes, when we are on the court for a practice session, he spends half an hour in a two-hour session turning his back on me and telling me how well he played golf the day before. We've talked about it, and I have asked him to focus on tennis a bit more. » Have the elder lost their respect?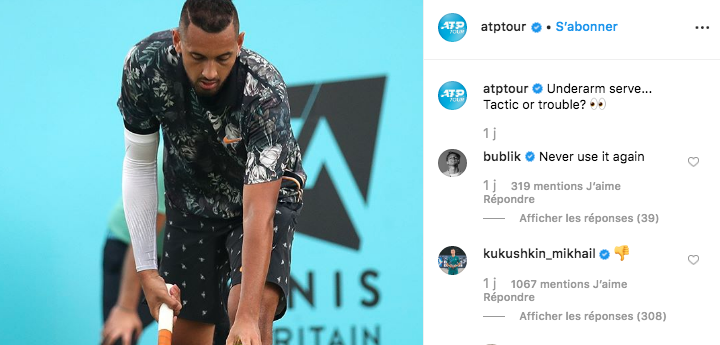 Sunday, July 21st
Joining forces to break another record. On February 7th, 2020, Nadal and Federer will face each other in an exhibition match held in Cape Town to try to attract the biggest ever crowd at a tennis match. The amateur photographers which made the most of Amazon's as the website sold telephoto lenses for 83 euros instead of 11000, will have a great opportunity to use their new tools. By the way, Fiona Ferro, Elena Rybakina, Nicolás Jarry, John Isner and Dušan Lajović have respectively won tournaments in Lausanne, Bucarest, Bastad, Newport and Umag. No, not everybody was on a break this week.

By Florian Cadu