Day after day We Are Tennis by BNP Paribas recounts the crowning of Halep and Djokovic at Wimbledon, a little climbing news and some photos of a poisoned lake in Siberia.
Monday, July 8th
Time for the oldies! For the first time in the Open era, there were twice as many competitors in the Wimbledon quarter finals aged over 30 than there were players beneath that age. Even more crazy, a man decided to climb the 310 metre high « Shard » in London (the United Kingdom's highest building )… unaided. And since we are talking of incredible events, the French doubles pairing of Edouard Roger-Vasselin and Nicolas Mahut pulled off a miracle, beating the famous brothers Bob Bryan and Mike Bryan. « He was being sick all night. He was really ill. He was as white as a ghost, stated ERV describing his partner who had been ordered by the tournament doctor not to touch a ball. I told myself we could play a set, maybe a set and a half. The match goes ahead, we win the tie-break in an almost miraculoss manner. So now I'm going to string another racket ».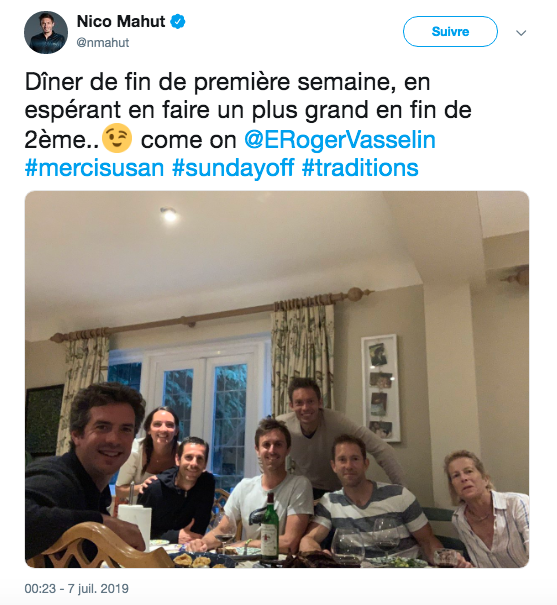 Tuesday, July 9th
It's a first and it's been waited for. During the doubles victory of John Peers and Henri Kontinen over Rajeev Ram and Joe Salisbury in 4 hours and 33 minutes, the new rule of a tie break at 12 -12 in the 5th set comes into effect. At the same time Ashleigh Barty loses to Alison Riske after recording 15 successive victories but is almost certain to keep her number one place in the WTA rankings. Scientists at Warsaw University, when challenged, have not attempted to explain how these rankings are calculated but have set out to prove by using A+B that love makes us blind. Apparently, the majority of individuals have, in effect, a tendancy to over-estimate the intellectual capacity of their partners, they demonstated. And their own at the same time.

Wednesday, July 10th
Look out! The top four genii of the day. 4th: Roger Federer who wins his 100th vicctory at Wimbledon in flooring Kei Nishikori thanks, especially, to an out-of-this-world passing game. 3rd: Rafa Nadal has already qualified for the Masters in London after his victory over Sam Querry. 2nd: Roberto Bautista-Agut, 31 years old, who for the first time in his career gains entry into a grand slam final four when he was intending to be in Ibiza celebrating his stag night. 1st: a Scottish passenger at Nice airport who refused to pay the excess on his over-weight baggage and put on 15 t-shirts, there and then to make his case much lighter.

Thursday, July 11th
Two things to remember this Thursday, July 11th. Firstly, Simona Halep wasted no time in crushing Elina Svitolina, booking her ticket for her first London final. Secondly, the instagrammers constantly taking photographs of a Siberian lake known as the « Maldives of Novossibirsk ». Except that this sumptuous stretch of water, looking totally unspoilt, is completely poisonous. Well spotted.

Friday, July 12th
Wow! Engulfed by debt, Boris Becker receives 765,000 dollars in auctioning several trophies and souvenirs. This can not make him any happier than Novak Djokovic who knocked out Bautista- Agut in the semi-final in a match marked by a 45 stroke rally. In 14 years of Wimbledon, that has never been witnessed. If that doesn't impress, a bottle thrown into the sea in 2017 in hommage to a victim of the Manchester bombing attack has been found in the south of Italy. Sky, grass and sea.

Saturday, July 13th
Concerning a city of light plunged into darkness… In the evening, a huge electricity breakdown affected part of Manhattan and halted the lives of its inhabitants for several hours. Blackout as well for Serena Williams, crushed in the final by Halep and thwarted again in her quest to equal the 24 Grand Slam titles held by Margaret Court. « I am absolutely certain that it is the best match of my life », claimed the victor. Especially ince it was against Serena on grass ». Pretty special, without a doubt.

Sunday, July 14th
6-5 in favour of Djokovic, fifth set. The Serb turns towards the umpire and throws out his question: « At what score does the tie-break start ? ». Despite two match points missed, Federer can not prevent the new rule coming into force. At 12-12, the last moment arrives. With, after 4 hours and 57 minutes of suspense (the longest final in the history of the tournement) the fifth Wimbledon victory becomes the 16th Grand Slam in Djoker's locker. « Federer, please win » pleaded Nick Kyrgios on Twitter. A waste of time. Like the mother of a family driving around in her car with a swimming pool fixed on the roof and her children in it.

By Florian Cadu