We Are Tennis by BNP Paribas brings you the best of the past week, on and off the courts: a week marked by a new injury to Del Potro, a magic trick which went wrong and a horse on a train.
Monday, June 17th
So what actually happened to the illusionist? To demonstrate his powers, the magician, fully bound, threw himself into the Ganges… only to disappear, never to be found. Is it possible that he will resurface next September in Perth Australia, the venue chosen for the final of the Fed Cup between the host nation and France? Stephanos Tsitsipas is seeking the key to break the hegemony of the big three, Roger Federer, Novak Djokovic and Rafa Nadal at the top of world tennis. « I would love to see something different this year. I hope it can be me but I think it would be good for our sport to have more variety. It is boring to see these fellows winning all the time, the Greek complained. As the young generation we are responsible for that. We have to work hard and believe we can beat these guys. I believe I can. If all our generation believes as I do we can achieve big things. I think this could happen at Wimbledon ». Meanwhile it was Gael Montfils who delighted everyone with a crazy, out-of-this-world shot which proved to be the highlight of the first round of the Halle tournament despite him losing to Pierre-Hugues Herbert.

Tuesday, June 18th
Certainly the French put on a show at the start of the week. After Monfils, Benoit Paire and Jo-Wilfried Tsonga amused the fans with a quick game of footy-tennis. Great for the spectators at Halle, not so good for those who found themselves at Queens where all the day's matches were postponned due to rain.

Wednesday, June 19th
Could the doughty Feliciano Lopez be complicit in a fixed match? Surely this is highly unlikely considering the Spaniard's professionalism, despite the finger being pointed at him for a doubles defeat which occurred in 2017, the day after he had withdrawn from a singles match in the same competition. « I competely refute these accustions. Unfortunately, all tennis players are public figures and we are used to seeing our reputions manipulated in ways beyond our control, stated the suspect. I will do everything I can to defend myself against these false allegations. We tried in the doubles, we attempted to do our very best but lost the match, that's all ». However, no chance of a re-match in London where the rain continued to fall. To pass the time, the public there could go on the internet to watch a new story coming from Austria, this time about an individual who decided to take the train in the company of his horse. And why not?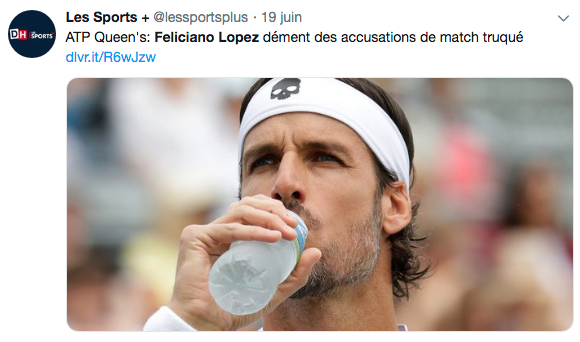 Thursday, June 20th
« Basically, I think he is a good person but I don't know why he said all these things. Does he want to attract attention, does he want to be different? Clearly, he wants to remain himself, open, trasparent… it is part of his nature. Does he show me respect as others do? No. It is his way of communicating. I don't understand what is his motivation but I do respect him ». Can one reasonably expect to get through a week without mentioning Nick Kyrgios? The question goes without saying and Djokovic comes up with the answer: no. We could believe that the Australian in his behaviour is like that squirrel drugged on meth by his american owner in order to turn him into an attack animal. Juan Martin Del Potro is also going to take drugs… victim of a fracture of the right kneecap, the Argentinian has to face another operation and will miss several months of competition. Bye bye, Wimbledon.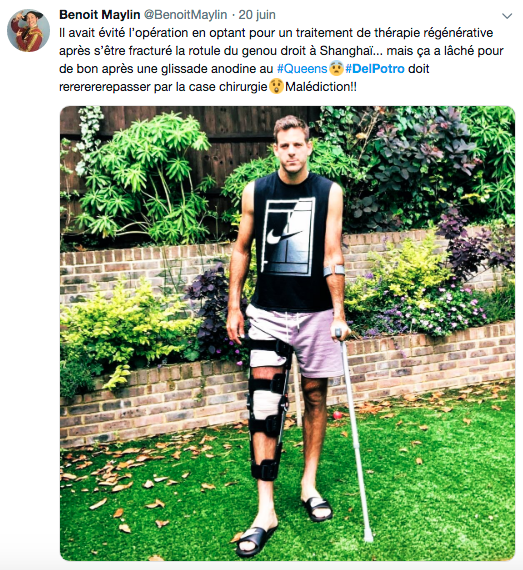 Friday, June 21st
Back to Kyrgios. After two games of mad srokes (spooned-up services, tweeners…) anti-sporting comments (towards the umpires and their « stupid hats », to the line judges, the photographers or the « idiot » fans), the ATP gave him a fine of 17,500 Euros for his behaviour at Queens. He remains an enigma. Rather like the « crop circles » discovered in a corn field at Blaesheim (France). That mystery has just been solved… these round shapes were, in reality, the work of secondary school pupils, after a geometry exercise suggested by their maths teacher. No U.F.O.s involved therefore. Neither was Kyrgios…

Saturday, June 22nd
Stand by for bad news: Del Potro could be on the point of giving up tennis. « I don't know if the match against Shapovalov was the last of my career, he declared, devastated by his new injury. During the re-education process I will clear my mind. » Perhaps we should return to Nick Kyrgios. Particularly since John McInroe appointed himself defence lawyer before criticising him… « He brings electicity to tennis. It does not really matter if he throws a chair on the court or he does what he does. What gives me a problem is when you are on court and you don't seem to be making an effort for half the time for some reason ». A last piece of advice: « Don't disguise the cat. » This is what was written between « Wash in cold water » and « Do not machine dry », on the labels of new T-shirts produced by the mark Red Bubble. This should not be treated as a joke, insisted the various associations for animal protection.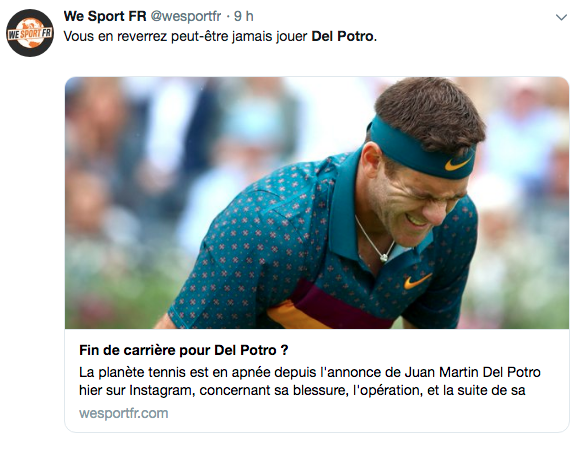 Sunday, June 23rd
If the rain occasionally stops the tennis from progressing as expected, in the same way a slug can halt railway carriages in Japan. The Kyushu Railway Company explained that the breakdown of a train which occurred at the end of May and which caused delays for 12000 passengers was caused by the presence of the gastropod in an electrical box next to the rails. In contrast, nothing stops Federer, Ashley Barty and Sophia Kenin. The former celebrated his 10th title at Halle, the second became the first Australian world number one for forty two years thanks to her win at Birmingham, and the latter beat Belinda Bencic in Mallorca to win her second tournament (both in 2019). The same for Lopez, classed 113th in ATP rankings and with 37 years on the clock, he topped the podium at Queens, a repeat of 2017. A crook, really?

By Florian Cadu.