We Are Tennis by BNP Paribas brings you the best of the past week, on and off the courts, day after day. A week marked by the start of tournaments played on grass, Mannarino's first ATP title, and toilets worth 250 000 euros.
Monday, June 10th
He's on great form, unlike this tree planted in 2018 in he garden of the White House to celebrate the friendship between France and the United States, which sadly died. He had two informations to share. After a great run at Roland-Garros, Stan Wawrinka is back in the Top 20 of the ATP ranking (while Fabio Fognini and Karen Khachanov both entered the top 10), and he will now work with the Venezuelan coach Daniel Vallverdu, who has joined his staff. Markéta Vondroušová did even better, as she gained 22 spots at the WTA ranking (she's now the world number 16) while the winner Ashleigh Barty is now the world number 2. Still, et's not forget to be silent for a few seconds to pay hommage to the tree.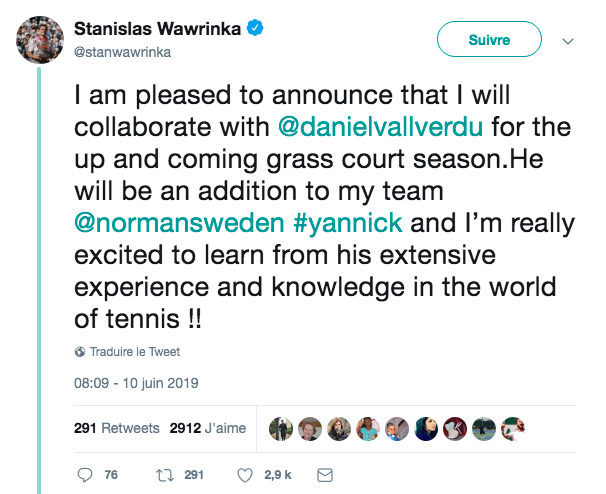 Tuesday, June 11th
The scientists of the National Institutes of Health in the US are adamant: falling asleep in front of the television at night makes people gain weight. In any case, Gaël Monfils will have trouble falling asleep after the incredible scenario of his win against Steve Johnson. Four match points were saved (or missed, depending on which side of the net you're standing) in the last set: one for the American, and three for the Frenchman who ended up winning at the end of a breathtaking tie-break. Dominic Thiem, who defeated Monfils at Roland-Garros, started negotiating a truce with Serena Williams, after saying she had a « bad personality » during the incident which occurred at his press conference during the French Open. « To make things better, I'd love to play a mixed doubles with Serena in Wimbledon or New York », he said. To this day, the answer is still expected.

Wednesday, June 12th
A word on injuries: Petra Kvitová et and her left arm, first, as she had to withdraw from the Birmingham Open, even if she has won the two last editions of the tournament. Andy Murray and his hip operation, then, as he gave us an update on his potential return on the courts. « I'm hoping that at some point this year, I'll be able to play in the singles again. I'm currently making baby steps. There's still a lot of work to do to get back to the level which would enable me to compete. I hope that I can still do it after Wimbledon. » Where he could, however, play in the doubles, like he will at the Queens alongside Feliciano Lopez. But if the Scot would love to be freed from his injuries, this Frenchman who was incarcerated in Dordogne refused to hear about freedom. Having been convicted for fraud, he refused to come out of jail… because he's too afraid of reoffending. #TooRealistic

Thursday, June 13th
Some strange things happen in sports, sometimes. The Scottish women's football team, currently in France for the World Cup, trained with a plastic chicken. In Nottingham, the WTA tournament took a crazy turn. Who's fault was it? The rain, of course ! Outdoor tennis on grass suddenly became indoor tennis on hard courts. And because the courts were so close to each other, some balls landed on different courts, and the score announcements were almost whispered, as they could disturb other matches. And of course, the scores were handwritten on the board by ballboys…

Friday, June 14th
Will Thiem have to miss out on the Hale Open? Will Wimbledon be his only tournament played on grass this year? Maybe. But unlike last year, Thiem will have to be in Geneva from September 20th to September 22nd to play the Laver Cup. He will be part of Team Europe, which has just been revealed, alongside Rafael Nadal, Alexander Zverev, Fognini or Roger Federer. Novak Djokovic won't be there this season, however. The Serb will probably want to imitate this thirty-year old British man who found a coin in a field with a metal detector and sold it for… 620 000 euros at an auction. A great deal!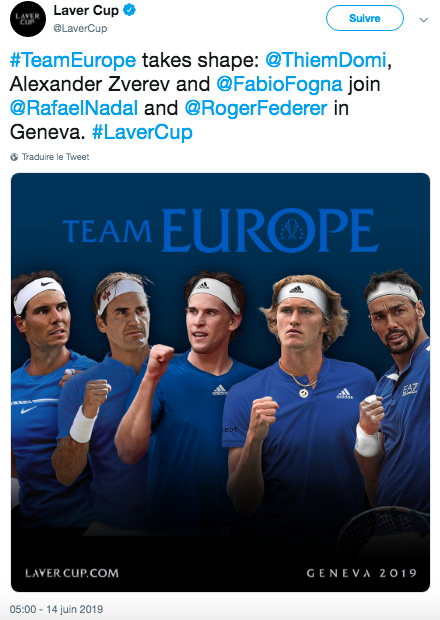 Saturday, June 15th
Cycling on top of trees, in between branches? Yes, it's possible! In order to do it, you have to go to Belgium, in Limburg, where a special aerial cycle path has been constructed for nature lovers. A nice idea to get home, which Tatjana Maria should think about, as she lost 5-7, 6-0, 6-0 against Donna Vekic in the semi-finals of the Nottingham Open, despite winning the first set.

Sunday, June 16th
Finally! After six finals lost on the ATP circuit, Adrian Mannarino won his first ever title at 's-Hertogenbosch. There was also champagne for Alison Riske who won the women's tournament at the same place, despite losing the first set 6-0, for Matteo Berrettini who was crowned in Stuttgart and for Caroline Garcia who triumphed in Nottingham. It was also a triumph for the managers of an Instagram-famous boat shed in Perth (Australia) as the city will build solar-powered toilets worth 250 000 euros close to it, after the owner of a restaurants nearby complained that tourists were queuing to use his. Well, why not?

By Florian Cadu