In this day after day by We Are Tennis by BNP Paribas, we look back on a week marked by a chatty Kyrgios, a competition involving duck breast fillets and a mayor handing out free viagra pills.
Monday, May 20th
Operation destruction for Nick Kyrgios : « The French Open sucks compared to Wimbledon. Look at this perfect green surface. Get rid of the clay, man. Who likes the clay ? It's so bad. » Thankfully, this strong opinion had no consequences on the enthusiasm of the fans of the Parisian tournament. However, the story doesn't say if the six children - four girls and two boys - that this 29 year-old Polish woman has just given birth to will be fans of the French Open. But Guy Forget, the director of the tournament, has an idea to attract tons of new Roland Garros enthusiasts : « If we had a final between Roger Federer and Rafael Nadal, millions of viewers would be thrilled. All sports need emblematic champions. History is written by them. You always need ice and fire, an opposition of styles. With Nadal and Federer, we've seen that in the last ten years. We've seen two champions who are incredible ambassadors for their sport, who hold each other in great respect, and who are capable of producing a level of tennis that you only see in video games. » And what about Novak Djokovic, then ?

Tuesday, May 21st
Bad news to begin with : Andy Murray should not be « ready » to play at Wimbledon, next July. « It's too early and there is a very slim chance of seeing me playing in the singles. I'm only starting to move normally on the court, said the Brit, with regret. However, I could possibly play in the doubles, I think I would be able to do that. I'm not in pain, I just need to see how far I can push my hip. » Maybe Jean Debouzy, the mayor of Montereau (France) can help him find a magical solution, as he developed a bylaw to hand out free viagra to the inhabitants of his village, to encourage them to boost local birth rate. Reilly Opelka, on his side, had a bit of a headache at the Lyon Open : he thought he'd won his match point against Corentin Moutet in the tie-break of the third set, but the umpire came down from his chair to change his decision. A few minutes later, the American lost this third-round match. And the following handshake between the two players was a very short one.

Wednesday, May 22nd
« I heard what he said. He obviously has a problem, otherwise, he wouldn't have said that. I don't know if he plans on going to Roland-Garros. But if he plans to play there, he's not very smart… » Who is Toni Nadal talking about ? Kyrgios, obviously. Speaking of which, it wouldn't be a surprise to see the Australian take part in the annual duck breast fillet eating competition on this Wednesday, May 22nd instead of practicing on the Philippe Chatrier court, at Roland Garros. Where we've seen an amazing match : Manuel Guinard, the world number 421, won his second qualifying round-match against Gianluigi Quinzi and earned « more money than ever before. » Approximately 25 000 euros, or twice his annual earnings for the whole of the 2018 season. This Juan Martin Del Potro fan bumped into his idol just before stepping onto the court. A positive sign, according to him.

Thursday, May 23rd
There were two things to remember on this Thursday. First, the International Tennis Federation decided to switch back to a unique ranking enabling them to distribute ATP and WTA points in future tournaments, instead of their « World Tennis tour » system which ended up being a complete fiasco. Then, James Bruton, a robotics engineer from the UK, has created, along with his students, a robot which hits video games players when they are fighting online. That's it. For now.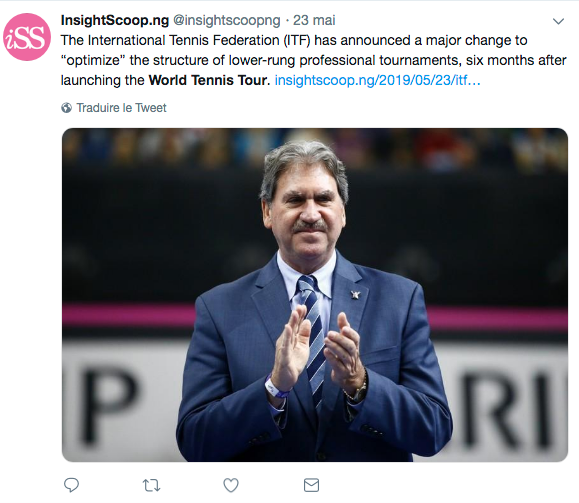 Friday, May 24th
Katie Boulter is a smart woman. Much smarten than Lijian Zhao, a Chinese diplomat who roasted Apple on Twitter…using his iPhone. Having injured herself a few weeks ago and knowing that she wouldn't be able to play at Roland-Garros, the British postponed her withdrawal until after the draw…which enabled her to keep her prize money, which is estimated to be around 23 000 euros. Of course, Kyrgios could only applaud her strategy. « Why is this a story ? She earned her way in the draw, right ? » Denis Shapovalov, on his side, will play the tournament, but his adventure didn't start well : while he was checking in at his hotel, the Canadian saw a thief stealing his backpack. Ah, the famous Parisian no-go zones…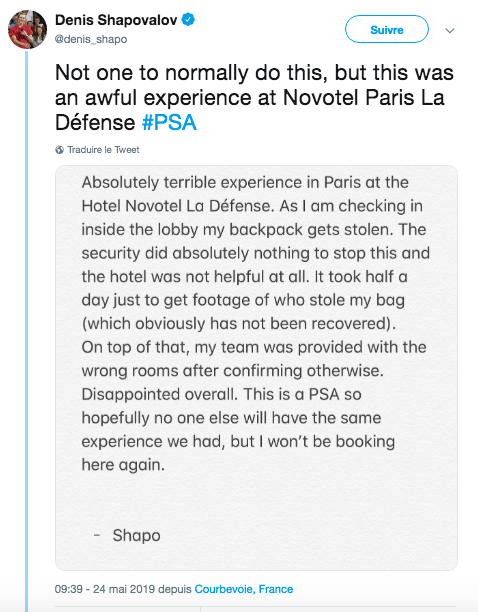 Saturday, May 25th
Before the real start of Roland-Garros, please know that Benoît Paire has won the Lyon ATP 250 (after defeating Félix Auger-Aliassime in the final), that Alexander Zverev has triumphed at the Geneva Open (against Nicolas Jarry) and that Dayana Yastremska has defeated Caroline Garcia in the final of the Internationaux de Strasbourg. Please note that a female ticket inspector working for the Deutsche Bahn has been fired for acting in pornographic films set in trains which belonged to the company. Now let's get back to clay. With Federer's great return, of course.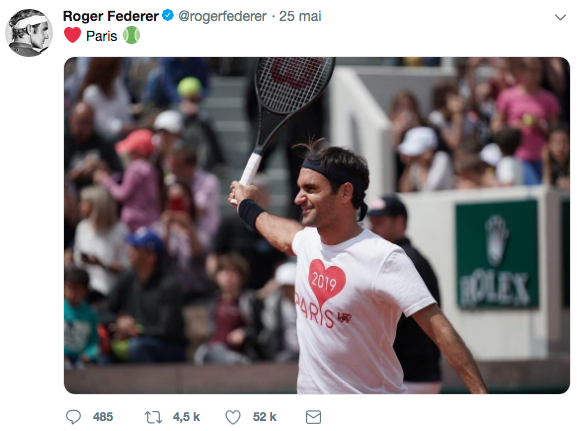 Sunday, May 26th
A word on politics, to begin with, as the European Elections happened today. To enable everyone to get to their polling stations, the company Lime decided to offer some free trips on their electric scooters in eleven different countries (Spain, Germany, France, Denmark…). Kyrgios, who ended up withdrawing from the French Open after feeling ill, didn't seem to care, as he retreated into philosophical meditation. « Now, here I am trying to save the world, even though I can't save myself #searching », he said on Instagram. Still, at Roland-Garros, the first major feat occurred and it was produced by Nicolas Mahut, who managed to knock out Marco Cecchinato (who was a semi-finalist in the last edition) despite losing two sets to nothing. #winning.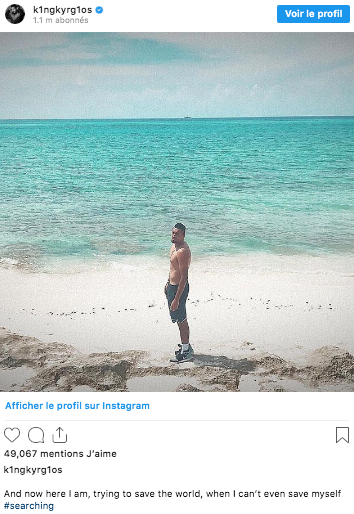 By Florian Cadu