We Are Tennis by BNP Paribas brings you the best of the past week, on and off the courts, day after day. A week marked by the roman clay, a Kyrgios on fire, a 91 million-dollar rabbit and a bottle of wine worth 5000 euros.
Monday, May 13th
It was an expected return. Having spent time off the courts since mid-March, Serena Williams came back on clay with a win in Rome against Rebecca Peterson. « It's nice to be back on the court, it's been a while… I haven't played a lot this year. It wasn't my choice, but it was due to the circumstances. I really wanted to get back on the circuit and play, but it wasn't working out. » Eileen Macken also had to learn to be patient: at 81, this Irish woman met her biological mother for the first time ! Meanwhile, Novak Djokovic took a picture with three ex-international football players: Raúl, Clarence Seedorf and Luis Figo while Jessie Dean Kowalchuk, a Canadian fugitive, made fun of police forces by sending them a message… which led to him getting caught, as the message revealed his location. Far more intelligent, Alexander Zverev gave his bandana to a young fan who he had mistakenly hit with a ball after hitting a smash. A double gift, then?

Tuesday, May 14th
Nicole Gibbs announced that she had salivary gland cancer on Twitter. « I will be withdrawing from the remainder of clay season, and will not be competing at this year's Roland-Garros. About a month ago, I went to the dentist and was alerted to a growth on the roof of my mouth », said the American, who reassured everyone by then saying that surgery should be enough to heal her. The news didn't make Nick Kyrgios more reasonable, as he started his match against Daniil Medvedev with… an underarm serve! He did it twice more during the match which he ended up winning. And if you don't like his style, why don't you try doing what the Uber drivers are doing in the US, since their company launched an option enabling the clients to turn on a « silent mode »: yes, shut up.
Wednesday, May 15th
Kyrgios, episode 2. In the papers this time, with three targets. Djokovic: « I just feel like he has a sick obsession with wanting to be liked. He just wants to be like Roger. I feel like he just wants to be liked so much that I just can't stand him. (…) He always says what he thinks he should say, he never gives his true opinion on things. » Rafael Nadal: « He's my polar opposite. When he wins, everything's ok, he doesn't criticize his opponent, but as soon as you defeat him, he's like: 'He has no respect for me, for my fans, for the game.' What are you talking about? » Fernando Verdasco: « He's the most arrogant person ever. He doesn't say hello, he thinks he's so good, he thinks he's a gift from God. Dude, your backhand is average at best. He has no humility, no perspective on things. » Bim, bam, boom. Hit and sunk. To add to the matter, heavy rain fell down and forced the organizers to cancel every tennis match today. And if you're thinking of killing time by playing on your Tamagotchi, think again: Bandai has just announced that their digital pets will only make their returns in August.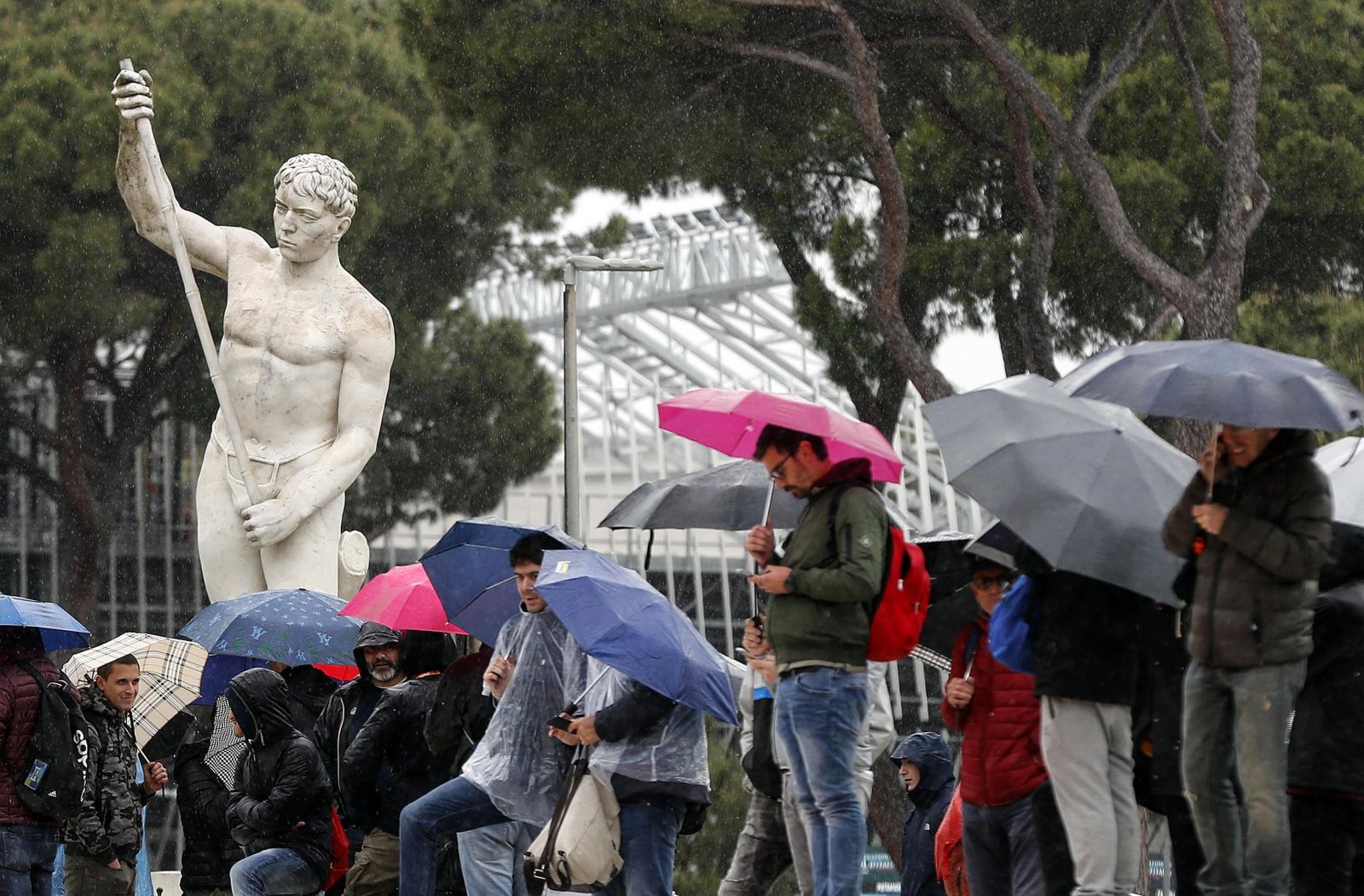 Thursday, May 16th
Kyrgios, episode 3. The dark side to finish with, on the first day of the French national underwear throwing championships. As the third set was just starting in his match against Casper Ruud, Tennis' bad boy went nuts, screamed at the umpire, received a penalty, broke his racket, threw a chair on the court… and just walked away. « It was a very eventful day, to say the least. Emotions took over, and I just want to tell you that the atmosphere was crazy today, he said on Instagram. I'm just really disappointed that it ended this way. Rome, I'm sorry. Maybe I'll see you again… » A behavior that ended up being very costly: 45 ATP points, his prize money (33 635 euros) and a 20 000 euros-fine. Kyrgios will have to save up, if he wants to buy Jeff Koons' rabbit, which was sold for 91,1 million dollars. A record for a piece of art created by a living artist.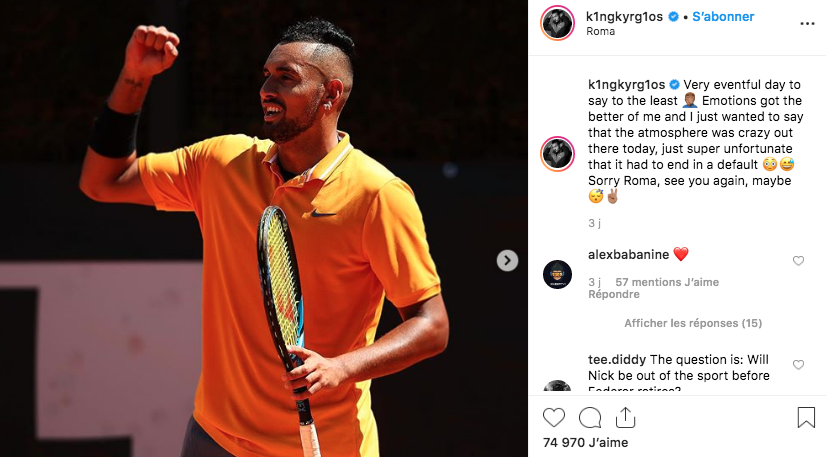 Friday, May 17th
It's almost like Kyrgios' withdrawal gave other players the same idea. For very different reasons, thankfully. Roger Federer (who sustained a leg injury because of the wet lines in Rome) and Petra Kvitova (who had a leg injury as well) had to withdraw from the tournament. Which will leave them both the time to say a little prayer for Ieoh Ming Pei, the architect who designed the pyramid at the Louvre, who passed away at the age of 102. A good score!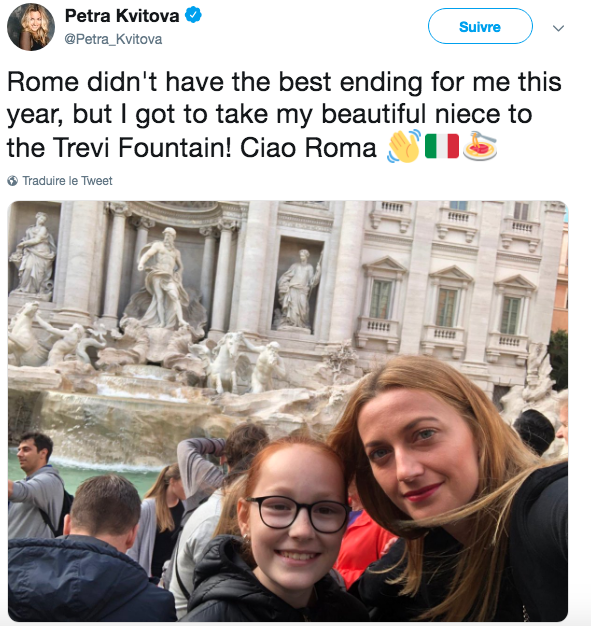 Saturday, May 18th
Imagine being in a nice restaurant in the UK. You enjoy drinking wine, and you're willing to treat yourself. So you order a bottle of red wine which is worth 260 euros. But the sommelier who is serving you gets it wrong, and doesn't bring you the right bottle… What do you do? Don't say anything and enjoy this 2001 bottle of Château Le Pin Pomerol worth 5100 euros, just like this group of diners at the Hawksmoor. Andy Murray, on his side, can drink all the wine he wants: the Brit has just been knighted by Prince Charles, at Buckingham Palace, on the day before his 32nd birthday. Happy birthday.

Sunday, May 19th
Sunday is the day of crowns. Which sit on the heads of the Netherlands, who won the Eurovision this year, of Karolina Pliskova and Rafael Nadal. The latter even managed to win the first set 6-0 against Novak Djokovic. A first in their countless battles of giants. In other news, Wimbledon's number one court is now officially equipped with a roof. A roof which Rome would have liked to borrow this week.