We Are Tennis by BNP Paribas brings you the best of the past week, on and off the courts, day after day. A week marked by an imperial Fognini in Monte Carlo, a sex toy hunt and strange twins.
Monday, April 15th
To start the week in the best conditions, Belgium has decided to host a sex toy hunt. Which could count on around 5000 participants… Of course, that can't include the players who are in Monte Carlo for the Monaco Masters 1000, the first big event of the clay season, where Denis Shapovalov lost his first-round match against Jan-Lennard Struff (7-5, 3-6, 1-6). For the occasion, the ATP decided to publish a nice picture on Twitter which was related to the TV series Game of Thrones. No spoilers !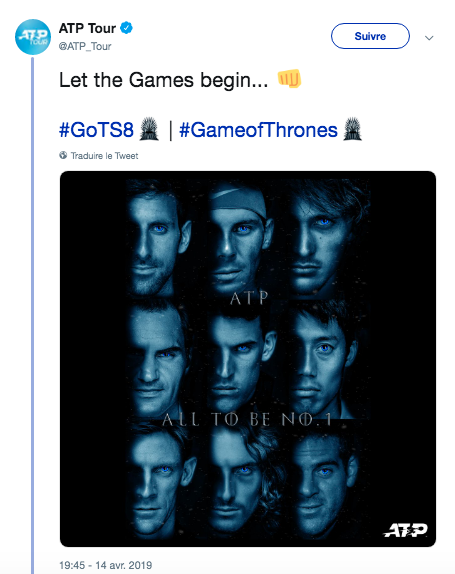 ​
Tuesday, April 16th
On the day which followed an intense fire which ravaged the Notre-Dame cathedral in Paris, the world payed a superb hommage to the monument. But tennis didn't stop and we witnessed three surprise knockouts : Guido Pella defeated the seed number 7 Marin Čilić (6-3, 5-7, 6-1), Marco Cecchinato knocked out Stan Wawrinka (0-6, 7-5, 6-3) and Karen Khachanov was shocked by Lorenzo Sonego (6-4, 6-7). Who is currently the world number 96…
Wednesday, April 17th
Wednesday ? The ideal day to trim your beard. According to a team of Swiss researchers, science has proved it : there are more bacterias on facial hair than on dogs. Which isn't Alexander Zverev nor Rafael Nadal's problem, as they are both usually clean-shaved and both won against Félix Auger-Aliassime (6-4, 6-1) and Roberto Bautista Agut (6-1, 6-1). However, last year's finalist Kei Nishikori crumbled against Pierre-Hugues Herbert (5-7, 4-6). Now, on to tomorrow.
Thursday, April 18th
Boom, three other strong contenders for the title were knocked out! Daniil Medvedev defeated Stéfanos Tsitsipás first (6-2, 1-6, 6-4), Fabio Fognini then defeated Zverev (7-6, 6-1) and Dušan Lajović knocked out Dominic Thiem (6-3, 6-3). Young Matthew, who is three years-old and lives in Haute-Saône (France) can thank his partner in crime for saving him from drowning. His partner being… his dog.
Friday, April 19th
Monza, Italy. Alessandro and Andrea, two brothers, are shouting their first screams. The brothers are twins, but were born… two months apart. An exceptional even, according to the director of the maternity. News which have messed with Novak Djokovic's head apparently, as he lost against Medvedev (3-6, 6-4, 2-6). However, Fognini didn't seem to care about his young fellow countrymen, as he qualified for the semi-finals after knocking out Borna Ćorić (1-6, 6-3, 6-2). Hell is the next step, as he will face Nadal in the next round. Against all odds, maybe?
Saturday, April 20th
« It's clear, I've played a very bad match against a good player. So, I had to lose. It was a bad day, against a strong opponent. I have probably played one of my worst matches on clay in the last fourteen years. I deserved to lose to day, simply because I played against someone who was better than me. » Yes, these words were pronounced by Nadal after he was easily defeated by Fognini (4-6, 2-6). Fognini who is on fire and who will face Lajović, who defeated Medvedev (7-5, 6-1) in his semi final, in a totally unexpected final. Not as unexpected as this trip from Guadeloupe to French Guiana which a homeless man took in the undercarriage of a plane, though.
Sunday, April 21st
Guirec Soudée's expedition deserves to be mentioned here. This 27-year old man from Brittany, France, has sailed around the world during the last five years with his… hen. Who even saved his life by providing him with eggs when he had no food or ways to communicate for 130 days. Enough to give her a round of applause, just like the one Fognini had after winning his first Masters 1000, defeating Lajović (6-3, 6-4) in the process. There's another huge final planned but we will have to wait a little longer: on November 9th and 10th, Australia (who defeated Belarus) and France (who crushed Romania) will face each other in the Fed Cup by BNP Paribas, in Brisbane. The result is impossible to spoil, this time.