In this day after day by We Are Tennis by BNP Paribas, we look back on a week which was marked by tournaments in Miami, with a surprising David Ferrer, intravenous fruit juice, and a few messages sent to aliens.
Monday, March 18th
Roger Federer's 101st trophy? Not this time! Against all odds, the Swiss lost the final of the BNP Paribas Indian Wells Open against Dominic Thiem, who had never lifted such a prestigious trophy (6-3, 3-6, 5-7). The immediate consequence? The Austrian overtook him on the ATP ranking as he is now the world number four. The young talent's career plan is unraveling perfectly, unlike this old Frenchman's who wanted to teach a much younger friend of his how to drive. After a mistake from her part, the 80-year old ended up being stuck… under the wheels of the car. RIP.
Tuesday, March 19th
There was nothing much going on this Tuesday, March 19th, except the unveiling of the draw of the Miami Open (with an eventual huge semi-final between Thiem and Novak Djokovic on the cards). And the story of this five-year old child, who got lost in Argentina during a family trip, and who was found alive after spending twenty-four hours in the desert. The feel-good story of the day.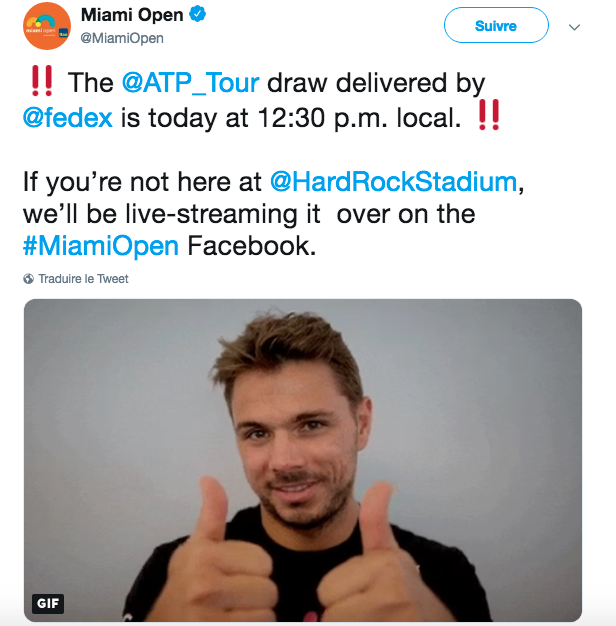 Wednesday, March 20th
The incredible ending of a match in Miami, part 1: while he was leading 6-3, 5-2 against Mischa Zverev and had eight match points, Nicolas Kuhn completely crumbled and had to withdraw at 2-2 in the third set after suffering from cramps. Thomas Berdych, on his side, also had to withdraw from the tournament because of back pain. In other news, Simona Halep reunited with her coach Daniel Dobre, and a woman was stuck in the rest-room for fourteen hours in Brittany (France) after the door-handle broke. Yes, fourteen hours.
Thursday, March 21st
The incredible ending of a match in Miami, part 2: Alexander Bublik won his huge battle against Tennys Sandgren thanks to two challenges in his favor, on a match point against him, and on his own match point just afterwards (5-7, 6-4, 7-6). We saw another great happy ending with Bianca Andreescu, who defeated Irina Camelia-Begu (4-6, 7-6, 6-2) after a very poor display in the first two sets (4-6, 1-5). In other news, a British couple offered a 45 000 yearly salary to the future nanny of their child who will have to dress up like a Disney princess, and the prize money at Roland-Garros rose by 8% as the global amount is now almost 43 million euros.
Friday, March 22nd
Miami was the best place to start the weekend with a bunch of great surprises. The less mind-blowing one was produced by Markéta Vondroušová, who knocked out Jeļena Ostapenko (7-5, 6-1). The most surprising one was created by Dušan Lajović who defeated Kei Nishikori (2-6, 6-2, 6-3). And the craziest one was brought to us by Cori Gauff, who won her first match on the big circuit (3-6, 6-3, 6-4 against Caty McNally) at only 15 and 18 days. We hadn't seen such a feat in the last ten years.
Saturday, March 23rd
Self-injecting fruit juice in your veins. This is the method conceived by a 51-year old Chinese woman to stay healthy, but instead, she almost died. Thankfully, Serena Williams didn't think about this kind of therapy to heal her left knee, which forced her to withdraw from the third round. However, Thiem, Stan Wawrinka and Naomi Osaka could use some juice full of vitamines, as they were respectively knocked out by Hubert Hurkacz (4-6, 4-6), Filip Krajinović (7-5, 2-6, 6-7) and Hsieh Su-Wei (6-4, 6-7, 3-6) despite being the clear favorites. Drinking it should be just fine.
Sunday, March 24th
And what if aliens simply didn't want to answer our attempts at communicating with them? This is the type of question which was debated by researchers who came from all around the world to attend a conference organized by the Messaging Extraterrestrial Intelligence in Paris. Not enough to make David Ferrer doubt, as he surprisingly defeated Alexander Zverev. Retirement can wait!
By Florian Cadu